10 Best Boxing Gloves 2022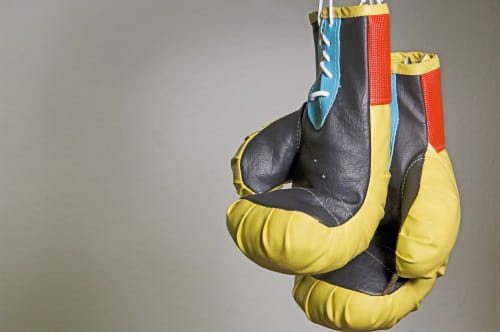 Want to see your kids never let anyone mess with them? Teach them the basics of self-defense with some of the most amazing gloves out there…
Whether we want to have great fun with our kids or we want just want to teach them how to defend in violent situations more efficiently – a nice pair of boxing gloves may be the perfect idea. They offer excellent fighting opportunities that will both promote healthy self-defense learning, as well as an excellent way of having fun while working out. But not all boxing gloves are exactly what you need for your children, as some may be too dangerous, or just not good enough for your expectations.
That's why we've made sure you can learn a lot more about what you should look for when making your purchase. This way you will get more chances of finding the perfect pair of gloves for your kids. Here you have every option you should consider…
Furthermore, we have a trick and tips on how to choose the right ball available. Click here
10 Boxing Gloves Review 2022
01.
Buteng Sports Training Kid Gloves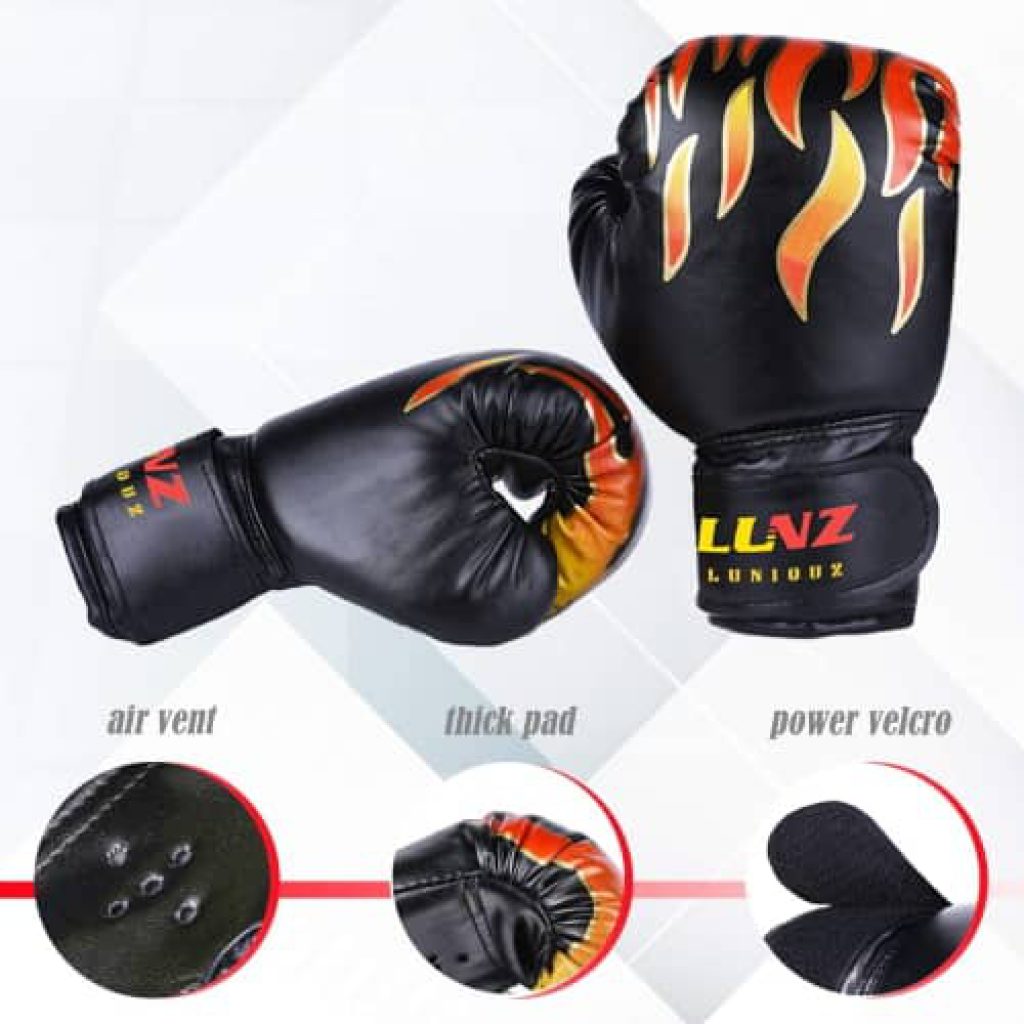 age: 3 – 10 year old
size: 4.7 x 3.3 x 7.9 in
weight: 5.6 oz / pcs
Available in Stock
Flexible and fit-oriented, if you want your kid to have a reliable and safe experience while boxing, the mold cut from the Buteng Sports training gloves will be excellent. These gloves are also incredibly shock-absorbent, with great impact distribution and a 360-degrees protection the hand. The sleeve provides superior comfort as well, while also providing a safe fighting experience for the wrists.
The lining of the gloves is breathable, with 5 vents in the palm to make it a lot fresher and less sweaty on the inside. And what's even better, the gloves look awesome, with a blazing design that will make any kid feel awesome. These are 6 Oz gloves, so they can be used by kids as young as 3 year old and as old as 10 or a little older.
PROS:
Engaging Blazing Design
Durable and Well-Made
Comfortable and Safe
CONS:
Hard to Put On and Take Off
02.
Farabi Sparring Gloves for Kids Pink Stars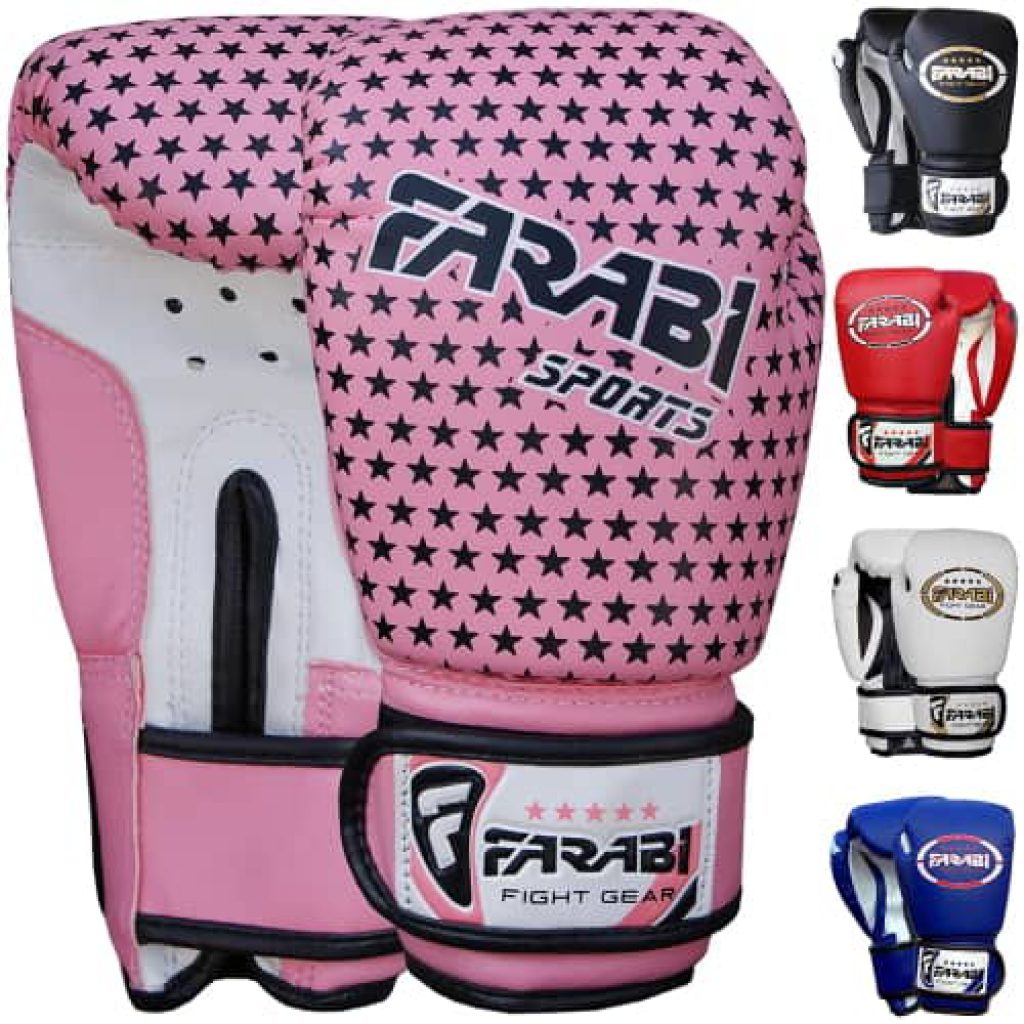 age: 6 – 10 year old
size: 5.4 x 10.9 x 4.1 in
weight: 4 oz / pcs
Available in Stock
If what you're looking for is to teach your girl some nice punches while giving her an excellent work out, the Farabi Pink Stars Sparring gloves with 4 Oz are perfect for any girl of around 4 to 7 years old. They are awesomely comfortable, they offer great protection to the hands, and thanks to the mould with synthetic leather construction, they are pretty durable and easy to use.
The wrist trap provides outstanding support and safety, plus thanks to a great pressure system, they will be a lot more reliable and easier to control. They can be used for anything including boxing, MMA, or just whatever that demands a little sparring time.
PROS:
Engaging Blazing Design
Durable and Well-Made
Comfortable and Safe
CONS:
Hard to Put On and Take Off
With a superbly kid-oriented design, the Revgear Youth Glove for boxing also provides excellent comfort, incredible support and an encouraging good form, so even the sloppiest kid can use it properly. They are well-made entirely, and can be used by 6 to 9 year olds without problems, thanks to the 6 Oz design.
The strap is awesomely made, providing fantastic support that won't hurt any kid's wrist and will still feel easy to use, to put on and even take off. In addition, it feels really soft to impact and pressure, so no matter how it is used, any kid will feel utterly comfortable in it.
PROS:
Awesomely Well-Made
Totally Comfortable and Supportive
Encourages Good Form
CONS:
Can get Really Hot Inside
04.
Physical Success Red Boxing Gloves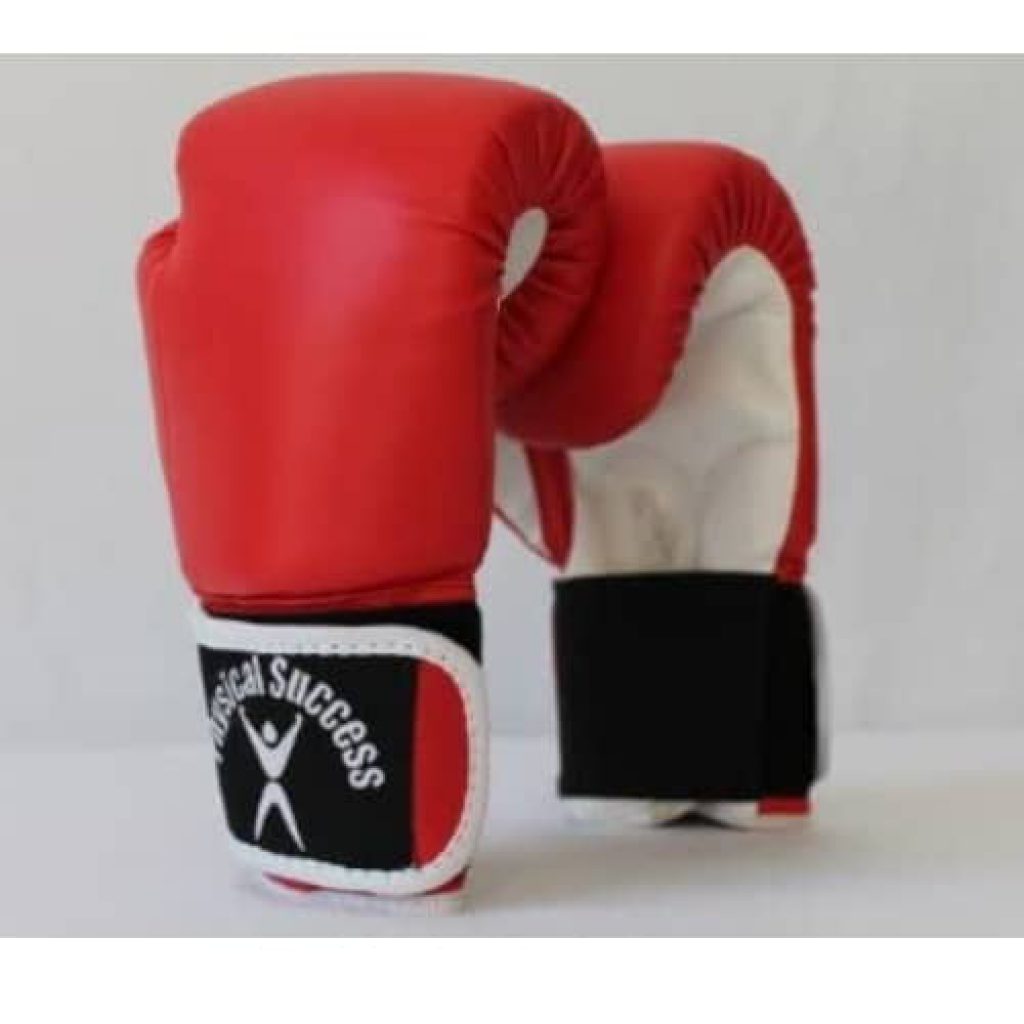 age: 2 – 4 year old
size: 5.9 x 10.5 x 3.5 in
weight: 2 oz / pcs
Available in Stock
Made of coated vinyl with a satin lining and a combination of foams, the Physical Success gloves for boxing can be the perfecto ones for kids from 2 to 5 years. With a 2 Oz design, they provide excellent comfort for tiny hands, they also offer great support and an incredible soft feeling when using, so no kid could get harm at any time.
The Velcro wrist support makes them totally easy to use, to put on and to take off, while delivering outstanding shape so your kid learns the proper form while punching. If you want a simple yet pretty effective glove for your kid, get this one and you won't be disappointed.
PROS:
Simple yet Effective Design
Superb Comfort and Support
Excellent Construction
CONS:
A Little Smaller Than Most
A pair of boxing gloves made of polyurethane with a 6 Oz size and an excellent construction as the BKELO gloves, are easily some of the most recommended out there for kids from 3 to 15 years. If you want an awesome response from your kid when boxing, these ones are exactly what you need to get, as they provide comfort, control, support and unarguably great protection against every impact.
The gloves come with an internal Gel impact foam, a proper Velcro closure, and synthetic leather with mould on the inside. In addition, the gloves are pretty easy to clean and will always provide excellent uses, so it can be the perfect partner for sparring or real fights, easily.
PROS:
Much More Supportive and Comfortable
Amazing Construction Quality
Provide Excellent Control and Protection
CONS:
Not Recommended for Kids with Big Hands
06.
Ringside Apex Training Punching Bag Mitts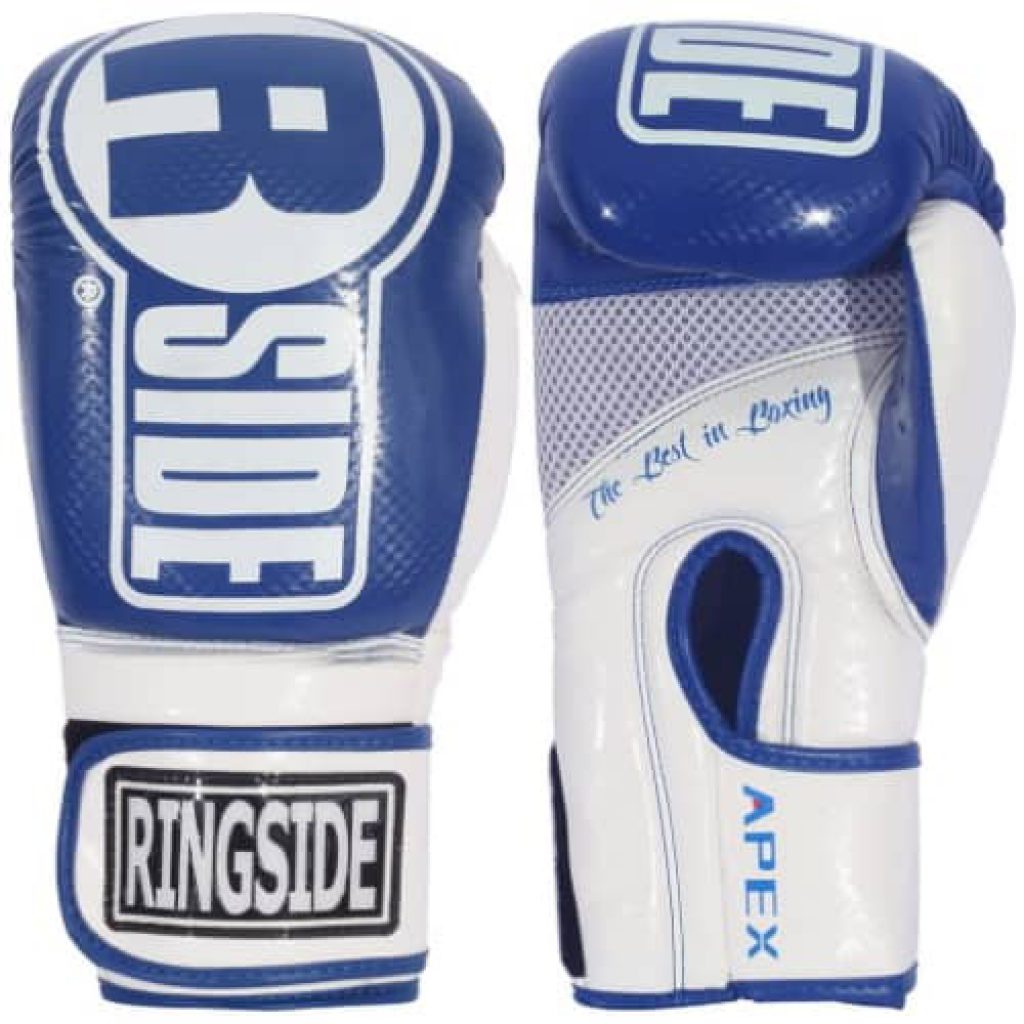 size: 5.5 x 5.5 x 16 in
weight: 8 and 12 oz / pcs
Available in Stock
The Punching Bag mitts from Ringside Apex are almost perfect in every way. They are an incredible option for almost any type of use, from sparring and training to even real fights. Even though they are bigger than most kid's boxing gloves, they still offer awesome performance and won't be a problem in any way.
The material used on the construction provides exceptional support, comfort and a Stay-Dri lining for superb breathability. The IMF technology makes them durable as well, while providing a tighter yet pretty protective experience. With the synthetic leather material, on the other hand, they will be a lot easier to clean and promote excellent punching form.
PROS:
Well-Made and Interesting Design
Totally Supportive and Protective
Superior Comfort and Ease of Use
CONS:
Not Recommended for Kids under 10
Offering two designs with 4 Oz and 6 Oz respectively, the RDX Maya Junior gloves are excellent for almost any kid, not only because they are superbly made, but because they provide good comfort, breathability, protection and still come in a variety of designs for kids to enjoy.
The material of the gloves is outstandingly good, with latex padding for protection against impacts, hide leather for durability, Slipastic wrist that will make them elastic and comfort, great Cool-X mesh technology for excellent ventilation, and a Eva-Lution foam that will make them just perfectly tight for any hand.
PROS:
Exceptional Construction
Perfect Design and Looks
Supportive, Comfortable and Protective
08.
Cheerwing Children Cartoon
An excellent design is always translated into more comfort and protection for the hands when it comes to boxing gloves, and yet with the proper materials you will get even more support and ventilation, essential for a perfect experience. That's what the Cheerwing Children Cartoon gloves with a 4 Oz size provide, an outstanding construction and design that will make them just perfect for any use.
The polyurethane leather plus the EVA foaming, make them long-lasting and comfortable entirely. The elastic strap on the wrist offers excellent comfort and customization for different hand sizes. And thanks to the ventilation holes on the palm, the gloves will be cooler and much easier to use, for a superb experience in every use.
PROS:
Very Simple Design but Well-Made
Comfortable and Supportive Entirely
Excellent Materials
CONS:
A Little Hard to Tighten Up
09.
Sanabul Essential GEL Gloves
For those who like great designs and an incredible quality with it, the Sanabul Essential GEL Training gloves will be just perfect. The leather construction and the design they come with, make the gloves excellently made, durable, and pretty good-looking. Also, they are awesomely protective with gel foam which is easily the softer material for protection out there.
The Velcro system makes the gloves totally easy to put on and take off, yet they make them very secure and control-oriented. The mesh palms are outstanding too, offering excellent ventilation as well. And if you want your kid to avoid injuries and have a better form, the arch design of the gloves will promote the natural curvature of the hand to create a proper fist.
PROS:
Great Ventilation
Excellent Protection and Comfort
Promotes Perfect First Form
CONS:
Only Recommended for Kids over 10
10.
Elite Sports Boxing Gloves for Kids
Despite having a pretty exciting design, these gloves also provide outstanding performance in every way. They are made to deliver an excellent anatomic shape, so the hands of the kids are formed correctly while using, and of course, always much more protected and safe from injuries.
These are the Elite Sports gloves for kids, a good pair that is also made of the highest-quality materials including Maya Leather and triple-density gel foam for much more support against impacts and pressure. And even more important, they also offer great Velcro wrist protection, for a safer, more supportive and comfortable design.
PROS:
Really Good-Looking
Well-Made Entirely
Protective and Comfortable
CONS:
Not recommended for Kids Over 8 Years
Any boxer will tell you that a good pair of boxing gloves is the one that fits correctly on the hand, offers excellent comfort, has excellent ventilation and eventually allows you to have a good form when punching. And that's precisely what you need to look for, even if it is a pair of gloves for a beginner young toddler. To make it much easier for you when choosing, here you have a much better guide to follow:
Size
If you want your kids to feel comfortable when using the gloves and eventually avoid a pair of gloves that don't fit their hand, make sure you choose the right size. Kid's dimensions are 10 Oz or less. Children of about 4 to 6 years will need 4 Oz gloves, while toddlers from 7 to 10 may need bigger ones of about 6 to 10 Oz. The Oz is how they are measured, and how much protection it offers to the hand, the amount of padding as well. Yet, they also vary in hand diameter, where the littlest 4 Oz gloves may be perfect for hand circumferences of about 2 to 3 inches, while bigger ones may go from 4 to even 6 or 7 inches of circumference. Just remember always to take this into account.
Types
There are many types out there, from classic boxing gloves to Muay Thai gloves, sparring gloves, fighting gloves and more. For a kid, an average or traditional bag glove for boxing would be enough. Yet, if you want your child to train in a different martial art like muay thai, there are also boxing gloves for that. And for training, of course, you'll need a sparring pair. Always choose according to your kid's needs.
Materials
There are two materials for choosing when it comes to boxing gloves, the leather gloves, and the vinyl gloves. Leather gloves, on their part, are fantastic. But if they don't have proper ventilation, they may become incredibly dirty and smell really bad. However, for most kids, leather gloves would be good, as they don't sweat as much as an adult. Vinyl gloves, on the other hand, are great but not for fighting or highly demanding sessions. They work, however, excellently for kids from 4 to 6 or 8 years old, who don't need much quality on the hands. If you need your child to have an outstanding experience, get him a leather pair. If not, a vinyl-made pair of gloves would be more than enough.
Shape
Maybe not as important as the rest of the features, but it can have a significant impact on how comfortable and efficient the pair of gloves is. The shape is how the hand will fit inside, and how the gloves will make the hand get in position when using. Make sure it makes your kid's hand have a proper curvature and doesn't force it too weird movements or positions.
Picking an excellent pair of gloves for your child shouldn't be a problem unless you really want to choose a perfect couple. For this, just make sure you follow our recommendations and high-quality guide, then you will have much better chances of getting a long-lasting and useful pair.
Pick the one pair you think looks, feels and provides more exceptional quality of the ones we showed you by considering our fantastic advice. You won't be disappointed in any way!
If you want to start watching your kid fighting a little even at a young age – there's no better way of doing it with an excellent pair of gloves. Here you have many good options to consider…
Excellent for the Beginner Boxer !
Comfortable and Supportive
8.5