10 Best Face Paint 2022 Want to see your child having the most fun without any toy? Face paint offers exactly that, a healthy and pretty exciting way to have fun alongside your kids with just a little paint…
From transforming your kid into a zebra or a tiger, to just make him look like a clown or a more creative design like a zombie, there's no doubt how fun face paint can be, and it is totally easy to use. Kids love it, and parents do as well, so it becomes an almost essential item to have at home if you want to dress up your kid or just have some fun while playing impersonating games and the like. Yet, you must be careful when buying the right kit, as not all of them will deliver the quality you need.
For those who want to learn more about face paint and eventually find out how to choose the right one, here you have a comprehensive guide to follow. Check it out!
10 Face Paint Review 2022
01.
Dress Up America 12 Color Crayons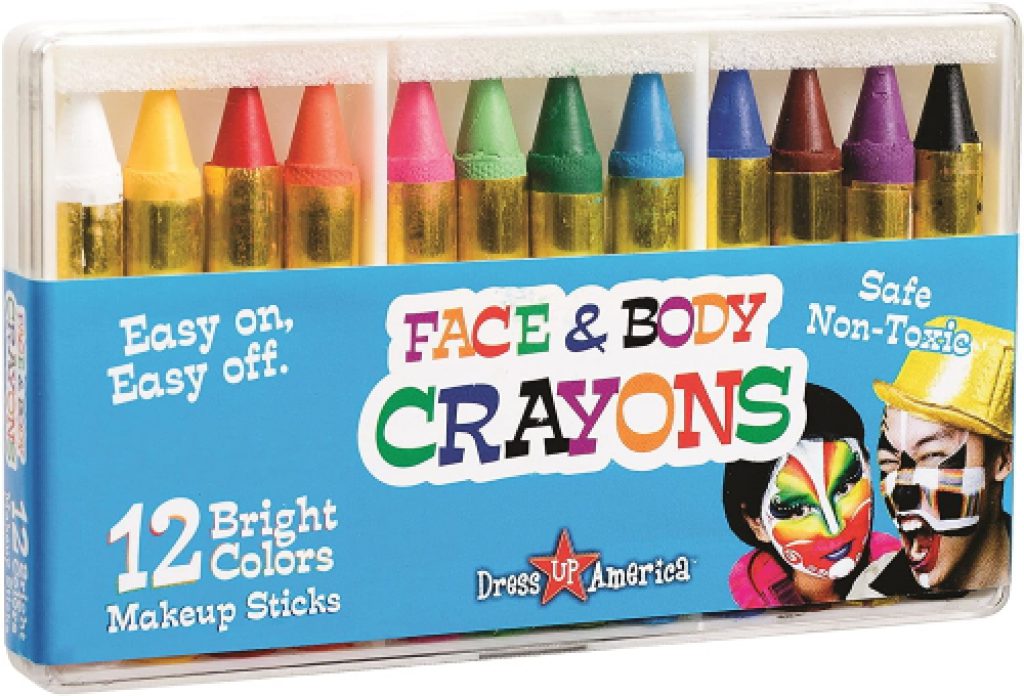 Age: 3+ year
Size: 11.8 x 1.6 x 7.9 in
Type: Crayon
Paints: 12 colors
Available in Stock
Look like crayons yet are made to paint faces on parties or any other event, the Dress Up America Face-Painting Crayons are outstandingly excellent. If you want to make your kid happy with a great design, there's no better way to do it with a crayon that paints their faces, as it is easier, more comfortable and eventually provides more control for perfect designs.
The kit comes with 12 colors, from red, yellow and blue to green, orange, black and even violet brown, pink, light blue and light green. This makes it versatile and convenient. They also come with a great storage case for easier transport when needed, and when it comes to washing off, they won't be a problem at all.
PROS:
Pretty Interesting Crayon Design
Versatile and Convenient Colors
Really Easy to Use
CONS:
Can Be a Problem to Wash for Smaller Kids
02.
Mosaiz Professional Body and Face Paint Children Set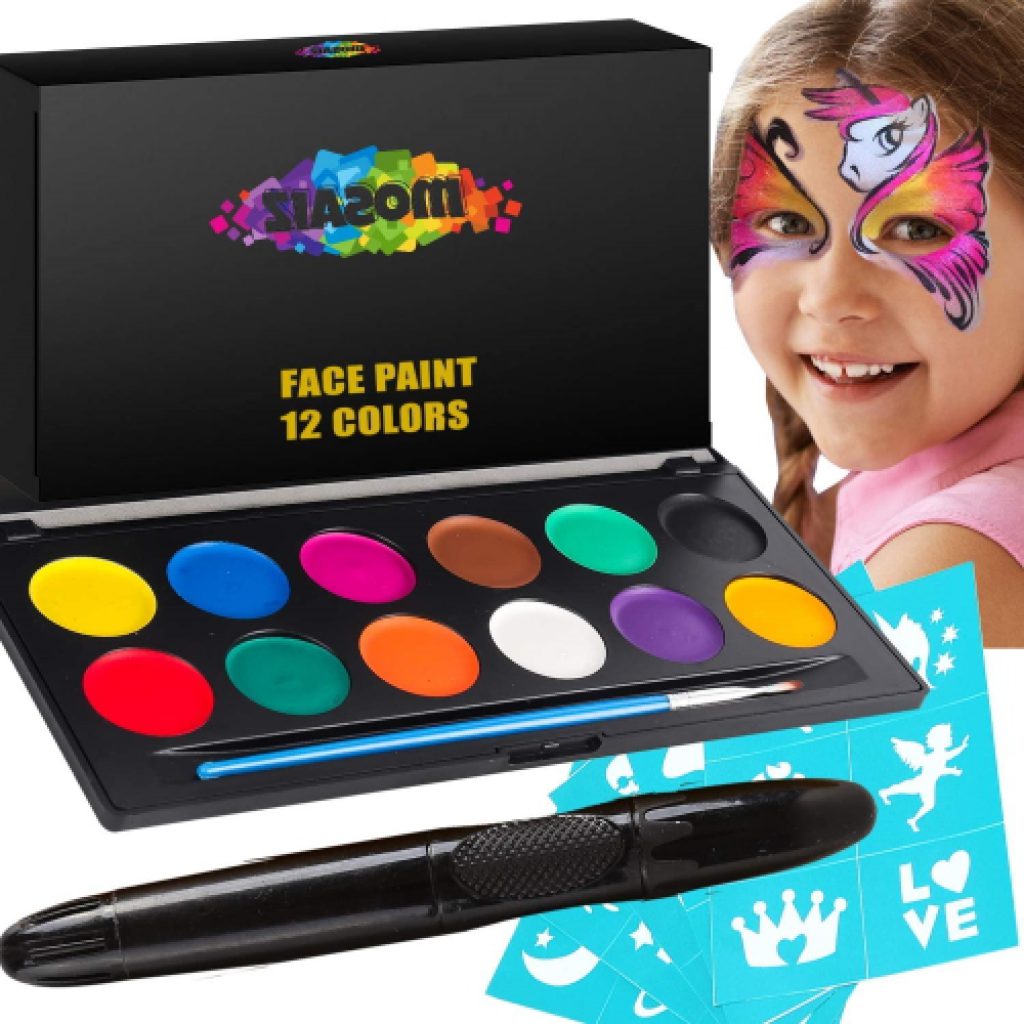 Age: 3+ year
Size: 4 x 0.5 x 9 in
Type: Palette
Paints: 12 colors
Available in Stock
A classical face-paint kit with a brush and a 12-color palette for kids to have more opportunities when it comes to painting their faces, the Mosaiz Face-Paint Set provides a safe yet pretty versatile experience. It can be used both for the face or the body, with 12 colors from red to yellow, brown, white, black and eight others, especially well-made to provide more possible designs.
The colors are outstandingly vibrant, and thanks to their great natural water-based solution, they are hypoallergenic and skin-friendly. The ingredients won't irritate in any way, and will dry fast while also being a lot easier to wash off when needed.
PROS:
Classic, Simple and Pretty Effective Entirely
Outstanding Paint Quality
Totally Easy to Wash Off
CONS:
Needs A Lot of Water and Mixing to Put On
The shiniest colors on the list, this Snazaroo Fantasy Kit provides a superb versatility so kids can enjoy the most magical colors available, so they can live up their fantasies without problems. They are pretty well-made, dry off really fast and deliver a safe and non-toxic solution so they don't harm sensitive skins.
The palette comes with 8 colors, including Sparkle Blue, and Sparkle Lilac for a more fantasy-like result. They kit also provides a brush and a sponge for easier use and wash off. Additionally, you can find a step-by-step guide inside with 20 designs to paint on your kid's face, so you won't get out of ideas.
PROS:
Excellent Paint Quality
Dry Off Fast and Wash Off Easily
Impressive Fantasy Shiny Colors
CONS:
A Little Too Thick for Painting
04.
Bo Buggles Original Buggly Kit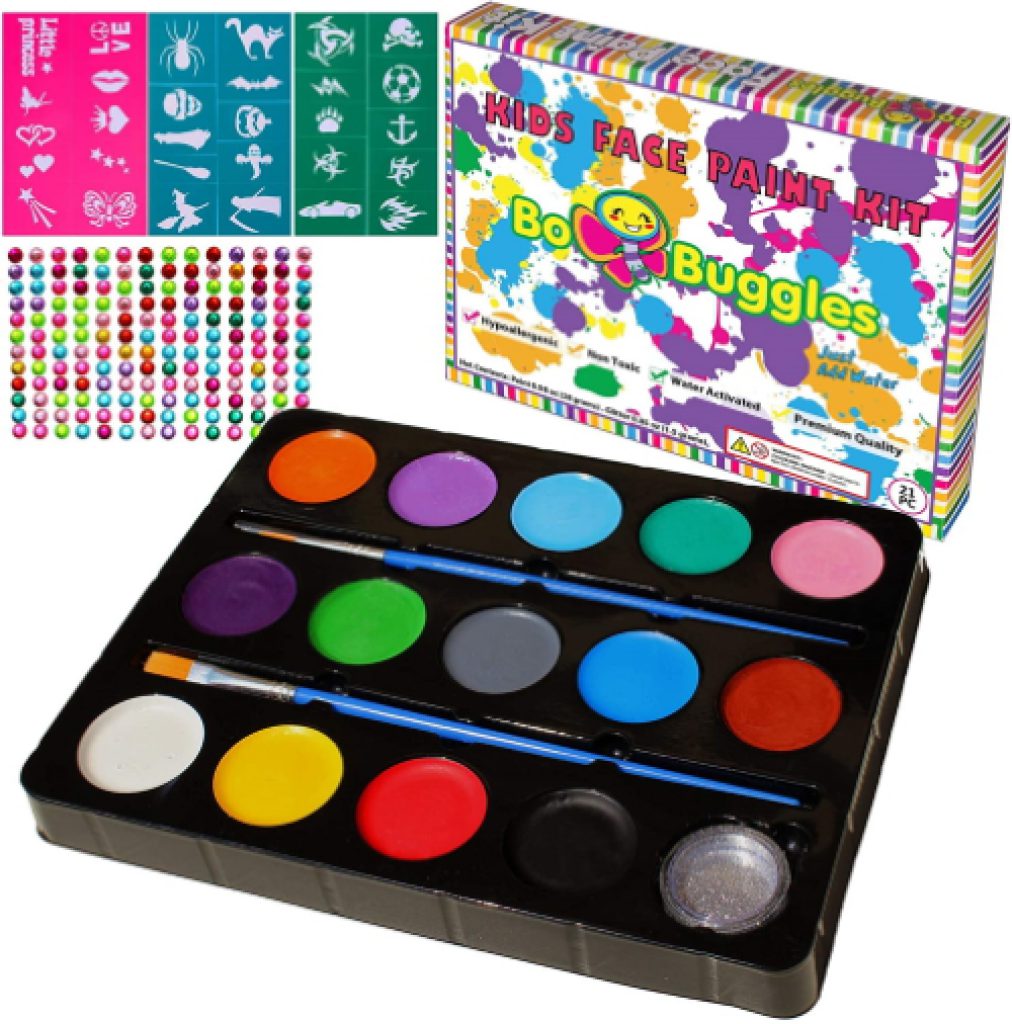 Age: 3+ year
Size: 7.8 x 0.9 x 6.1 in
Type: Palette
Paints: 9 colors, 2 glitters
Stencils: 30
If you want a complete option, the Bo Buggles Buggly Kit is what you're looking for. The professional quality of this palette with 9 colors, and 2 brushes, delivers excellent painting experience, for a smoother yet more durable and easy to wash off performance. The colors are the main ones plus gold and silver, excellent for a more versatile range of finishes.
The kit also comes with 30 stencils, so you can paint your kid's face with different designs according to what he likes. The brushes are extremely well-made, and thanks to the 2 sponges, washing the paint off won't be a problem at all. And of course, the paint is totally safe and non-toxic.
PROS:
Complete and Convenient Kit
Excellent Color Availability
Paint Is Smoother and Easier to Use
CONS:
A Little Hard to Wash Off
05.
Create A Face Kid Safe Face Paint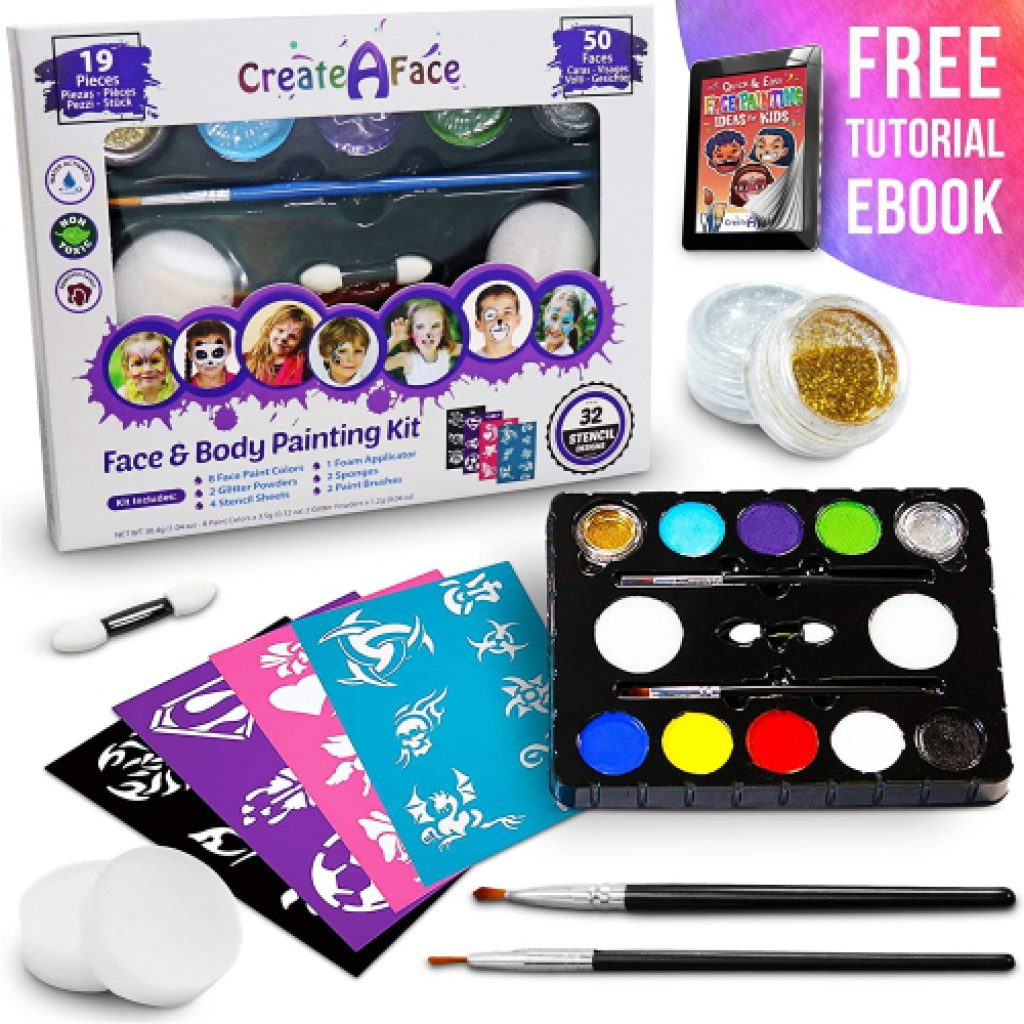 Age: 3+ year
Size: 7.8 x 1.1 x 6.1 in
Type: Palette
Paints: 8 colors, 2 glitters
Stencils: 32
Available in Stock
With 32 stencils with designs, a non-toxic and safe paint solution, plus an outstanding selection of colors, the Create A Face Face Paint kit can be your best choice without a doubt. Thanks to how well this kit is made and the paints are created, it will provide vast design options to choose plus an excellent quality in paint, so it washes off fast and paints really smoothly while lasting longer than most.
The kit comes with 24 popular stencils with the most exciting designs, and an additional eBook with up to 18 paint ideas so you can paint your child's face in many ways. And of course, the paint is totally safe to use, providing a non-toxic solution so you can be sure it won't harm your kid in any way.
PROS:
Excellent Color Options
Superb Paint Quality
Smooth and Easy to Wash Off
CONS:
Not Recommended for Kids Who Can't Wash Off Themselves
06.
Blue Squid Quality Color Palette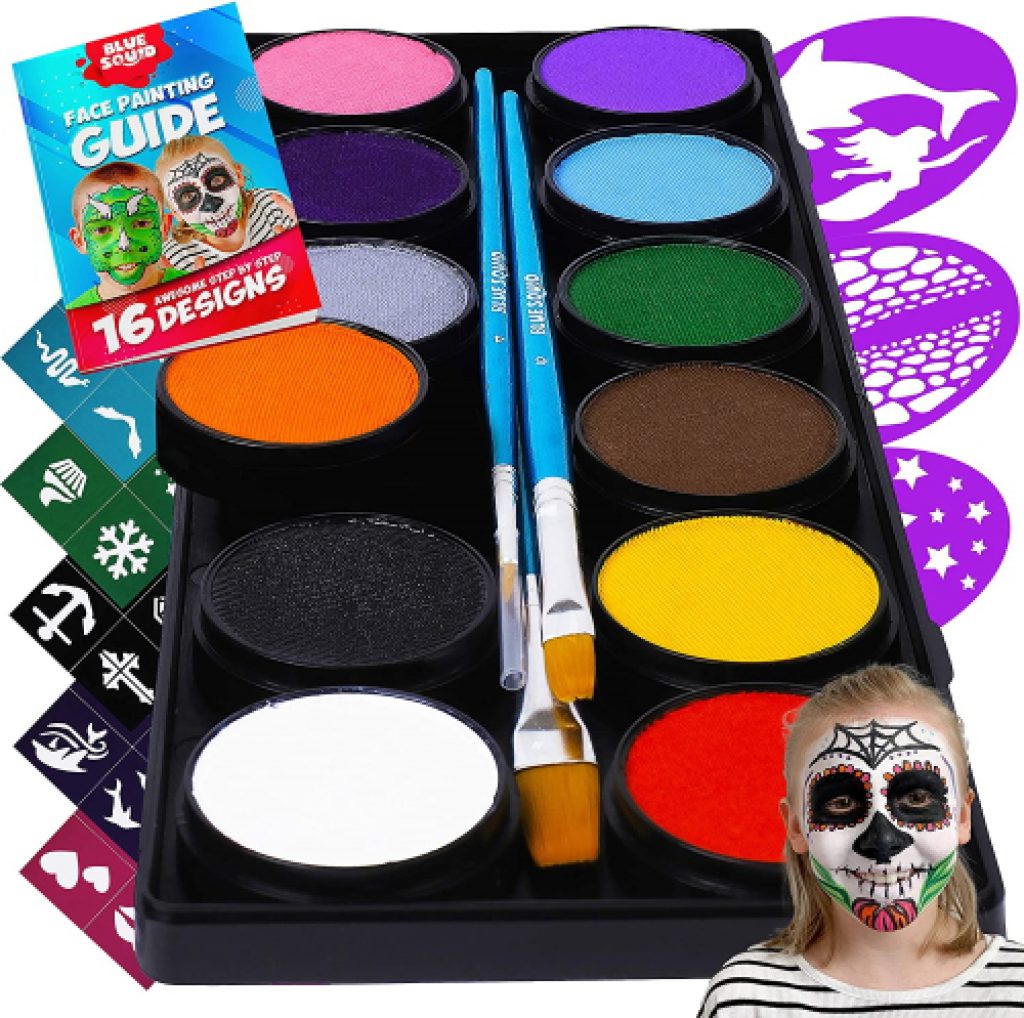 Age: 3+ year
Size: 8.7 x 4.1 x 0.8 in
Type: Palette
Paints: 12 colors
Stencils: 3
Available in Stock
The brightest and most vivid colors available on the market, this remarkable 12-color palette from Blue Squid is a fantastic choice if you want to have a vast list of designs to paint, plus a tremendous high-quality performance on your kid's face. The 12 colors are excellently picked, from the primary colors to secondary ones and even white, black and other additional well-made tones.
They are extremely safe to use, and provide outstanding performance for sensitive skins. They are made with the most professional solutions, so they also dry off pretty quickly and won't become a problem to wash off in any way. In addition, the kit comes with a pretty durable and efficient brush.
PROS:
Awesome Paint Quality
Easy to Use
Safer Than Most Paints
CONS:
Not as Durable as Expected
07.
Senbos Face Body Paint Kits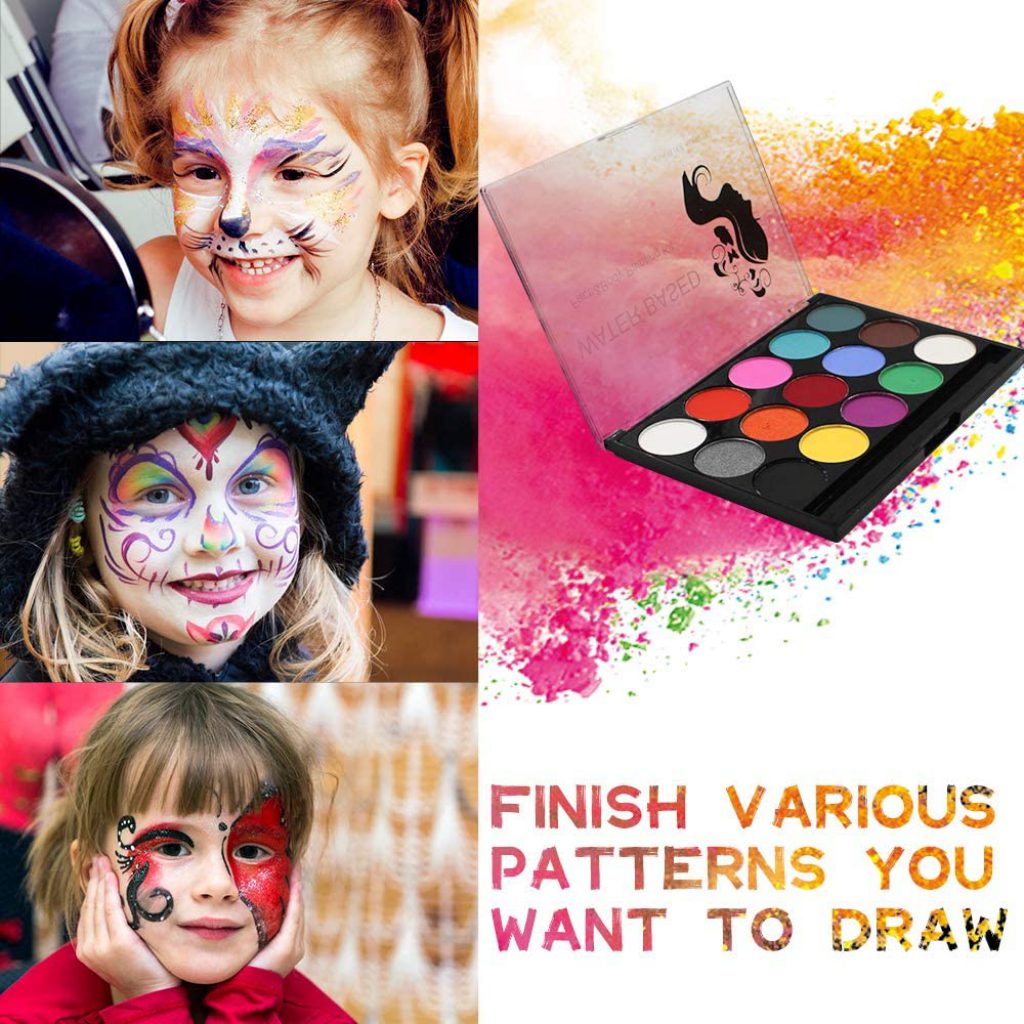 Age: 3+ year
Size: 5.8 x 4.4 x 0.75 in
Type: Palette
Paints: 15 colors, 2 brushes
Offering 2 brushes and 15 colors rich palette, this Face-Painting Kit from Senbos can also deliver an excellent experience thanks to how good the paint is made. The paint is totally washable, is totally easy to use and dries very quickly while being really durable on the skin. And of course, it is entirely safe and non-harmful.
The 15 colors provide vast options and designs to choose, thanks to a broader range of opportunities with primary and secondary colors, plus other tones like shades of purple, shades of green, and a whitey silver one. Also, the kit comes with its own eBook, so you get more designs to paint and a guide to learn how to do them efficiently.
PROS:
Easy to use and remove
Really Useful 15-Color Palette
Convenient and Complete Kit
CONS:
Less Amount of Paint per Color than Other Options
08.
Colorful Art Co. Professional 12-Color Mega Palette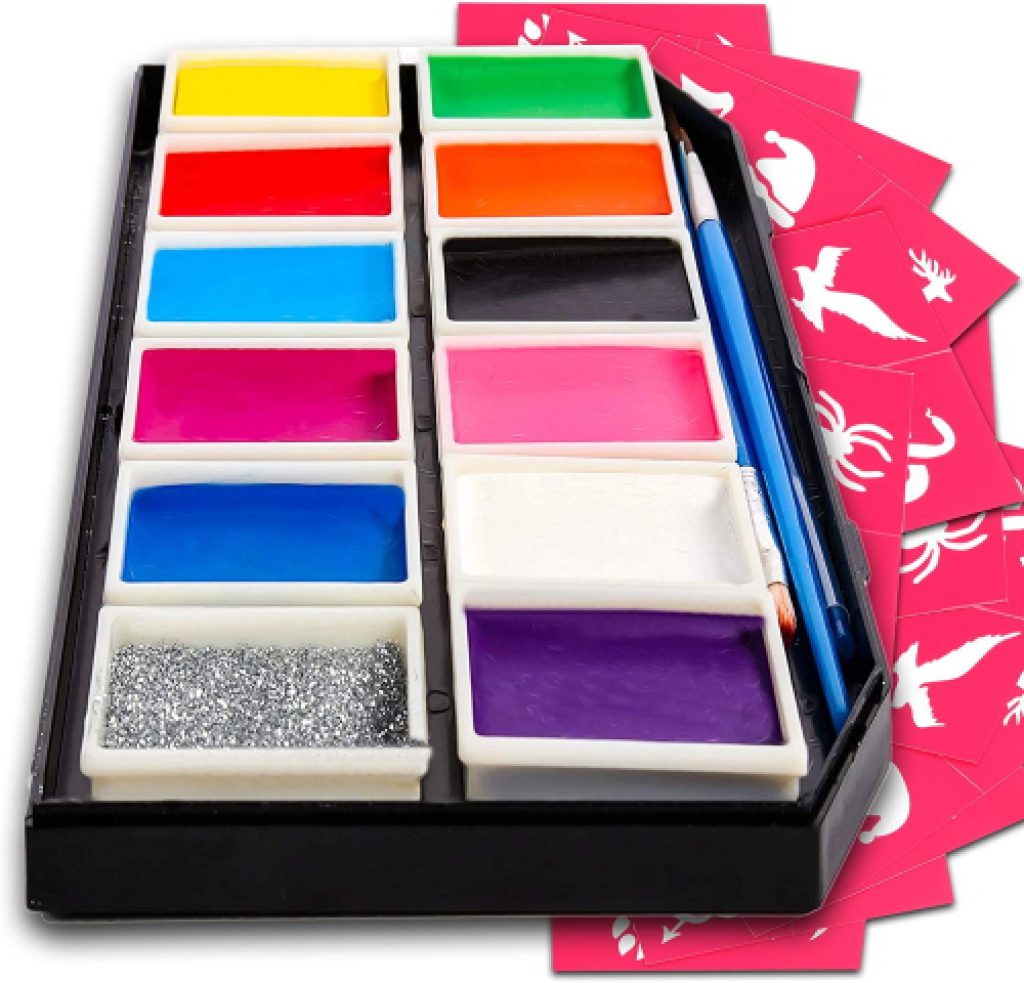 Age: 3+ year
Size: 8.9 x 4.5 x 0.9 in
Type: Palette
Paints: 12 colors, 3 glitters
Stencils: 30
Available in Stock
Want professional quality on the paints you use on your kid's face? Pick the Colorful Art Co. Professional Mega Palette, and you'll receive precisely that and much more. This excellent kit provides everything needed to have the most fun while painting any kid's face, while also being safe, durable, easy to wash off and incredibly smooth on the skin.
This kit also comes with great colors, with 11 primary and secondary colors, plus a glitter option to add some shiny details to every design. What really makes this paint unique in quality, is how long it can last, offering up to 24 hours of durability even on sweaty faces.
PROS:
Exceptional Paint Durability
Much Easier to Put On and Wash Off
Totally Safe and Smooth
CONS:
Less Color Variety Than Others
09.
COLORIZE Face & Body Painting Kit Professional Palette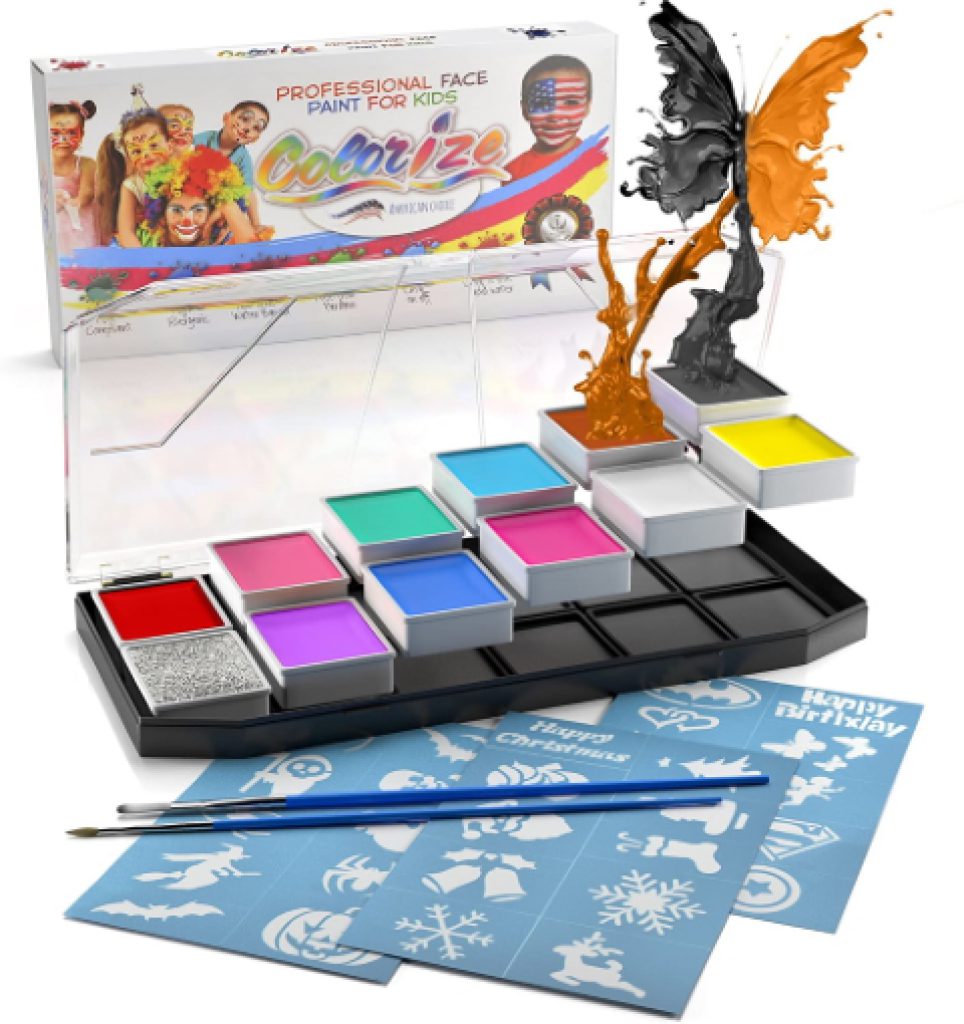 Age: 3+ year
Size: 8.9 x 4.5 x 0.8 in
Type: Palette
Paints: 12 colors
Stencils: 30
The Colorize Face & Body Painting professional palette provides immense options to paint with 12 colors, outstanding quality thanks to the paint's ingredients, and a really smooth yet quick-drying and easy-to-wash-off performance. It suits anyone practically from kids to adults, as it is entirely safe and hypoallergenic, while also being a lot easier to use.
The palette not only comes with great colors, but it also comes with a shiny glitter option so you can add more life to the designs. And of course, the kit comes with 2 brushes and some stencils to get even more ideas when painting.
PROS:
Outstanding Paint Quality
Offers More Paint Than Other Options
Convenient and Versatile Kit
CONS:
Need To Be Washed Off Correctly
10.
Mehron Paradise AQ Pro Face Paint Palettes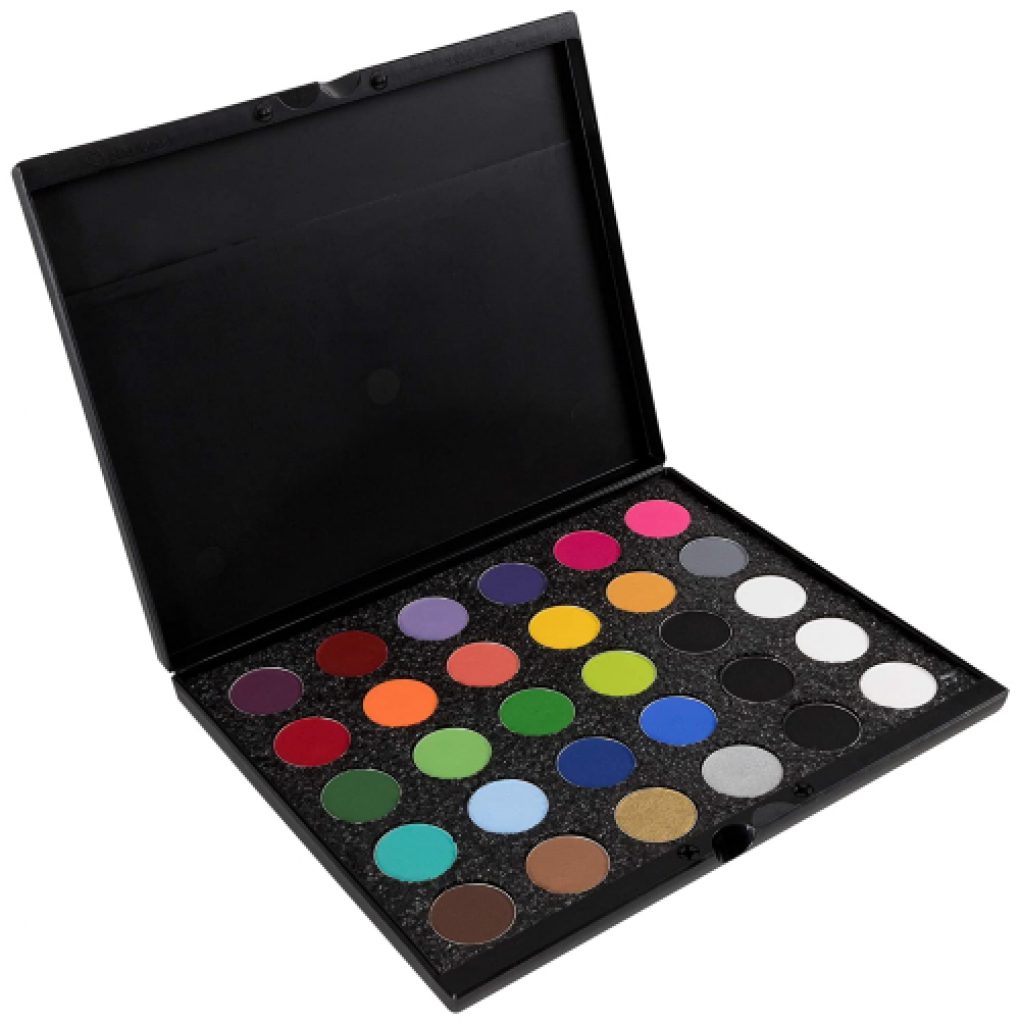 Age: 3+ year
Size: 10.3 x 12.6 x 1.3 in
Type: Palette
Paints: 25 colors
Available in Stock
Superb quality and more color options to choose from, the Mehron Paradise AQ palette for face-painting is easily the most complete and useful choice for anyone. If you are thinking of getting quality over anything else, it will suit you for sure. Despite being of the highest quality out there, it also comes with great color options with different shades, from black to white, shades of green, shades of blue, shades of yellow and shades of red as well.
The paint is totally easy to use, provides a smooth performance and can be washed off easily. And of course, it dries off quickly while also providing an incredibly durable performance, that can last up to 48 hours or even more in perfect state.
PROS:
Excellent Quality of Paint
More Color Options than Any Other
 Smooth, Safe, Easy to Clean and Durable
CONS:
More Expensive than Others
Even though it seems like an easy task, picking the right palette for face painting can become a real challenge. But that only happens when you don't know what you're looking for, so pay attention to the following guide on how to buy one of these kits, and you will surely pick the perfect one for your kids.
Colors
A simple palette of colors for a face-painting kit should come with all the primary and secondary colors at least. That would be around 8 to 12 colors, anything less than that would be too short opportunities for painting, while anything with more colors can be a fantastic palette for excellent chances. The more colors the kit has, the better it will be, but never choose something with less than 8 colors.
Quality
This is all about how smooth the paint is, how long it needs to dry off, how much it can last on the face and how easy it is to wash off. This can be a little problematic to measure, mainly because most paints which are more durable and take less to dry off, are eventually harder to wash off. While others that are smoother on the skin may eventually fall off pretty quickly. However, there are options out there which offer all of these quality factors in one, yet they tend to be a lot more expensive. The right paint quality is the one that is totally easy to apply, dries off quickly and doesn't demand too much washing.
Safety
A good paint needs to be safe and non-harmful on the skin. In addition, it should be hypoallergenic and be made with mostly natural ingredients. This way you can avoid harming your kid's skin when using it. Bad paints may cause itching, swelling or even infections, especially when the kid is allergic. So choose carefully on this part. We recommended to always go for the highest-quality paints out there if you want to avoid this, even though they are more expensive than most.
So, are you eager to start painting your child this Halloween or Carnival? Don't waste more of your time and choose one of the most wonderful face-painting kits we have here. They will offer everything you need for outstanding designs and much more, just make sure you follow our recommendations as well.
With hundreds of face paints out there, you must find it a little hard to pick the right one – yet you only need to take into consideration our advice and list of recommendations, then you will have a lot easier. Pick the perfect kit and start painting your kid now!
The face-painting is an excellent activity to enjoy with your kids, but only when you have the right kit. Here you have some of the most reliable to consider…