10 Best RC Cars 2022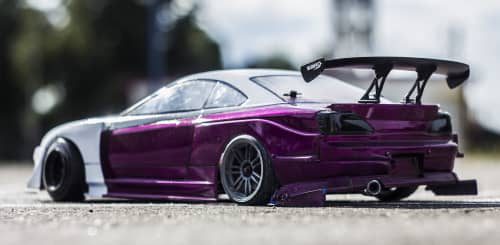 Is your kid asking for a new toy and you don't an idea on what to give him? Maybe an RC car is what you should go for; as almost no kid can say they are not fun…
Despite being a little difficult to use for small children, they are perfect for bigger ones, as they offer multiple hours of fun with a device that is almost likable by every kid out there. You won't believe how much a boy can love one of these, but always when the product indeed offers what it should provide, both in quality and performance.
Because of the many bad-quality products out there, it is almost essential to acquire the necessary information that could help you buy the right one for your boy. To make it easier for you, here's a pretty good guide to follow…
10 RC Cars Review 2022
01.
KidiRace RC Police Car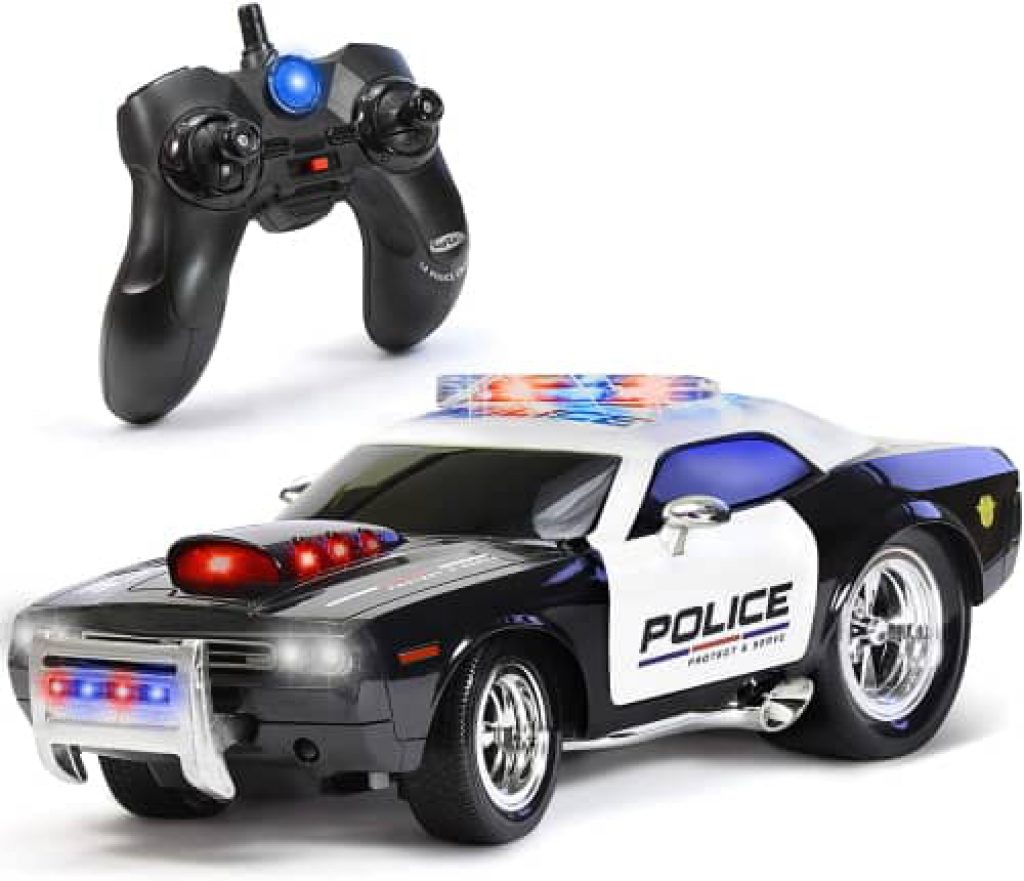 age: 3 – 12 years
size: 14.8 x 7.6 x 6.5 in
weight: 2.65 lbs
play time: 30 mins
control range: 20 meters
Available in Stock
Is your kid thinking of becoming a police officer in the future? Maybe this KidiRace RC Police Car is the one you should give him. It is a perfect gift thanks to its easy-to-use control, fast response system, and an excellent maneuverability that makes it incredibly fun for more than 30 minutes on each charge.
Its control remote technology makes the device capable of managing up to 6 cars at the same time, with a range of up to 30 meters without problems. It features some lights and sounds, so it looks more like a real police car. Also, it comes with anti-slip wheels, so it has a good grab wherever you use it.
PROS:
Good-Looking Police Car Design
Totally Easy to Use
Powerful RC System
CONS:
Not as Resistant as Expected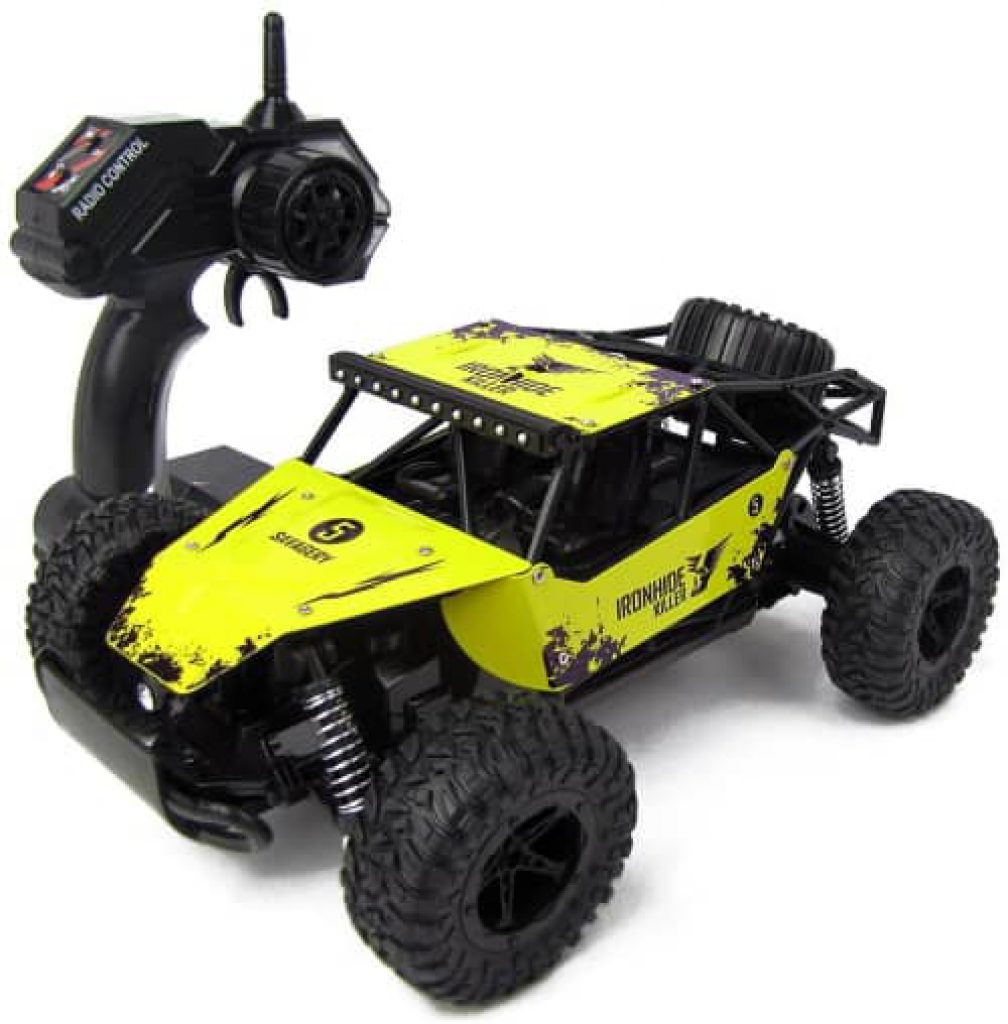 age: 10+ years
size: 13.2 x 8.4 x 7.4 in
weight: 2.7 lbs
charging time: 45 mins
play time: 10 – 15 mins
speed: 15.5+ mph
control range: 80 meters
Capable of going at 25km/h this KingPow All-terrain 2 WD Truck offers a powerful electric performance, an off-road capability, and the opportunity to use it for 20 minutes without problems.
The entire construction is made to provide superior shock resistance, both in the PVC tires and in the internal shock-absorption device. The control provides the user with 2.4 GHz performance, making it totally reliable and responsive when using, at a distance of up to 80m away from the car. And of course, it comes with a great reliable battery, with an indicator that shows the user when the battery is dying.
PROS:
Recommended for All-Terrain Use
Responsive and Effective in Long Distances
Effectively Shock-Resistant
03.
Air Hogs Wall Climber Zero Gravity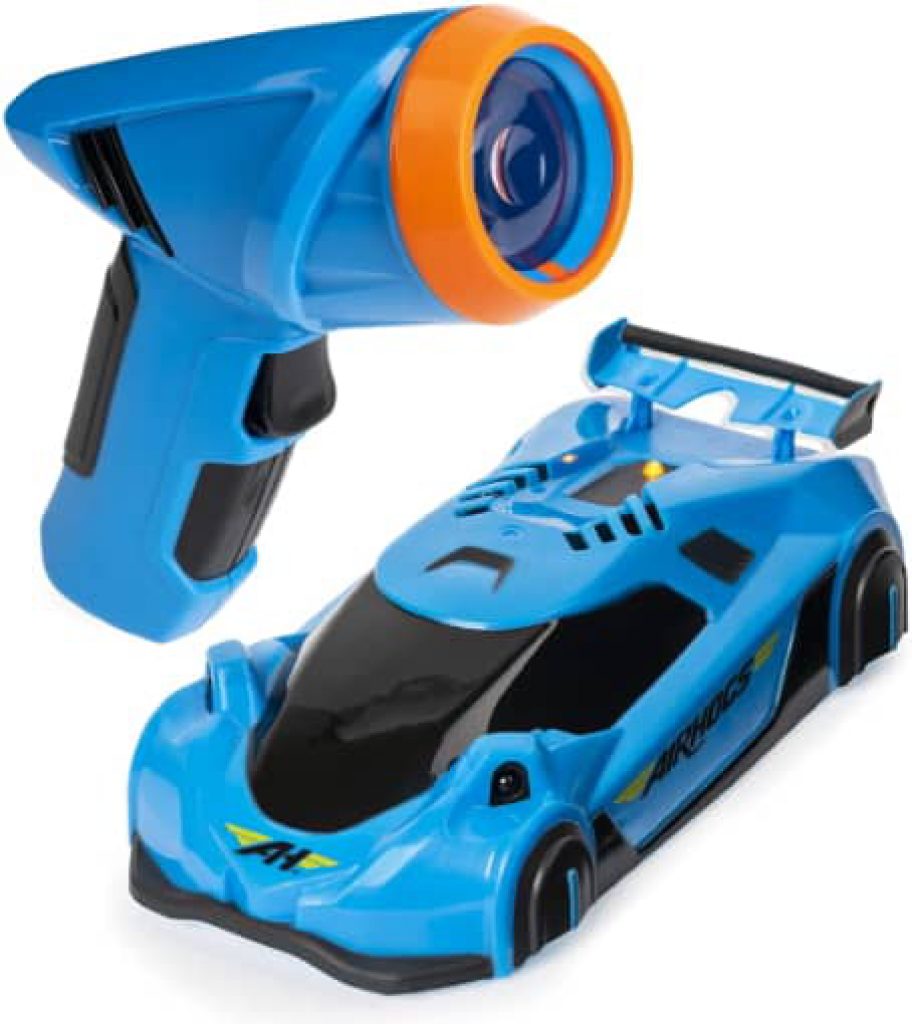 age: 8 – 10 years
size: 2.66 x 8 x 10 in
weight: 8 ounces
charging time: 45 mins
play time: 5 – 10 mins
control range: 6 feet
A cheaper version if you are short on a budget and still want to give your kid an excellent gift – this one will for sure be a great idea. The Wall Climber Zero Gravity RC from Air Hogs is a totally easy-to-use toy, the car easily chases a light in any direction you want at super-fast speeds and provides the user with a high-quality construction that will last a lot despite its price.
The car climbs walls and resists even the hardest of shocks when falling. And works perfectly well for even smaller kids, as it is not only effortlessly to use, but because it offers a reliable performance, light on the vehicle will flash when the battery is low prevent it from the damage.
PROS:
Extremely Cheap
Much Funnier and Easier to Use
Wonderful Climbing Feature
CONS:
Only Recommended for Indoor playing
04.
DeXop-BaBrit Cartoon Car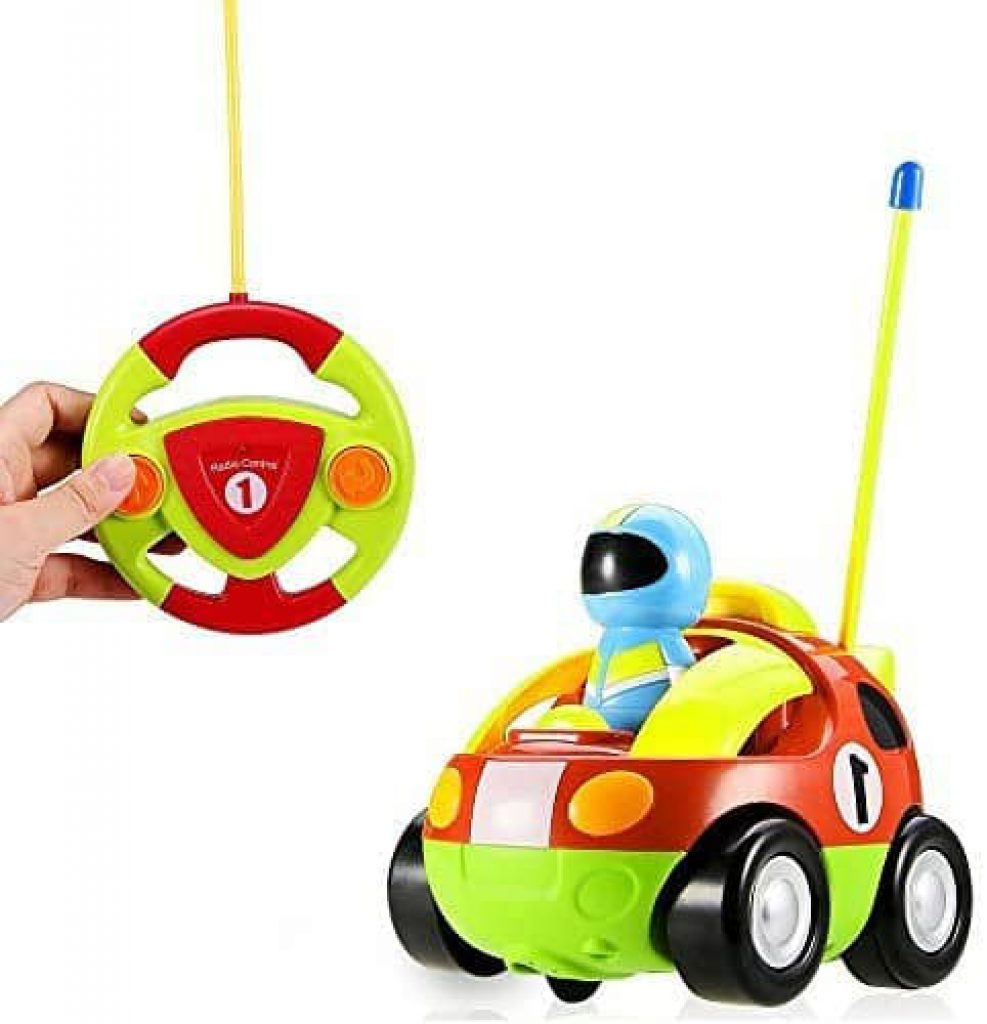 age: 3+ years
size: 5.3 x 3.9 x 7 in
weight: 1.1 lbs
control range: 20 – 30 meters
Primarily designed for smaller children, the DeXop-BaBrit Cartoon RC car is a perfect gift if you want to surprise your toddler. Its design looks like a cartoon, coming with an entirely straightforward control with simple buttons to use. The entire construction is made for superior safety so even babies can make use of it comfortably.
The entire shape offers more cuteness and resistance than others. It won't be as fast, but it will undoubtedly last longer thanks to its well-made construction entirely. And of course, it offers a maximum of 30m distance control so it can offer even more entertaining moments to your kid.
PROS:
Really Cute Cartoon Design
2-Channel Effortless Controls
Resistant and Durable Construction
CONS:
Only Recommended for Clean and Flat Floors
05.
VillaCool RC Car 4WD Off-Road Rotation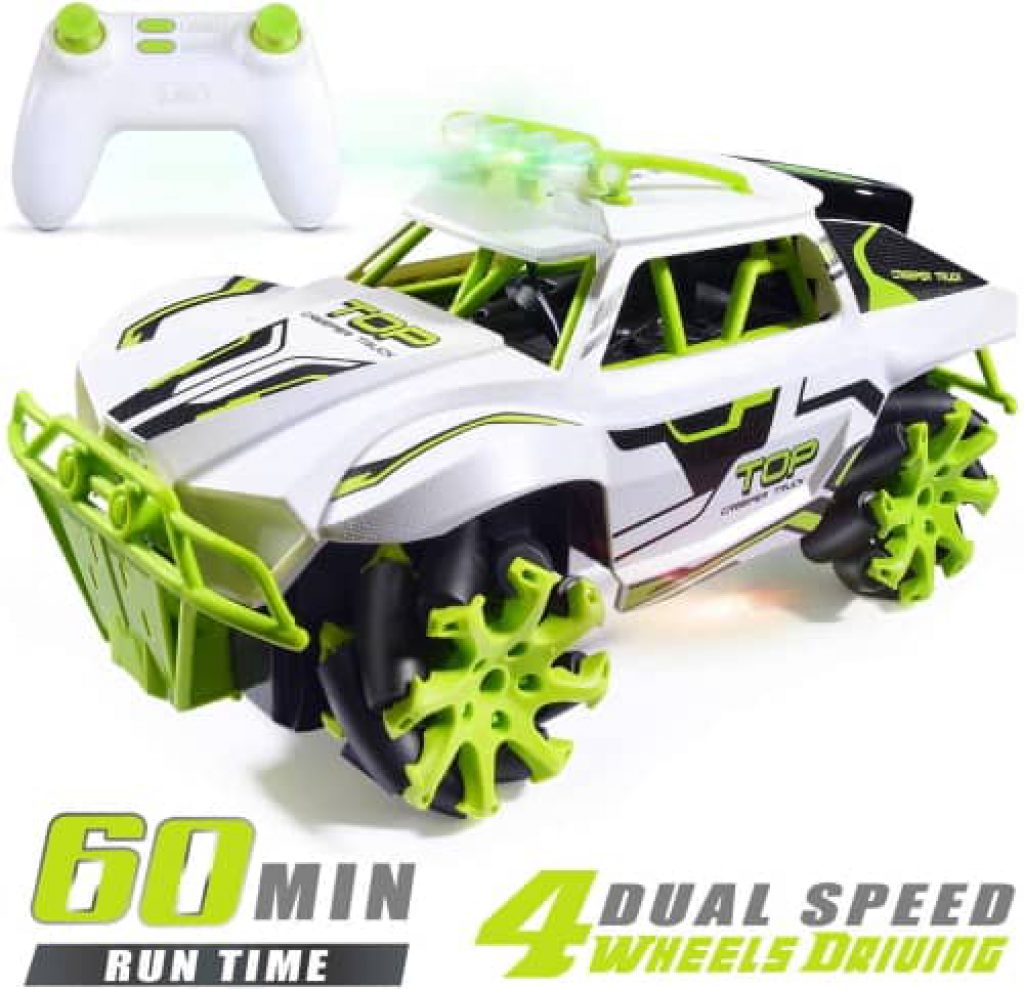 age: 6+ years
size: 9.6 x 5.1 x 5.4 in
weight: 1.8 pounds
charging time: 120 mins
play time: 35 – 70 mins
speed: 5 – 35 km/h
control range: 80 – 100 meters
The Off-Road from VillaCool is also a great option to consider if you want your child to get happy when getting it. There's no mistake about how quality-oriented it is, for a wonderful price almost impossible to meet by any other option in the list. This RC comes with everything you could hope from a premium-quality product, from a 2.4GHZ transmitter for a more responsive and longer distance use, to a wonderfully fast 35 km/h speed and even a 70min battery life for superior reliability.
Your kid will simply love this Off-Road, as it can easily be used on any type of terrain, can resist even the hardest of shocks and eventually get to last a lot more than the majority of RC cars out there.
PROS:
Extremely Effective in All Terrains
Fast And Reliable Performance
Responsive and Easy-to-Use
06.
AKEE 4WD High-Speed Desert Monster Truck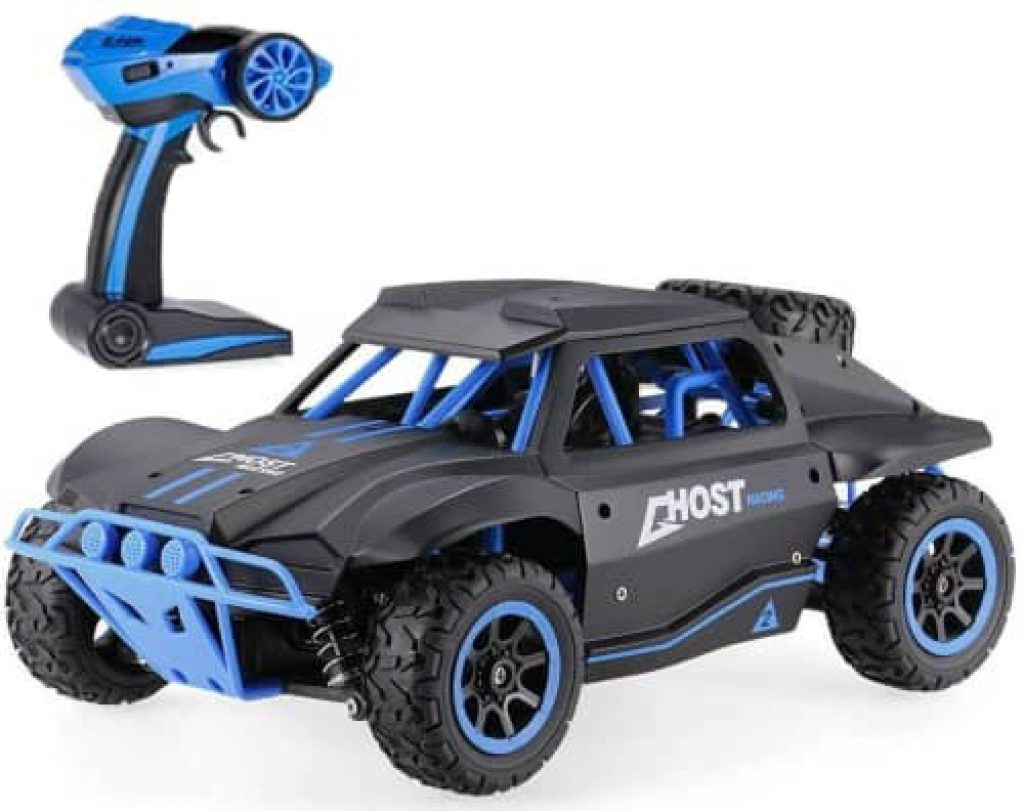 age: 8+ years
size: 11.4 x 7.3 x 4.5 in
weight: 3.53 lbs
charging time: 4 – 5 hours
play time: 20 – 25 mins
speed: 15.5 mph
control range: 100+ meters
Looks incredibly good, provides a much easier to use control, works terribly fast, and can resist even the hardest shocks without problems – this AKEE 4WD high-speed Car is perfect without a doubt. It is entirely stable when running, in almost all types of environments including wet ones and even mud. Also, it features a 2.4 GHz RC, offering the opportunity to use it 50m away from the car.
It goes from 0 to 25km/h in just a few seconds, offering up to 25 minutes or a little more of working battery. The shockproof system allows it to be used everywhere, alongside the PVC robust body construction, which is highly durable as well.
PROS:
Totally Reliable and Performance-Oriented
Really Fast and Resistant Construction
Durable and Resistant
07.
AHAHOO Buggy Truck 2WD Rock Crawler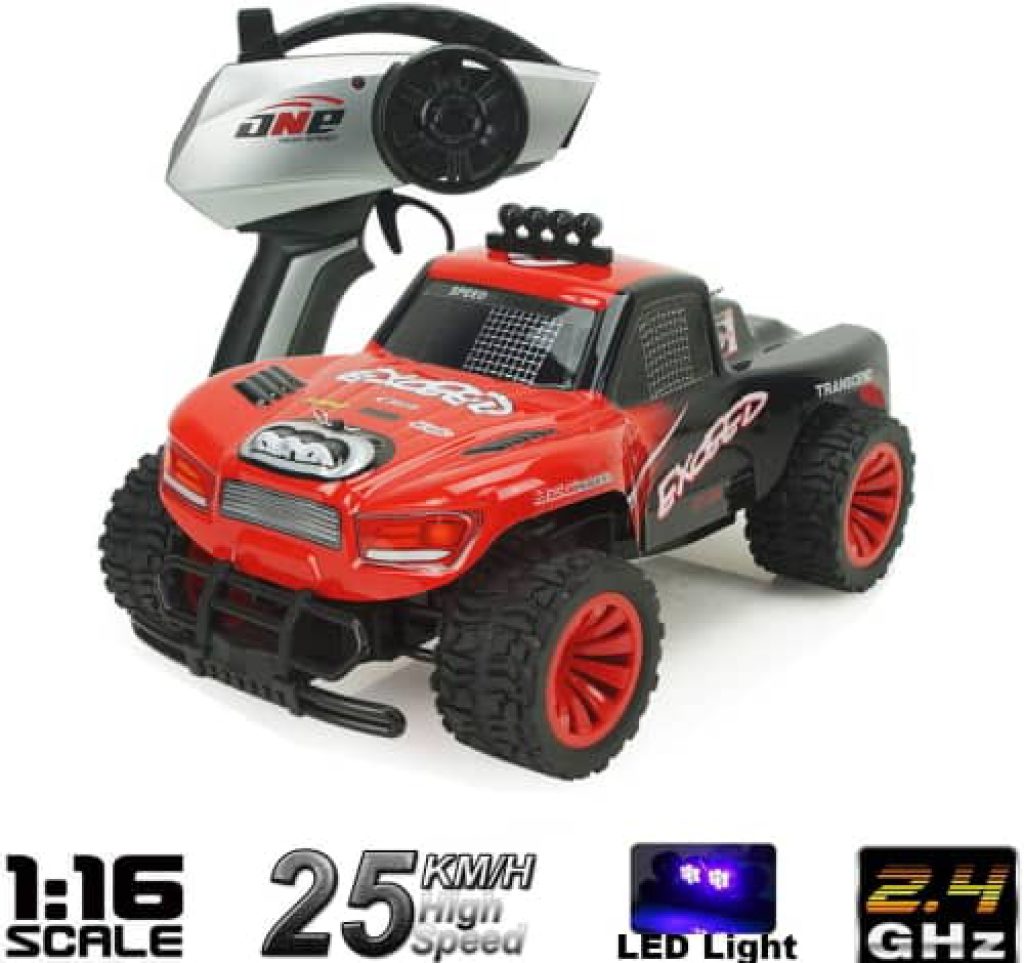 age: 6+ years
size: 11.4 x 5.9 x 7.5 in
weight:4 lbs
charging time: 1.5 – 2 hours
play time: 15 – 25 mins
speed: 15+ mph
control range: 80 meters
The Rock Crawler Buggy from AHAHOO provides a 2WD performance, making it incredibly powerful to be used even in the hardest of environments. Additionally, it can offer an 80m use so you won't have a problem when going on outdoors, being able to put it on 25km/h without any problem either.
The car only demands a 2-hour fast charge and can be used for 25 minutes easily. The 2.4 GHz control offers superior reliability and responsiveness when using, so it goes exactly where it is told to go. And of course, it will resist hard shocks without problems thanks to a sturdy and resistant design.
PROS:
Fast and Powerful Performance
Much Easier to Use
Superior Controller Responsiveness
CONS:
Unreliable Shell Construction
08.
CSFLY 4WD Road Racing Truck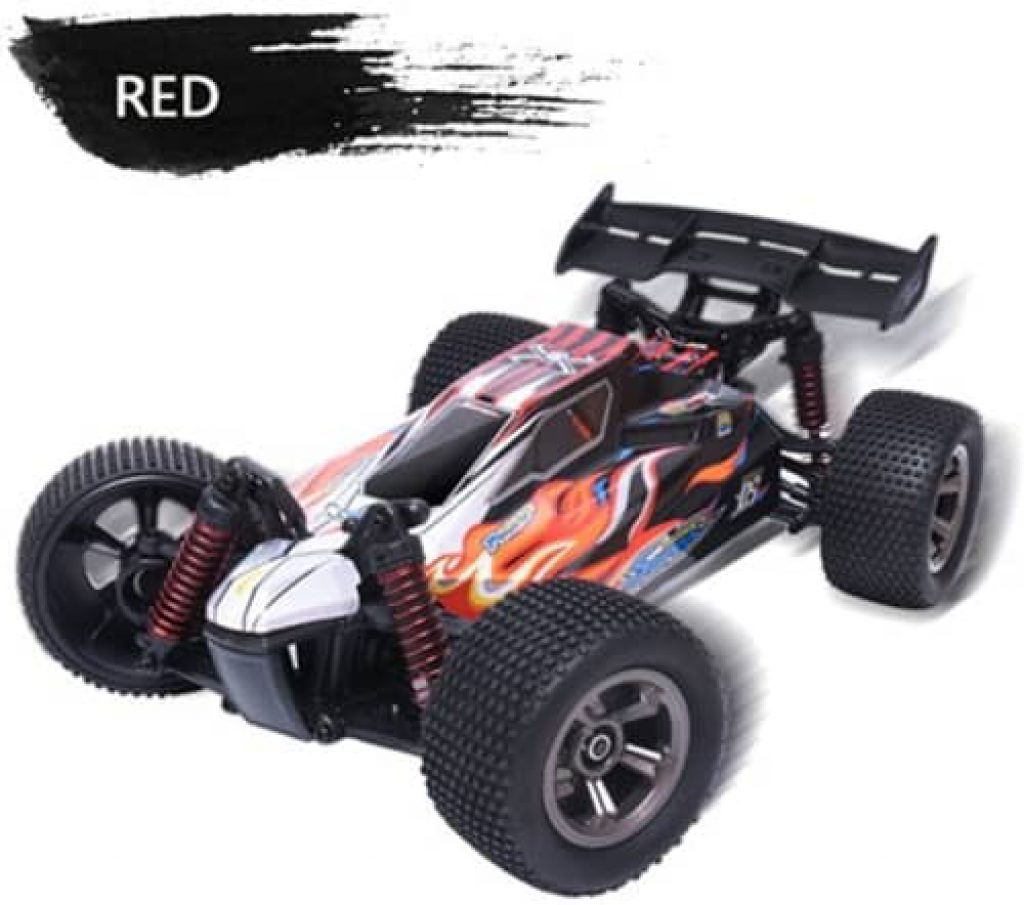 age: 14+ years
size: 12 x 8.5 x 5.4 in
weight: 2.9 lbs
charging time: 2 hours
play time: 10 mins
control range: 80 meters
Want the quickest RC car for your kid? The CSFly 4WD Racing Truck is what you're looking for. This one, offering up to 28km/h of speed can also resist even the hardest shocks with a highly superior suspension system. It will totally easy to use, and doesn't need more than 2 hours of charge to work for 25 minutes without a problem.
The 4-wheel performance makes it incredibly powerful and fast, working really great alongside the 2.4 GHz responsive and distance-oriented control, making it capable of functioning as far away as 80m with an excellent easy-to-use control.
PROS:
Looks Sleek and Effective
Faster Than Most
Incredibly Responsive and Reliable Controls
CONS:
Not Recommended for Wet Environments
09.
GordVE Flying Quadcopter Car
age: 6+ years
size: 15.4 x 11 x 3.5 in
weight: 1.45 lbs
charging time: 60 mins
play time: 10 – 15 mins
control range: 200 meters
You won't believe how impressive this Quadcopter car is, offering not only a much more entertaining experience but a highly efficient performance no matter where you use it. It can go up to 30m in the air easily and will resist even the hardest of shocks while it goes running without problems.
It features LED lights to make it more engaging, a 360-degree remote control with a 6-axis gyroscope, and a fantastic 2.4 GHz system that makes it capable of working in distance of up to 40m without problems. Lastly, it offers up to 20 minutes of use with just 50 minutes of charge.
PROS:
Highly Interesting Quadcopter Design
Incredibly Easy to Use
Reliable and Resistant Construction
10.
JX RC Cars 4WD Race Desert Buggy
age: 12+ years
size: 16.2 x 8.6 x 6.5 in
weight: 5.8 lbs
charging time: 2 – 3 hours
play time: 20 – 30 mins
speed: 35+ mph
control range: 100 meters
Want a more durable and resistant toy car which also offers a superior speed? The 4WD Desert Buggy from JX RC Cars is what you're looking for. You won't believe how fast it is, being able to go up to 56km/h without problems, working with a 2.4 GHz remote, offering more 100m away of responsive use, while also providing more than 30 minutes of use.
The entire car is much better than any other for sure. It also features a really convenient LED light so your kid can even use it in dark environments and have the most fun you can think of. All of it is built with metal parts, with a PVC shell and rubber wheels for better grip in different conditions.
PROS:
Superior Quality Entirely
Incredibly Fast
Reliable, Resistant, Durable and Responsive
You won't believe it, but when you are going to buy one of these you will a varied range of options to choose, and if you are not careful – you may eventually pick the wrong one for your child. But don't worry, if you learn our following advice with care, there's a higher chance of making a better choice. Come and take a look at what to consider when purchasing:
Types
There are four main types of RC cars to choose, the popular RC racing, the RC truck, the RC buggy, and the RC toddler. The RC racing cars look exactly like a racing one, sometimes changing in design looking like regular cars or maybe looking a little tougher than average, but always in a flat and more closer-to-the-floor design.
RC trucks, on the other hand, usually are bigger and farther from the floor. These one offer a great performance in different terrains, are much more shock resistant and eventually work really great if you want to perform tricks and such.
RC buggies are like a mix between racing and truck RCs. They are both lean and tough, all-terrain and good on plain floor, fast and shock-resistant, and typically look really good but not as big as trucks. These are the most common if you want an off-road performance with an excellent racing capability as well.
The RC toddler is the design mostly used by smaller children. These models are much more engaging for younger infants, with a colorful construction, a much easier to use control and a much more straightforward structure to use indoors only.
Controls
Most RC cars are totally easy to use, ranging from 2-way controls to 4-ways or even 6-ways ones. The 2-ways controls are just to go back and forth with a steering control to go to the sides. 4-ways controls offer the opportunity to go back and forth, change between speeds and modes, and sometimes delivering a much better turning performance. And the 6-ways ones are those who provide more features when it comes to controlling. These options may include flying cars and the like.
Batteries
All RC cars are battery-powered, at least all RC cars for children. When you are buying one of these, always remember that it should last at least 10 minutes when using so your kid won't get frustrated too fast. And of course, it shouldn't have to get charged for more than 2 hours, as it will also get really annoying for you and your kid. For this, go for options that offer at least 500mAh of recharge power, so it would last longer and charge more efficiently.
Just remember always to pick the one that also fits your needs perfectly. You won't like an RC car that won't deliver the quality you are looking for to give your child. To that, there's no better way than following our advice and recommendations, you won't regret it.
By taking into consideration our assistance, you will quickly get an excellent RC car for your kid – without having to regret buying one of these to learn how…
Here's everything you need to know about RC cars and more. Come and see the many different opportunities you have to choose from – just perfect!