10 Best Swing Sets 2022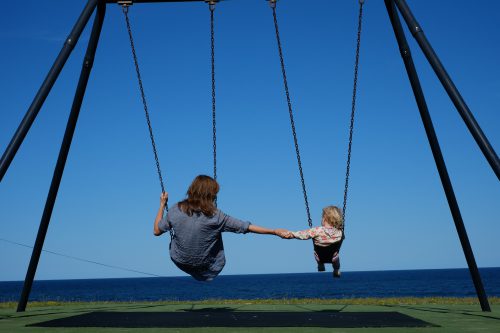 Want to see your toddler start having the most fun while developing motor skills? A good swing set can be the most helpful tool to do that and much more…
It is inarguably one of the most effective, healthy and incredibly straightforward toys any kid can have at home, and it can easily offer far more hours of entertainment than any other. A swing set is almost perfect, and won't ever be a disappointment to buy one of these for your children, even if they don't like it – as any children can make of use of it freely and without problems. Yet, a swing set needs to be right so it can provide significant use to any child.
That's why you must consider some options available out there before purchasing one of these, and within these options, you may find the following recommendations pretty useful…
10 Swing Sets Review 2022
01.
Swing-N-Slide Orbiter Wood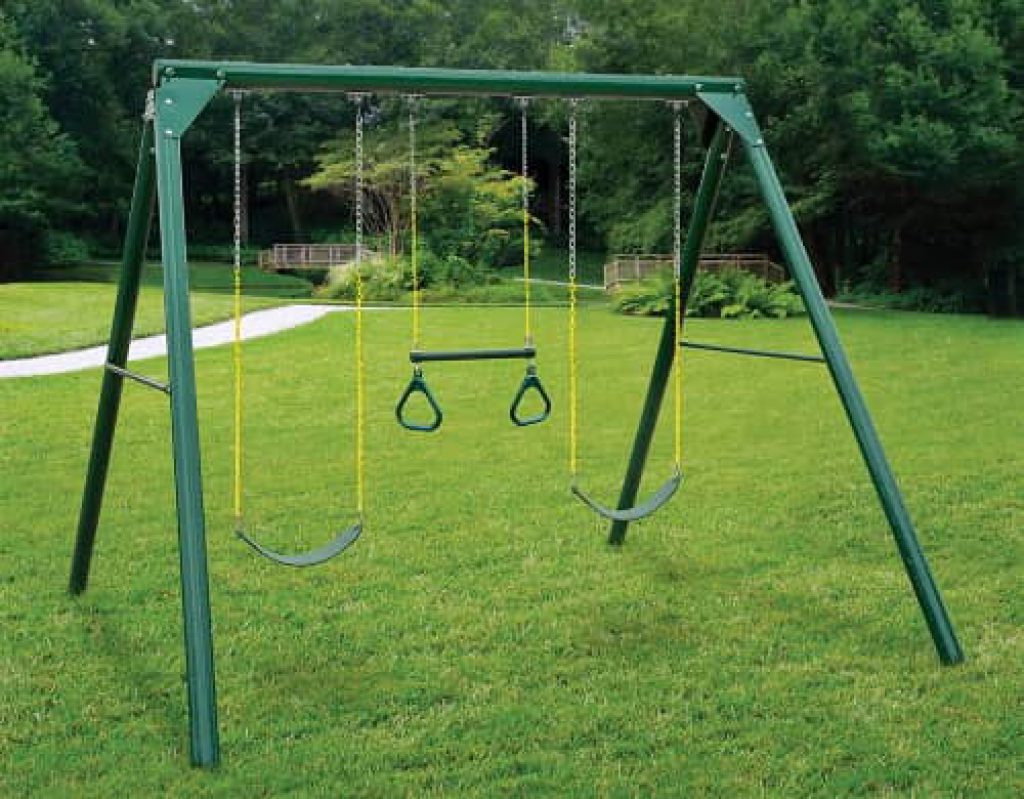 age range: 36 months – 10 years
assembled size: 113 x 96 x 84 in
weight: 112.4 pounds
include: 2 swing seats, 1 Trapeze Handle Bar
support: up to 115 pounds per seats
Capable of supporting up to 3 kids at the same time, this high-quality swing set for older children is one of the sturdier out there. The Swing-N-Slide Orbiter Wood can be the perfect set for any backyard easily and can become pretty entertaining and safe as it is made with the most meticulous design.
The design features two swings, a ring trapeze and comes with A-frame brackets for excellent construction. It is a lot easier to install than most and comes pretty safe thanks to its design which prevents splinters, decay, rot and even warping. It is made of untreated and treated lumber, capable of resisting high temperatures and even shocks.
PROS:
Perfectly Stable
Comfortable and Spacious
Pretty Durable and Resistant
02.
Step2 Naturally Playful Playhouse Climber & Swing Set Extension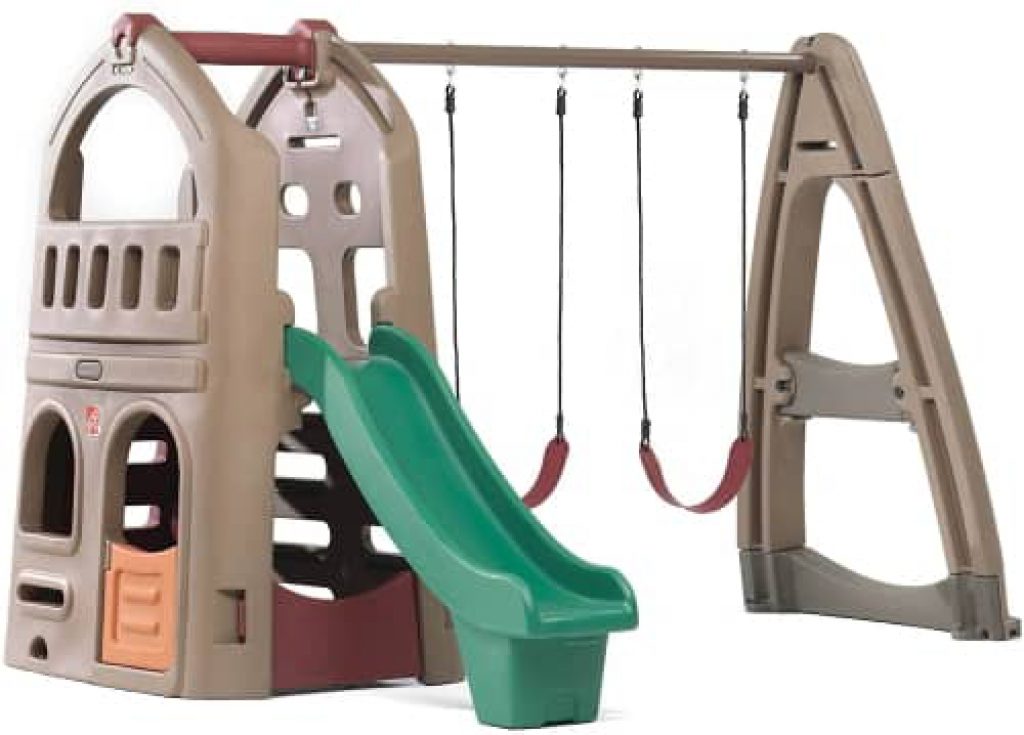 age range: 36 months – 8 years
assembled size: 75 x 110 x 115 in
weight: 185 pounds
include: Playhouse Climber, slide and 2 strap swings
support: up to 115 pounds per seats
A playhouse always offers a more exciting performance than any other type of set, as they are highly entertaining and incredibly development-oriented. This Playhouse Climber with Swing Extension is precisely that, but thanks to its swing set, it is a lot better entirely, offering superior experiences.
The swing is really stable, provides great structure and will be a lot safer to use than most. Mostly recommended for small toddlers, it will be a perfect first experience in swings for sure, or a good and durable one for those kids who are a little more than beginners in swings already.
PROS:
Extremely Convenient Playhouse Design
Highly Entertaining
Really Stable and Comfortable to Use
03.
Backyard Discovery Skyfort II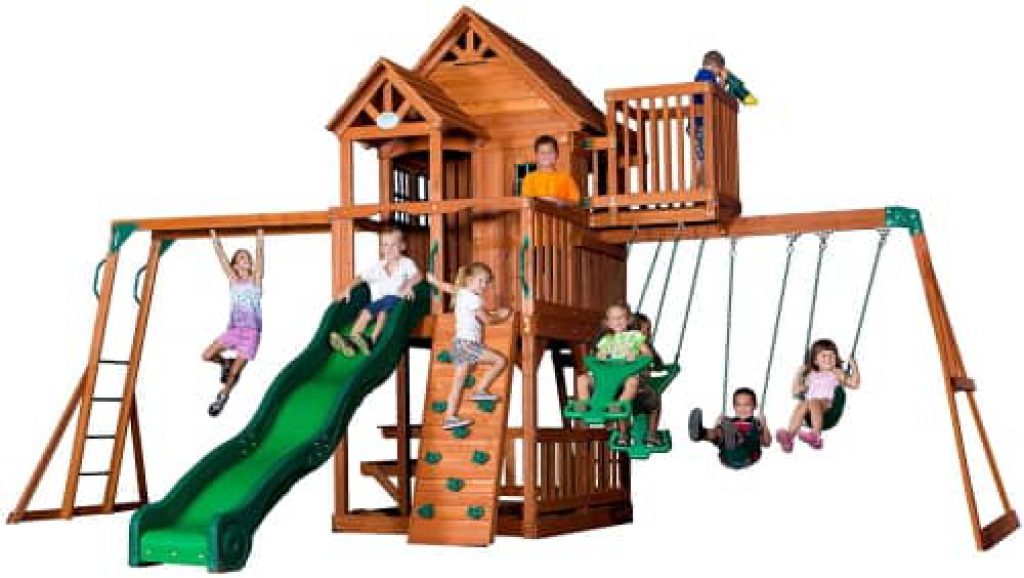 age range: 36 months – 10 years
assembled size: 200 x 272 x 149 in
weight: 720 pounds
include: a clubhouse and a lower play deck, 2 belt swings, a swing glider, a slide, a sandbox and monkey bars
Remarkably complete playhouse for children, the Skyfort II from Backyard Discovery can become the next big hit at home without problems, as it is one of the biggest and most entertaining ones out there. It delivers a really sturdy and durable wooden swing set, providing great entertainment for any kid who uses it.
This swing set is really big and can be used by up to 8 kids at the same time. It is simply awesome, and thanks to its large design it will become practically a house of play for anyone, with a safe construction and an even better durability and resistance – this one is the one not to overlook.
PROS:
Awesomely Large
Incredibly Comfortable and Spacious
Durable And Resistant Wood Construction
04.
YACOOL 45" Saucer Swing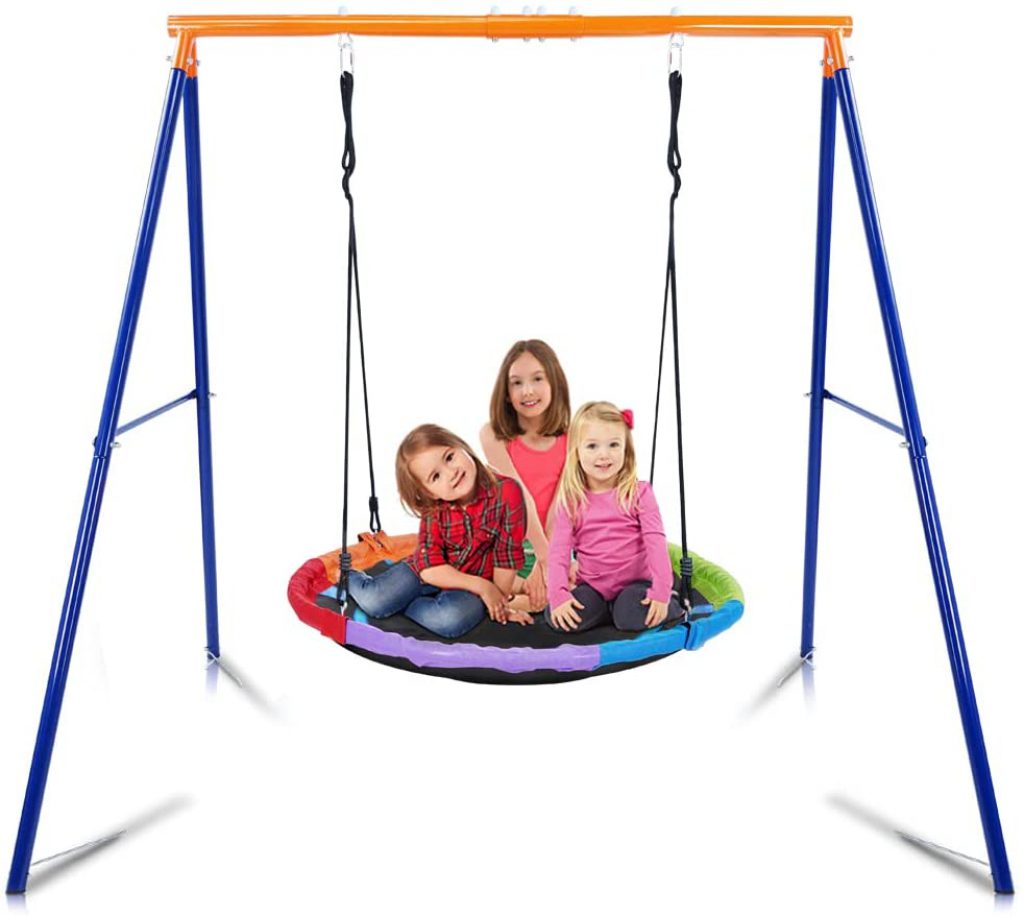 age range: 36 months – 8 years
assembled size: 39.3 x 12.3 x 7.29 in
weight 41.1 pounds
include: 1 swing
support: up to 440 pounds
Available in Stock
A compact and pretty useful swing set, the YACOOL 45" Saucer Swing is simply awesome and can be used anywhere without problems. It is a lot sturdier than others and offers a 45" seats for great comfort at home. It is totally easy to set up as well and comes with a completely durable construction that won't be any problem at any time.
The A-frame brackets make it highly resistant, capable of supporting up to 440 lbs or 3 kids without problems. The device doesn't demand any type of maintenance and will be highly resistant to heat or any other weather conditions thanks to its Alloy Steel construction entirely.
PROS:
Much More Durable than Most
Really Compact Design
Extremely Easy to Install
CONS:
Only Offers One Swing Seat
05.
Flexible Flyer World Of Fun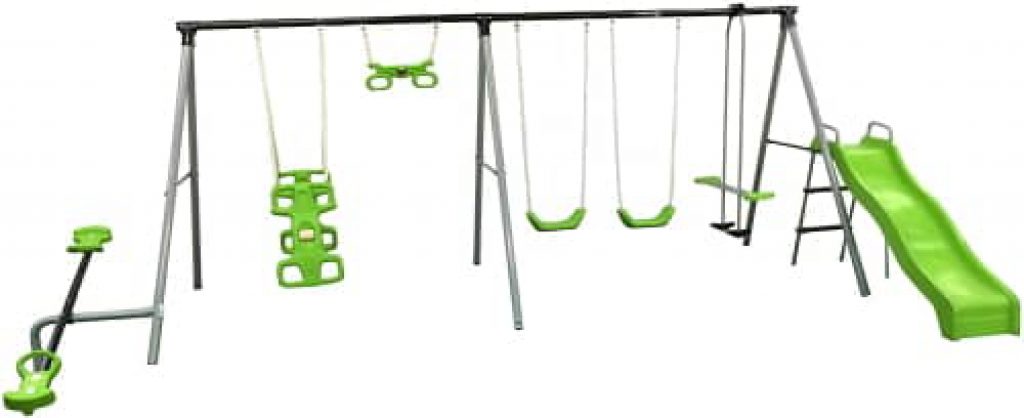 age range: 2 – 10 years
assembled size: 120 x 213 x 72 in
weight: 103 pounds
include: a green wave slide, two green swings, a green Rocket Rider for 2, a green Trapeze Swing, a 2 passenger green seat, and an air-glider with green seats for up to two kids.
support: up to 105 pounds per seats
A complete playground set for children, the World of Fun from Flexible Flyer also provides a really useful swing set that offers great capacity and even better versatility. It can be used by kids of up to 10 years without problems, and it can support up to 1000lbs at the same time.
The frame is wonderfully made of high-quality steel coated with a safe and durable paint for superior performance. The SuperFun swings are extremely reliable too, the Trapeze comes really interesting, and with the Rocket Rider, any kid would love this set for sure. And of course, the slide and the seesaw are excellent as well.
PROS:
Convenient Playground Set
Resistant and Really Stable
High-Quality Construction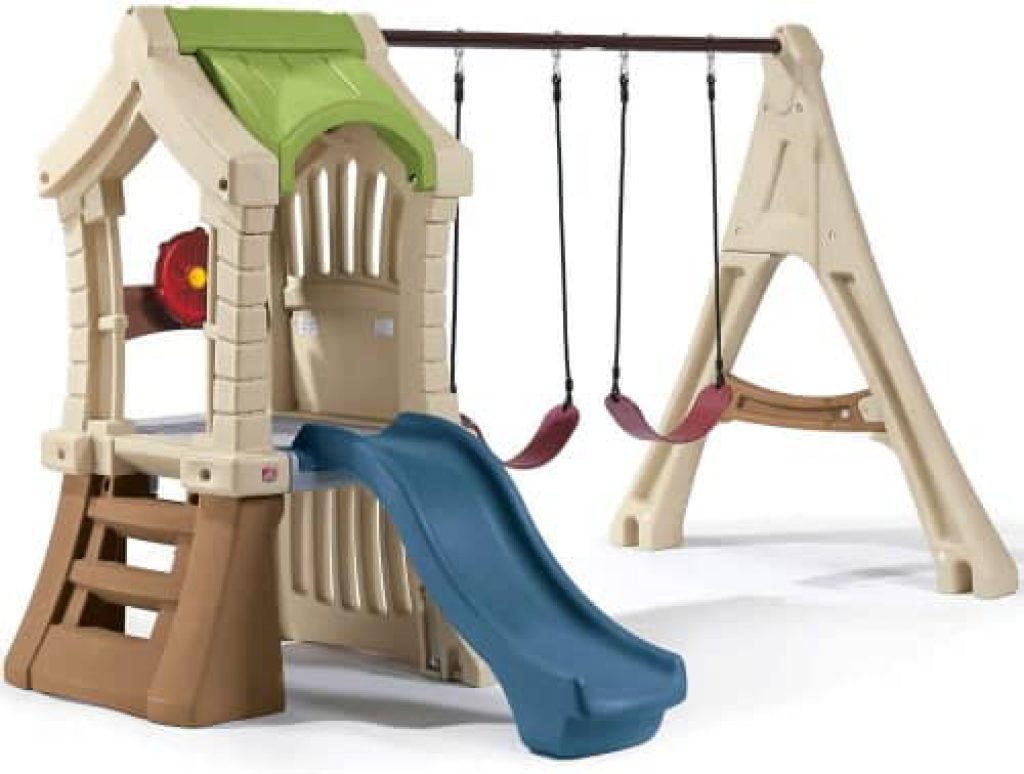 age range: 36 months – 6 years
assembled size: 84 x 111.5 x 75 in
weight: 155 pounds
include: playhouse, steps for climbing, a steering wheel and a slide for an easy exit , 2 swings
support: 240 lbs (109 kg) total
Playhouses are just awesome, and this Step2 Jungle Gym house is extremely well-made too, so it becomes highly entertaining and a wonderful fun source. Any kid would love this one, as it is not only capable of supporting up to 3 kids at the same time, but capable of offering superior safety and incredible performance against weather conditions.
Made to provide excellent entertainment sources, this playhouse comes with an awesome swing set which is sturdy and totally fun. The design also offers a Gym Climber and a pretty entertaining junior slide for little toddlers. An option not to overlook if you have small children.
PROS:
Excellent Convenience
Much More Entertaining
Stable and Resistant
CONS:
Not Recommended for Bigger Kids
07.
Flexible Flyer Playground Equipment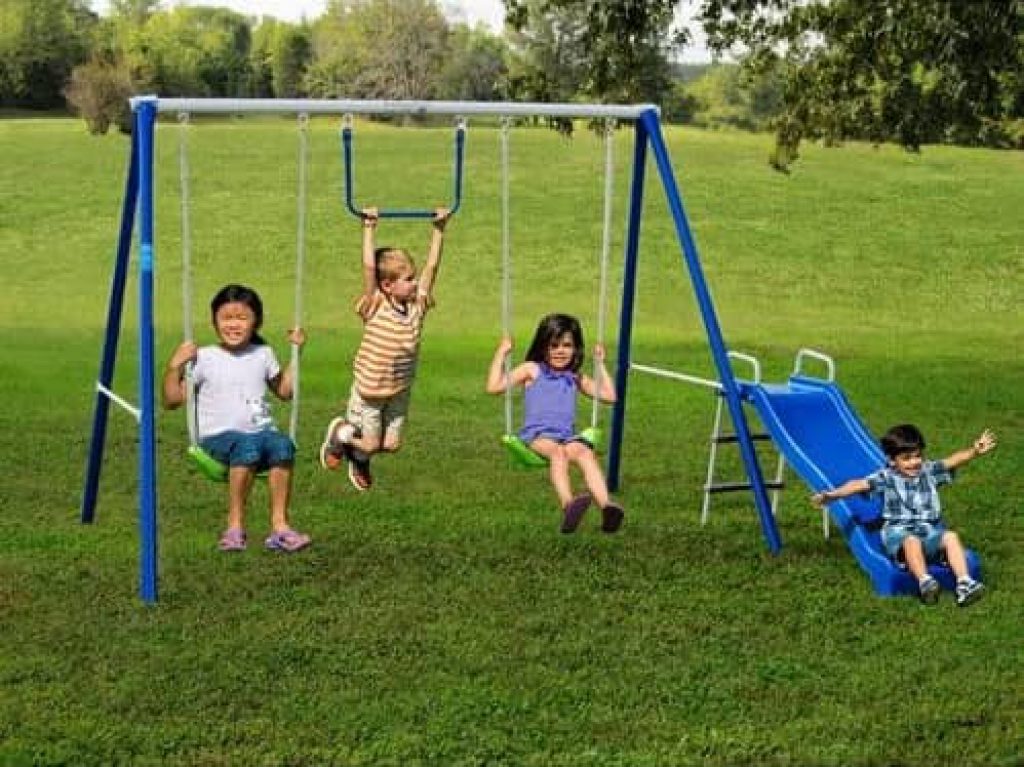 age range: 2 – 12 years
assembled size: 120 x 90h x 70 in
weight: 65 pounds
include: 2 swings, Trapeze swing, Wave slide
support: up to 105 lbs per children
Entirely made of metal, this swing set from Flexible Flyer provides everything needed to be both safe and incredibly fun at all times. It can support a lot of weight and up to 5 kids at the same time, despite being made with only 2 swings, a trapeze and a mini slide for great entertainment options.
The steel frame is awesomely sturdy, and the HDPE resin parts provide superior stability when using. It is big enough to fit 4 kids and will be extremely comfortable to use no matter where. Also, it can be used in outdoor places thanks to its superior durable construction against any weather condition.
PROS:
Incredible Stability
A Lot Easier to Build
Amazing Resistance and Durability
CONS:
A Little Unreliable Slide
08.
Sportspower My First Toddler Swing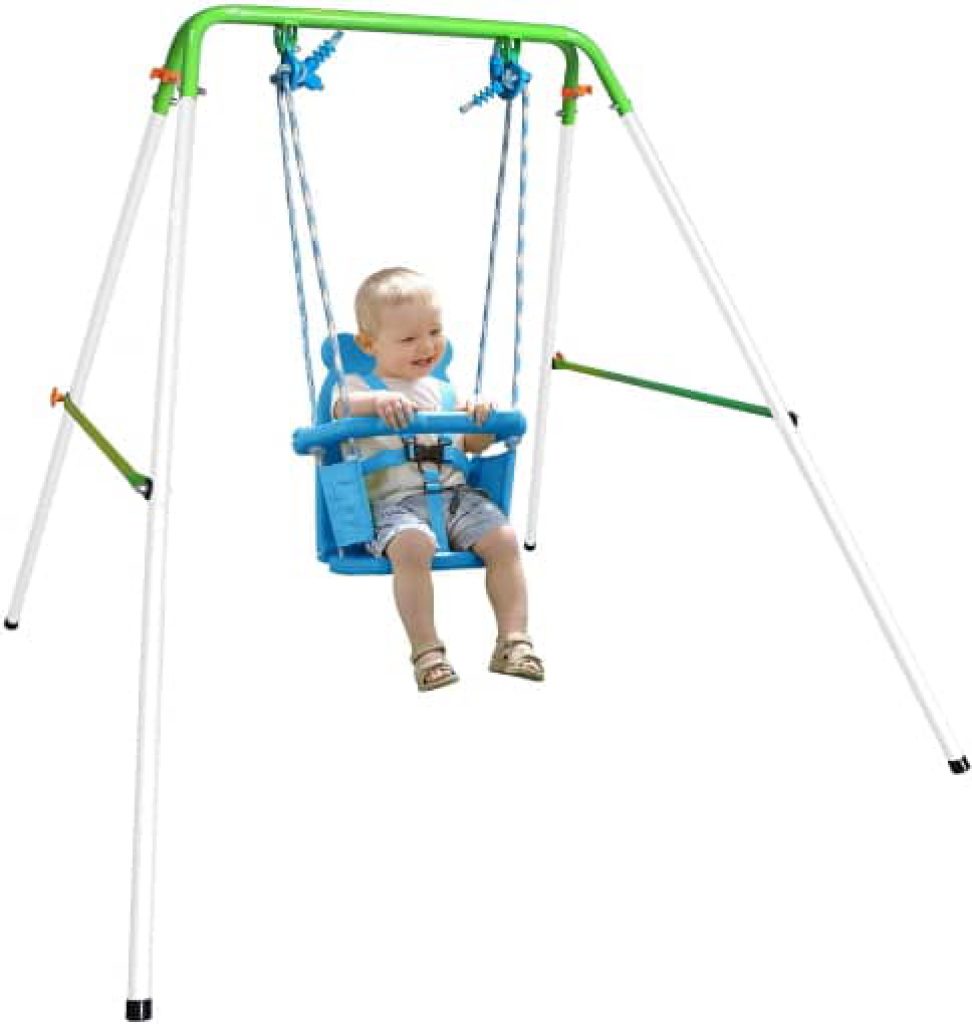 age range: 9 – 36 months
assembled size: 52 x 55 x 47 in
weight: 14 pounds
include: Safety harness on single nursery seat enhances safety and security
support: up to 55 lb
One of the tiniest swing sets out there, this Sportspower My First Toddler Swing is excellent in every way. Not only it provides a sweet design, so your baby looks cuter than ever, but it provides a stable and totally reliable build so you can also be a lot less worried when your child uses it, even for the first time.
It is mostly recommended for children from 9 to 30 months. It is totally easy to build and comes with a lightweight construction for easier assembly and portability. And of course, it provides incredible safety so any parent can be totally assured the baby will be safer than with any other swing set out there.
PROS:
Cute and Effective Swing Design
Perfect Lightweight Construction
Really Convenient Build
CONS:
Not Suitable for Bigger Kids
09.
Lifetime Heavy Duty Metal Swing Set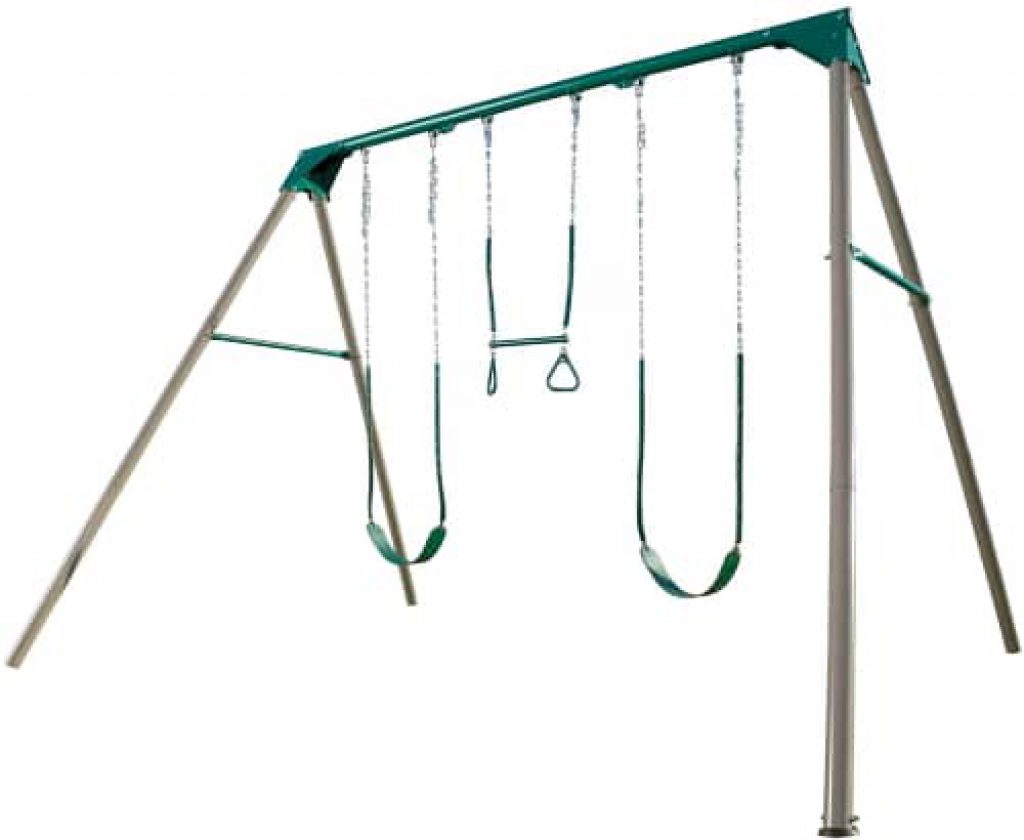 age range: 3 to 12 years
assembled size: 112 x 125.5 x 162.5 in
weight: 55 pounds
include: 2 belt swings and 1 trapeze bar
Awesomely made to provide superior reliability and unbeatable resistance, the Lifetime A-Frame Metal Swing Set is simply perfect. It is not only recommended for any children, it is also capable of being assembled more easily and anywhere without any problem. Its metal build makes it highly resistant, superbly safe and excellently entertaining.
It comes with a trapeze and two swings, and it is so sturdy it can hold up to 4 kids at the same time easily. Despite being mainly built with powder-coated steel, it provides an UV-protected plastic construction made of polyethylene so it resists any weather conditions efficiently. It will simply offer endless hours of fun while being a lot more reliable than most.
PROS:
Simple but Extremely Reliable
More Stable and Strong Than Most
Highly Resistant and Durable Construction
CONS:
Seats and Trapeze are a Little Uncomfortable
10.
Jump Power UFO Swing Set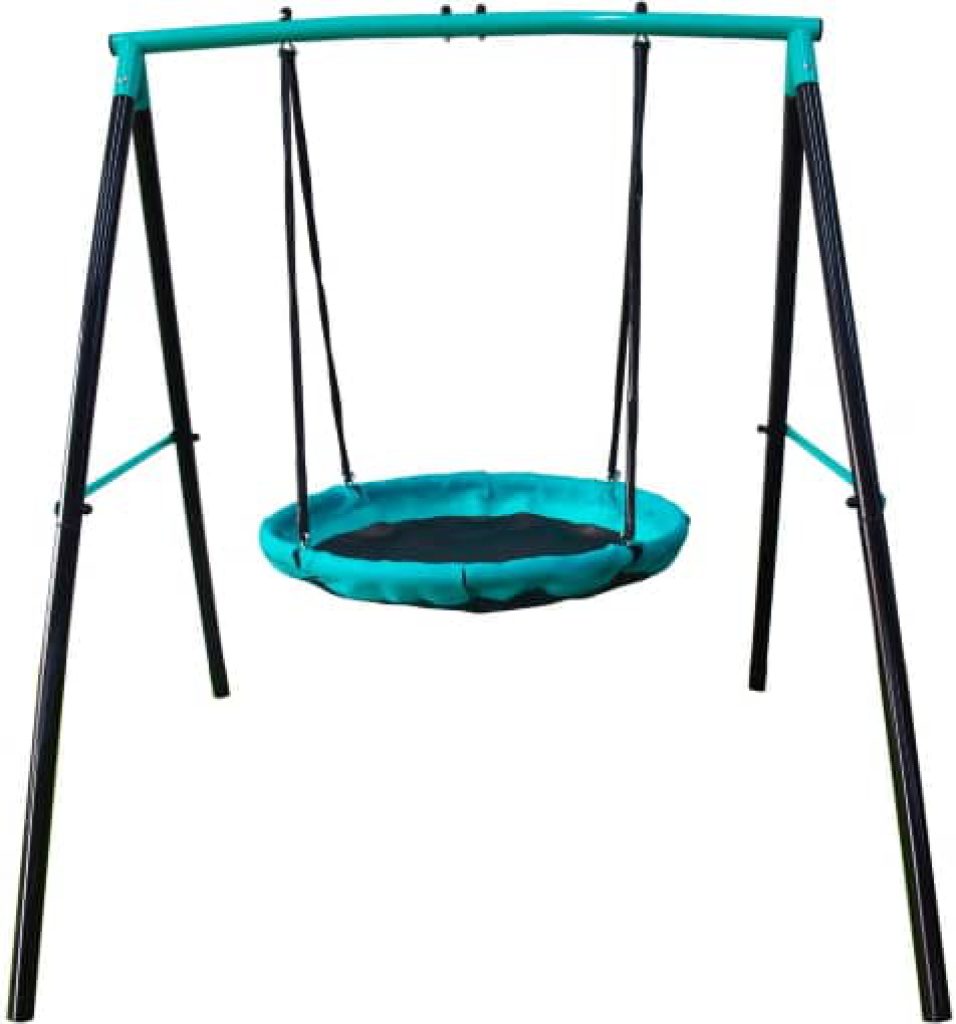 age range: 3 to 8 years
assembled size: 84 x 69 x 73 in
weight: 50.8 pounds
include: Swing Mat
support: up to 110 lbs
If you wanted an unconventional design for the swing set, that's what the UFO backyard swing set from Jump Power offers – a highly superior construction and design that doesn't only provides safety but highly effective hours of fun. It is made of polyethylene for great resistance and polypropylene in the basket, plus PVC in the tubes for great sturdiness. Yet, the entire frame is made of heavy-duty steel for great safety and stability.
The UFO design makes it not only incredibly fun but extremely convenient so it can be used not only as a swing but as a hammock as well, so children can both play with it and even use it for resting and the like. And what's even better, it is entirely easy to assemble.
PROS:
Awesomely Stable and Resistant Build
Highly Superior Performance
Outstandingly Convenient Design
It is not a surprise to see that there are a lot of options when it comes to swinging, with various designs available and even more when it comes to features. That's why you need to know both what you're looking for your children and what you think they want – so you can pick the perfect one that fits both wishes. To do that, maybe taking a look at the following features of swing sets will help you make a more definite decision:
Size
Not only you have to take the size of your kids when buying a swing set, you also need to remember that your kids will grow up. For example, if you child is already 20 months old, getting a toddler swing set won't be the most accurate idea, as it is very likely that swing won't be too useful in a few months, especially if the toddler is already big. On the other hand, if your child is around 12 years old, maybe a swing set is not the most recommended toy you can get. As it is also very likely that they won't be interested in it, and even worse, there won't be a swing set good enough to fit the needs of your kid.
Features
Most swing sets just swing sets – yet you may find some that offer other features like trapezes and even slides. These additional playful designs are helpful and make the set a lot more entertaining than normal. But it is also important to note that there are playhouses, for example, that come with swing sets. These playhouses may eventually look a lot more appealing for children and even for you, but they tend to cost a lot more and be a lot harder to assemble and to locate at home.
Safety
You want your kids to have fun, but you also want them to be totally safe at all times. That's why you must look for safe sets too, those which are not only well-made with no edges or dangerous construction deficiencies but also the ones that are much more stable and capable of holding a lot of weight. And of course, you may even look for a device that provides a soft and pretty resistant build, both to avoid hits on the children and to be a lot more reliable in the long run.
Construction
Here is where safety and durability fall, because the type of materials used in the built are the ones that matter the most in almost everything else. For swing sets, the most usual materials are often wood and metal, yet it is very probable that you could find plastic ones as well. You just need to remember that the construction doesn't matter as much, it just needs to be safe and sturdy enough to provide great reliability. But it is also important to consider the type of construction regarding durability, as, for example, plastic won't ever be as resistant as metal, and no metal or plastic can be as safe as wood is.
Once your children start playing with swing sets, it would be totally interesting for you as you will be able to enjoy with them, especially when they are younger. It is an experience any parent should consider having with their children, and for a good cause, it is extremely recommended.
So get a swing set for home today and see how entertaining and simply incredible it feels to start having such a good time with your kid. You just need to pick the perfecto one!
If you know how it feels to swing, you will for sure want your children to feel it too. So don't let the chance pass and allow your children to experience that feel with these swings now!
Excellent outdoor playground !