10 Best Jigsaw Puzzles 2022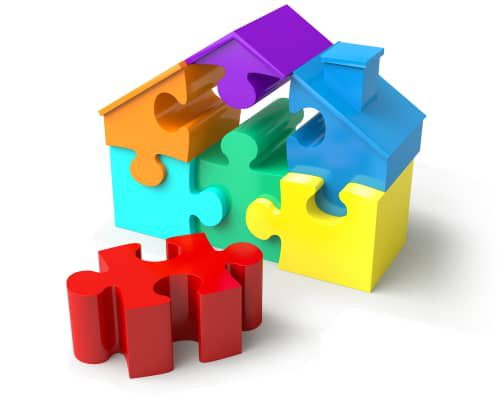 Thinking of buying a nice intellectually promoting new toy for your kid? Jigsaw puzzles are an incredibly good option for this and one of the most entertaining as well…
An activity that could give endless hours of play while promoting guessing and memory abilities. Playing jigsaw puzzles can also become an addiction in a perfect way. The perfect gift for a child or toddler, as well as it can be really appreciated for even older kids and even teenagers. Almost everyone like Puzzles, and even the most straightforward puzzle can be really entertaining if it is good enough. But sometimes, a puzzle can be extremely tedious – so you need to know how to spot the good ones before buying.
To make it easier for you when choosing, we've created a list of different options to contemplate and eventually tell if they fit your needs or not. Check them and find out!
10 Jigsaw Puzzles Review 2022
01.
EuroGraphics The Solar System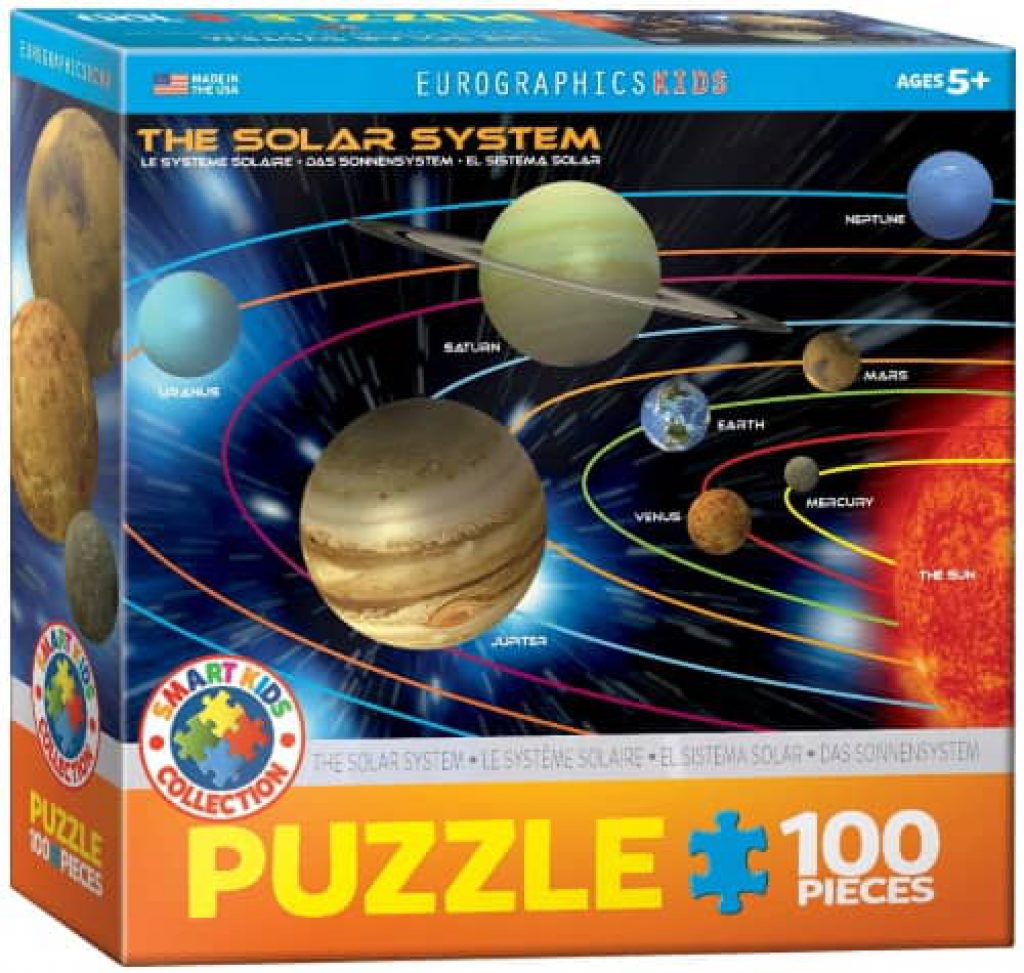 age: 6 – 15 years
finished puzzle size: 13 x 19 in
weight: 0.75 pounds
contain: 100 pieces
design: Solar system
Available in Stock
The Solar System in 100 pieces, a puzzle from EuroGraphics made from recycled board and vegetable ink, this puzzle is entertaining and interesting to piece together. The design offers a thought-provoking experience, specially made for kids around 6-10 years. So they can start getting interested in our galaxy, stars, planets and more.
The quality of the pieces is undoubtedly one of the most recommended out there, lasting longer than most and always being safe and easy to use. The puzzle is simply one of the most educational out there. With a really accurate and exciting depiction of the solar system on a 13 x 19 inches image.
PROS:
Really Educational
Engaging and Easy to Piece Together
Thought-Provoking Image
02.
Pomegranate Tree of Life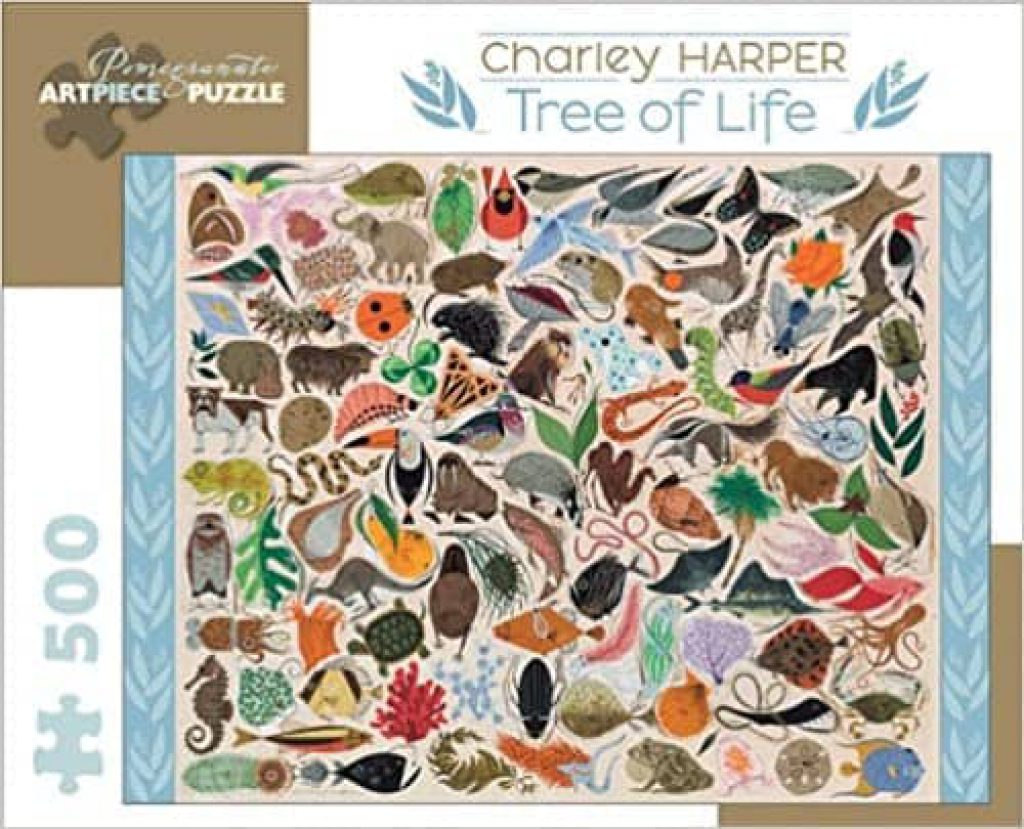 age: 12+ years
finished puzzle size: 20 x 29 in
weight: 1.55 pounds
contain: 500 pieces
design: Tree of Life
Available in Stock
Made with the image of one of the most famous Modernist artist Charley Harper's paintings, the Tree of Life. It is a highly interesting and one of the most beautiful puzzles available out there. Its design is to help kids understand how life happens in the natural world. In a really engaging and artistic way, also being incredibly effective for adults as well.
The puzzle is 20 x 29 inches when armed, and it's mostly recommended for kids over 12 years. But the younger ones can use it as well. The puzzle features 500 different pieces, all with a perfect color printing. With a sturdy and durable construction, making the puzzle a long-lasting item with a stunning design.
PROS:
Beautiful Design
Based on an Award-Winning Real Painting
Educational and Interesting
CONS:
A Little Easier than Expected
03.
Hennessy Puzzles United States of America Map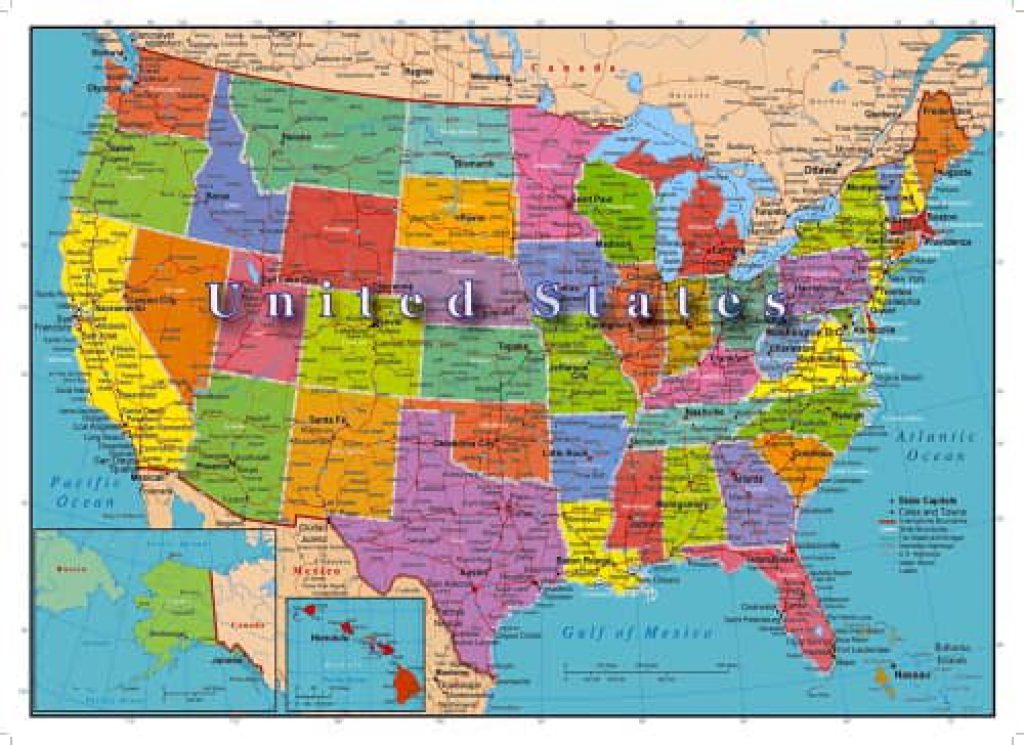 age: 12+ years
finished puzzle size: 19.25 x 26.75 in
weight: 1.44 pounds
contain: 1000 pieces
design: USA Map
Available in Stock
Portraying all the highways and rivers from the USA, this Map from the country is a perfect addition to any kid's toys. As it is educational, enjoyable, and can be really hard and demanding. The image features everything needed to understand how states and other territory factors work. Making it wonderfully efficient for educational purposes.
The puzzle is also well-sized, with a 19.25 x 26.75 dimension and one thousand pieces, so it gets harder,challenge enough for children from 6 years old and onwards. Each piece is made from the 70pt blue clipboard, making it durable and more resistant at the same time.
PROS:
Really Well-Made
Interesting and Educative
Challenging
CONS:
Can be Frustrating for Small Kids
04.
Buffalo Games The Cats of Charles Wyoscki Remington The Horticulturist
age: 14 – 15 years
finished puzzle size: 24 x 18 in
weight: 0.4 pounds
contain: 750 pieces
design: Buffalo Games – The Cats of Charles Wyoscki
Available in Stock
Beautiful imagery is always an excellent option for puzzles. And this Cats of Charles Wyoscki's Remington The Horticulturist is a perfect choice if you prefer highly artistic approaches for jigsaws. It is made with 750 pieces, all made with high-quality cardboard for superior durability and resistance.
The dimensions are 24 x 18 inches, making it big enough to be easier to piece together despite the number of pieces. It is especially designed for people who love cats, yet any kid or adult can feel engaged with it because it is simply one of the most beautiful and detailed jigsaws out there.
PROS:
Incredibly Good-Looking Image
More Detail Oriented
Challenging and Interesting to Complete
CONS:
Too Difficult for Inexperienced Puzzlers
05.
White Mountain Puzzles Tasty Treats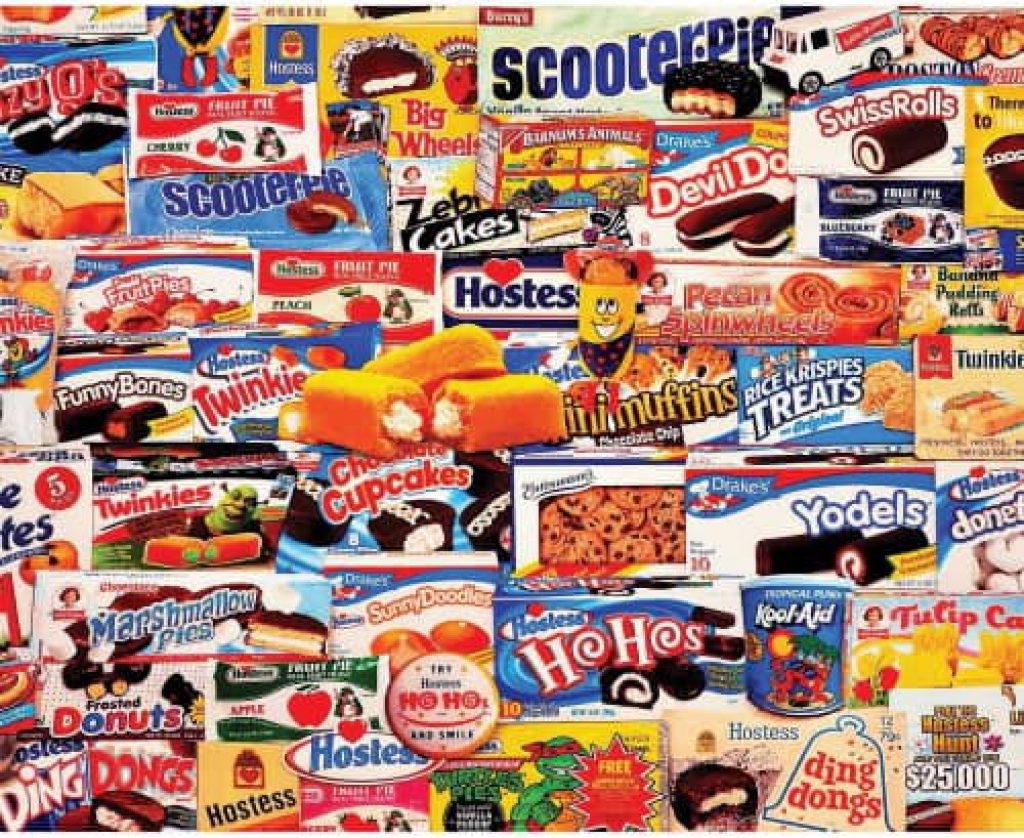 age: 12+ years
finished puzzle size: 24 x 30 in
weight: 1.63 pounds
contain: 1000 pieces
design: White Mountain Puzzles Tasty Treats
Available in Stock
If you want to teach your kid about what were the treats most people used to eat in the past few years, with this one you can do it without problems. The image portrays a design made by Charlie Girard, with treats from Hostess, Little Debbie, Drakes and other brands, making it both an interesting for children and nostalgic for adults.
The puzzle consists of 1000 pieces that create a 24 x 30 inches picture, with a very detailed design that delivers a fun and unique performance. This collage can be the perfect puzzle for any kid or adult, and it is not as hard as others but still really challenging, offering endless hours of piecing together.
PROS:
Fun and Engaging Image
Big and Sturdy Construction
Informative and Nostalgic
CONS:
Not as Educative as Expected
06.
Educa Antique World Map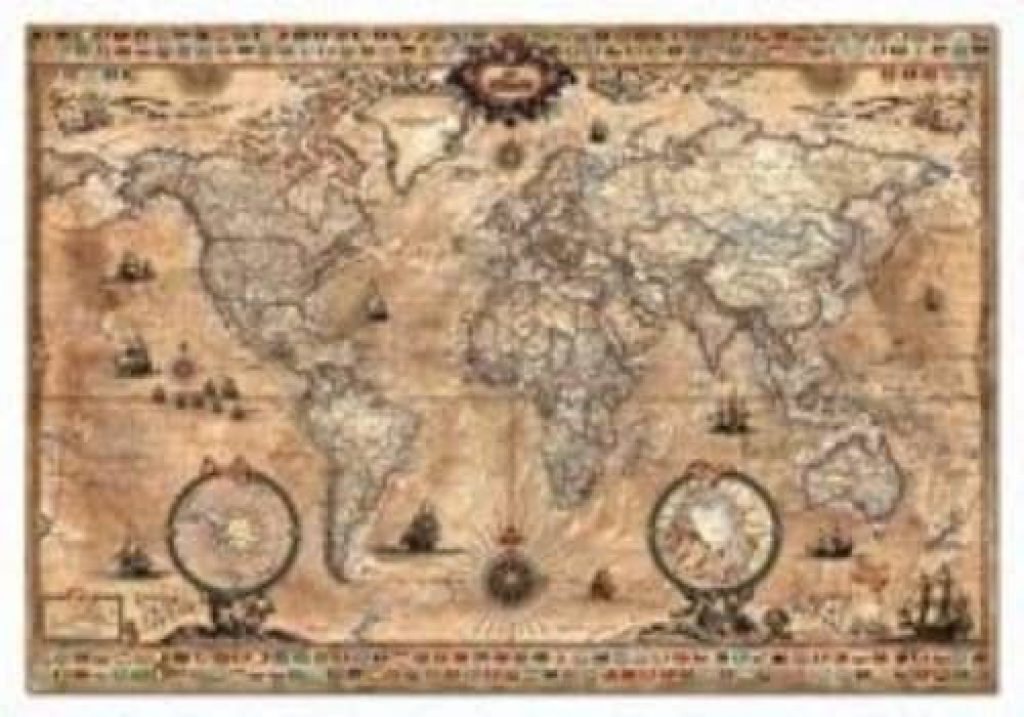 age: 10 – 15 years
finished puzzle size: 26.75 x 18.75 in
weight: 1.32 pounds
contain: 1000 pieces
design: Antique World Map
Available in Stock
Providing a vintage design for those who love this type of finish, the Educa Antique World Map is an excellent choice for parents who want their kids to learn more about the world while doing something fascinating. The puzzle is composed of 1000 pieces and offers a challenge for both experienced and inexperienced puzzlers.
All the pieces are manufactured to deliver perfect quality entirely, from durability to resistant to all types of uses. The puzzle is 26.75 x 18.75 when completed, and can easily be used by small kids or old adults without any issue.
PROS:
Engaging Vintage Design
Informative and Educative
Much More Difficult than Others
CONS:
Can Be Extremely Challenging
07.
Petit Collage Our World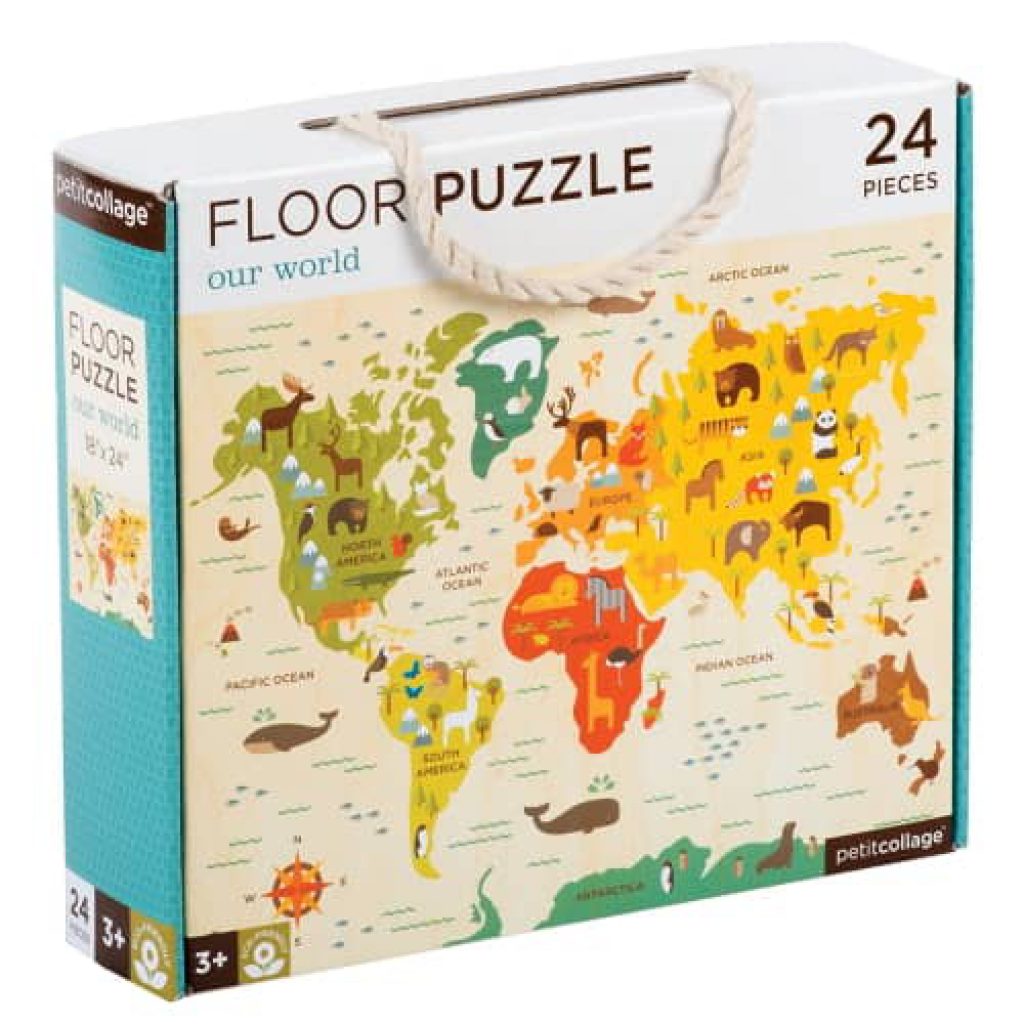 age: 2 – 5 years
finished puzzle size: 18 x 24 in
weight: 0.85 pounds
contain: 24 pieces
design: Our world
Available in Stock
The Our World floor puzzle from Petit Collage is a totally educational tool for small children, with pieces that measure 5 x 5 for a jigsaw that is 18 x 24 when completed. The image portrays the world and all of its continents with fun and engaging icons of animals, nature and more.
All the pieces are sturdy and really easy to piece together, with artwork that delivers an attractive design. Made of recycled cardboard, the puzzle can make a perfect addition to a toddler's set of toys, as it is durable, resistant, educative, and entertaining at the same time.
PROS:
Educative and Fun for Small Kids
Totally Easy to Piece Together
Well-Made Design and Construction
CONS:
Can Feel Really Easy Even For Small Children
08.
Tenyo Disney All Stars Stained Glass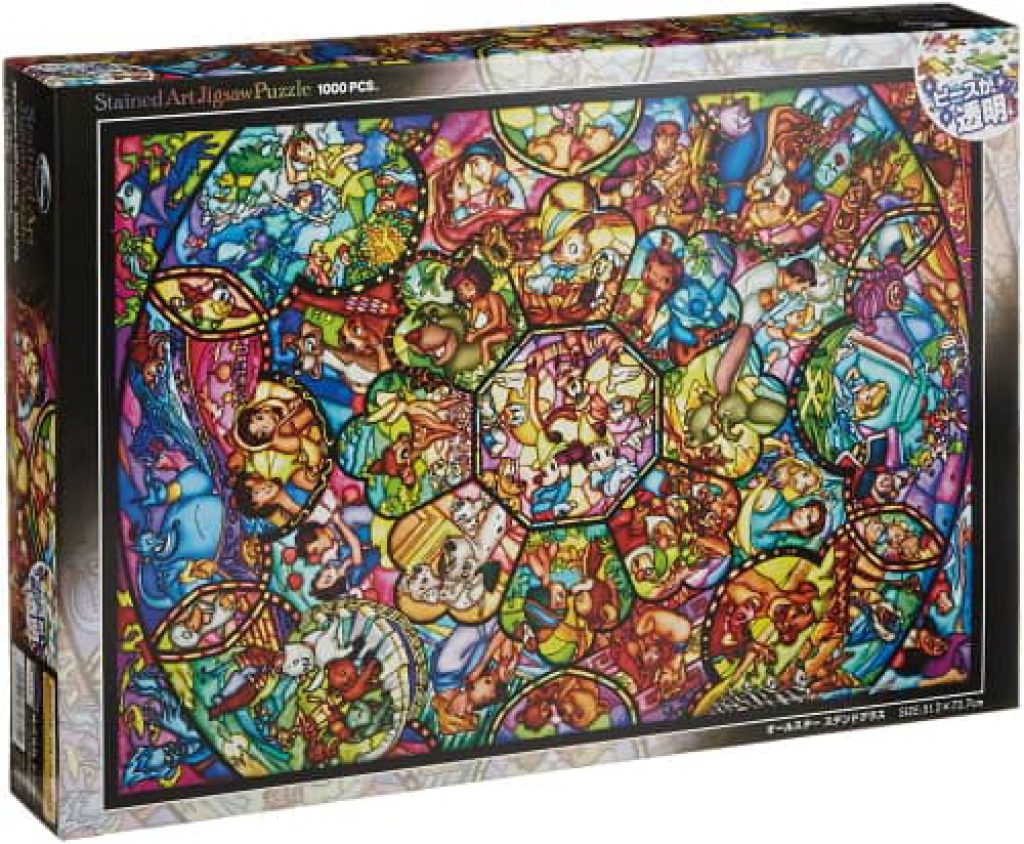 age: 13 – 15 years
finished puzzle size: 20.15 x 29 in
weight: 1.84 pounds
contain: 1000 pieces
design: Disney Stained Art
Available in Stock
If your kid is a fan of Disney's, maybe this Stained Glass puzzle with all the stars and characters from its most famous cartoons will be the perfect gift for him. With a massive construction of 51.2 x 73.7, this puzzle is made from 1000 pieces, while offering a beautiful and unusual design which makes it much more interesting than others.
The stained glass effect makes the puzzle highly versatile, as it can be viewed from any side and always portraying the same image without problems. All the pieces are made with translucent plastic, giving an unusual and beautiful design both children and parents will enjoy without a doubt.
PROS:
Beautiful and Original Design
Versatile and Interesting Plastic Construction
Really Large
CONS:
Can Feel Too Large for Children
09.
Melissa & Doug Endangered Jumbo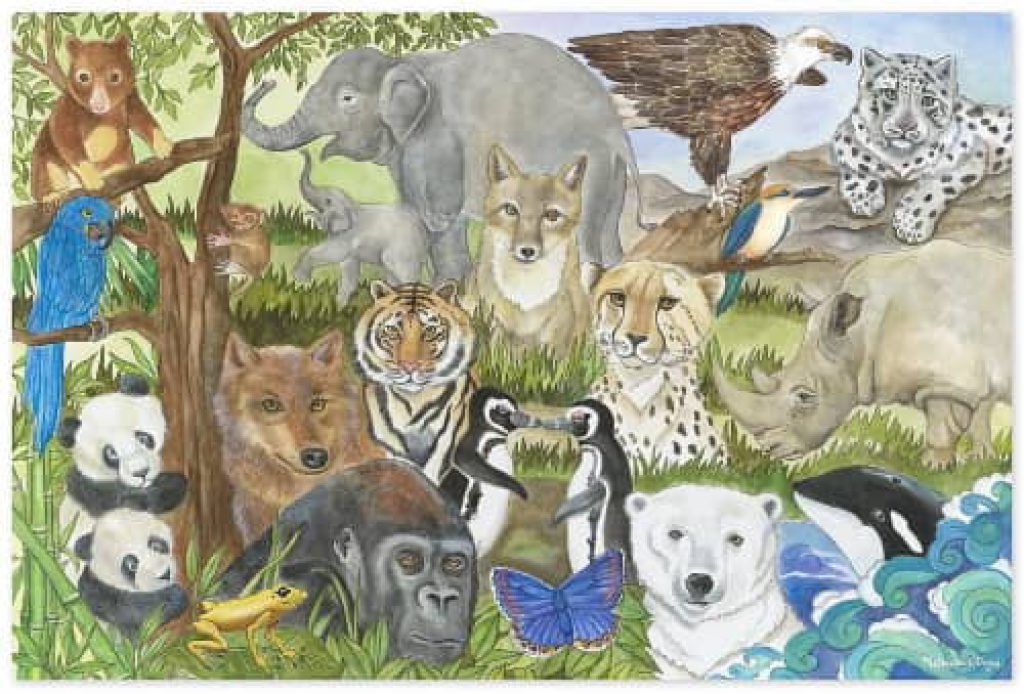 age: 4 – 7 years
finished puzzle size: 2 x 3 in
weight: 2.7 pounds
contain: 48 pieces
design: Melissa & Doug Endangered Species
Available in Stock
Animals are always some of the most interesting things that can be portrayed on a puzzle, especially for children. When a design is as beautiful as this one, for example, there's no doubt it will become one of the most exciting jigsaws to consider, in addition to being uniquely designed for small kids thanks to its straightforward construction.
The puzzle measures 2 x 3 feet when finished, and comes with 48 big and thick pieces, which are durable, easy to use, and clean-friendly. It fits together really well, portraying 19 endangered animal species to make the jigsaw incredibly fun and educative at the same time, especially for smaller children.
PROS:
Really Large Design
Informative and Educative Image
Good-Looking and Interesting to Piece Together
CONS:
Not Recommended for Older Kids
10.
Ravensburger Disney Best Themes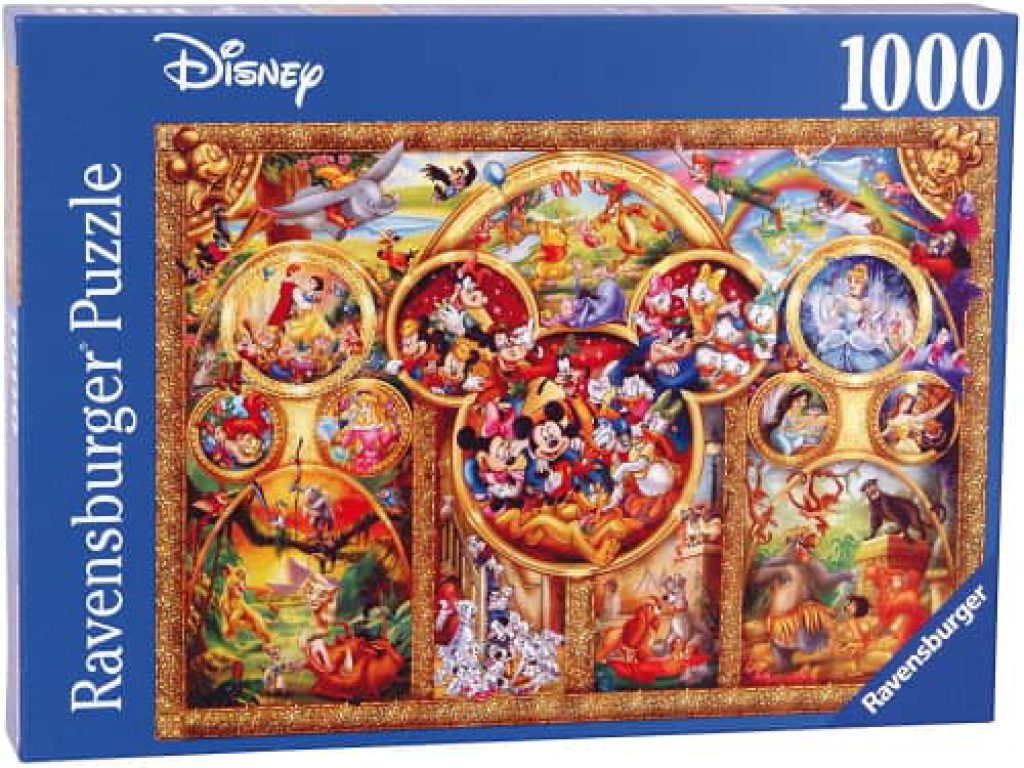 age: 14 – 18 years
finished puzzle size: 25 x 16 in
weight: 1 pounds
contain: 1000 pieces
design: Walt Disney
Available in Stock
Disney is a part of almost every kid and adult these days, and that's something that makes this puzzle one of the most engaging and fun to piece together. Include 1000 pieces, all made of high-quality cardboard which delivers a more durable and smooth experience when using.
Anyone can use the jigsaw, but recommended for teenagers and adults . Yet, with all the characters and shows from the brand, this Disney's design can make anyone enjoy it, with a comfortable 25 x 26 inches construction, great for really anyone who wants to have a good and healthy time at home.
PROS:
Beautiful and Interesting Design for Kids
Incredible Construction Quality
Informative About Disney's Classics
CONS:
Mainly Recommended for Older Users
When you go looking for a puzzle for your kid or for yourself, you will find thousands of different options, and unless you know what you're looking for and why – it is very possible for you to make a wrong decision when buying. To avoid this, you can make sure you know everything possible about these type of entertainment, so you can eventually make a better choice at the moment of purchasing. Here are some of the most important aspects to consider:
Difficulty
Like most games of this kind, a puzzle can have different difficulties, making it suitable for different ages and puzzling experience. Some puzzles contain only a few pieces that could be 10 or 50 but no more than that, mostly recommended for younger kids and toddlers. Other puzzles may have over 500 pieces and can become extremely difficult, primarily when its design with different details and a misleading image. Also, it is essential to consider the shape of the pieces, some puzzles can provide 1000 pieces, all with various forms, making it even harder to piece together.
Themes
A puzzle contains a piece of images to put together. And as an image, there are huge chances and themes to choose from it. Some jigsaws are educational, others can be entirely artistic, others thought-provoking, some may be purely decorative, and a few more can even be profoundly challenging with the only purpose of being harder to complete.
Materials
Not the most important aspect of a puzzle, yet can be essential to know if the puzzle offer only entertainment purposes or if it offers a decorative function or something similar. A typical jigsaw is made of cardboard or clipboard, with a resistant and durable construction with not too much thickness, but enough to be sturdy and easy to complete. Other puzzles may be composed of plastic or other similar products. Especially the educative jigsaws for children. Typically designed to offer more durability and resistance, as well as being much more comfortable to clean. And there are also some puzzles which are made of purely decorative materials. Like a translucent plastic to offer a beautiful experience, or a shining printing to make it even more interesting to watch, but of course, both a little more expensive than the rest.
If you want to choose the right puzzle, you will have to spend a lot of time looking. As they can be pretty hard to decide and sometimes just frustrating when you don't know which to pick. But don't worry, following the previous guide will make it a lot easier for you to take the right puzzle home and start having a great time with your family.
Follow our recommendations, consider our advice, and get yourself a jigsaw that fits will your needs and desires. You won't be disappointed in any way!
There are millions of puzzlers out there to consider, but only the right ones will make you and your child happy. Here are some of the most exciting jigsaws you can choose…
Great choice for Edutainment !
Creativity and Imagination
9