10 Best Pacifiers 2022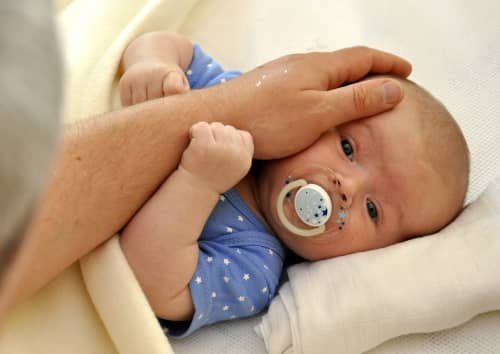 Don't you hate when your baby starts crying and doesn't stop with anything? Maybe a pacifier can be your best choice to help you soothe and calm your toddler down…
One of these incredible pieces of silicone can be so effective that you will think it is almost magic. And not only will them help you comfort your baby when needed, but they will also help your baby avoid sucking his fingers or thumbs, so you can have a baby with no quirks. Yet, one of these won't be useful if it is not the right one for your baby, so you'll need to buy with care.
If you want to get the perfect pacifier for your toddler, you won't find better recommendations than these…
10 Pacifiers Review 2022
01.
NUK Newborn Orthodontic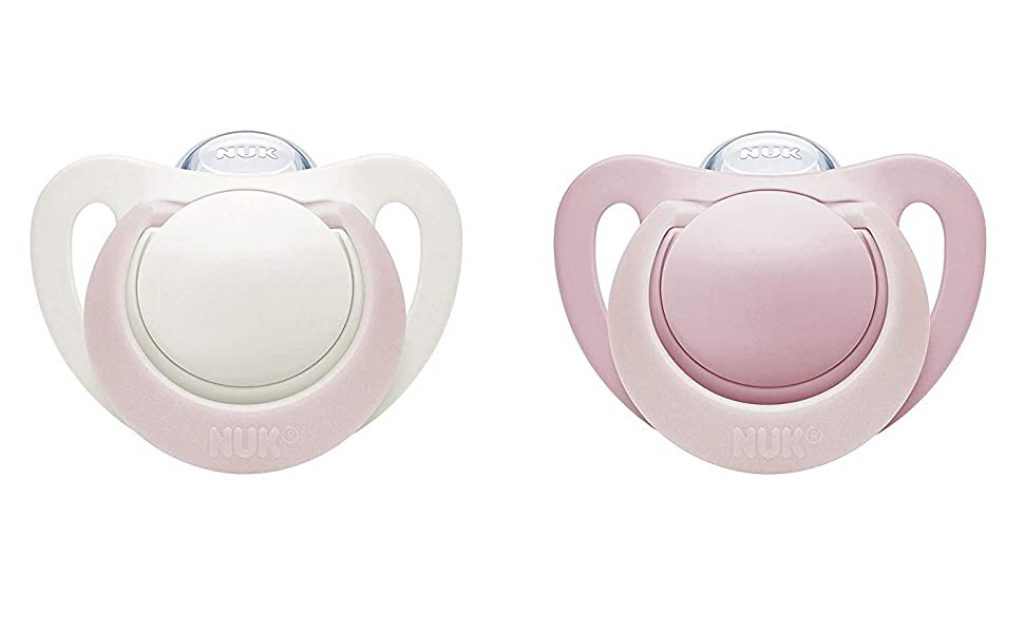 age: 0 – 2 months
size: 2.1 x 3.63 x 6 in
weight: 1.44 oz
material: 100% Silicone, PBA Free
Available in Stock
Simple looking and helpful in many ways, these orthodontic pacifiers are just perfect for newborns. They will provide a nipple shape that soothes babies in a really efficient way, much better than most. The asymmetrical design offers an orthodontic performance for superior oral development as well.
It allows a perfect tongue movement to offer great mouth exercises and helps your baby breathe better and avoid irritation. The pacifiers are of soft silicone with a BPA-free construction.
PROS:
Really Effective Comforting
Much Softer Silicone Material
Excellent Orthodontic Design
02.
The First Years GumDrop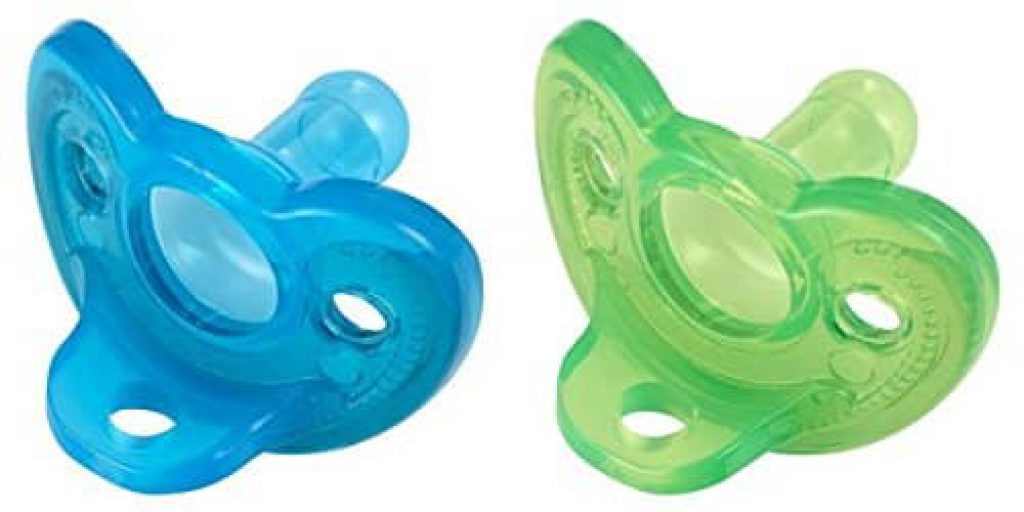 age: 0 – 3 months
size: 3.9 x 1.4 x 6 in
weight: 2.24 oz
material: 100% Silicone, BPA free, Latex free, Phthalate free
Available in Stock
Want to receive a profoundly comforting pacifier for your child and at the same time make it is safer and more effective than others? The GumDrop from First Years is a great choice without a doubt. This one-piece silicone pacifier is designed to offer superior comfort when using, so your baby won't get any nose problem and will have a smooth and comfortable breathing.
The pacifiers work with almost any type of attachment you can think of and comes in a two-pack for you to use the replacement when needed. This one is also one of the most used by hospitals internationally, both for its incredible quality as well as for its really affordable price. It is mostly recommended for newborns from 0 to 3 months.
PROS:
Superior Reliability and Safety
Trusted By Hospitals Worldwide
Really Affordable
03.
Tommee Tippee Closer To Nature Every day Pacifier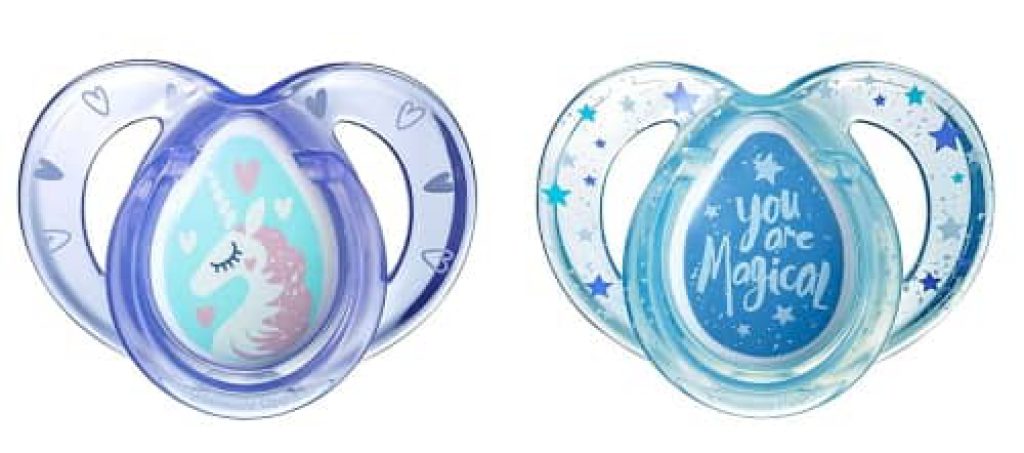 age: 6 – 8 months
size: 4.6 x 4 x 2 in
weight: 0.32 oz
material: BPA-free
Available in Stock
Tomeee Tippee helps parents to comfort and soothe newborns with many different toys and products, and with this incredible pacifier, there won't be a doubt that the brand is also incredibly effective. It provides a traditional design for pacifiers with the shield style for superior safety when using.
The nipple of the pacifier helps toddlers to have a natural oral development thanks to its symmetrical orthodontic design. Additionally, it features really engaging designs for babies to enjoy when using it so they can have much more than a simple pacifier.
PROS:
Safer And Convenient Design
Much More Effective
Development-Oriented
CONS:
The Nipple Is Thicker Than Most
04.
Dr. Brown's One Piece Silicone Pacifier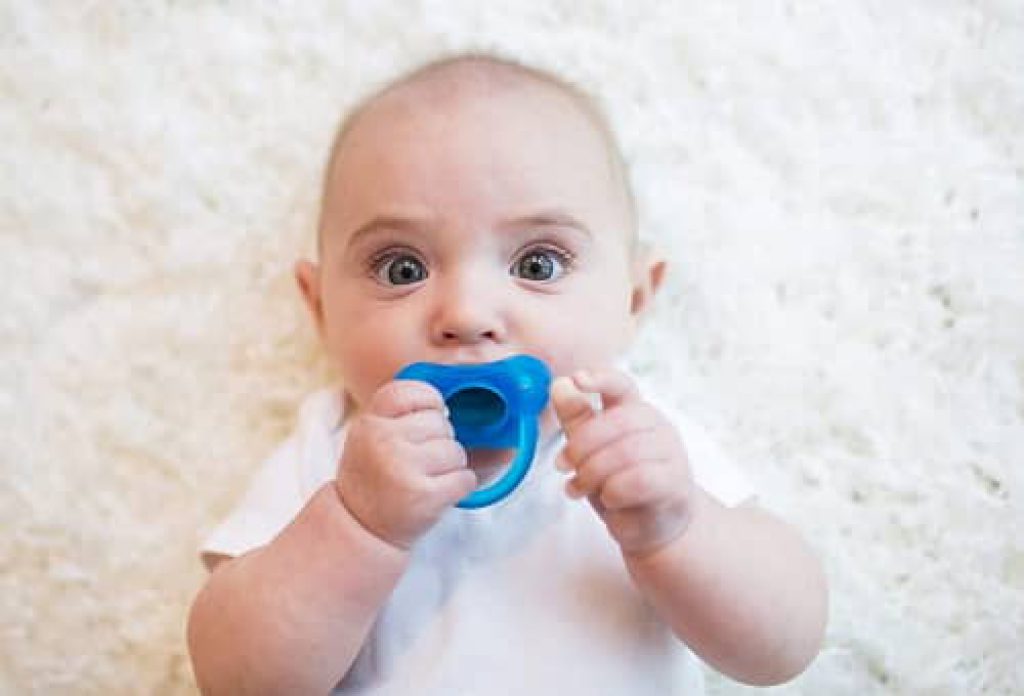 age: 0+ month
size: 6.1 x 2.2 x 3.9 in
weight: 2.56 oz
material: 100% Silicone, BPA-free
Available in Stock
Looks simple but offers a superior effectiveness when it comes to comforting babies. With its medical-grade silicone construction and a bottle nipple design, it will help parents to soothe babies much more efficiently than with any other out there.
The product is a lot easier to clean as well, and will not make any sound when using. The Butterfly-shaped body helps to increase comfort in the baby's face and to avoid any swallowing. And thanks to the superior quality of the BPA-free soft silicone, you can be assured that it will last a long time.
PROS:
Especially Durable Silicone Built
Incredibly Effective and Convenient Design
Safer and More Comfortable
CONS:
A Little Wider Than Others
05.
RaZbaby RaZbuddy JollyPop Soft Stuffed Sloth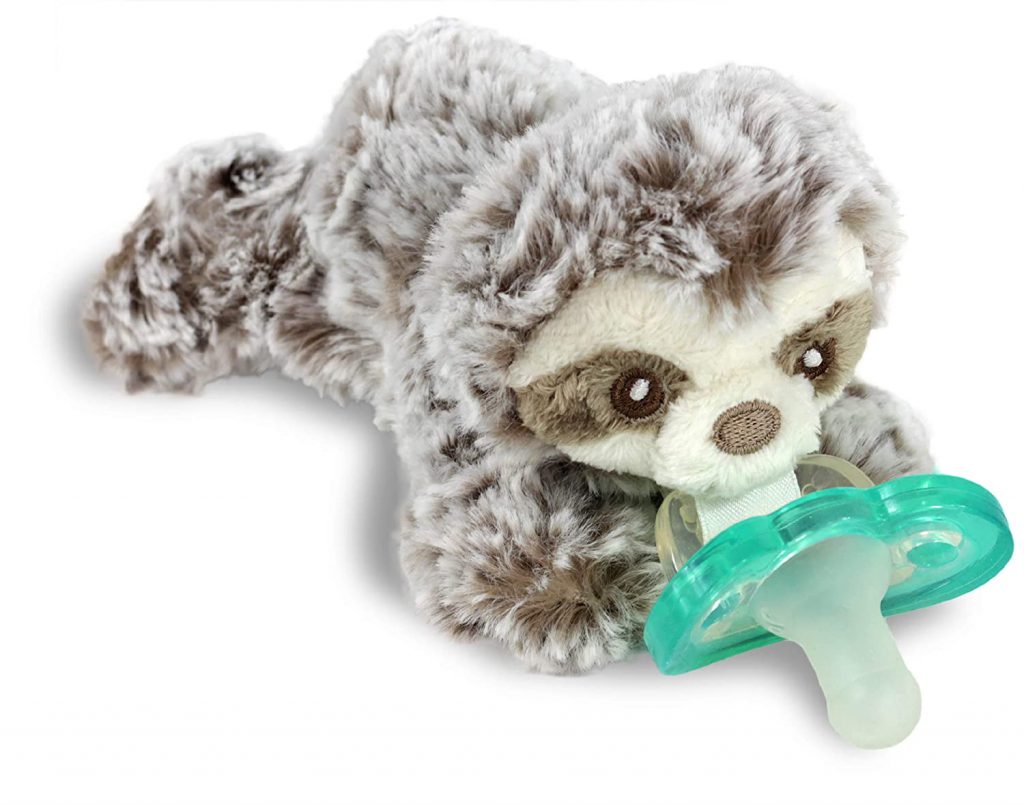 age: 0+ month
size: 8.7 x 5.6 x 2 in
weight: 1.58 oz
material: 100% Silicone, BPA-free
Comfortable for babies, practical and genuinely entertaining for superior comforting – the RaZbaby pacifier clip with a stuffed animal is merely an option not to overlook. The 100% safe silicone construction alongside the stuffed animal, will help you calm the baby faster and more efficiently than without it.
This pacifier is a lightweight and still a really safer product to consider. It comes with a beautiful stuffed animal of your choice. Also, easier to wash and provides the perfect dimensions to fit in any baby's mouth without any problem.
PROS:
Greatly Convenient Stuffed Animal
Incredible Soothing Performance
Comfortable Construction
06.
Nookums Paci-Plushies Elephant Buddies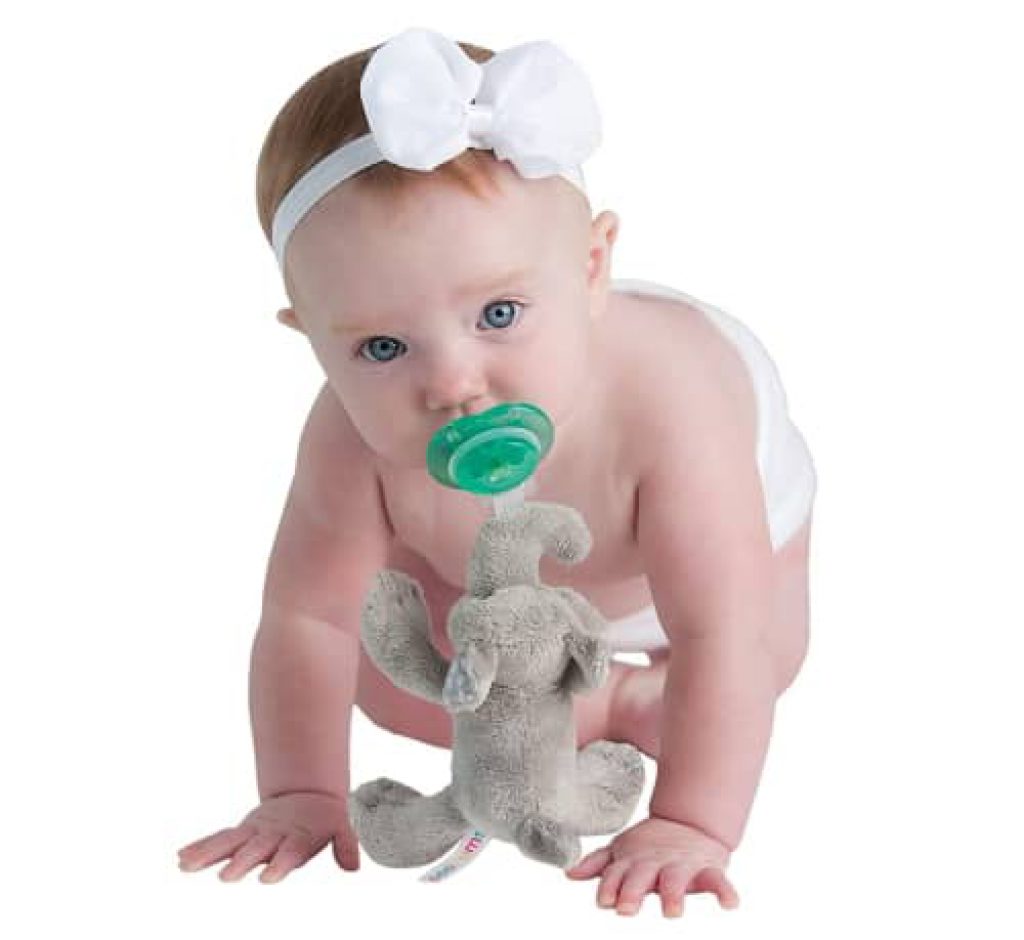 age: 0+ month
size: 8 x 5.5 x 2.5 in
weight: 1.76 oz
Available in Stock
Want to make your baby happy and avoid loud crying for longer? Use the Nookums Paci-Plushies Elephant buddies, and you will obtain that and much more. You won't believe how effective it is, allowing babies to have a more comfortable sucking and also being really development-efficient thanks to its MotorSkills unusual design.
What makes it really special, is the additional stuffed animals it comes with. This increases the device effectiveness and also avoids the pacifier to get lost so easily. The silicone construction is also excellent, providing a highly superior durability and safe performance.
PROS:
Incredible Silicone Quality
Convenient and Effective Design
Really Useful Stuffed Animal
07.
MAM Glow in the Dark Night Orthodontic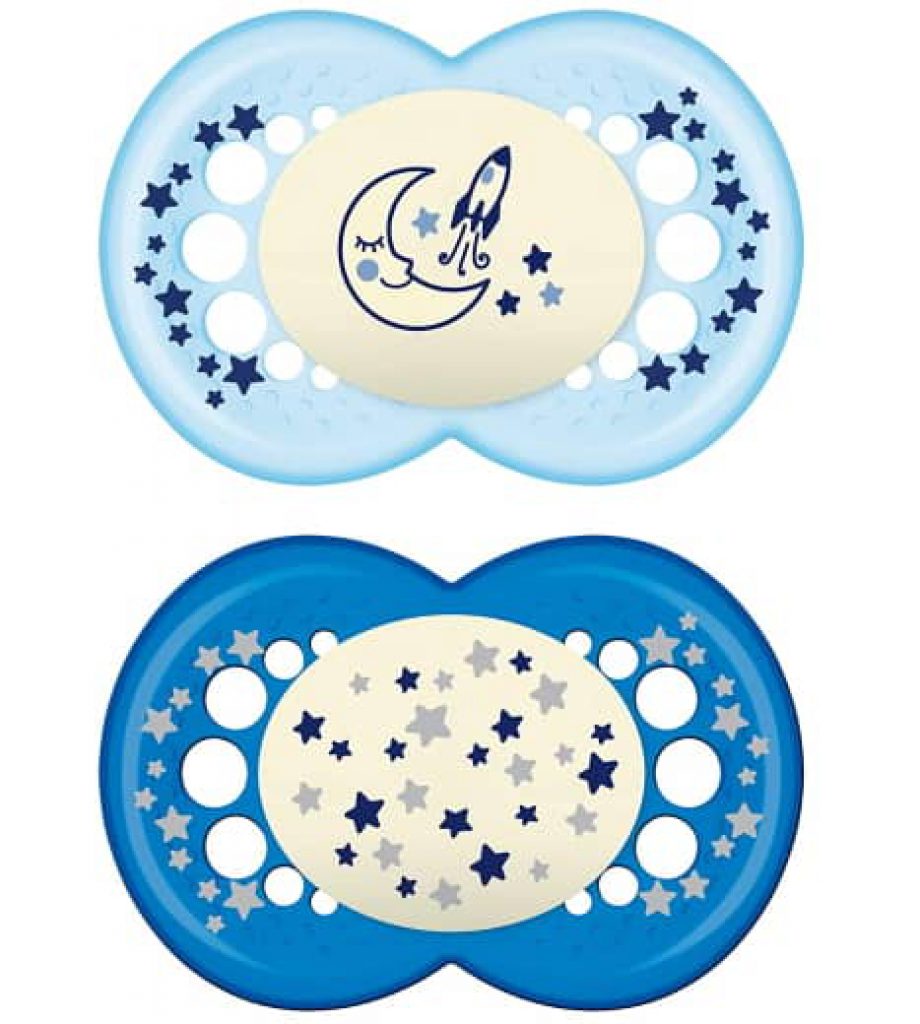 age: 6+ month
size: 5.8 x 2.5 x 1.8 in
weight: 0.8 oz
material: 100% Silicone
Available in Stock
With a long-lasting and effective performance for 6 months, this MAM glowing orthodontic pacifier is a perfect addition to any baby's item. It is designed for sensitive skins, making sure it is entirely safer and comfortable to use thanks to the SkinSoft silicone material nipple.
The silicone also glows in the dark, offering a superior help for parents to calm their child and even helping when it comes to finding it in darker situations. The design is made for superior breathability, and the anti-slip feature will allow your baby to use it for longer without the piece getting off his mouth. It develops better mouth movements thanks to the orthodontic built.
PROS:
Safe and Comfortable SkinSoft Silicone
Really Good Breathability and Anti-Slippery
Effective and Totally Comfortable to Use
08.
JollyPop Teal Pacifier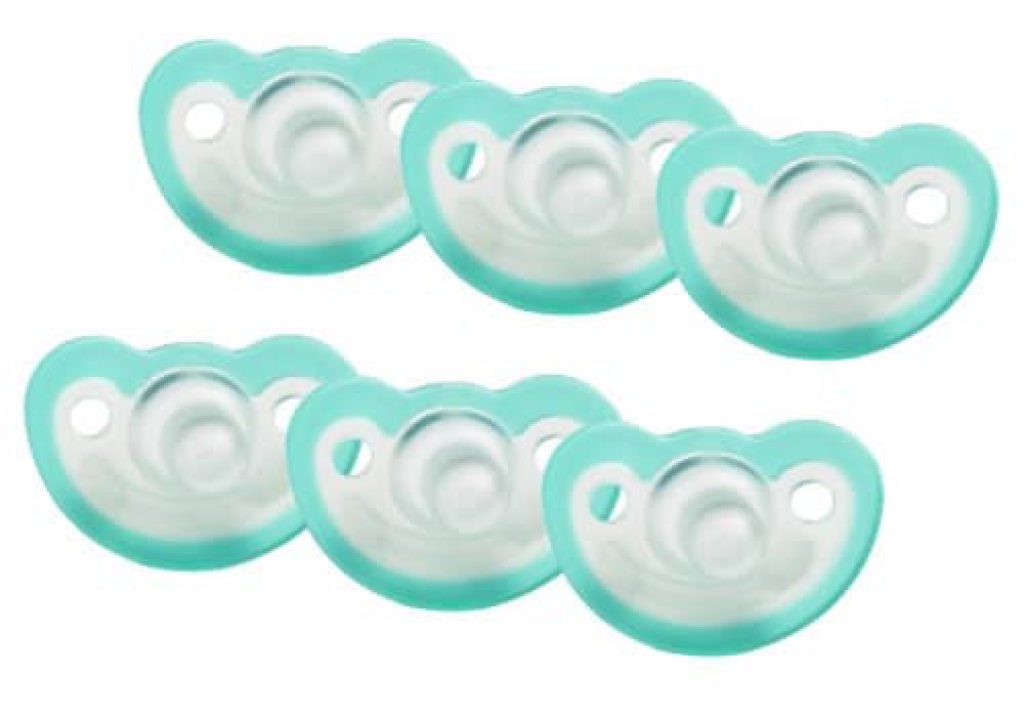 age: 0 – 3 months
size: 6.9 x 2.1 x 1.8 in
weight: 0.8 oz
material: 100% silicone, BPA-free, DEHP-free
Available in Stock
For those who want to have pacifiers for one year or even more, this JollyPop teal pacifier kit is a perfect choice. The natural shape and comforting performance of the product make it an excellent option, mainly because its silicone construction is a lot softer and more flexible than most, while also being safer and much more comfortable.
The pacifiers come in an attractive two-colors design and provide the baby with a BPA-free silicone construction. Totally easy to clean and will also help to develop a healthier and more effective oral integrity.
PROS:
Superior Effectiveness
Really Good Quality Silicone
Development-Oriented Design
09.
Philips Avent Soothie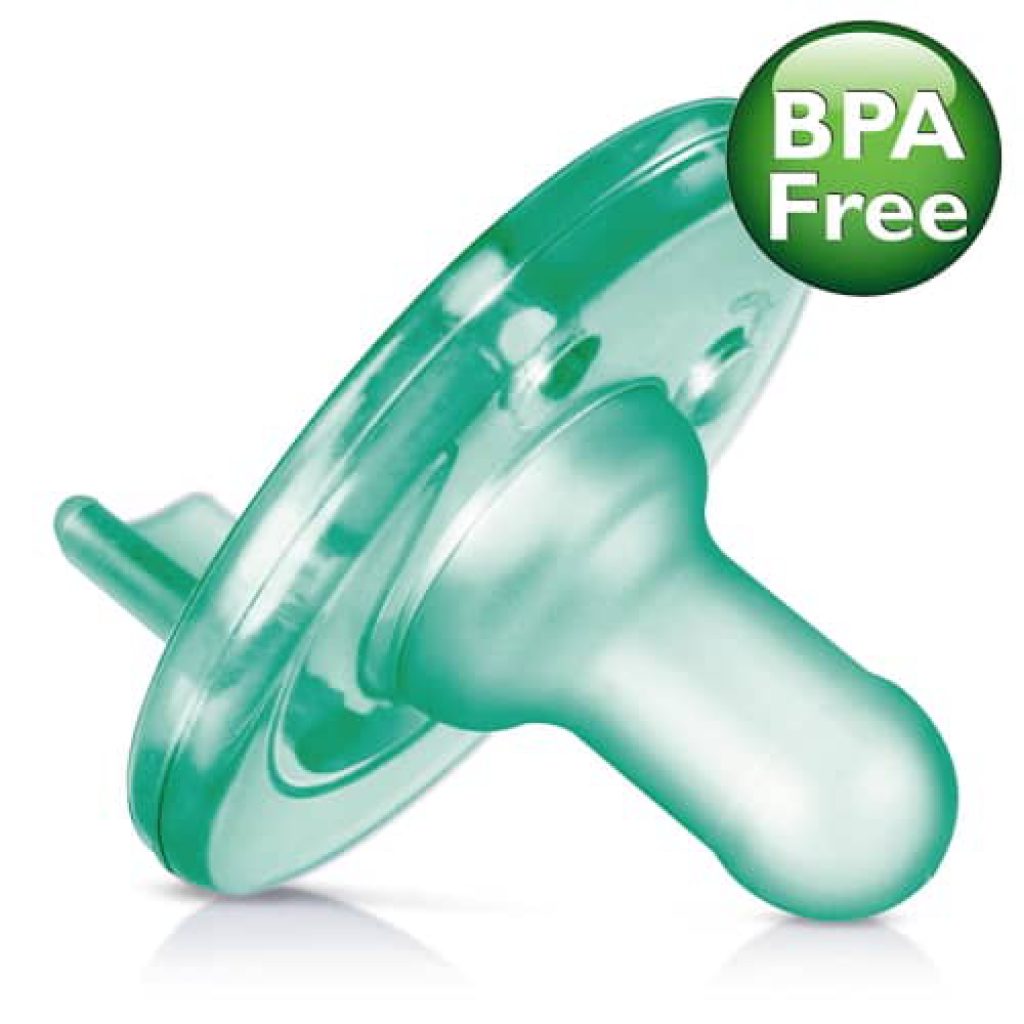 age: 0 – 3 months
size: 12 x 8.5 x 7 in
weight: 0.64 oz
material: 100% Silicone, BPA-free
Even though these are the cheapest option out there, the Philips Avent pacifiers made with a superior quality silicone offer a much more durable and practical performance. The BPA-free silicone is really comfortable as well, sized and shaped to fit any baby's mouth without any problem at all.
Can be used by babies of 0 to 3 months, helping to calm down and soothe much more efficiently than most. And thanks to its hospital-grade built, it will be a lot safer than others, making sure your baby doesn't only calm down from crying but also gets to be comfortable always.
PROS:
Incredibly Cheap
Impressive Performance
Safer and More Durable
CONS:
Doesn't Remain in Baby's Mouth Efficiently
10.
WubbaNub Giraffe Infant Pacifier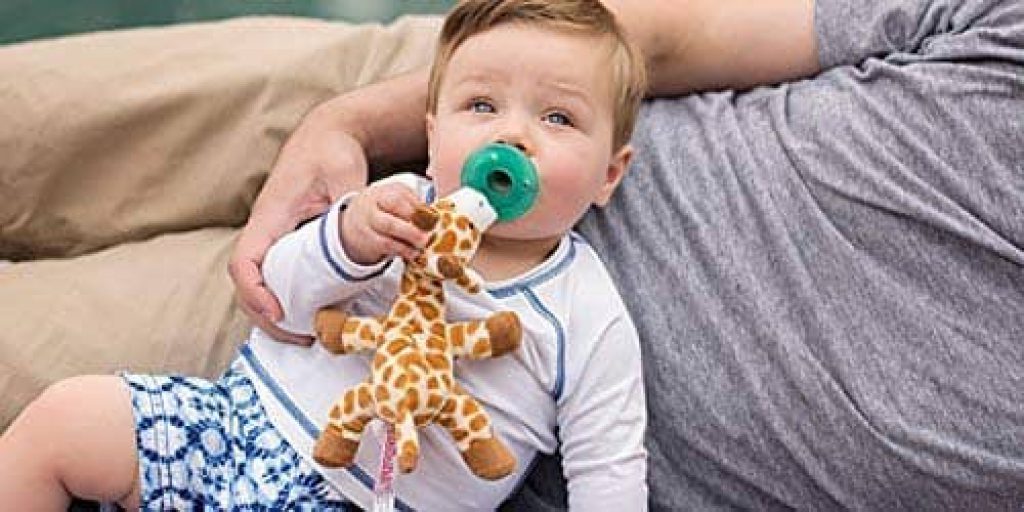 age: 0 – 6 months
size: 4 x 4 x 4 in
weight: 0.64 oz
material: BPA Free, Latex Free, Phthalate free
An animal is always an excellent choice to help babies calm down when they're feeling stressed. And of course, with the proper silicone and built, a pacifier won't have a match. That's why this WubbaNub Giraffe pacifier for infants is maybe the perfect option for anyone, as it will help to soothe toddlers and will also be a lot more convenient, entertaining and entirely safer than most.
Its exceptional design was specially made to stay in baby's mouth for longer, while also being much more comfortable than others. It will help to develop a better orally motor skill and will be totally easy to clean as well so you can be assured it is almost the perfect pacifier without any doubt.
PROS:
Incredible Performance
More Comfortable and Convenient Design
Helps to Improve Baby's Mouth Skills
As you see, there are many options to choose from the market, so it is almost obligatory to know which one is the right for your baby. To do this, you will have to learn every vital feature and detail about pacifiers, learning about their construction, performance, safety measures and so on. With this, there won't be doubt you can make a better decision when it comes to baby's pacifiers. Here's what you should consider when buying:
Nipples
There are thousands of nipples designs for you to choose. But of course, there are some which are better for your baby, but it all comes down to what he likes. Most babies will prefer a nipple that fits comfortably in their mouth, and that doesn't harm their tongue or palate. For this, just make sure it is not too big or too broad for your baby. People recommend circular nipples instead of larger ones, but it all comes down to what you baby desires.
Guard
The guard is the part of the pacifier which avoids your baby to swallow the product. This is the part that touches your baby's skin and the role that also has a lot of importance on how comfortable the baby feels when using it. There are many types of guards out there, with different designs and models to choose, so it is all up to you. However, it is important to note that those guards with holes offer more breathability for the baby, so it won't eventually feel a little uncomfortable or make the baby feel friction and annoying sore. Also, a good guard needs to be big enough to avoid your baby to swallow the product but not too big to still allow your baby to breathe comfortably.
Rings
Some soothies come with rings, and others do not. The ring is the part of the pacifier where you can attack different things like stuffed animals, ringing bells and so on. Also, it works as the handle for babies to get the pacifier out when they want or for parents to grab it more efficiently. It is mandatory to use a pacifier that comes with a ring if your baby is a newborn, this way you won't have any problem when getting out of the baby's mouth when needed.
Silicone
All pacifiers are made of silicone, with a clean and safe composition free of any BPA or latex so the baby won't get sick or develop allergies towards it. But depending on how hard or soft the silicone is, you will be able to tell if your baby will feel comfortable with it or not. Most babies prefer a soft silicone construction that fits their mouths comfortably, but others prefer a harder one they can chew and use for longer. You just need to try which one meets your toddler' needs better.
Design
The design of the pacifier has a great importance on how useful it will be for the baby. There are nocturnal pacifiers which glow in the dark, uniquely designed to offer better performance at night, and others which are made with the form of a feeding bottle, so they can feel as if they were eating. But there are many different ones, as the type which comes with a stuffed animal to provide babies with more entertainment, or the ones come with mustaches or butterflies designed guards for a cute and entertaining performance.
Anyways, choosing the right pacifier can be a tough task for most parents. That's why it is critical to consider each feature with care and to take a look at the different options you have patiently. With time, you will learn how to manage your baby with one of these perfect pacifiers.
Get your baby the highest-quality pacifier out there and don't let him cry never again without having the perfect solution. Use our recommendations and advice – you won't regret it!
Need to calm down your baby's crying? You may not have a good pacifier like the ones we have here – come and see how we can help you choose the perfect one!
The best choice for the baby !