10 Best Baby Swing 2022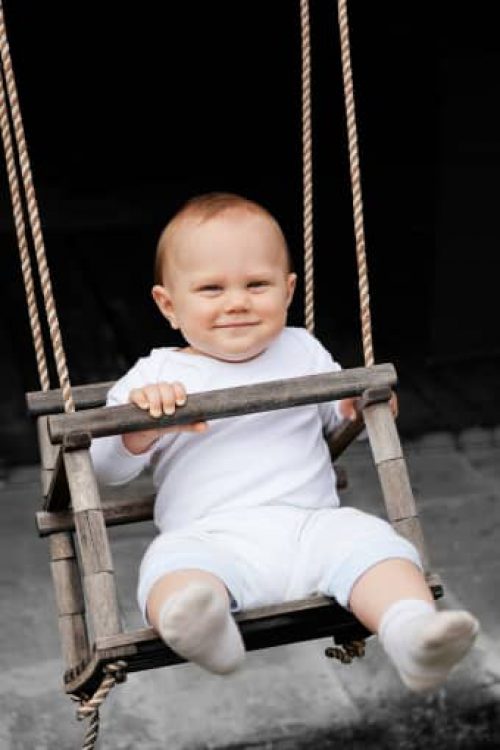 Looking to calm down your toddler or just give him an enjoyable and ———— experience? A baby swing is always a great item to have a home, for this and for much more. Here's why…
Babies don't normally suffer from stress or other similar problems, yet, they sometimes need help to calm down and have a comfortable night. This is where a baby swing enters into action. Aiding parents in that problematic task called "soothing" where many end up totally frustrated. One of these fantastic products can offer that extra help you need to calm down or just provide good entertainment, safely and comfortably.
You will also be helping your child develop the senses and sometimes even get comfortable with surroundings easily. All of this with the proper baby swing. That's why you need to learn how to buy the right one, and that's what we are going to help you do right now…
10 Baby Swing Review 2022
01.
Bright Starts Rock and Swing Jungle Stream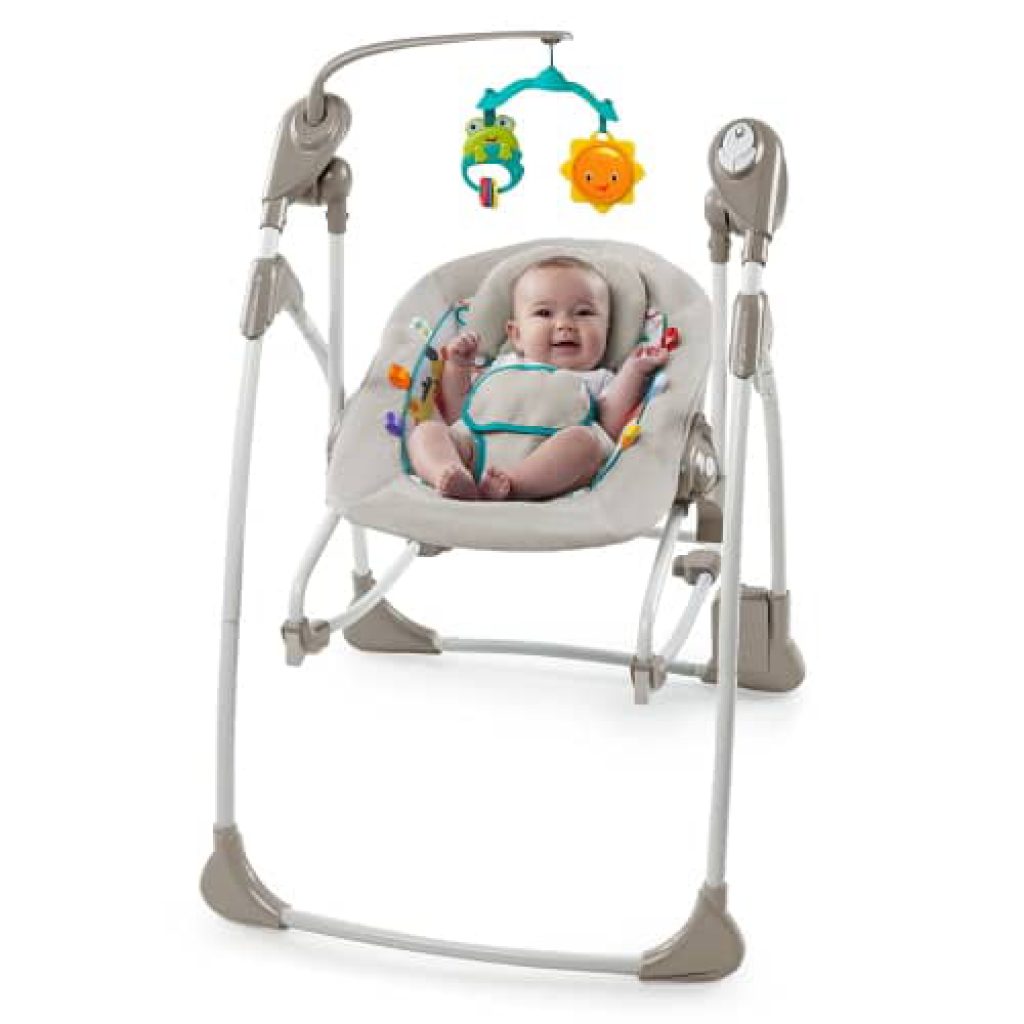 age: 0+ months, weight: 5 – 25 pounds
size: 18.5 x 9 x 31.9 in
weight: 20 lbs
include: 3 swing timer 30, 45 and 60 mins
battery life: 24 hours
If you want versatility for your baby, the Rock and Swing from Bright Start is an excellent choice for sure. With a Jungle Stream design with animals, and a really comfortable build. You won't believe how fast it will help you calm down your baby, without having to make much effort.
This device features a swing timer so you can let the product swing your baby automatically. From 30 to 60 minutes according to your needs. And what's even better, the product adapts to your baby, making sure it consistently swings to your infant's favorite speed. The folding feature is convenient as well, plus the 2-in-1 design that also comes with a rocker for superior versatility.
PROS:
Extremely Effective and Smooth
Convenient Timer Feature
Really Useful 2-in-1 Design
CONS:
A Little Difficult to Assemble
02.
Ingenuity Power Adapt Swing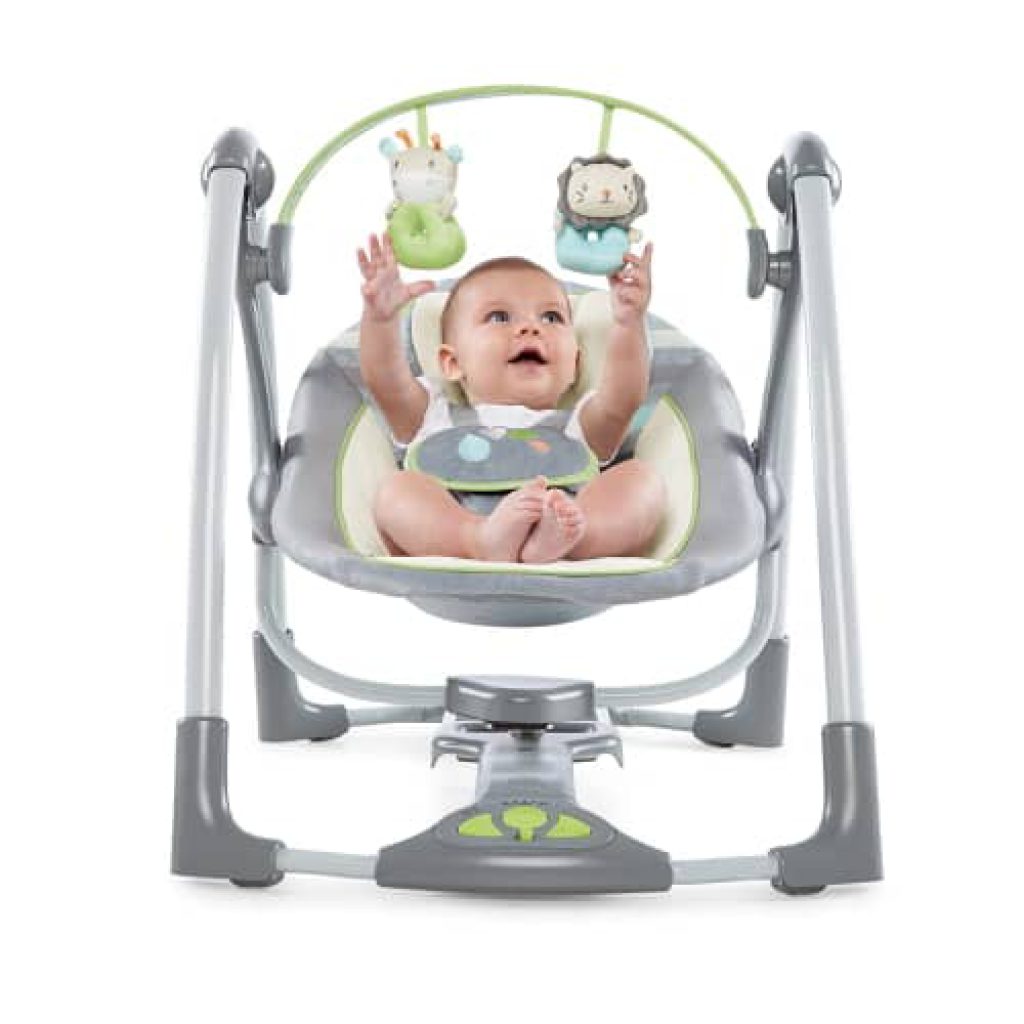 age: 0+ months, weight: 5 – 19.8 pounds
size: 22.5 x 14.5 x 8.3 in
weight: 14.3 pounds
include: 3 swing timer 30, 45 and 60 mins
battery life: 24 hours
When it comes to quality construction and a forever soothing experience, the Ingenuity Power Adapt swing is simply the first one to consider without a doubt. This highly effective swing to calm down your baby with a perfect comfortable build, offers what others do not. With high-quality technology to help you give your baby a nicer experience overall.
It features a weight-sensing feature that allows the device knows what your baby favorite or more adequate swing speed is. It also features melodies and sounds to soothe your baby more efficiently. Working really well with the comfortable fabrics and padding in the design. And of course, it can be used with smaller infants as well as bigger ones of up to 1 year or a little more.
PROS:
Useful Adaptive Feature
Sturdy and Comfortable
Easy to Control
CONS:
Doesn't Resist Much Weight
03.
Squirrel Products Full Bucket Toddler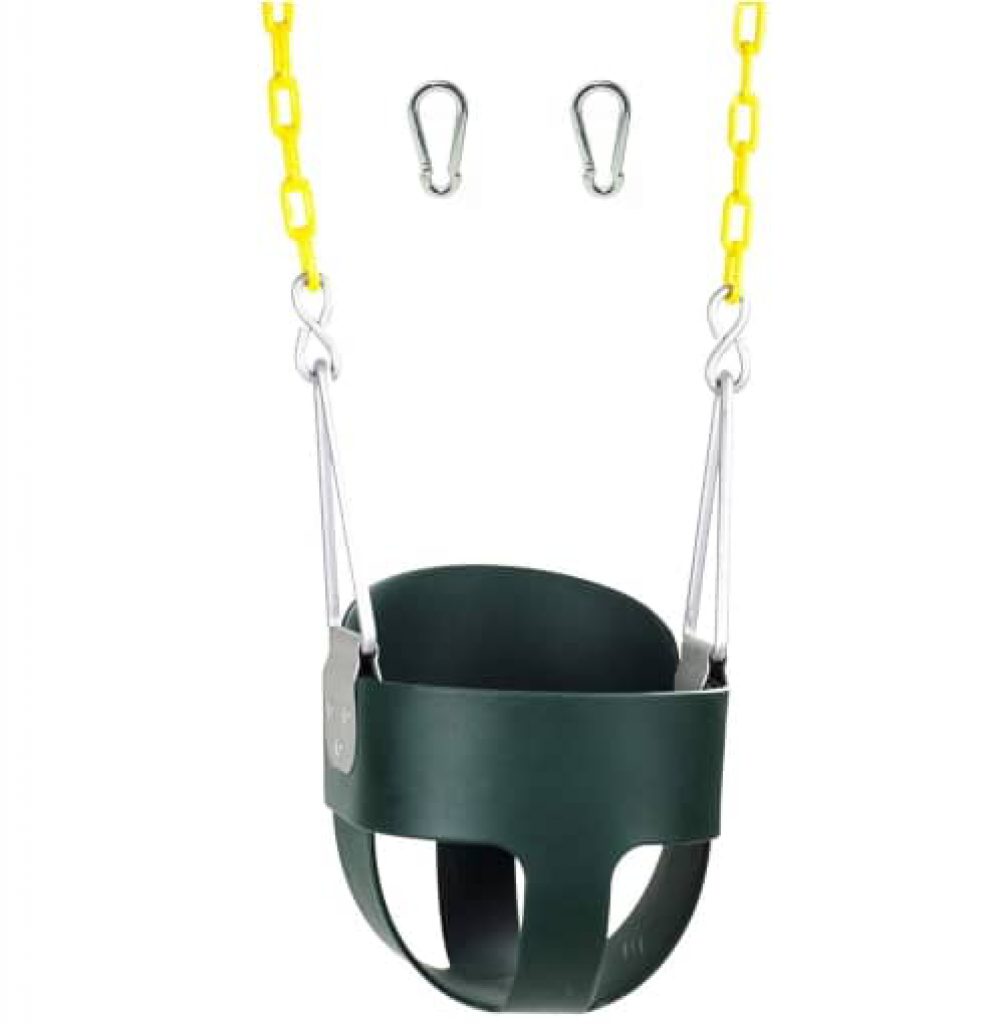 age: 6 months – 4 years, weight: max 150 Pounds
size: 12 x 10 x 11 in
weight: 7.8 pounds
Available in Stock
Sometimes it happens that your child is no longer small enough to fit a small swing, but you still need a way to calm it down or just offer an entertaining activity. So you can get on with yours. The Full Bucket Toddler swing may be exactly what you need, a comfortable and durable plastic product. Mainly designed for outdoor environments, always handy when you want to give your baby an enjoyable outdoor activity.
It will help the child learn how to swing, while also being useful to develop their core strength. It features a really strong and reliable pair of chains, offering superior safety and reliability when using. Finally, you will be able to stop worrying about security as well, as the bucket swing is pretty safe, secure to use and always comfortable despite its plastic design.
PROS:
Mainly Recommended for Outdoors
Wonderfully Safe and Comfortable to Use
Durable and Reliable Construction
04.
Step2 Outdoor Swing Seat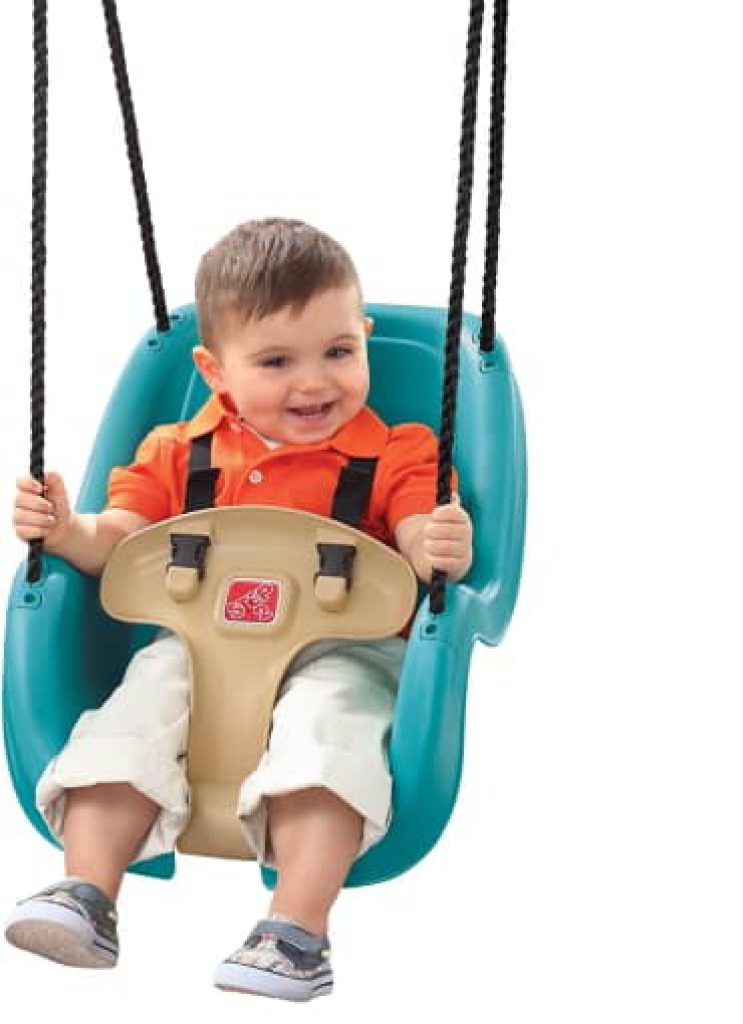 age: 9 month – 3 years
size: 24.1 x 16.1 x 10.4 in
weight: 5.4 pounds
Available in Stock
If you, on the other hand, want your baby to enjoy an outdoor activity but with a more comfortable and convenient design, the Step2 Infant Swing seat is a perfect choice. This one, with an excellent plastic construction, offers superior comfort a two-corded nylon rope for safety and reliability, and an extremely resistant plastic construction – easily an excellent option than the majority.
It is effortless to install, much more efficient when helping your toddler learn to swing and incredibly easy to transport as well. Can be used for any type of swing set and be put on any yard or park you go. Always offering a safer and more comfortable experience for your kid.
PROS:
Extremely Comfortable Design
Much Safer Built
Resistant, Durable, and Convenient Construction
CONS:
A Little Hard to Transport
05.
2 in 1 Baby Jumper with Toddler Swing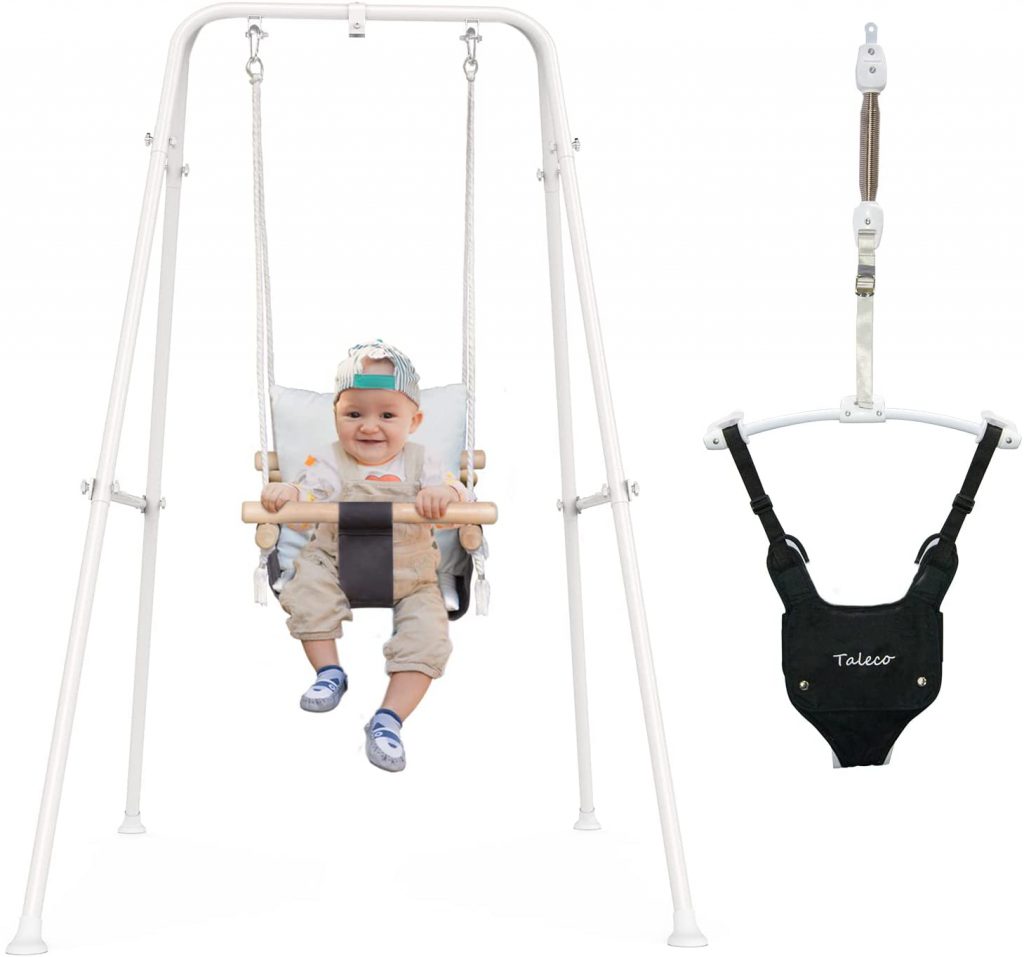 age: 6 month – 2 years
size: 27.9 x 14 x 4.7 in
weight: 17.46 pounds
Available in Stock
Uniquely designed to fit even the smaller baby, it can be used by those infants who are not able to walk still but woke enough to feel and enjoy their environments. This indoor swing made of canvas offers a superior smooth performance wherever you use, while also being really safe and entirely comfortable at the same time.
The swing features a natural beech wood and marine-grade rope feel more softer and comfortable than traditional plastic swings, for superior safety to children, and a sturdy and reliable design so you can have fun with your baby without worrying. The entire construction was designed to support even the most prominent toddler without problems.
Positive
Really Comfortable and Safe Performance
Reliable and Easy-to-Use Design
Fits Small and Big Babies Easily
Easy switch the jumper and swing
Negatives
Not recommend to use outdoor during snow and raining season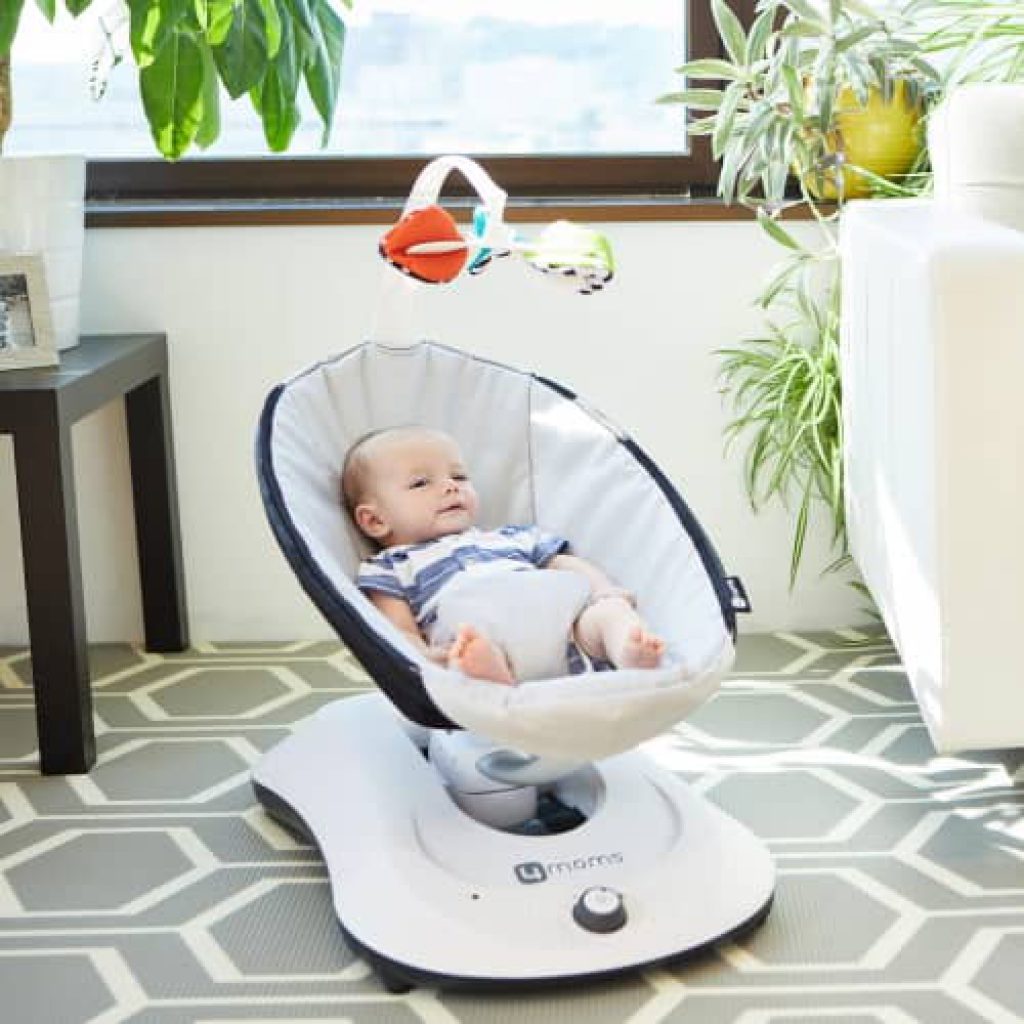 age: 0-6 months, weight: 6 – 25 pounds
size: 16.5 x 29.6 x 27.5 in
weight: 18 lbs
include: 5 speed, mp3 portable, removable seat
Available in Stock
An entirely technological device to help your baby have a sweeter and more comfortable experience when swinging, this 4moms rockaRoo is a great choice, especially if you want to enjoy from a totally convenient design without problems.
This one features 5-speed ability so you can choose the speed that best fits with your baby. Also, it comes with an MP3 plugin so you can play the favorite music or melodies of your infant. And of course, it comes with toy balls that will help your baby get more entertained and invested in the device faster. The whole fabric and padding construction offers a superior convenience too.
PROS:
Incredibly Comfortable Design
Really Useful Technological Features
Fully Convenient Construction
07.
Comfort & Harmony Cozy Kingdom Swing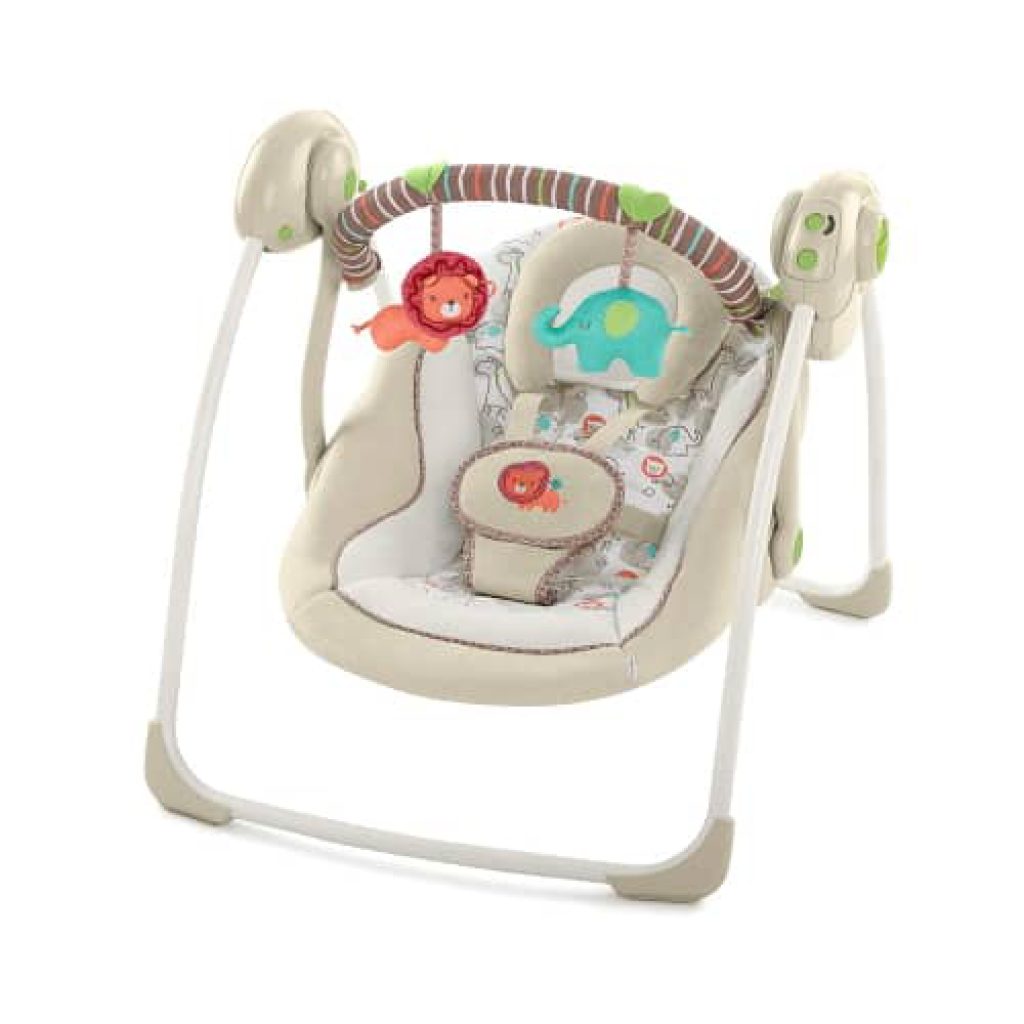 age: 0-6 months, weight: 5.50 – 19 pounds
size: 20.1 x 6 x 21.2 in
weight: 7.01 pounds
include: 6 speed, removable headrest
battery life: 3 hours
Available in Stock
Comfort & Harmony, a brand that delivers precisely what its name says in this Cozy Kingdom swing, made with high-quality materials like polyester, steel, PP, ABS, TPR and POM, all creating a superior construction, both in durability, resistance and overall reliability for your baby. And still, it features a really comfortable design so your baby can enjoy from superior experience when using it.
The device comes with 6 melodies your child will love. It also features a TrueSpeed technology, maintaining 6 different speeds according to your baby's needs and weight. The seat comes with a Comfort Recline technology, making it really easy to use and convenient with two different positions. Lastly, it is totally foldable and easy to store, with a washable fabric and removable padding for incredibly convenience when traveling.
PROS:
Excellent for Travels
Amazingly Effective Features
Reliable and Durable Construction
08.
Little Tikes Snug 'n Secure Swing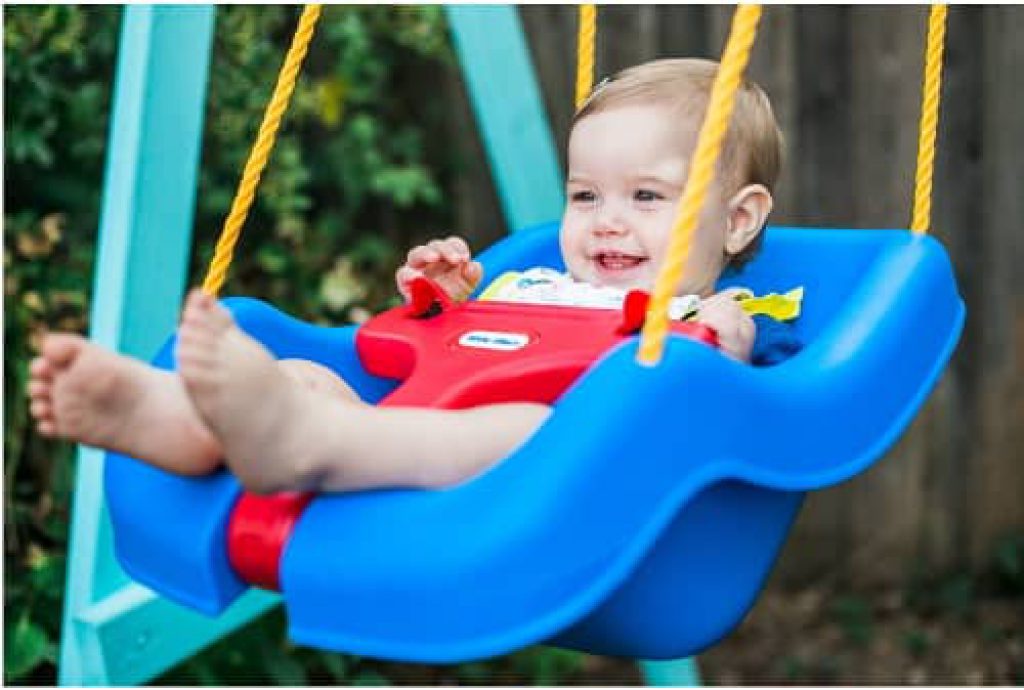 age: 9 months – 4 years, weight: max 50 lbs.
size: 16.3 x 16 x 17 in
weight: 3 pounds
Available in Stock
Wouldn't it be wonderful if your toddler could use the device from a really young baby age and even while he grows as well? That's what the Little Tikes Snug 'n Secure Swing offers, a 2-in-1 design that fits babies of all sizes, always offering a more entertaining, safe, and comfortable performance when using.
This swing features a hinged T-bar for security, shoulder straps to maintain the baby in place, and a great construction that supports up to 50lbs without a problem. Also, it can be transformed to be used with fewer security measures, getting out the straps and T-bar so your baby can enjoy more freely from a swing experience. However, It is mainly made for outdoor use.
PROS:
Really Comfortable and Secure Design
Totally Reliable and Durable
Comfortable and Easy-to-Use
09.
Graco Simple Sway Swing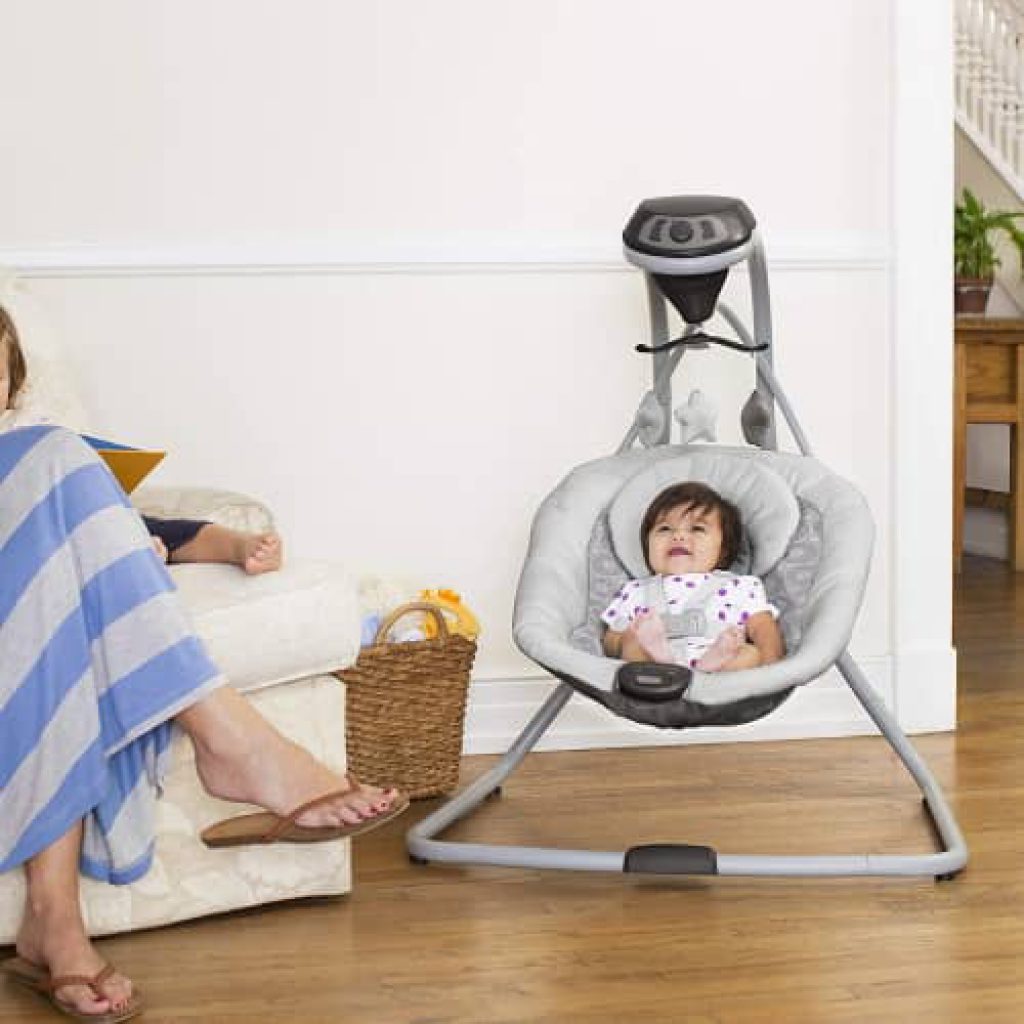 weight: 5.5 to 30 pounds
size: 30 x 31 x 38 in
item weight: 17.2 pounds
include: 6 speed, 10 songs, 5 nature sounds
battery life: 4 hours
Looks really soothing, offers a great efficiency, and allows you to concentrate on something else while your baby has an excellent and calm time. The Graco Simple Sway swing is the one you shouldn't ever overlook when buying one of these, as it is an almost perfect device, for its ease of use, perfectly comfortable design and convenient way to use with superior useful features.
The device features a 2-speed vibration performance, entirely effective to soothe your baby. Also, comes with a comfortable seat with a thick and plush design offering a cozier experience. It features 15 different songs for your baby, making it amusing in powerful ways, primarily when working alongside the mobile toys; while also being totally safe thanks to a 5-point harness system.
PROS:
Really Good-Quality Effectiveness
More Comfortable Than Most
Features Really Useful Additional Features
CONS:
Not Supportive for Toddlers Over 1 Year
10.
Fisher-Price Moonlight Meadow Cradle'n Swing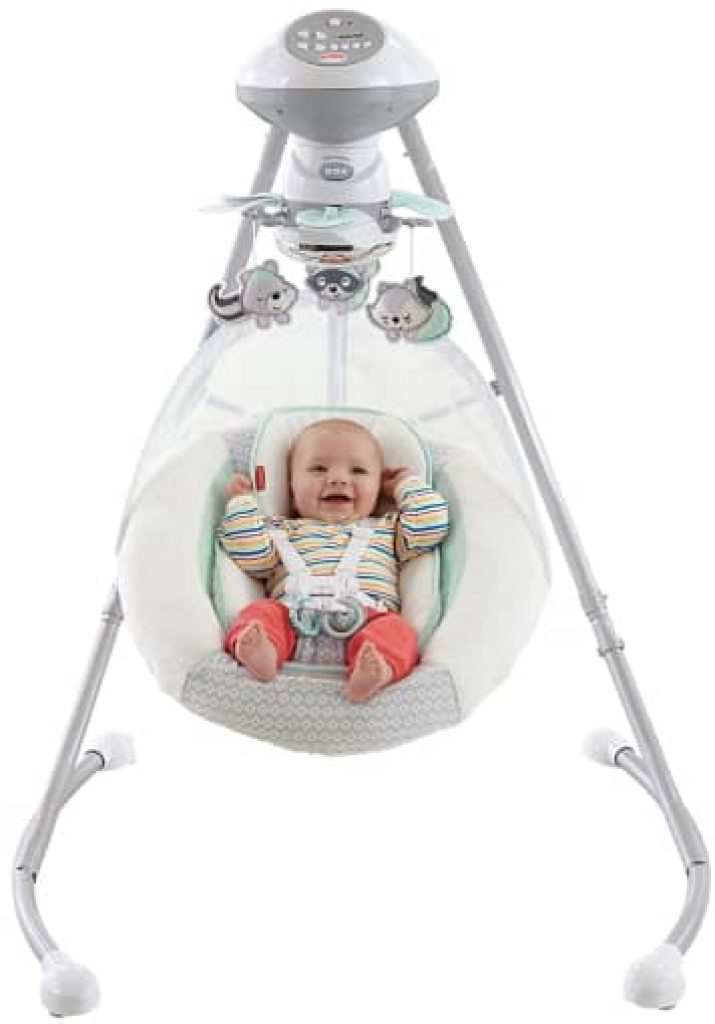 age: 0 – 2.5 years, weight: 5.5 – 25 pounds
size: 12.5 x 14.5 x 30.2 in
weight: 20.5 pounds
include: 6 speed, 16 songs
Fisher-Price is a brand everyone knows for their incredible products, both in efficiency and overall quality, just like the Moonlight Meadow Cradle 'n Swing, a fantastic product that will help you soothe your baby efficiently while also providing a much more comfortable performance. You won't have to stay with your baby as it comes with an automatic swing mode. Also, it helps your baby stay more entertaining thanks to a 16-melodies feature.
The cradle also features a mobile motorized designed for toys, making it incredibly engaging and compelling to calm down your baby. And finally, the seat offers superior comfort so you can make sure your toddler will feel cozier at all times, without you worrying about anything.
PROS:
Great Performance Entirely
Immensely Effective and Comfortable
Really Convenient Design
CONS:
A Little Noisy with Heavy Babies
If you want to buy one of these is because you want to give your infant a fantastic experience that will help him both to develop motor skills, to learn how to calm down faster and to eventually entertaining the baby in a more effective way than any other. But there are hundreds of options out there, and if you are not sure of what you should buy, maybe learning what you should look for is a great idea. Here's an excellent guide to learn all that:
Types
There are different types of swing out there, those made to soothe your baby, those created to offer a great outdoor experience, and those made two different things when needed. The first ones are normally designed in a way that allows parents to concentrate or do other stuff while letting the baby to rest comfortably, usually with technological features with automatic performances and such.
The second type, the outdoor swings, are more oriented to provide an excellent outdoor experience, helping the toddler learn and improve motor skills, while also helping him enjoy nature and different environments.
And the last one, the adaptive and versatile models, are often used in many ways, being foldable and able to transform in cradles, swingers, bouncers, and much more. These are usually really convenient and easy to use as well.
Safety
You want your child to be safe, so make sure the device is designed with care, following the most reliable standards so you can stop worrying about your baby when using it. And of course, they need to be well-made, with a sturdy and comfortable design at the same time, so your baby wouldn't affect the performance and eventually break the device and harm itself at the same time.
For an even better effectiveness when buying, there are additional tips you should consider:
Electric models are often battery-powered. Yet, there are some that need an AC connection to function correctly. If you need versatility, go for a battery-powered one.
The speed of the swing when it is a soothing swing may change according to the baby's weight. If not, make sure you choose the right speed according to your infant's needs.
The fabric and padding of the seat should always be easy to clean. Unless it is a plastic outdoor swing, always ensure a much comfortable and easier to clean construction.
Additional features like mobile toys, trays, light displays, and melodies come really handy to soothe and calm down a baby. Go for a device with these for superior effectiveness.
Now it's time to make your decision. Pick a great swing, allow your baby to have endless nights of enjoyable experience or let him enjoy a beautiful afternoon nap without problems. One of these, whatever the purpose, will always come really handy without a doubt.
Don't let your baby become a big child without enjoying one of these firsts, so choose the one that fits with its needs and enjoy a great experience with your baby now!
A perfect swing is the one that offers entertainment and a really effective comfortable performance, exactly like the options we have here. Come and check out for more info!
Great choice for Sleeping Night !