10 Best Baby Jumper 2022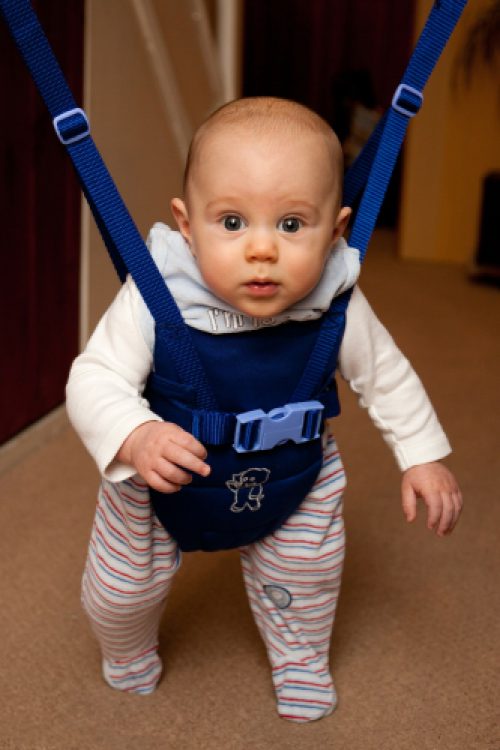 Are you eager to see your baby walking but he's still too young to do it? A baby jumper may be the right solution to help your baby give his first steps…
Baby jumpers are the perfect fun for babies. They provide a highly entertaining tool while also being helpful in many ways, especially in the development of their physical and motor skills. With one of these, a toddler can have wonderful times learning and gaining strength in their legs and body, while also being safer than doing it in any other place or situation. Additionally, they give parents a little space to allow the little one to be more independent. So, jumpers can be the perfect addition to your family – if you choose the right on.
But there are many types of jumpers, and all of them offer different features and advantages. So it is up to you when choosing the one that fits your baby's needs. Here are some of the most recommended jumpers out there…
10 Baby Jumpers Review 2022
01.
KidCo GoPod Activity Station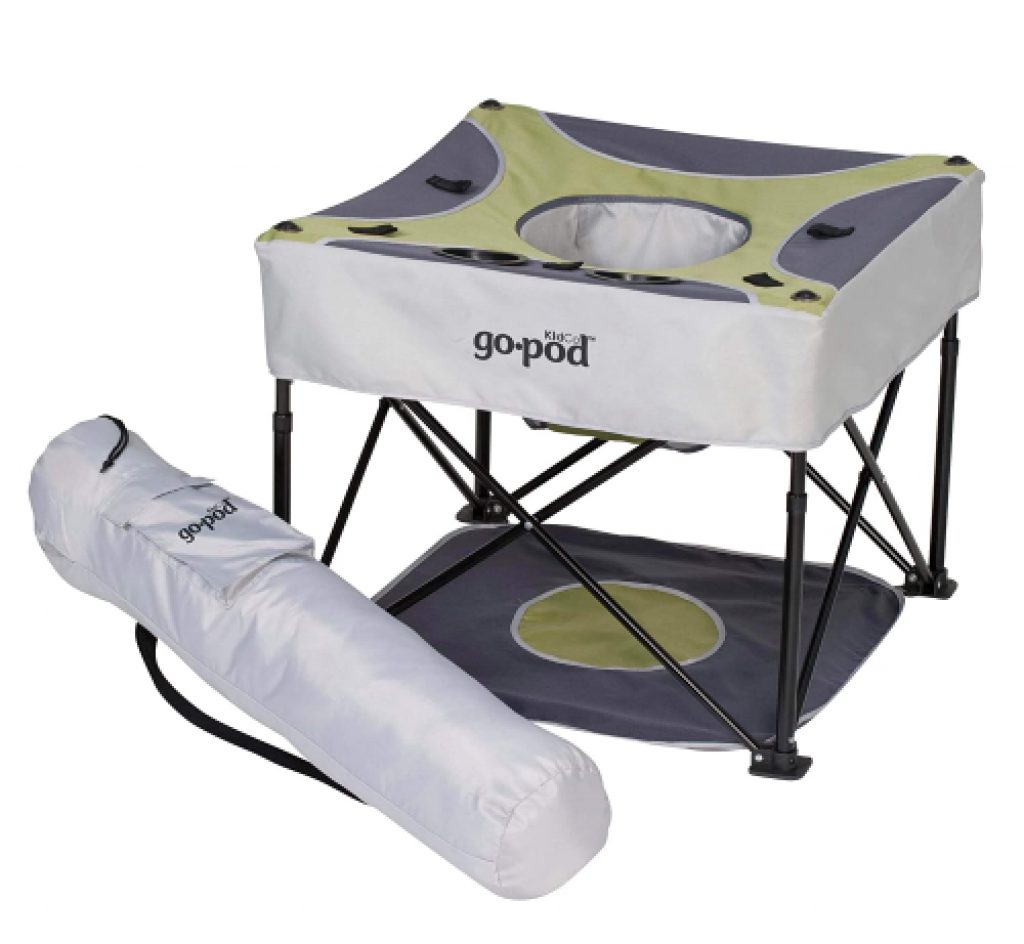 age 4 – 7 month
weight 6.7 pounds
size 6 x 6 x 30 in
Available in Stock
Not the friendliest design for babies, but still offers an outstanding experience and protection for playing and learning. It is straightforward to assemble and features a resistant indoor and outdoor construction. You can transport this jumper anywhere without a problem thanks to its carrying bag and its lightweight design.
The entire fabrics of the jumper are made of nylon with a metallic frame, totally safe for kids nonetheless. It is easy to adjust depending on your baby's needs and will be comfortable enough to be used for longer.
PROS:
Safe and Comfortable
Really Convenient Easy-to-Carry Design
Comes in Various Colors Models
CONS:
Doesn't Offer Additional Entertainment
02.
Evenflo ExerSaucer Door Jumper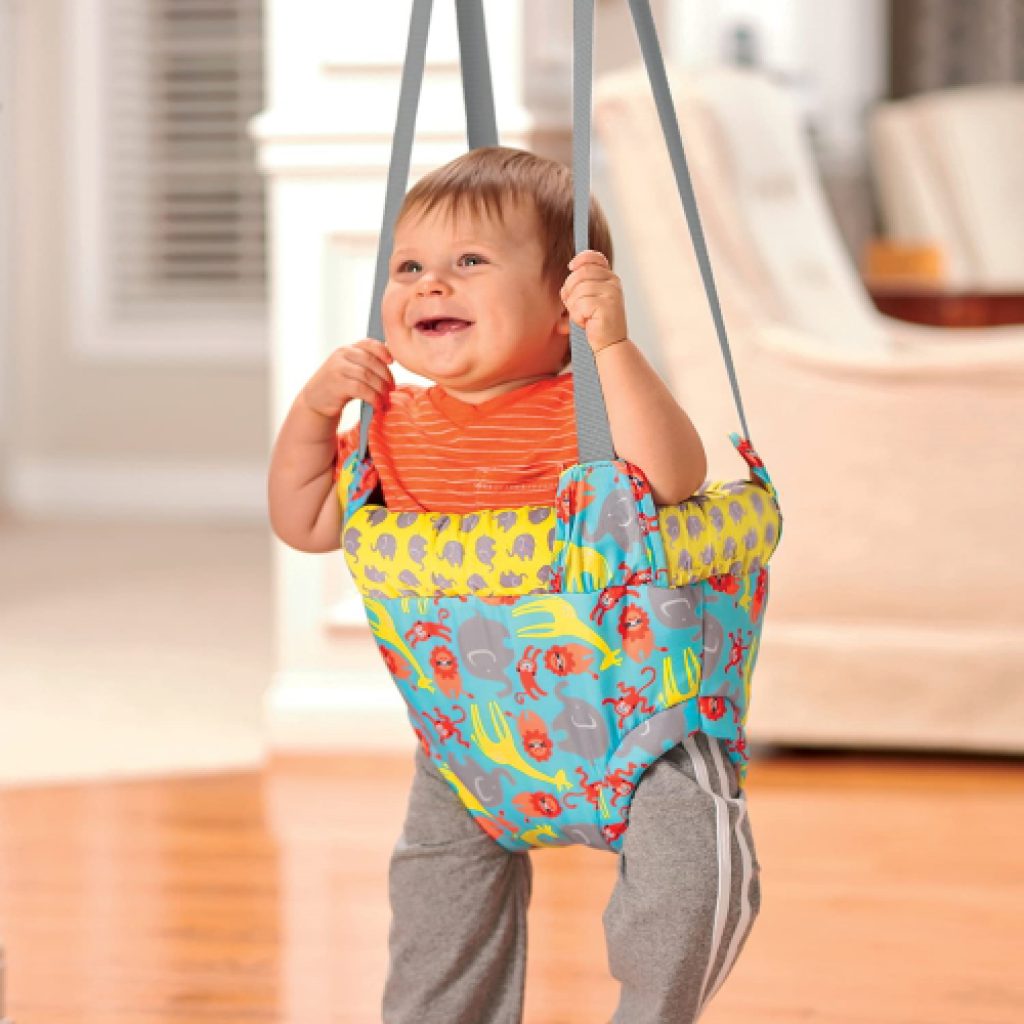 age 4+ month (max weight 24 pounds)
weight 2.7 pounds
size 15.7 x 7 x 4.1 in
Much more reliable and comfort-oriented jumper for babies, with a door attaching system for more comfortable and more convenient use as well, the Evenflo ExerSaucer is a perfect addition to any baby's toys, especially for its beautiful designs. You will help your baby improve his strength and physical performance and also getting to avoid the toddler to be in dangerous situations.
It is recommended for 4-months babies at least, to up 1 year. The seat is entirely comfortable with a framed construction, and the door clamp is sturdy enough to support even the heaviest baby at that age effortlessly. The device won't be challenging to install either, as it is much easier to assemble than most.
PROS:
Supportive and Comfortable
Easy to Assemble
7 Really Good-Looking Designs
CONS:
Can Feel a Little Smaller Than Most
03.
Merry Muscles Ergonomic Bouncer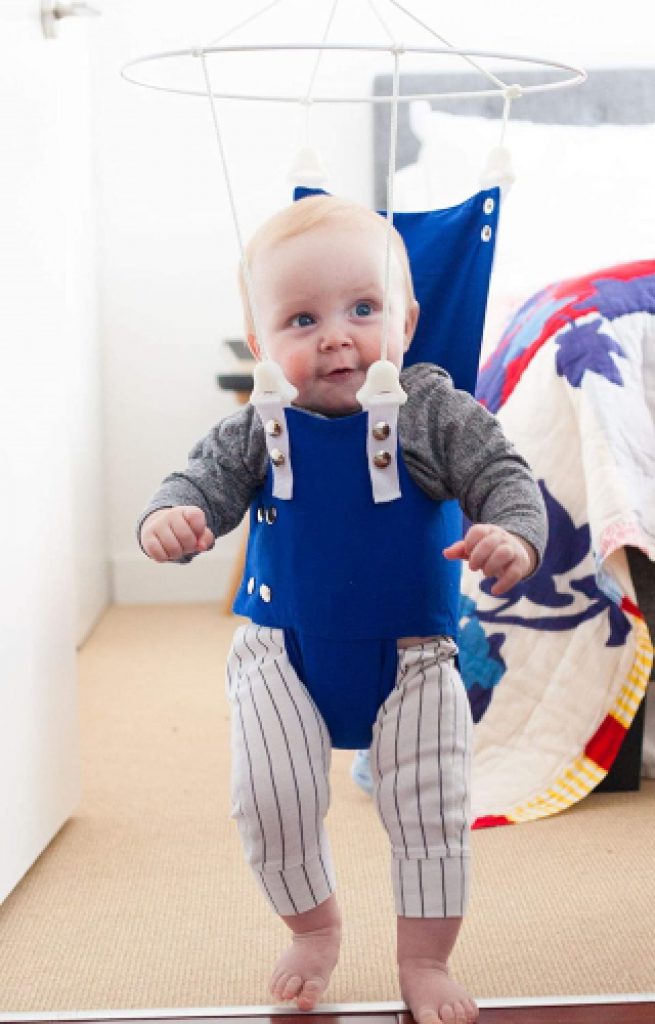 age 3+ month (max weight 30 lbs)
weight 1.55 pounds
size 15.5 x 15.5 x 2 in
Designed to offer superior muscle development for the little ones, this safe and effective Bouncer is a well-made option not to overlook. It doesn't look as good as others do but provides a much better performance when it comes to health benefits for babies, as well as a much more ergonomically and comfortable construction.
All babies will be totally safe when using it for toddlers of 3-months-old onward. The bouncer offers back and head support as well, for increased comfort. And the entire design is totally safe in almost every way, impossible to climb and much harder to get off.
PROS:
Highly Development-Oriented
Much Safer and Reliable
Really Comfortable and Supportive Design
CONS:
Needs Additional Clamp to Be Attached
04.
Disney Baby PeekABoo Minnie Mouse Activity Center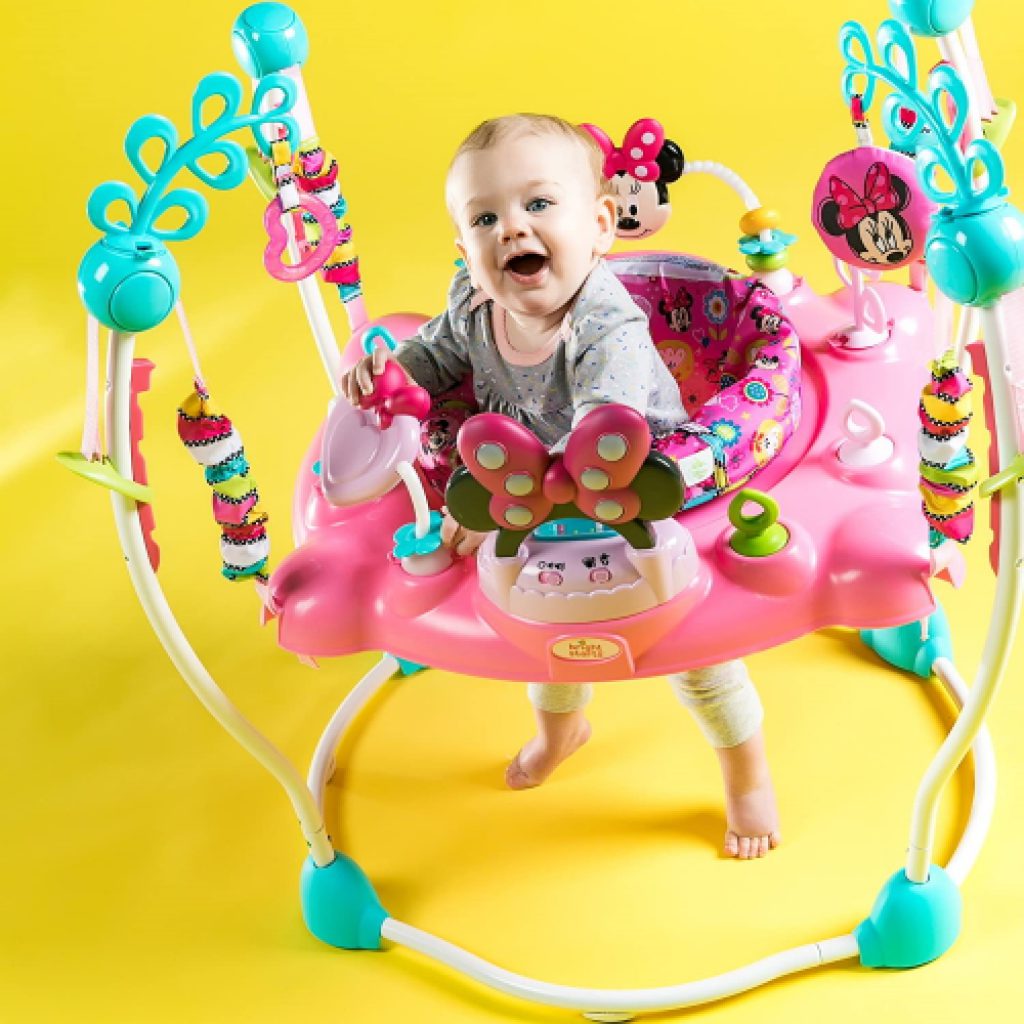 age 6+ month (max weight 24.2 Pounds)
weight 12.83 pounds
size 31 x 27 x 34 in
Available in Stock
Excellent design to be more desirable by babies, this Minnie Mouse PeekABoo activity center is a great choice for parents who want their babies to get distracted for hours while also improving their intellectual and physical abilities.
It features 12 engaging toys and different activities in a 360º seat rotation center. The seat is made from a washable fabric, and all the plastic construction is totally safe for any toddler of any age. It makes sounds, looks entertaining and engages toddlers with such efficiency you won't believe how useful it will be. It is mostly recommended for 6-months-old toddlers and older.
PROS:
Incredibly Engaging and Entertaining Design
Comfortable and Washable Adjustable Seat
Well-Balanced and Safe
05.
Bright Starts Sweet Safari Bounce-a-Round
There's nothing more enjoyable for a little one than to play with animal toys that make sound and offer incredible opportunities to play with. That's what this Bright Starts Sweet Safari Bounce-A-Round activity center provides – with a 12-activities design for increased entertainment and an adorable design for a more engaging result.
The construction is sturdy and offers a 360-degree fun design. The bounce pad is really well-made and durable for a longer and more enjoyable experience for your baby. And if you wanted to receive superior convenience, you will be able to adjust your baby in 3 different sizes.
PROS:
Totally Engaging and Entertaining
Excellent Convenience and Comfort
Durable and Sturdy Construction
CONS:
Doesn't Offer Much Physical Development
06.
Jolly Jumper Stand for Rockers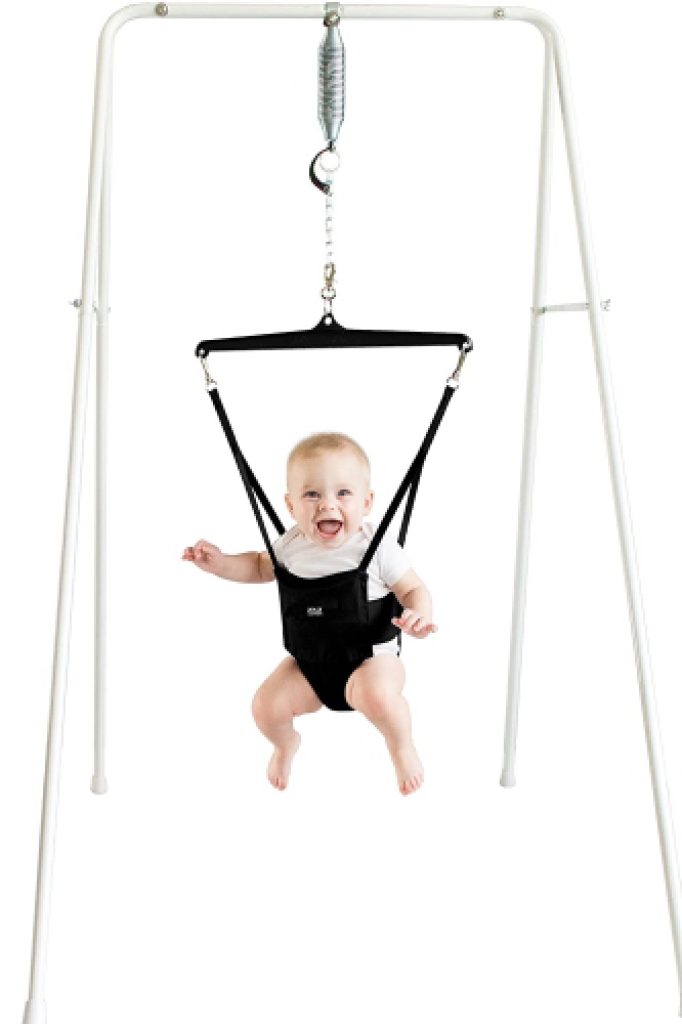 weight limit 28 pounds
weight 11.3 pounds
size 38 x 21 x 2.8 in
Available in Stock
As well as there are products which are mostly designed for only fun, there are others which offer superior development capabilities – like the Jolly Jumper Rockers' Stand. This one is specially made to provide an excellent development of leg strength and balance for babies, helping them achieve their first steps in no time.
The entire construction is sturdy and comfortable for babies and still offers a really safe entertainment for parents. It helps babies to maintain the right posture due to its ergonomic design and provides enough strength to support babies of up to 13kgs easily. It is easy to transport and provides a straightforward assembling.
PROS:
Offers Great Development Results
Really Safe and Comfortable
Easy to Assemble and to Carry If Needed
CONS:
Not as Entertaining as Others
07.
Skip Hop Explore and More Baby's View 3-Stages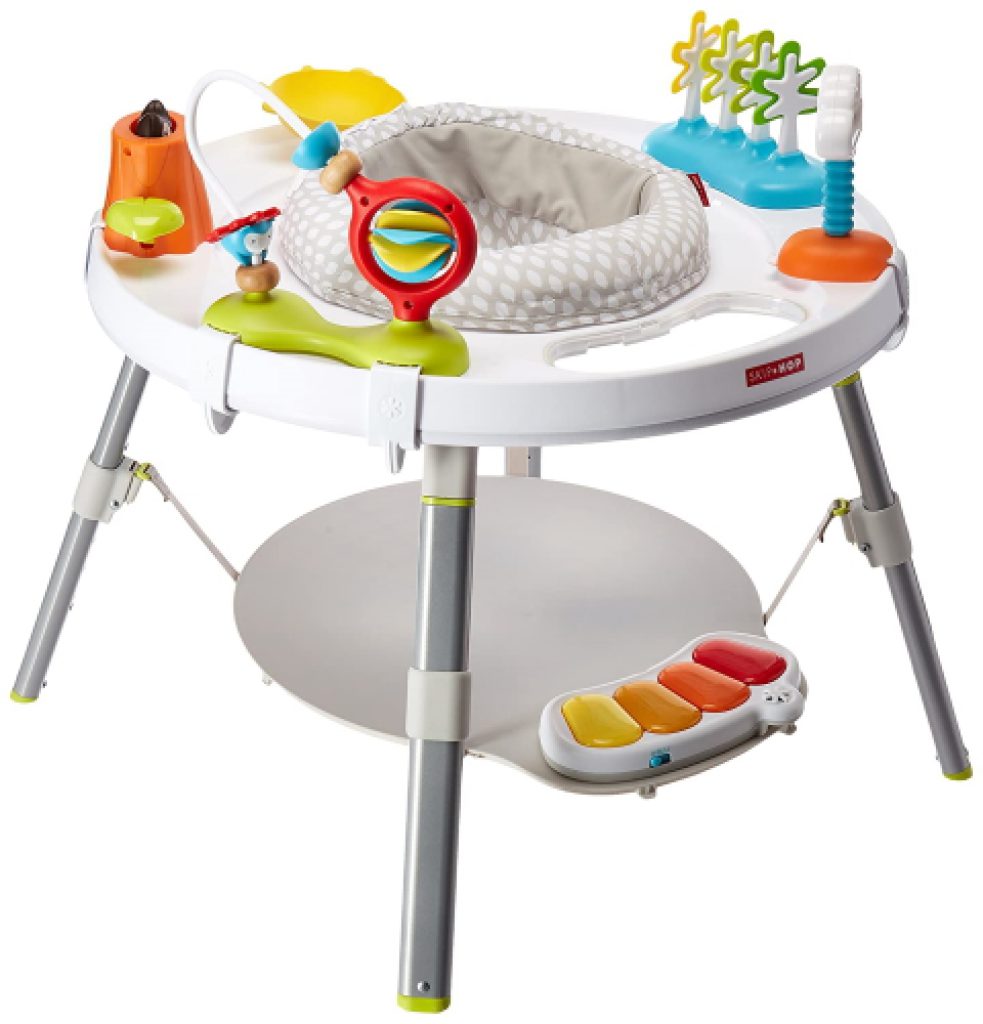 age 3 month (weight 16 – 28 pounds)
weight 15 pounds
size 31 x 31 x 18.5 in
Available in Stock
An activity center that can be used for toddlers of three different stages, the Skip Hop Explore and More Baby's View is an excellent choice for almost any baby. It can be used for babies as little as 3 months, and can still be used for those as old as 1 and half years or even more without any problem.
It offers a sturdy and safe polyester construction, a 60-degree rotating seat and a convenient 3-stage design so you can use it as an activity center jumper for little ones, as an interacting table for average age or as a play table for older babies. This one also features 3 different toy attachments and a really comfortable seat design with a feet-window view, so your baby is entertained for hours.
PROS:
Convenient 3-Stage Design
Intellectual and Physical Development Effective
Much Safer and Comfortable Built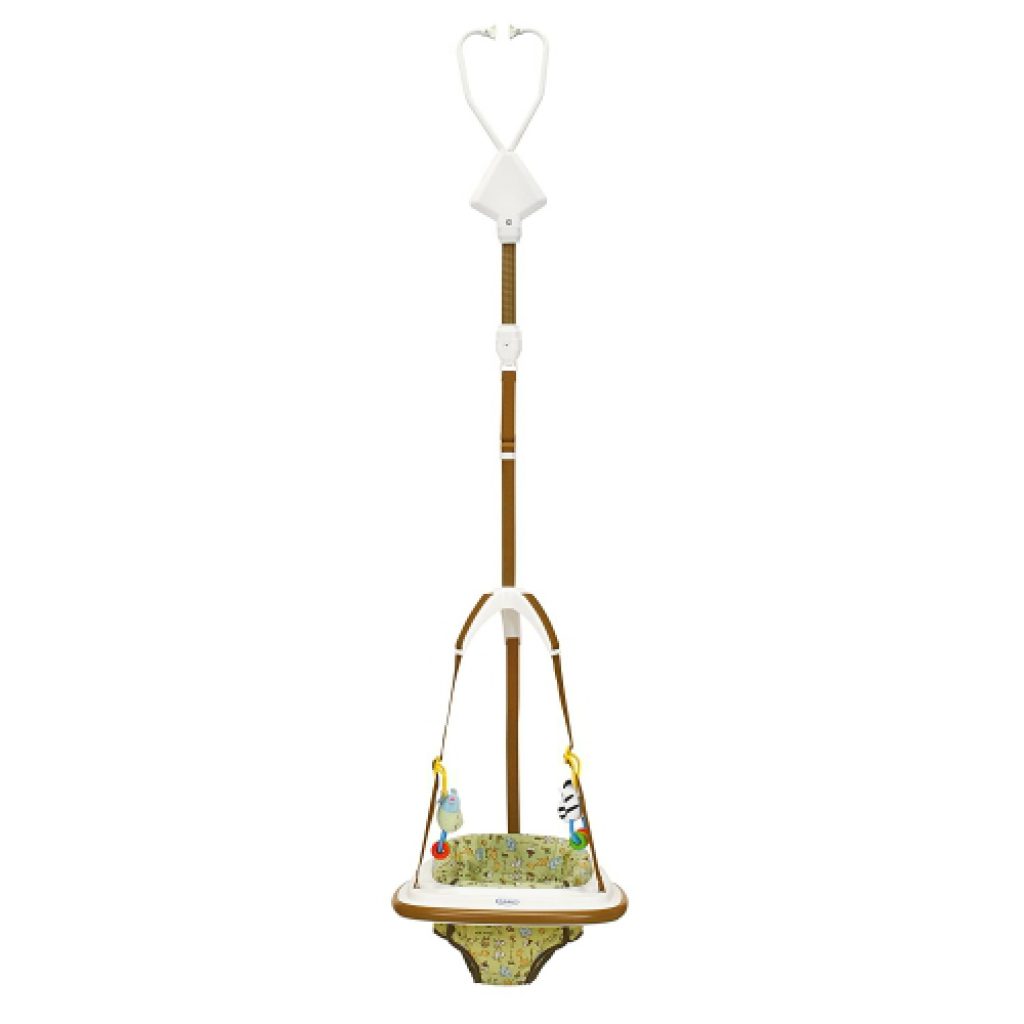 weight limit 5.5 to 25 lbs
weight 3.5 pounds
size 17.5 x 17 x 80.5 in
Wouldn't it be fantastic to have a baby jumper that offers both incredibly entertaining performance, an outstanding intellectual performance, and superior physical development? Well, that's precisely what the Doorway Bumper from Graco provides, a high-quality effectiveness in almost every way.
This bumper is made of polyester and offers great comfort and safety entirely. The seat pad is made of a washable fabric material. And the whole design was specifically created for superior interactivity while also being physically demanding for the baby to improve. You can have both with this option, and that's just better than many other jumpers.
PROS:
Effective Physical & Intellectual Development Effectiveness
Entertaining and Physically Demanding
Safe, Comfortable and Durable Built
CONS:
Not Recommended for 1-Year Babies
09.
Baby Einstein Neighborhood Friends Activity Jumper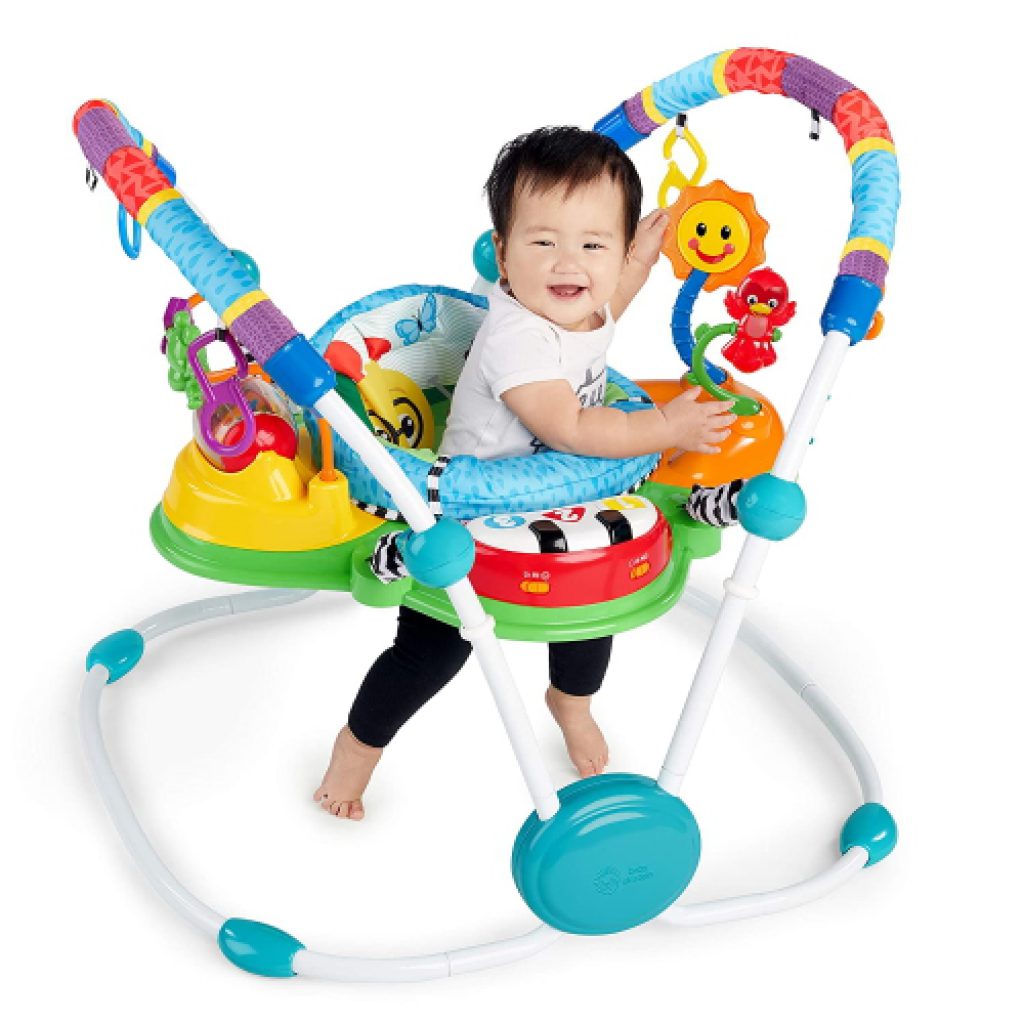 age 4+ months (weight 15 – 25 pounds)
weight 19.18 pounds
size 30.5 x 33 x 29 in
Available in Stock
Highly colorful and interactive design, the Baby Einstein Neighborhood Friends is an activity jumper which can make an excellent choice for those parents who want their babies to learn a lot while also being wholly entertained with a safe toy. This one offers that and much more, especially when we talk about comfort and convenience.
The entire construction is designed to be reliable and safe, while also being really entertaining thanks to 4 different activities including lights, melodies, a piano and even a language-learning tool with French, Spanish and English. Features a 360-degree seat and a really comfortable built for better support.
PROS:
Totally Engaging Entertaining Design
Offers Superior Intellectual Development
Safe and Supportive Built
CONS:
Not as Sturdy as Expected
10.
Fisher-Price Rainforest Jumperoo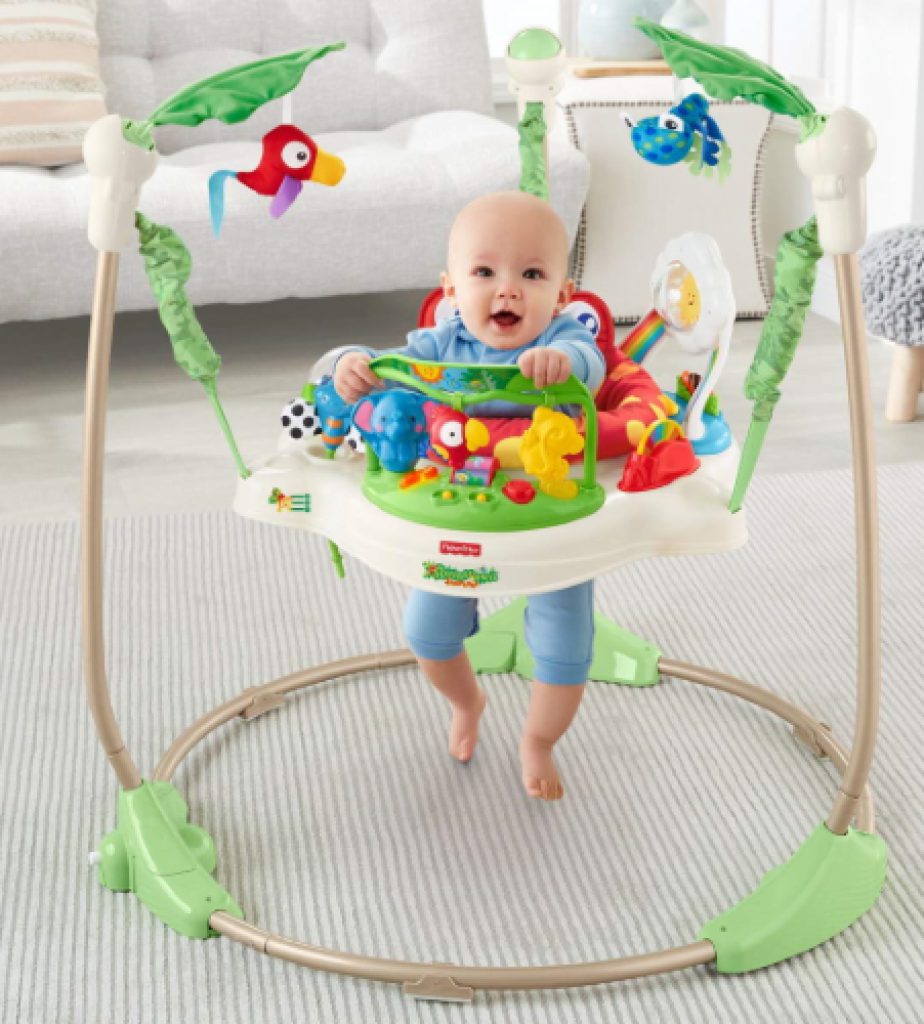 weight 25 lbs max, height 32″
weight 20.8 pounds
size 37 x 32 x 32 in
Available in Stock
Fisher-Price is a brand known for impressive quality on almost every kid and baby products they offer, and there's no exemption with this one. The Jumperoo Rainforest activity jumper is a perfect addition to any baby's toys without a doubt, thanks to its superior comfort, security, stimulating entertaining and interactive design, and a wonderfully easy-to-assembly and storing construction.
It features different lights and melodies that will engage the baby immediately and offers other good-looking interactive toys on the table and at a higher height to promote babies to jump and develop their balance and strength. The 360-degree seat is wonderfully comfortable and really secure as well with additional padding and adjustable sizing.
PROS:
Superior Entertainment and Development
Much Safer and Comfortable than Most
Totally Convenient and Durable Built
CONS:
Only for Babies Under 1 Year
If you want your baby to enjoy a superior development both physically and intellectually or you just want to have a way to entertain your baby in the healthiest way possible – there's no doubt a good baby jumper can be your best choice. But only when the product is good enough for the baby's needs is when you will obtain excellent results. That's why we have the perfect guide to help you choose the right jumper, so take a look and give your baby the ideal gift:
Types
There are three main types of baby jumpers, and all of them offer different designs and performances according to what parents want for their babies. The most common jumper is the activity station, a less physically interactive type but with much more entertainment capabilities than others. This model may offer additional toys and activities like melodies, lights and the like. However, it won't help your baby to improve physically as much, even when it has a jumper pad. They are made with a 360-degree chair usually and a broad set of toys and activities to engage.
Another type is the stationary jumper, a standard product that is mostly used to provide a superior physical development for babies, as they don't offer many entertainment opportunities, but it is more focused on physical activities. This type typically features a cloth or fabric seat with padding and a sturdy arch to clamp the seat. These are mostly safe, but can eventually be a little boring for babies.
And last one but not least, the doorway or clamped jumpers. These are similar to stationary jumpers, but offer much more movement and often provide a superior physical development. They need to be anchored or clamped in a doorway or any other strong point and are generally made with washable and highly comfortable fabrics.
Weight & Age Limit
Consider the weight and age limit of the jumper you want to buy, remember that most jumpers are made for babies under 1 year that doesn't know how to walk. Yet, there are options for babies of older ages that can be used safely and also offering superior entertaining capabilities as well. Just make sure it is fit for your baby's needs and requirements.
Safety
The sturdier and more supportive the jumper, the better and safer it is entirely. That's why you should consider both the quality of the suspenders as well as the seat and even the adjustability of the product. For suspenders, make sure there at least two elastic ones for a safer performance, and for the seat, it should fit the baby comfortable but tightening enough to avoid any loosen up while using. Lastly, you should consider how adjustable the jumper is, making sure it can be stretched enough to offer excellent comfort.
So, are you ready to see your baby giving his first steps? Maybe a good baby jumper is what you need. Don't let your toddler learn to walk without first getting to enjoy one of these beautiful toys, so learn what you need and buy the perfect one right now. You won't believe how useful and productive they are in the long run.
Here's everything you need to know plus many options to consider when buying a baby jumper – make your toddler happy by choosing the perfect one right now!
Looking to give your baby a safe and healthy toy to play with? Check out these incredible options for baby jumpers that will offer a really wholesome entertainment for your baby!