10 Best Beginner Drone 2022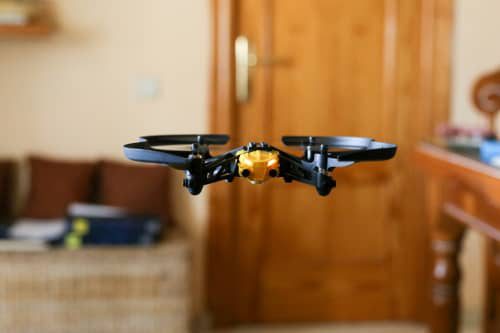 Want to teach your kid how to control a drone like a professional? Get him a beginner drone and your kid will be piloting a drone flawlessly in just a few tries…
Drones are one of the most fun RC toys you can get today, as they so versatile you can use them practically anywhere you want without problems, while also getting all the benefits a drone can offer like recording with a camera from great heights to getting into places no other object could. But they can be extremely difficult to use, and sometimes even dangerous if the person doesn't know how to control it.
That's why there are beginner drones, the type that are much safer and easier to use, so even those who haven't ever use them can learn to pilot as a professional. These drones can come in thousands varying designs, so we've made a list with ten of the most recommended out there – take a look!
10 Beginner Drone Review 2022
01.
Cheerwing CW4 Quadcopter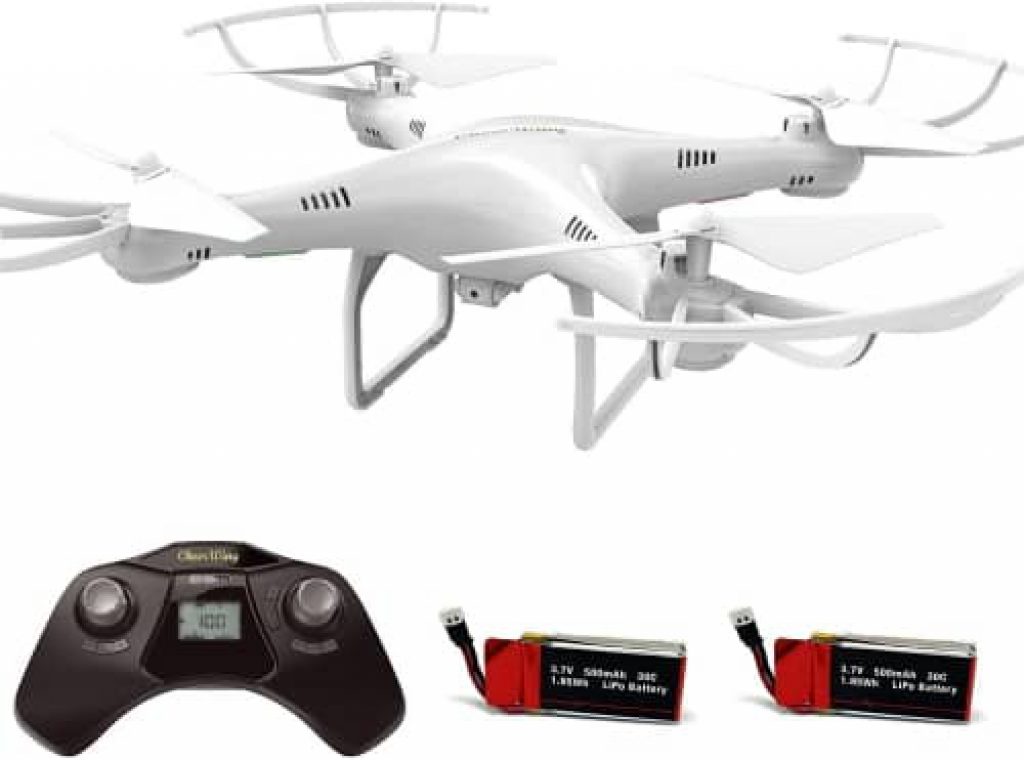 14+ year old
flight time 6-8 minutes
charging time 60 minutes
control range 50 meters
Available in Stock
Equipped with a 2MP HD Camera, this CW4 Quadcopter from Cheerwing is totally easy to use, reliable, well-made, and comes with additional features that make it one of the most versatile out there. The One Key Take Off, and the One Touch Down functions will help any beginner to land and take off quickly, both to provide more safety when using.
The drone also comes with another great function, the Hover or Altitude Hold Mode, which allows the device to stay on the air at a specific altitude automatically. And the headless mode will enable the device to remain flying even when the user is not controlling it.
PROS:
Really Useful Functions
Wonderfully Easy to Use
Excellent Design
CONS:
Unreliable Altitude Hold Mode
02.
LUXON Mini Drone for Kids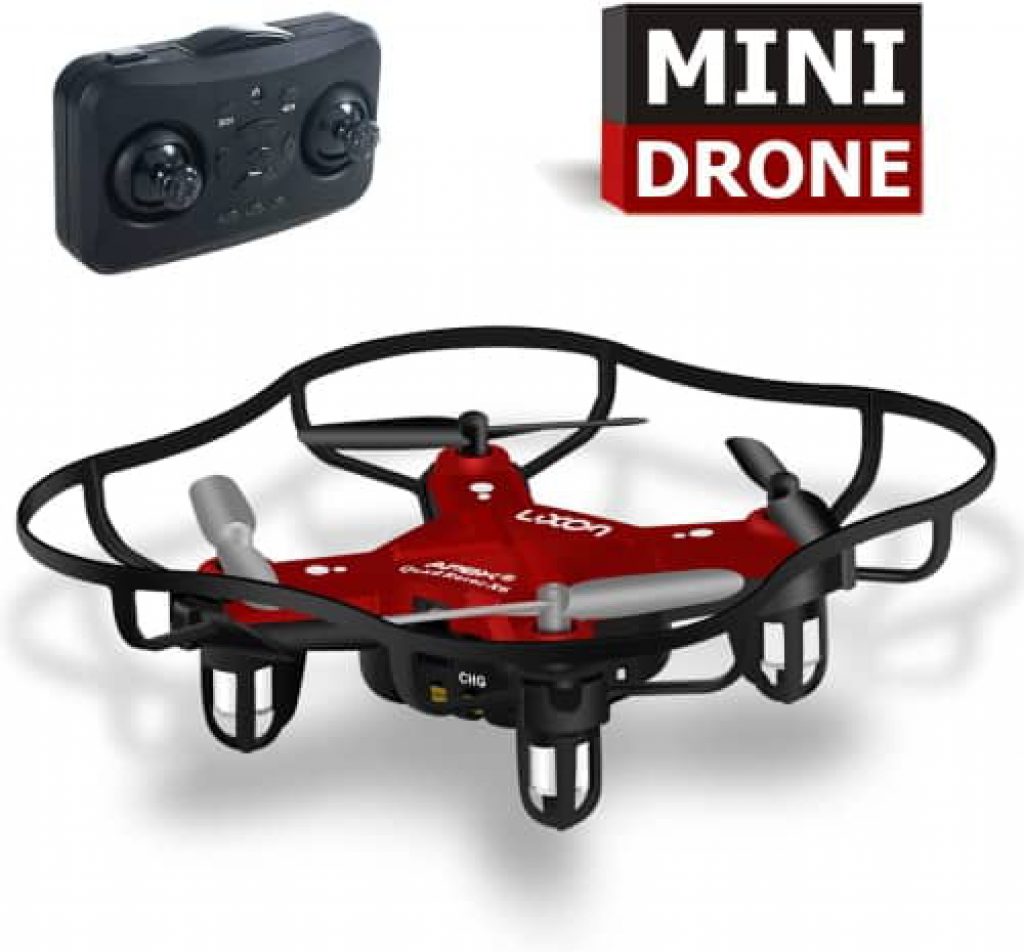 14+ year old
flight time 6-8 minutes
charging time 35 minutes
control range 30 – 50 meters
The cheapest drone you will find for kids, with an entirely compact design and a highly versatile performance, this Luxon Mini Drone can be the perfect one for your kid, easily. It comes with a multi-function design, offering a more stable flight with a 6-axis gyro system, while also being able to provide up to 50 meters of operating distance alongside a 2.4 GHz frequency for better response and much more control efficiency to increase safety and usefulness.
The drone is totally fun as well and provides up to 10 minutes of straight use without problems. Also, it is pretty resistant, so if it falls even from high distances, it will be able to keep working.
PROS:
Really Small Design
Resistant and Responsive
Incredibly Cheap
03.
EACHINE E010 Nano Drone
14+ year old
flight time 5 minutes
charging time 40 – 60 minutes
control range 30 meters
Mini drones are always fun for kids, and even more so when they're as easy to use as this one. With a utterly effortless-to-use control, your kid will obtain one of the most convenient designs for controllers, being able to move the drone everywhere they want the way they want without problems, offering a superb one-key return feature and a 360-degree rollover function any kid would love.
Also, the remote comes with a compass mode, so the drone changes direction every time the controller also does. The drone looks really good and comes with additional LED lights to provide visibility at night.
PROS:
Excellently Designed Controller
Good-Looking Design
Useful Additional Features
CONS:
Not as Resistant as Others
14+ year old
flight time 7 minutes
charging time 75 minutes
control range 30 meters
With one of the most innovative designs out there, the Syma X5C is a drone every kid would love both for its incredible looks and for how easy it is to control. Yet, what makes it much more convenient is its 2 MP camera that comes with a 4GB card so your kid can record up to 30 minutes straight without problems, capturing the most impressive moments easily.
The drone can make 360-degree flips, offers 2 different speeds and can be used either in open or closed spaces. Its 6-axis gyro system makes it a lot more versatile when flying and thanks to its 2.4 GHz, you can use the device up to 80 meters away from it without problems while getting a much more responsive performance.
PROS:
Perfect Design and Camera Feature
Awesomely Easy to Use
Incredibly Versatile and Responsive
05.
Force1 Scoot LED Hand Drone
Powerful, totally reliable, impressively versatile and capable of offering a blast of fun – the Force1 Scoot LED Hand Drone is easily one of the most recommended out there, thanks to its impressive features as well as for its fantastic design. It is capable of control using their hands
The brushless motor offers up to 8 min of straight use, and thanks to its infrared sensor to navigate and perform 360° flips – getting to be the most convenient to play in group. And of course, it is not hard to use in any way, while offering both simple controls over own hands.
PROS:
Much More Efficient when Flying
Offers More Reliability and Versatility
Looks Really Good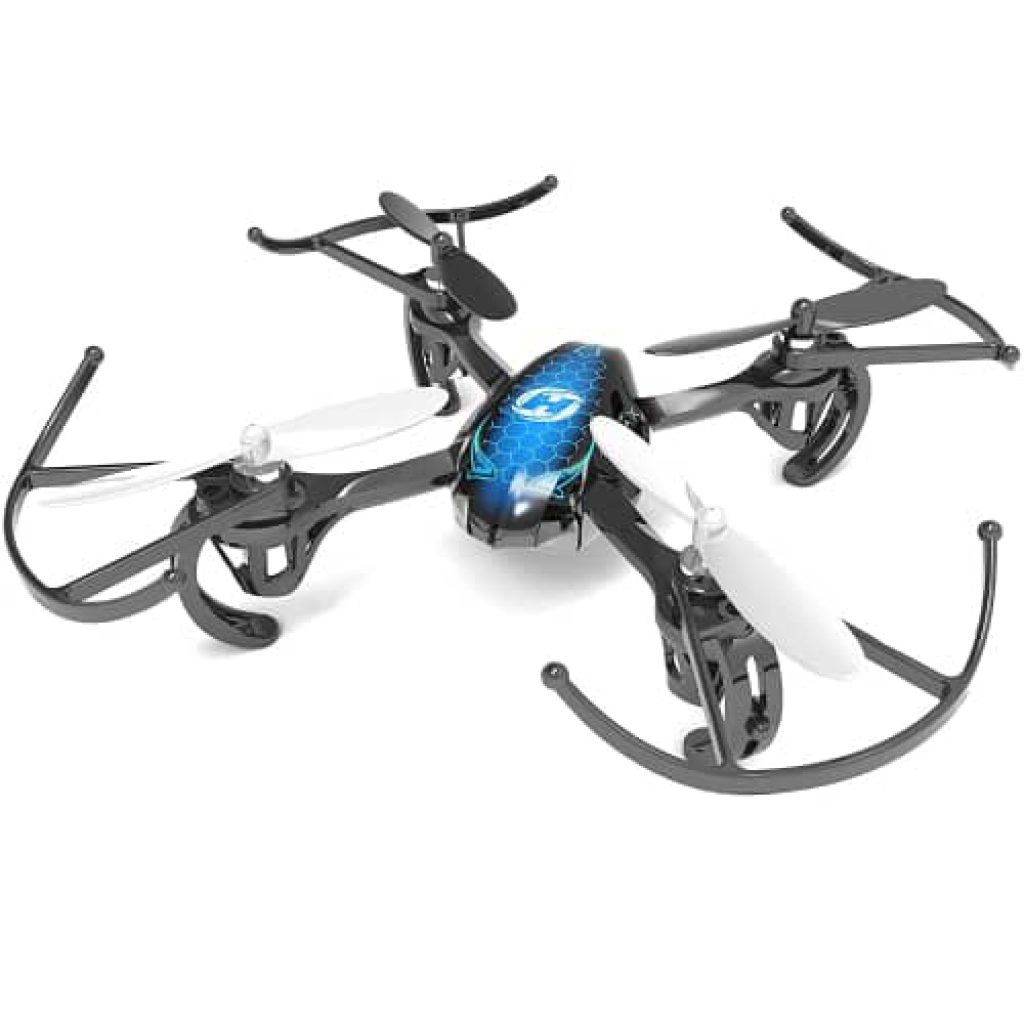 14+ year old
flight time 6 – 8 minutes
charging time 45 – 60 minutes
control range 30 – 50 meters
Totally affordable and with a headless security system to avoid unexpected falls, the Holy Stone Predator drone is an excellent device you can get to any kid as it will be a lot safer and easy to use than most. It can provide superior wind resistance so it lasts longer in the air, and will also be perfectly able to fly at a 50 meters height without problems.
The drone can fly for 8 minutes straight, it only needs an hour to be fully charged and comes with a 6-axis gyro system for superb stability when using. Also, it looks perfectly well so any kid can be happy with how it performs and how it is designed.
PROS:
Totally Reliable and Good-Looking
Wind Resistant and Durable
Excellent Additional Features
CONS:
Batteries Demand a lot of Charging Time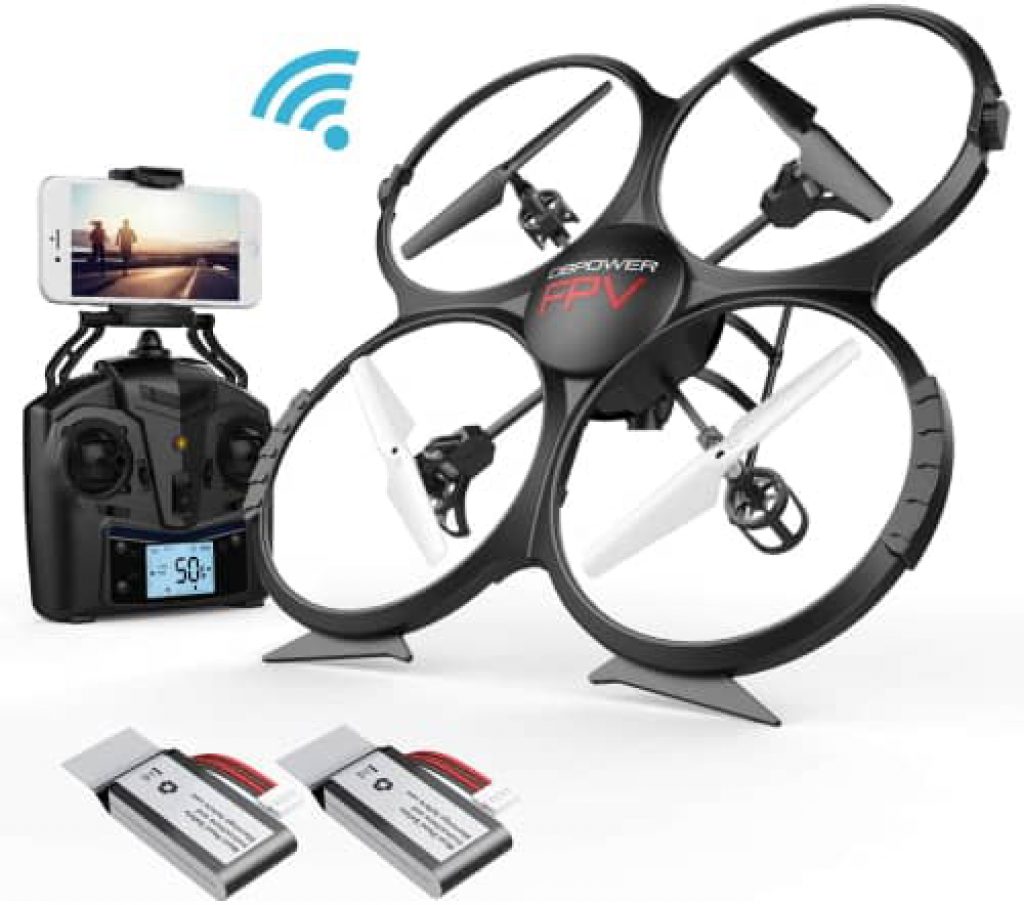 14+ year old
flight time 10 minutes
charging time 120 minutes
control range 50 – 80 meters
With a camera and WiFi, the FPV drone from DBPOWER is one of the most reliable and incredibly useful devices you can get for your kid. It will not only help your child to learn how to pilot one of these, but it will also teach him how to record things from the air more efficiently and with superb convenience.
Thanks to its WiFi feature, the user can take a look at what's being recorded while using, with an excellent transmission system everyone will love. With its headless mode, it will become a lot harder to get lost, as it will offer the perfect easy-to-use control that provides an automatic flying mode for inexperienced users. And of course, its battery can deliver up to 10 minutes of straight use.
PROS:
Outstanding WiFi Feature
Much More Reliable and Easy to Use
Versatile and Sleek Design
08.
TOZO Q2020 RC Mini Quadcopter Drone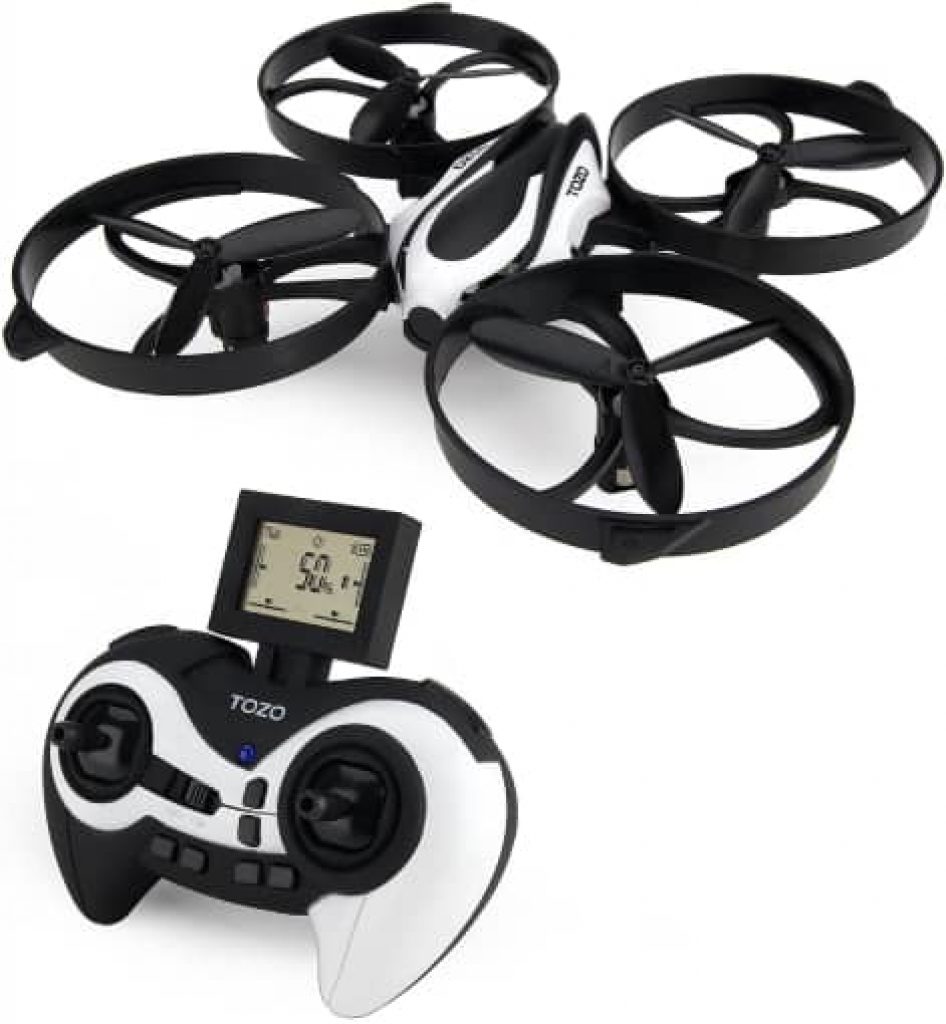 14+ year old
flight time 8 – 10 minutes
charging time 60 minutes
control range 30 – 45 meters
Despite being one of the most affordable out there, this drone can provide any user from beginners to experienced pilots an excellent and fun experience. The TOZO Q2020 is versatile, good-looking, reliable and provides straightforward controls so any kid can use it without any problem.
With its headless security system, even when it is lost or just too far away from the controller, it will maintain its position on the air and fly automatically closer to the user. It can operate for up to 10 minutes straight and only needs 60 minutes of charge. Yet, it offers up to 45 meters of using distance, despite having a well-made altitude mode.
PROS:
Looks Pretty Awesome
Straightforward Controls for Beginners
Extremely Reliable and Versatile
CONS:
Only Offers 45 Meters of Distance
09.
DROCON Training Quadcopter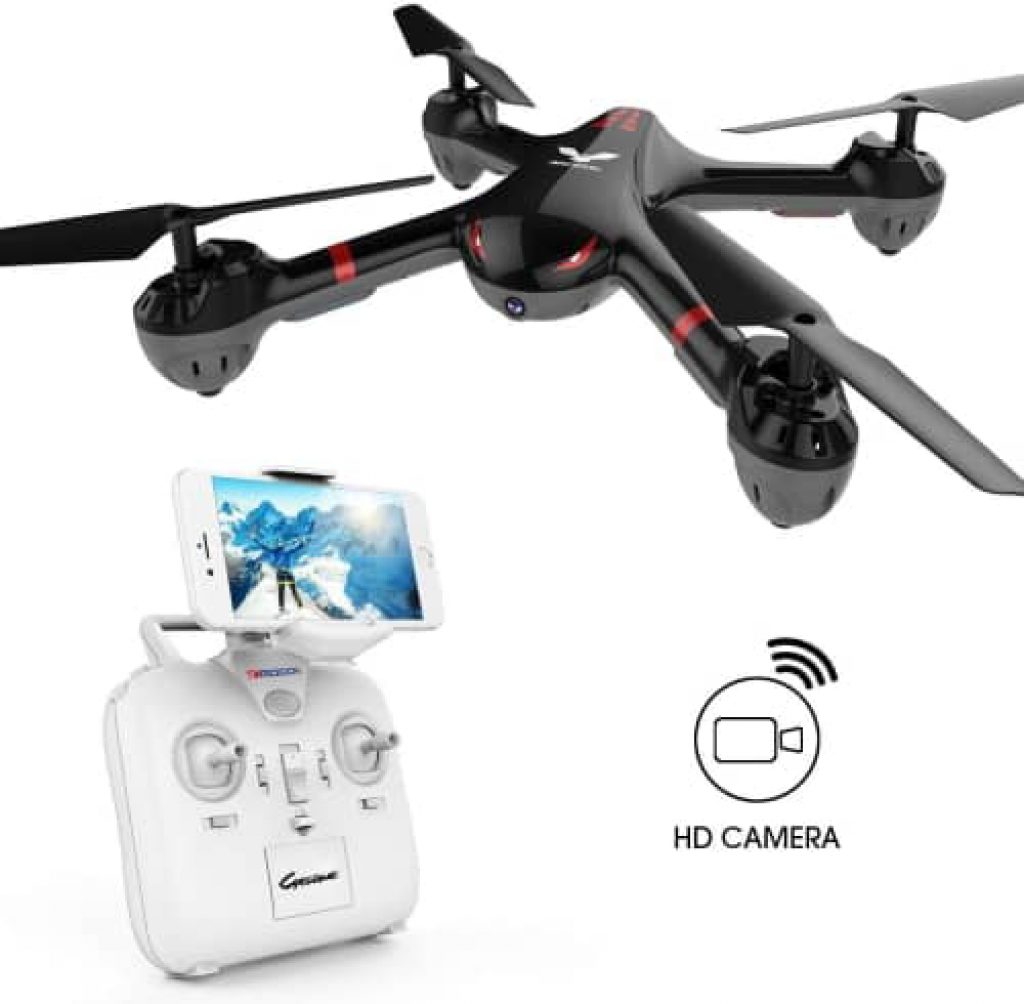 14+ year old
flight time 7 – 9 minutes
charging time 60 – 90 minutes
An almost perfect drone for beginners, the DROCON training provides straightforward controls for easier use, an incredible set of useful features, and a superb reliability so anyone can use it safely – while also being able to record 720p video and images and transmit it LIVE via WiFi. Easily, this is one of the most convenient and versatile out there, and still really perfect for beginners.
The device comes with two-speed modes so beginners can have a good time using it without getting into trouble. And with its headless mode, even when the user loses control, it will maintain itself in the air to provide more control and responsiveness. Also, when you want to get it back, just push a button, and it will return automatically to the ground.
PROS:
Extremely Useful One-Key Return
Totally Convenient Controls
Excellent Design and Camera Feature
CONS:
Not Recommended for Windy Environments
10.
Kidcia FQ777 Mini RTF Helicopter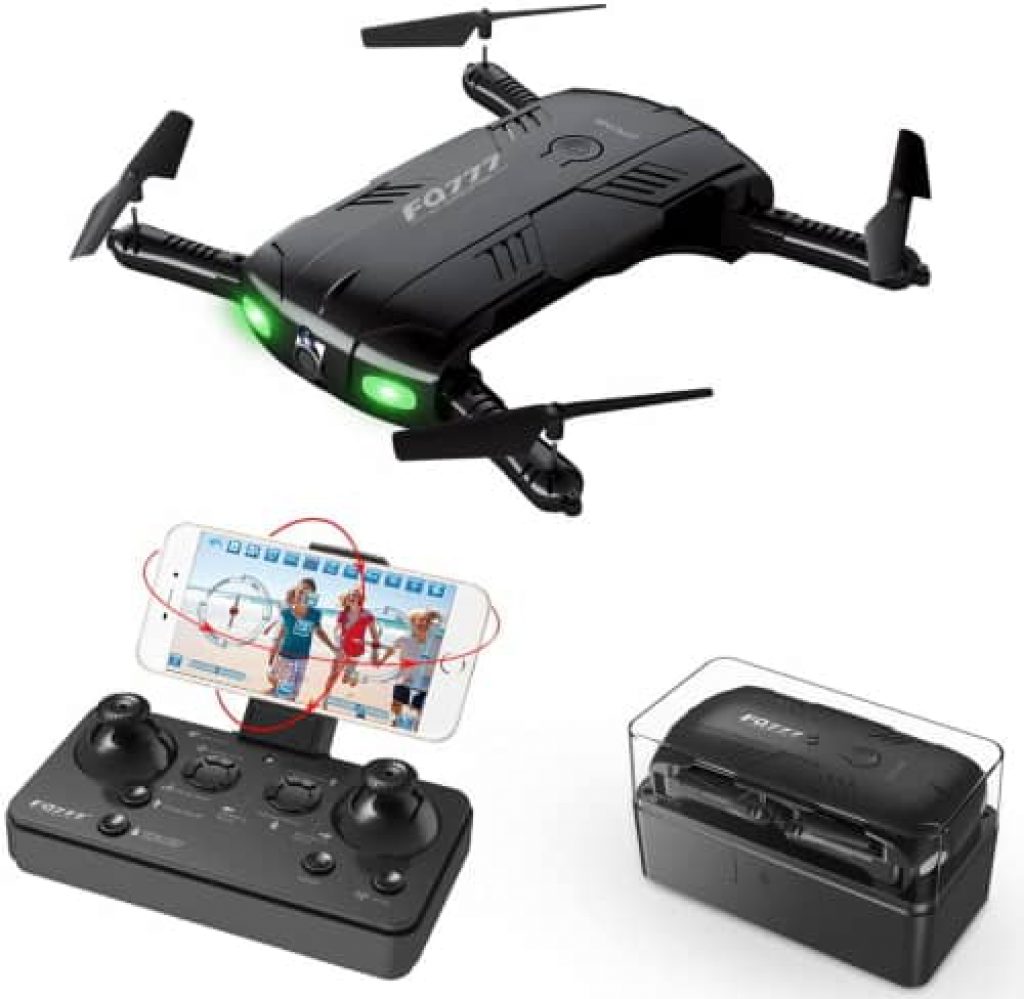 14+ year old
flight time 6 – 8 minutes
charging time 60 minutes
control range 60 – 80 meters
Featuring a unique design, the RTF helicopter from Kidcia doesn't only look really good, it also provides an incredible performance so everyone can use it everywhere at any time. It also comes with a 2 MP camera, so kids can record their flying and see it through its WiFi transmission directly into a cellphone or tablet.
It provides a headless mode to avoid accidents and comes with a one-key return feature so it can land automatically on the ground. Also, its altitude hold function makes it capable of staying on the air by itself, so the user doesn't have to hold the throttle button when using – making it a lot better for any kid or beginner.
PROS:
Outstandingly Useful for Beginners
Impressive Features
Remarkable Unique Design
Selecting a drone for your kids can be challenging, especially when you need a beginner's because your child doesn't know how to fly one correctly. But don't worry, if you take our following advice into consideration, it is pretty likely you are going to make a much better decision:
Controls
Every beginner's drone needs to be totally easy to use. That's precisely why they're called that way because they need to be perfect for inexperienced users so they can learn to pilot one of these efficiently. So, the controls must always be simpler, with two sticks one for movement and for throttle/altitude, and at least two more buttons for On/Off and an additional feature that could be automation when flying or automatic takeoff/landing. Controllers with more buttons or sticks may eventually be a lot harder to use, so they are not recommended in any way.
Quality
The quality of a drone for beginners is all on how resistant and efficient it is when flying. If you want exceptional reliability, you need to make sure a drone provides the perfect construction and overall design that makes it a lot more resistant to wind and shocks, while also being a lot more reliable when in the air. For this, make sure it comes with a headless mode too, so it can stay flying even the user loses control of it. Also, it should be stable and offer excellent responsiveness so any kid can control it without any problem.
Features
Most drones provide additional features like a camera which comes pretty useful in most cases, offering more entertainment. Other features like the headless mode deliver more safety when using, the same with altitude modes which maintain the drone at a certain height automatically, so the user doesn't need to push the throttle button or stick while using. There are also other recommended features to use, like LED lights for visibility, automatic takeoff or landing, and much more.
Feeling like you know what drone is the one you should pick now? Don't hesitate and do it with our help – you won't find any guide as straightforward and easy-to-follow as this one. The right drone for your kid is waiting, so don't waste more of your time.
Pick the perfect beginner's drone to have a home so your kid can have endless hours of fun with it. Your child will love it, and you will find it incredibly interesting as well!
Drones can be challenging unless it is a beginner's drone like the ones we have here. Come and pick a drone for your kid – you won't believe how fun they can be!
Excellent Beginner Choice !