10 Best Baby Walker 2022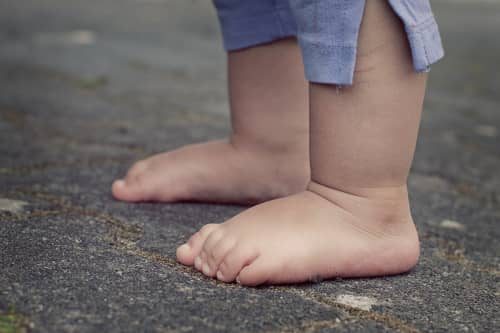 Is your baby trying to walk but can't still find the perfect balance? Help him develop his strength and eventually give those first steps faster with one of these baby walkers…
It feels lovely to watch your kid start walking, especially when it happens when you least expect it. However, it may be challenging for a baby to start doing it by himself so they may need your help or – something even better – the aid of a walker. These devices are simply impressive, as they offer pretty useful motor skills development and excellent entertainment for any toddler. And what's even better, these devices are incredibly safe at all times.
But only when you choose an excellent walker is when you're going to get these benefits. And to get a good one you will need to know how to pick. To make it a lot easier for you when choosing – check the following list…
10 Baby Walker Review 2022
01.
Safety 1st Dino Sounds 'n Lights Discovery Walker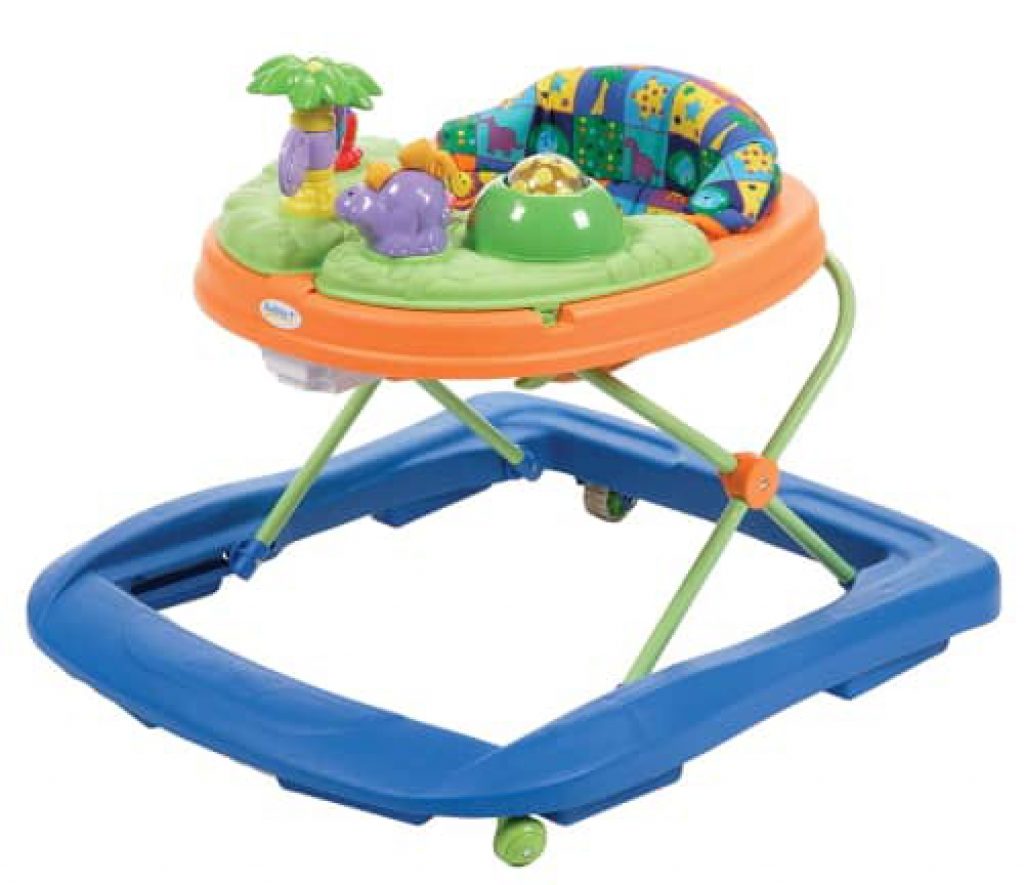 child weight 19.84 – 30.9 pounds
weight 11 pounds
size 28.10 x 24.00 x 22.50 in
Available in Stock
Coming with 5 toys for great entertainment, lights, rattles, and even crinkles – the Safety 1st Sounds Sound 'n Lights Dino is absolutely the one you should always consider. With this walker, your baby will have an exciting time everywhere while helping him walk slowly but really efficiently.
Its dino design is pretty well-made as well, so your kid gets thoroughly entertained in a fascinating way. The walker also features a tray area so you can give your kid some food while playing he plays with his toys. The device can also be adjusted to different heights, and can also be folded to be easier to store when not using.
PROS:
Highly Entertaining
Pretty Convenient Tray
Adjustable and Foldable
CONS:
A Little Less Durable than Others
02.
Bright Starts Walk-A-Bout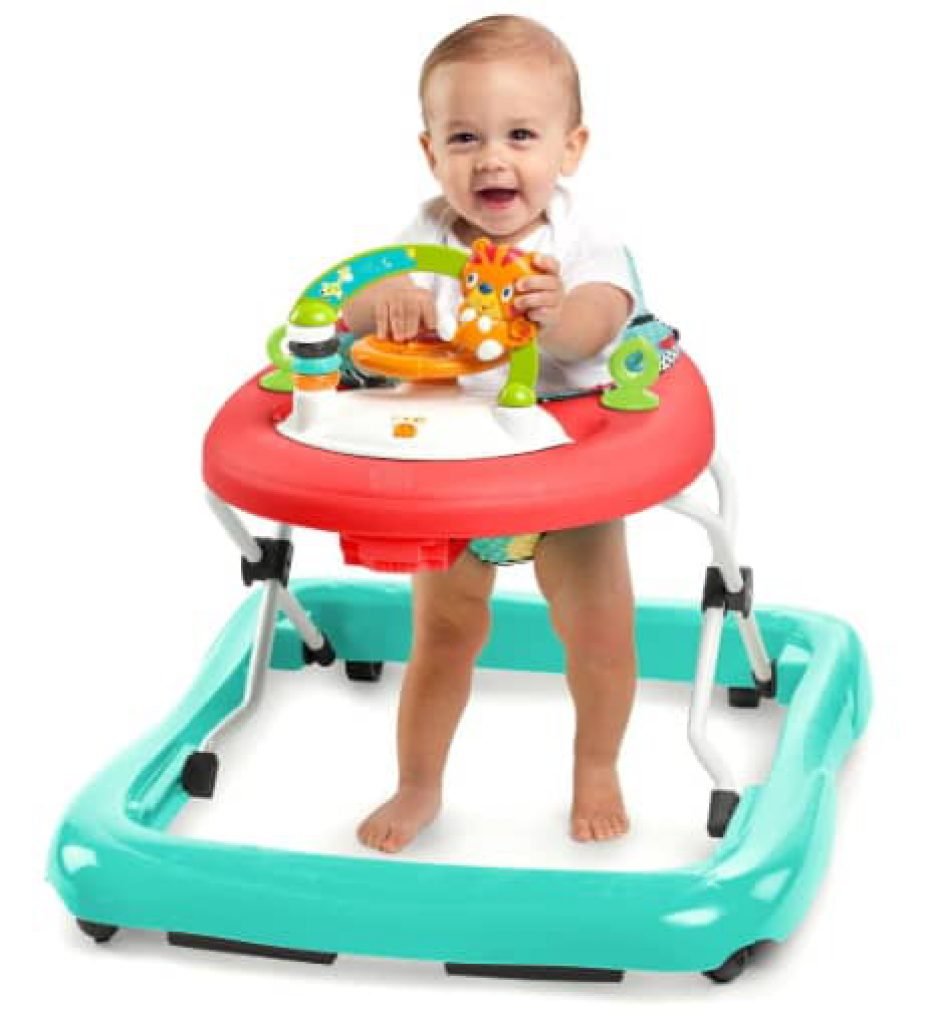 child weight 15 – 26 pounds
weight 11.02 pounds
size 34 x 28 x 24 in
Available in Stock
With a beautiful Safari design, this Bright Starts Walk-A-Bout Walker comes pretty useful and extremely exciting for any toddler. It comes with melodies, sounds, and lights to entertain your child to the max. Also, it features a seat with padded back, so your baby feels entirely comfortable at all times.
The walker also features some toys that can be detached and used on the floor. It is also adjustable for any baby thanks to its 3-position design. And thanks to its pretty safe and convenient construction, you will be able to be totally happy when your baby is using it, and even more so when it comes to storing it as it can be folded flat.
PROS:
Superb Construction and Design
Really Safe and Comfortable for Babies
More Convenient Adjustable Feature
CONS:
Toys Can Get Lost When Detached
03.
Delta Children Lil' Drive Baby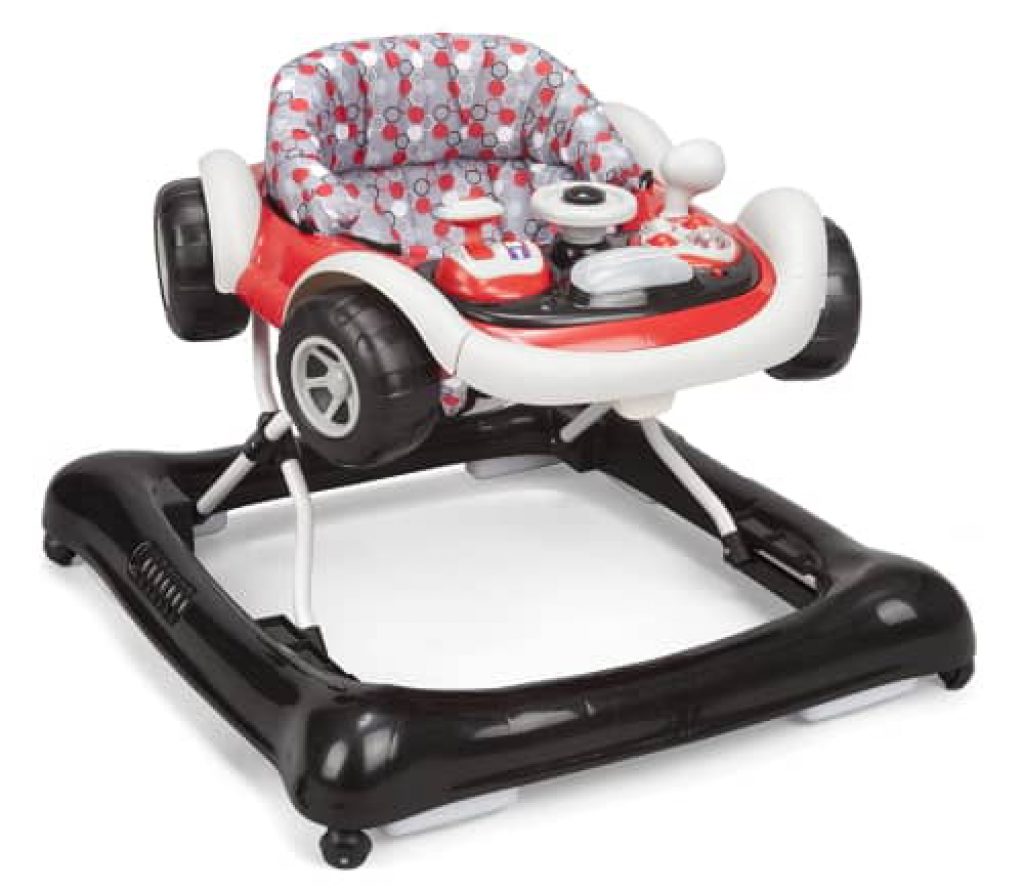 child weight upto 25 pounds
weight 10.6 pounds
size 26 x 27 x 27.75 in
Available in Stock
Mostly recommended for babies that can already sit, it is still one of the most effective walkers for babies who want to start walking. It features fascinating lights that make it incredibly engaging for any toddler, and thanks to its superb foldable design, it offers a highly convenient use and storing capacity.
The tray offers car sounds and a handlebar to resemble a vehicle which can be detached so it can be used as a dining tray. Also, it provides the opportunity to adjust it on 3 different levels to fit the needs of the child. And it only uses two AA batteries, so it becomes a lot more efficient and cheap in the long run.
PROS:
Highly Engaging Car Design
Excellent Adjustable and Foldable Design
Perfectly Useful for First Steps
CONS:
Not as Adjustable as Expected
04.
Cosco Simple Steps Walker Monster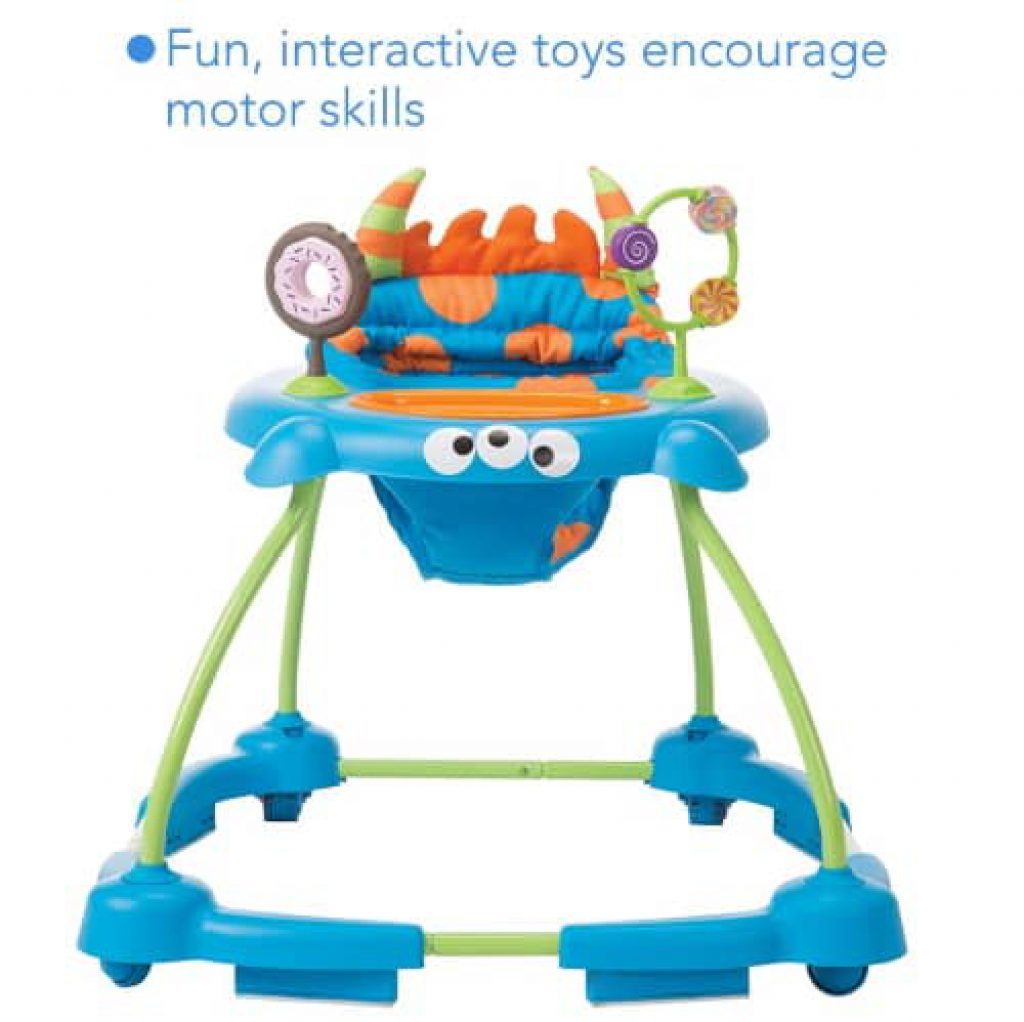 child weight 30 lbs, height 32 in max
weight 8.5 pounds
size 20 x 6 x 16.5 in
Looks awesome, provides an excellent interactive design and provides a superior comfort for any baby – the Cosco Simple Monster Walker can become the perfect walking aid for your baby. It will give limitless hours of fun while helping your child give the first steps faster. And of course, it can work for much more than just a walker.
The construction is made of a totally washable material, so it doesn't become frustrating. It can also be disarmed and used as a dinner tray. Its adjustable feature allows users to change between two different heights and becomes much easier to assemble or disassemble when needed.
PROS:
Superior and More Entertaining Design
Extremely Comfortable
Much More Effective for Walking
05.
Disney Minnie Music and Lights Walker
The Minnie Music and Lights Walker from Disney is the perfect one for any little girl who is soon to start going back and forth with no restrains. It looks simply beautiful and provides toddlers with a highly entertaining tray with toys, sounds, and pretty interactive features as well.
Its construction is pretty stable, all the wheels are incredibly smooth and thanks to its padded seat it is one of the most comfortable you will find. The product also folds really quickly when needed, and can be disarmed to be used as a tray for eating, while also being a lot easier to wash. It can be used practically anywhere as well.
PROS:
Much More Stable and Smooth
Beautiful Design
Really Comfortable Padded Seat
CONS:
Mostly Designed for Girls
06.
Stork Craft Mini-Speedster Walker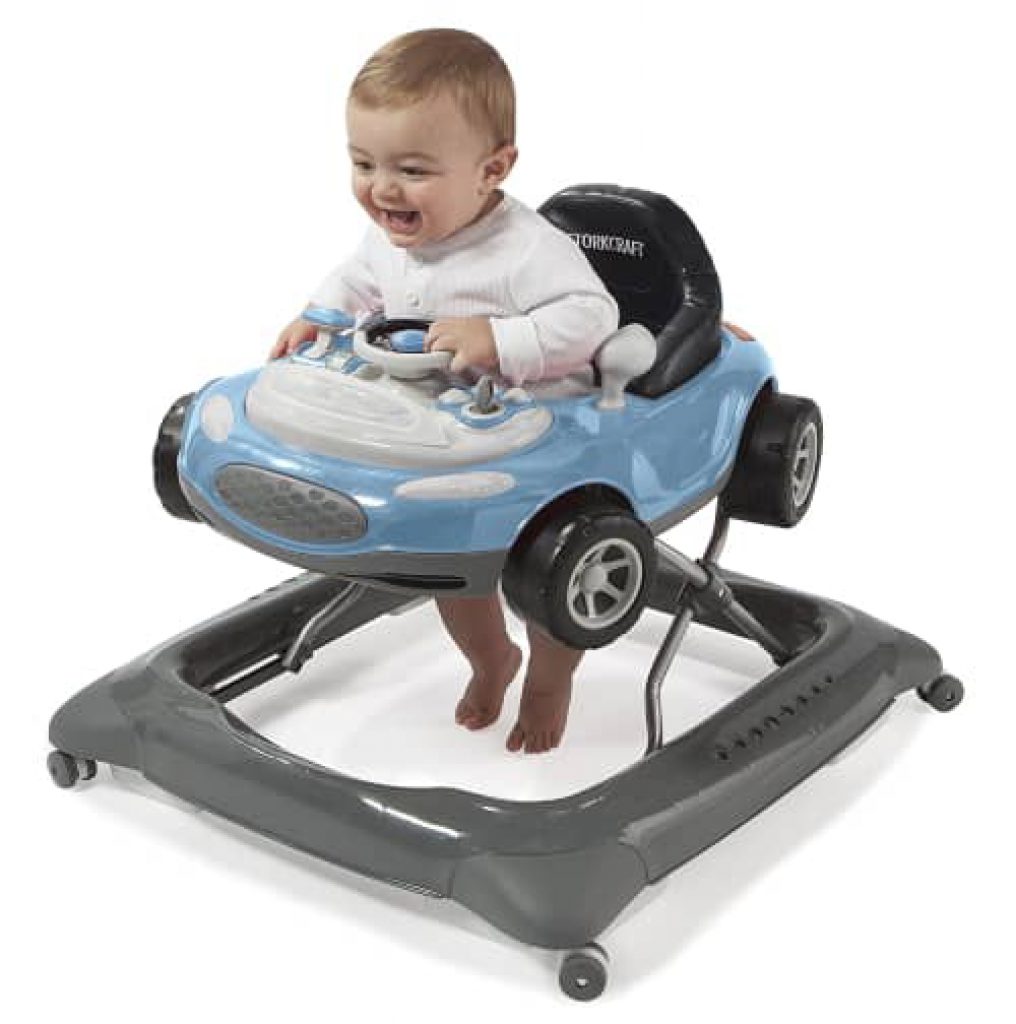 child weight max 26 pounds
weight 13.4 pounds
size 14 x 27 x 25 in
Available in Stock
Highly stimulating and with a completely sturdy construction, any baby can use the Stork Craft Mini-Speedster and have an incredible time while also learning to walk faster. The tray features electronic toys that offer sounds and lights, plus a steering wheel that can be extremely entertaining at all times.
It is pretty strong for any toddler and still utterly comfortable. It is adjustable in 3 different heights and will also provide a much lighter and foldable design for easier storing. The toy tray, moreover, provides a highly development-oriented system, so your child learns and plays all at the same time.
PROS:
Pretty Effective for Walking
Much More Comfortable
Incredibly Entertaining
07.
Melissa & Doug Wooden Clack Alligator
child age 12 month – 2 years
weight 1 pounds
size 15 x 15 x 11.8 in
Available in Stock
If your baby is already giving his first steps but still needs a little balance to start walking regularly, then you can get a different type of walker – like the Wooden Clack Alligator Push Toy from Melissa & Doug. This wood-made push toy is not only highly efficient for a faster walking, but it is a lot more comfortable to use and provides an entirely durable construction that can be used by even bigger toddlers.
The design is utterly engaging despite being made of wood. It also makes sounds and can deliver great development to the motor skills of any kid. It is made to provide superior craftsmanship and be a great help when it comes to learning to walk.
PROS:
More Durable and Resistant Construction
Really Good-Looking Alligator Design
A Lot More Effective for Walking
CONS:
Not Recommended for Babies Under 12 Months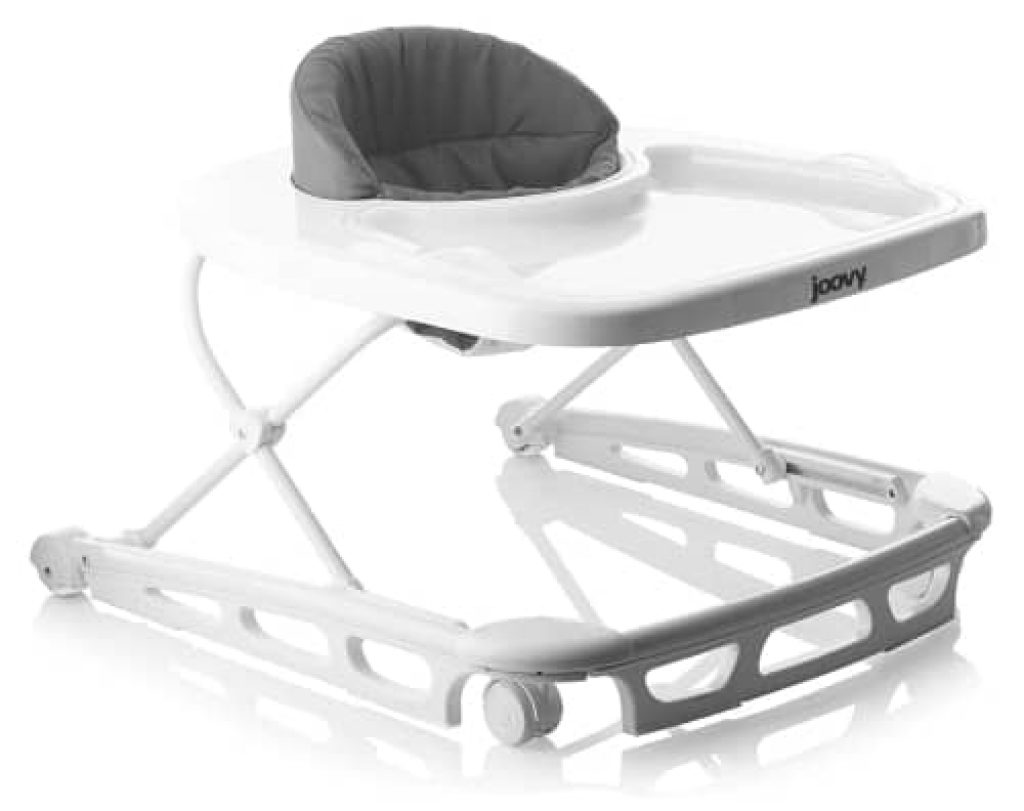 child weight max 30 pounds, height: 33.5 in
weight 12.3 pounds
size 27.8 x 25.5 x 18 in
Available in Stock
It is designed to become the most efficient help any toddler can get to walk, so it doesn't look as good as others and doesn't come with additional toys and activities. However, with its extremely strong build and its special design, any toddler can learn to walk in no time when using this walker.
It can work as a dinner tray as well, so it becomes a great help for parents. It can be easily folded for easier storing. And of course, it is entirely comfortable and adjustable, so any child can use it without problems.
PROS:
Superior Efficiency For Walking
Entirely Durable and Resistant Construction
Simple But Pretty Useful
09.
VTech Sit-to-Stand Learning Walker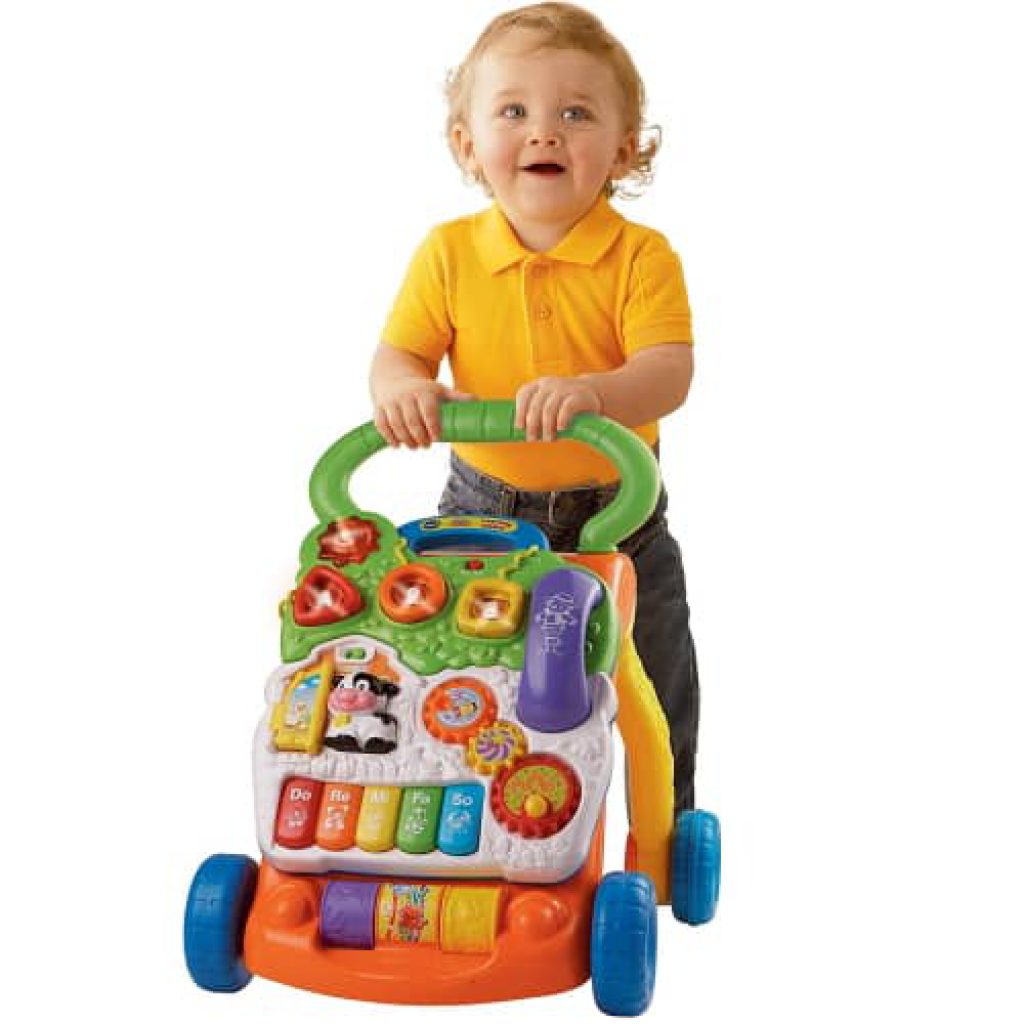 child age 9 months to 3 years old
weight 6 pounds
size 16.5 x 14.2 x 18.1 in
The perfect push toy walker for any baby who is already giving his first steps, the VTech Sit-to-Stand Learning Walker is convenient, comfortable, useful and totally made to provide higher efficiency. Yet, it doesn't lack anything when it comes to design, as it can also become pretty entertaining for any baby as it features a fully interactive system full of sounds, lights, melodies and much more.
Its design features a telephone and more than 70 songs and melodies, plus many phrases that come pretty useful for children to learn. And despite being pretty interactive, it is pretty strong and helpful to learn walking faster than with any other. Finally, it can be folded and used as a simple activity deck when needed too.
PROS:
Much More Interactive Than Most
Pretty Strong Construction
Extremely Convenient and Versatile
CONS:
Not So Effective for Walking
10.
Bright Starts Deere Gator Walker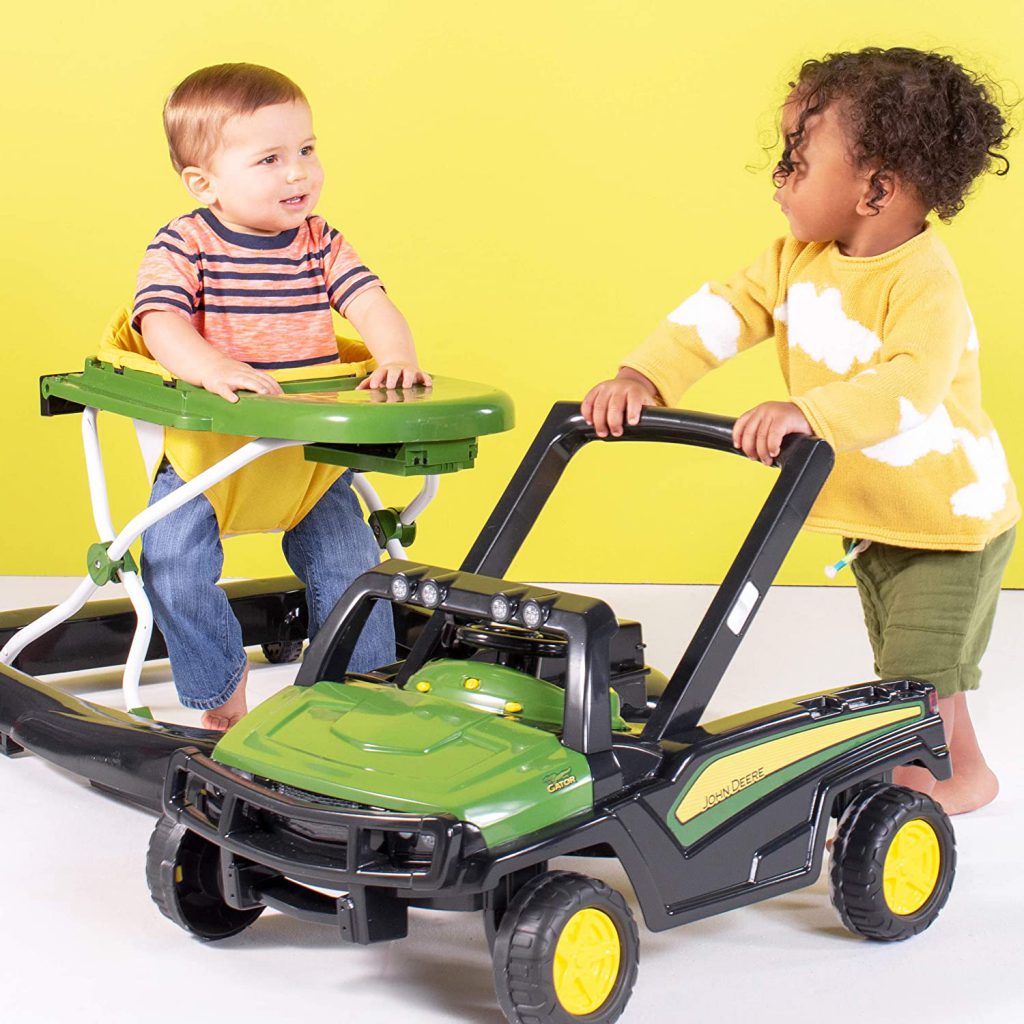 child weight max 26 Pounds
weight 17.6 pounds
size 28.5 x 25 x 19.7 in
Available in Stock
Simple looking and made with a sturdy Polyurethane material, the Bright Starts Deere Gator Walker can offer the perfect results you are looking for. Your kid will simply love using this one while helping make his first steps more efficiently. The tray comes with an entertaining steering wheel and a real car set so babies can get used to how vehicles work.
If you want perfect comfort, it also allows toddlers to be incredibly well-seated. It can be adjusted as well and folded when needed for a superior convenience when storing. And finally, it provides a John Deere Gator sounds, lights, gear shifter, steering wheel feature, so it works even better to develop the motor skills of your baby. It will become the most effective toy your child can have, for sure.
PROS:
Highly Efficient Motor-Skill Development
Good-Looking but Simple Design
Stronger and More Durable Build
Now that you've seen how many options you can pick, it is time you start making your decisions. But remember it is not as easy as it seems, and will eventually fall on many different aspects if you really want to select the perfect walker for your baby. To make it easier for you and help you get the right device, take the following advice into consideration:
Safety
Everyone wants their baby to be safe when using any toy, especially when it is something like a walker where the baby may fall or worse. So, a good walker needs to be pretty secure for your toddler, always. For this, you will need to look for solid options, well-made, and reliable– so your baby can use it, however, he wants without falling or harming any of his little feet, legs or arms. It should be made of soft but durable materials – good enough to be sturdy and useful. A good walker is the one that doesn't put your baby's health in danger, and that's what you should look for.
Comfort
In addition to being safe, your child needs to be comfortable as well. It is not hard to look for a suitable walker, yet it won't always be as comfortable as you're expecting, especially when your baby starts growing faster. That's why you must put into consideration how many settings the device offers from height to seat, and how big or small the seat as well. Padding is pretty important too. And eventually, the way the device works has a lot to do too. For example, push toys that work as walkers won't be as comfortable as a sitting one, so that you must think about.
Entertainment
A good walker is not complete if it doesn't offer at least one or two additional interactive options. Some walkers offer hundreds of entertaining features from sounds to melodies, crackling, rattling, phrases, lightning and much more. Others may not provide any of these. Yet, if you know your baby loves these things, go for something with as many entertaining features as possible. If not, go for a simpler design. It is important to note that you can find lots of designs out there, some being cars, others being safaris and monster or animals and so on. A good design without toys can also be great, so don't only look for toys when it comes to entertaining your kid, as there are many options available.
Getting the right walker for your baby may seem easy, but often it is not. This happens because not all toddlers are the same, and not all walkers offer similar things – so you will need to know what your baby needs and maybe, what he wishes to get.
But don't worry – getting the perfect walker won't be a problem if you consider our recommendations and buying advice. There's no chance you will get the wrong one.
Feeling excited because your toddler is already trying to give his first steps? Well, with a baby walker you will help him in the most interactive way you can think of. Get him one now!
Excellent Choice to improve baby first step !