10 Best Minecraft Houses 2022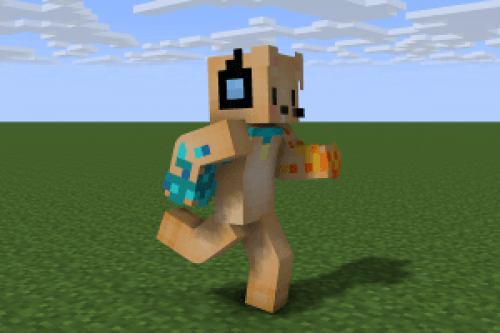 Are your children fans of the Minecraft videogame? Don't hesitate and give them one of the most exciting toys you can give them – a Minecraft house…
If you ever were a fan of any show or videogame when young, you know how it feels to find things that resemble and help you get even more interesting in that matter, and that's precisely what these Minecraft houses offer. When your kid gets one of these, it will immediately make him happy, especially if it is the one he was expecting to get. But remember, not all of these houses are the same, so you must choose carefully.
To avoid making your child mad with the wrong house, here you have a list of the most recommended ones and a description of each. Take a look and make your decision!
10 Minecraft Houses Review 2022
01.
LEGO The Nether Fortress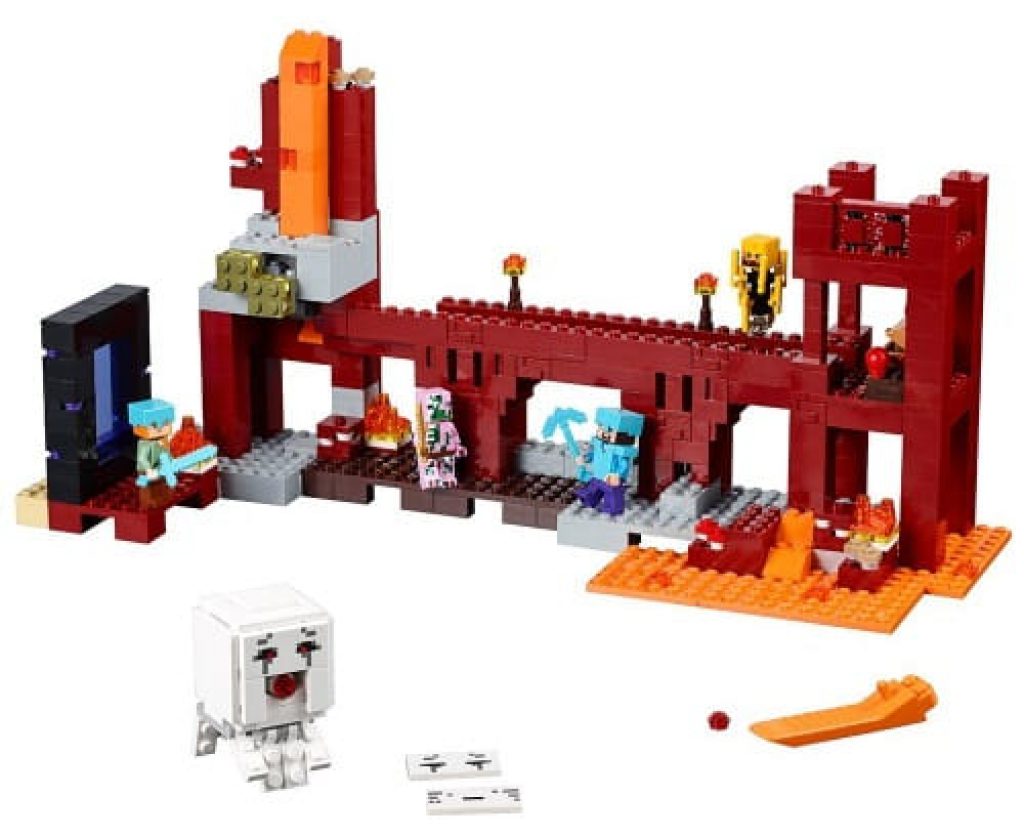 age 8 – 15 years
size 21.3 x 11.1 x 2.3 in
weight 2.25 pounds
contain 571 pieces
features Nether Fortress
Available in Stock
The perfect edification for those kids who love medieval settings, the Nether Fortress may not be a house exactly, yet it is one of the most fun designs available for Minecraft toys. It is entirely functional and comes with 571 pieces. So, any child can build any type of fortress you want or a house for that matter.
The Fortress comes with a lightning portal, a glowstone, a fire-shooting Ghast, a Zombie Pigman, a Steve and Alex, all these figurines to make it, even more fun than any other. It also comes with some lava LEGOs and a bridge that can be set up from 80 to 190 degrees.
PROS:
Really Fun and Good-Looking Design
Great Additional Figurines
Wide Variety of Building Opportunities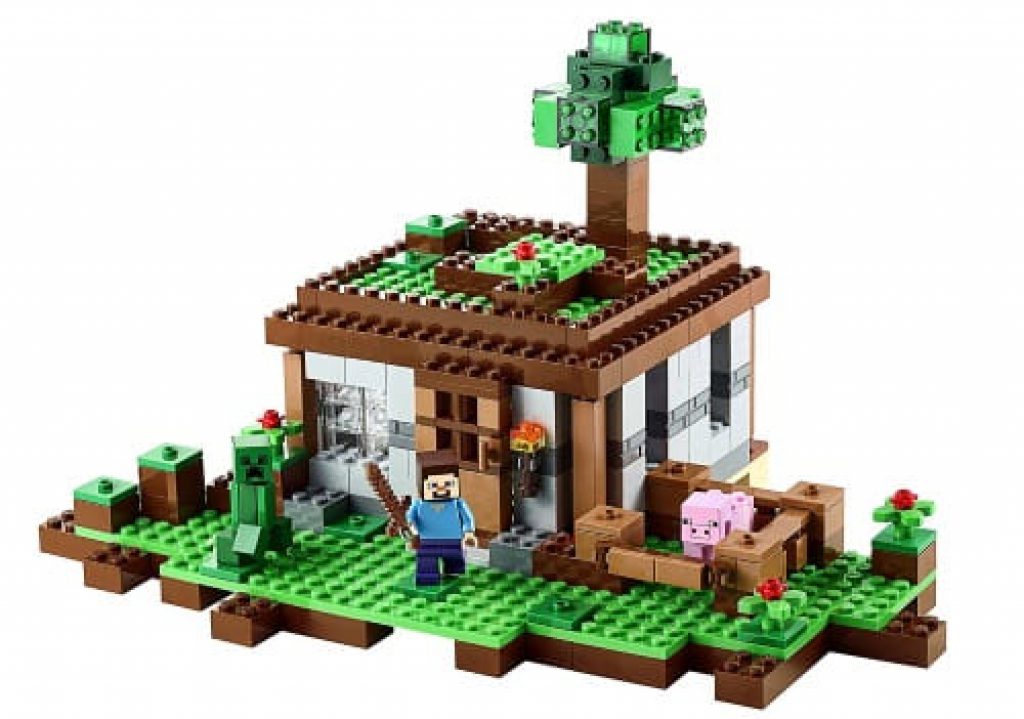 age 8+ years
size 11.1 x 10.3 x 3.8 in
weight 1.98 pounds
contain 408 pieces
features Shelter
Available in Stock
The First Night is made of 408 pieces. It 's one of the most recommended houses from Minecraft you will find, as it is both entirely designed to look exactly like the game, and because it is also pretty versatile thanks to the number of accessories it comes with. Featuring a fence, a bed, an oven, a crafting table, a chest, bread, a pickaxe and an axe plus a shelter and even plants and a tree – the First Night is a complete and pretty fun house for any kid to play with.
The shelter can be hinged to provide access to its interior, and thanks to the number of pieces, children can create the desired interior or exterior with many possibilities. Also, it comes with a pig, a Creeper and a Steve with a weapon.
PROS:
Looks Exactly Like the Game
Offers Great Building Options
Pretty Convenient House Design
age 7+ years
size 10.3 x 7.5 x 2.8 in
weight 15.8 ounces
contain 249 pieces
features Waterfall
Available in Stock
The Cave is a LEGO Minecraft world provide a thousands of building choices. You can use as whatever you want, from a perfect representation of the game or a simple house to have as decoration, but no matter what, it is highly entertaining, especially for kids.
The Cave feature 2 figurines, the Zombie and a Steve, plus an additional spider to add even more fun to the set. It is made of 249 pieces, good enough to help any kid try and practice their building capabilities, coming with rock, ores, metal, and mineral pieces, so the set gets even more real. Also, it comes with a TNT box, a treasure chest, a waterfall, a lavafall, a ladder and even a torch.
PROS:
Entirely Versatile Design
Awesome Extra Spider Figurine
Wide Variety of Options to Build
CONS:
Fewer Pieces Than Most Houses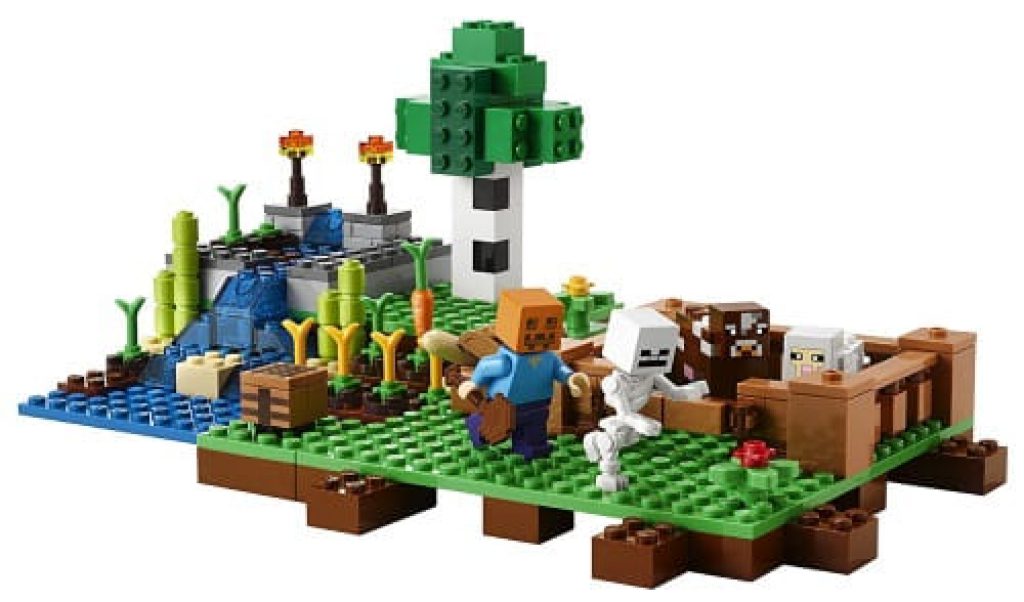 age 8+ years
size 13.9 x 7.5 x 2.3 in
weight 1.1 pounds
contain 262 pieces
features The Farm
Available in Stock
The Farm is a wonderful LEGO set that delivers an incredible 262-pieces environment on which you can build whatever you want – from house to a great garden that comes with a cow, a sheep, and a skeleton. Also, Steve features its own shovel, making it the perfect farm to resemble the Minecraft game, from its tree to the different pasture blocks, you will find it incredibly versatile and original.
The set also features a sugar cane, fences, a waterfall, wheat, carrots, a chest, a tree a pumpkin helmet and even a crafting table. It is practically a perfect Minecraft set where you can build a house without problems.
PROS:
Complete and Convenient Set
Really Fun Skeleton Figurine
Great Variety of Building Choices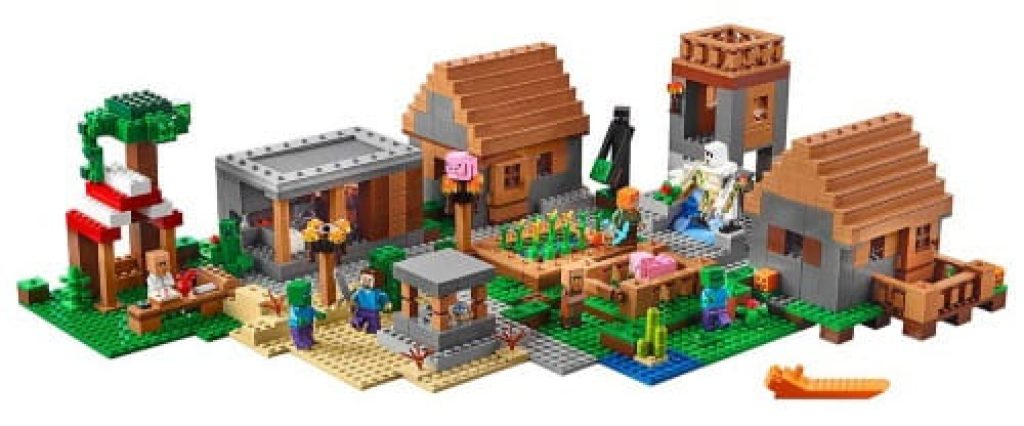 age 8 – 15 years
size 22.9 x 14.9 x 4.7 in
weight 6.65 pounds
contain 1,500 pieces
features Minecraft Village
Available in Stock
Easily one of the biggest sets from Minecraft, the Village is a broad and pretty versatile set of that will help you build up to 4 houses at the same time while getting all the most interesting features. From figurines like Steve, an Alex to even a Zombie, a Creeper, a zombie villager, an Enderman, a baby pig, a pig and an iron golem plus 2 additional villagers. Easily, this is the most complete set of Minecraft you can find and will offer thousands of hours of fun without problems.
Any kid will be able to craft any type of house or platform they want efficiently, while also being able to improve their imagination to the limits. It features some crops, minerals, trees, water, torches and much more.
PROS:
One of the Biggest Sets Available
Thousands of Building Options
Wide Variety of Figurines and Accessories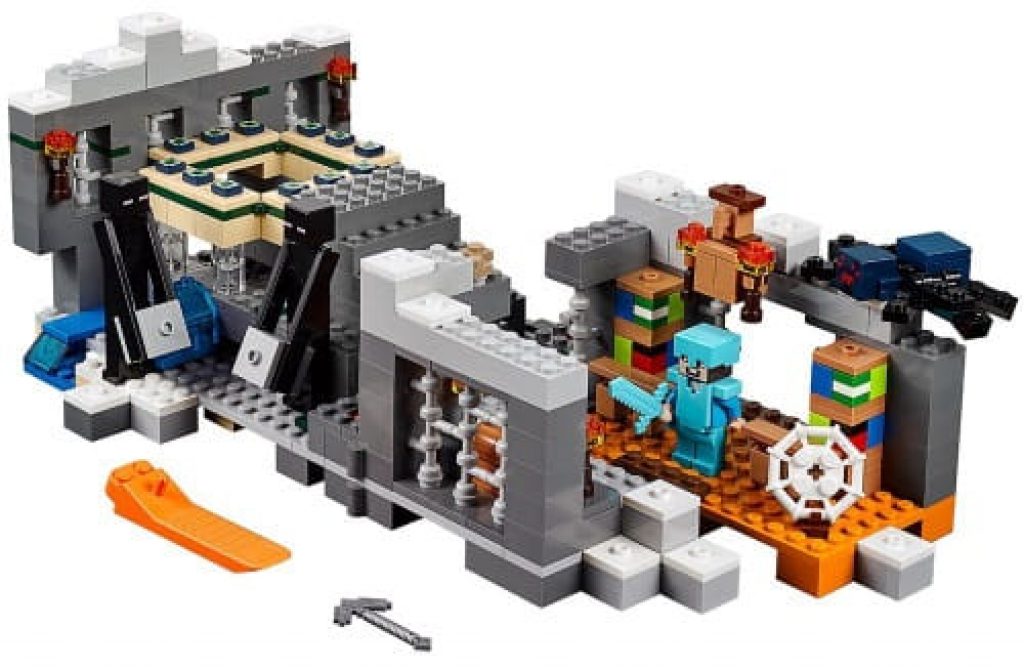 age 8 – 15 years
size 15 x 10.3 x 2.8 in
weight 2.06 pounds
contain 559 pieces
features Minecraft Library
Available in Stock
Resembling the last part of the video game, the End Portal is exceptionally well-made, excellently designed and provides a wide variety of construction choices any kid would love. Even though it is not exactly a house, it can be easily converted into anything the child desires, as it offers 559 pieces for a much more versatile building experience.
The set features a Steve, a spider, 2 endermen, and some additional armor and accessories like a torch, a spider web, water and much more. The blocks can be water, dirt, steel, cement and more, getting to offer a wide variety of options for children to put their imagination to work.
PROS:
Well-Designed and Convenient
Really Versatile Design
Awesome Additional Armor Set
07.
LEGO The Desert Outpost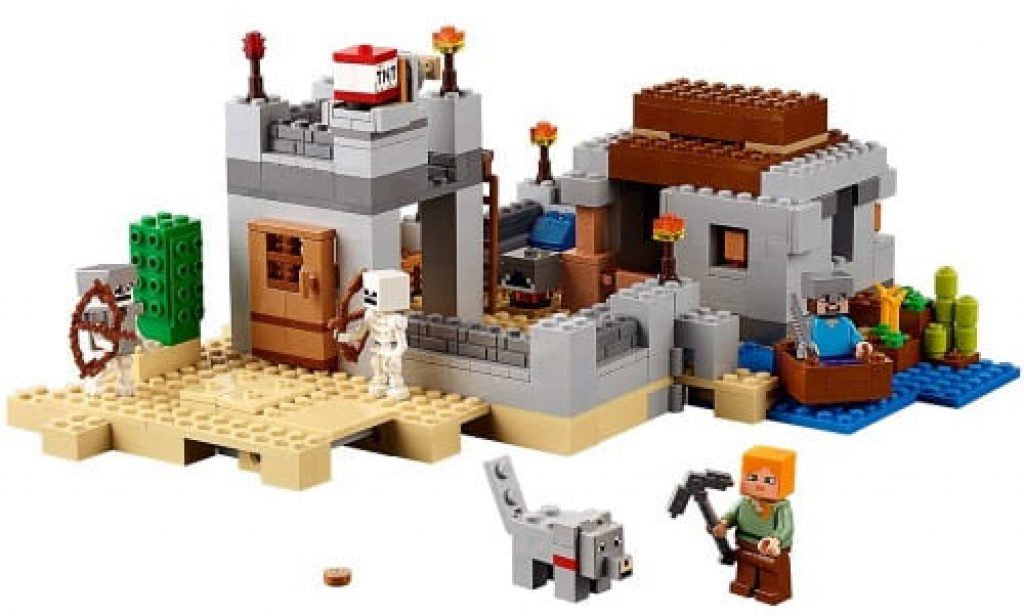 age 8 – 15 years
size 15 x 10.3 x 2.8 in
weight 2.1 pounds
contain 519 pieces
features Desert Outpost
Available in Stock
The Desert Outpost is easily the rarest of the list, with a pretty interesting design that resembles a house in the middle of the desert, with a Steve, an Alex, two skeleton and even a wolf. Also, it features a TNT box, some torches and 7 different types of block to resemble water, dirt, concrete, bushes, fire, sand and wood.
The set is made of 519 pieces to provide excellent building choices, while also being a lot easier to construct a house as it comes with a window and a door already built. And if all this wasn't enough, it actually provides an exploding feature, so it becomes even more realistic and fun to play with.
PROS:
Rare and Interesting Design
Excellent Figurines and Block Types
Outstanding Door Block
CONS:
Pieces are A Little Unreliable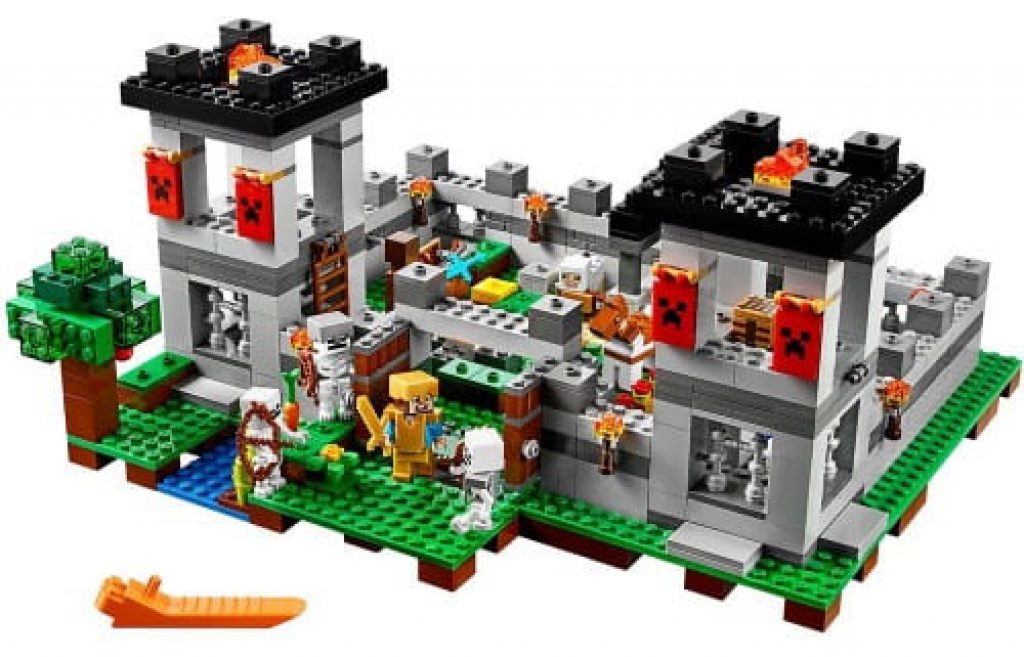 age 8 – 15 years
size 18.9 x 14.9 x 3.7 in
weight 4 pounds
contain 984 pieces
features Lookout towers
Available in Stock
The fortress comes with 984 pieces, and it is easily the most significant set available where you can build any type of house, fortress, or just whatever you want, as it comes with everything needed to create an entire world. This set features a Steve figurine, 3 skeletons, a buildable horse and sheep, armor, golden helmet, and many other accessories and weapons to use.
Any kid will find this set incredibly fun, as it can offer endless hours of entertainment without problems, both for its wide variety of building options as well as for its incredible figurines and accessories. The set also comes with a crafting table, a chest and 7 different block types to enjoy.
PROS:
The Biggest Set Out There
Extremely Well-Made
Offers Thousands of Building Opportunities
CONS:
Can Be Difficult for Small Children
09.
LEGO The Jungle Tree House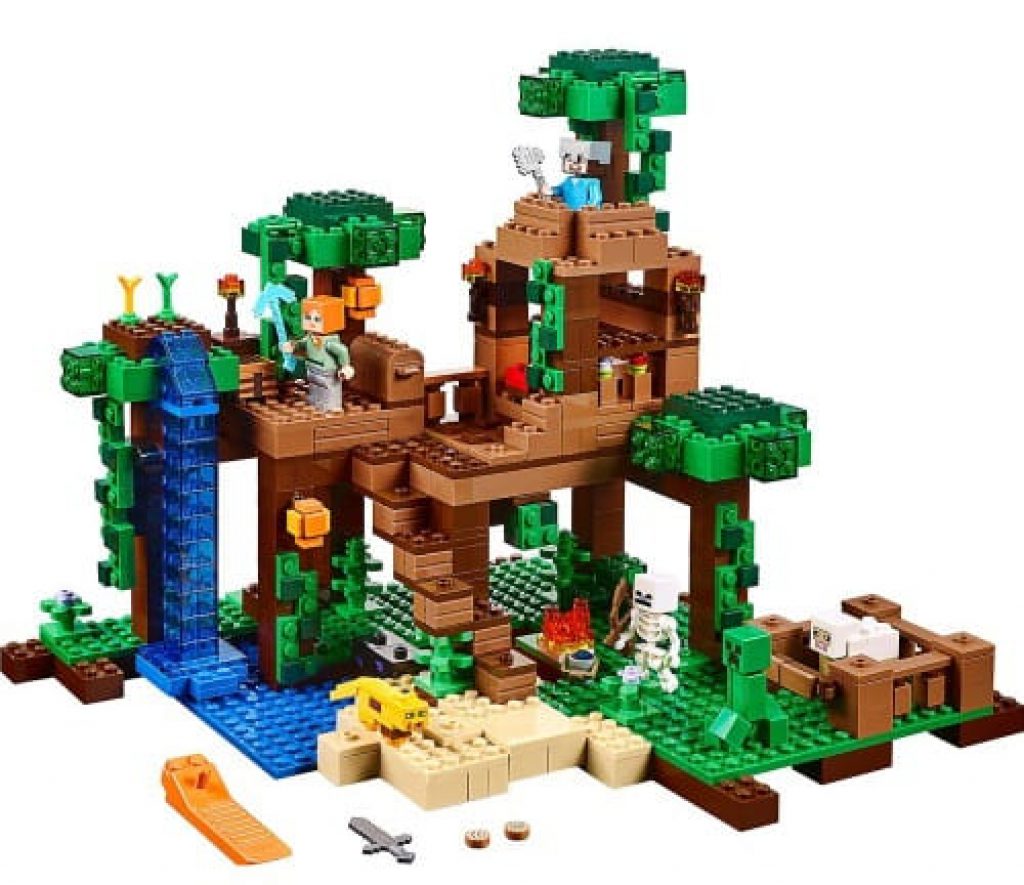 age 8 – 15 years
size 18.9 x 11.1 x 2.4 in
weight 4.3 pounds
contain 706 pieces
features Jungle tree house
Available in Stock
One of the funniest and most exciting designs, the Tree House from LEGO is simply impressive in every way, as it comes with great figurines and excellent accessories any kid would love. Also, it features an extremely fun floor trap, uniquely designed to make it much more convenient and enjoyable.
The set comes with a Creeper, an ocelot, some sheep figures, a Steve and an Alex. You can also enjoy armors, tools, and many other accessories including torches and more than 6 types of blocks. The set is made of 706 pieces in total, making it versatile to the max.
PROS:
Extremely Versatile Design
Up to 3 Houses on the Same Set
Really Fun Figurines and Accessories
CONS:
Some Pieces are Too Small
10.
LEGO The Snow Hideout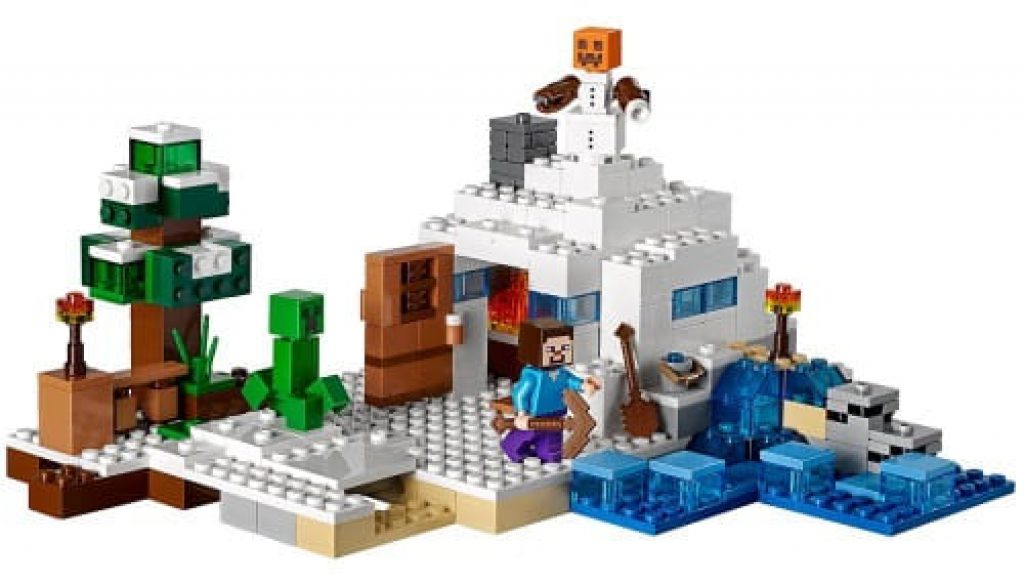 age 8 – 15 years
size 11.1 x 10.3 x 3 in
weight 2.9 pounds
contain 327 pieces
features Minecraft snow hideout
Available in Stock
Both cheap and extremely rare, the Snow Hideout is one of the most interesting houses out there, offering extensive options to build a house and an incredible design of snow and winter. It is also one of the smallest ones, yet it comes with a Steve figurine, a Creeper and a Snow Golem with snowball shooters.
The set is made of 327 pieces which enough to provide any kid long hours of fun while improving their imagination to the max. The snowball pistol actually delivers a shooting function, so the set becomes even more than any other.
PROS:
Rarest Minecraft Set Out There
Awesome Building Options
Extremely Fun Figurines and Additional Snowball Shooter
CONS:
Size is Smaller than Expected
For the Minecraft houses, you will find thousands of options out there to pick, yet only a few will offer what you want. But, what is that you are looking for? If you don't have an idea of what you should buy for your kid when it comes to these toys, maybe having a look at the following guide will help you find out:
Setting
The setting is critical when it comes to houses, both because it will tell you how many options your kid will have to build and create, and also because it can fit the wishes or your kid if you pick the right one. When it comes to settings, you may find hundreds of options, from a jungle house to a snow house, desert hideouts and even a fortress or castle. All of them will come with figurines according to the setting and additional accessories that will make the set a lot more resembling of the original game.
Figurines
The additional figurines every one of these houses comes with will help you find out how attractive the set can be. The original Steve will always be there. You may also find skeletons, animals like sheep, cows, chickens and even wolves and similar. Hence, when it comes to creatures, you may encounter some houses with endermen, ocelots, creepers, and zombies. All of these add a lot of fun to every set, but some of these houses may only offer just one or two of them.
Size
The Minecraft houses come in various sizes. Its dimensions are measured not on inches but on how many blocks the set comes with. The biggest models may offer more than 500 pieces, while the smallest may not go over 350. The most prominent set you can find can deliver up to 1000 parts without problems, while the smallest may offer as little as just 200 pieces. The variety of block types may also come into play as well together with blocks resembling grass, dirt, concrete, fire, water, leaves, wood, minerals and much more.
No matter what your kid is looking for, it is more than certain that he will love a Minecraft house. Especially, if he is a fan of the game. So don't let this opportunity pass and use our recommendations and advice to choose an excellent home that will give him countless hours of fun.
Make sure you can give your kid the most exciting house according to his wishes, and you won't regret giving your child such a fantastic toy to play with – for sure!
If you want your kid to stop playing Minecraft on the computer and start playing with some real toys – you may find one of these Minecraft houses awesomely efficient. Check them out!
Creativity funniest choice !
Creativity and Imagination
9