10 Best Foosball Table 2022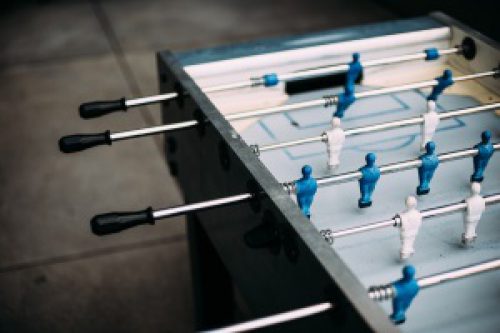 Need a perfect toy for endless hours of fun in a healthy environment? Get your children a foosball table and see how perfect it can be…
Foosball tables are simply awesome, there's no doubt about that. And if you are a dad who used to play to that game a lot back in the day when it was popular, there are high chances you'd love to see your children doing it as well. Yet, you may need to be precautious when buying, as you will for sure get an excellent table and not one that delivers low-quality performance.
That's why we've made a list of the most recommended options out there so you can pick the one you like the most or simply consider it for later. Give a peek!
10 Foosball Table Review 2022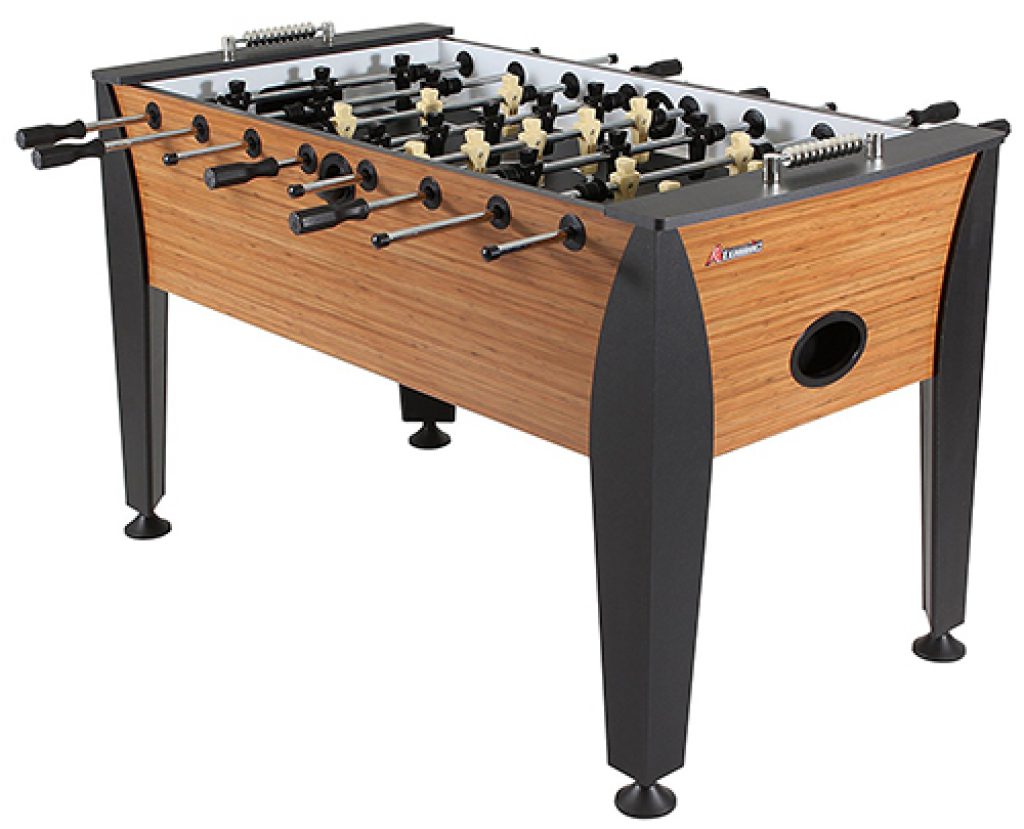 age: 6+ year
size: 55 x 30.5 x 6.5 in
weight: 108 pounds
playing surface: 56 in
include: 4 balls
Well-made entirely with high-quality materials like MDF and bamboo laminate, perfect for interior use and capable of delivering a lifetime durability – this Atomic Pro Force table is awesome in almost every way. All the legs are also pretty good, with a sturdy construction for superior stability when using.
The internal ball return and entry system are incredibly easy to use, and the field part is also of the highest quality, totally flat. All the rods are made of chrome steel with rubber handles, for excellent grip and durability. It is 34.5 inches tall, and it is large enough for a comfortable 4-person use.
PROS:
Good-Looking Design
Sturdy and Resistant
Really Well-Sized
CONS:
Unreliable Bamboo Laminate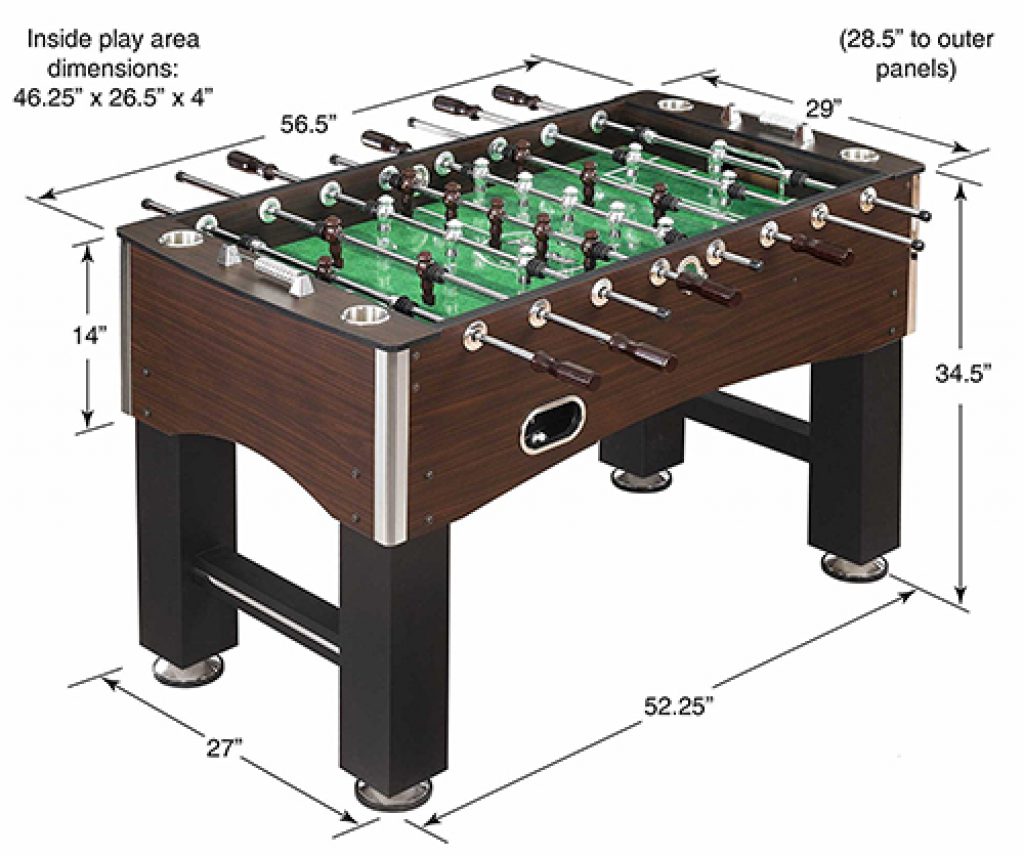 age: 6+ year
size: 60 x 40 x 12 in
weight: 136.7 pounds
playing surface: 56 in
include: 2 balls
One of the largest tables you will find, the Hathaway 56-inches long table offers enough space for up to 4-players without problems. It is specially designed to be used at home, yet it is well-made and pretty durable thanks to its solid construction made of wood and steel, with an Espresso finish for superior looks.
The handles are made of wood on steel rods, with molded players and analog scoring units plus 2 foosballs. It features E-Z spring bearings for smoother performance and even comes with leg levelers for a much flatter design. And when it comes to size, it is 34-inches tall, for comfortable general use.
PROS:
Really Large
Much More Stable Than Most
Highly Durable and Resistant
CONS:
Uncomfortable Ball Entry Design
03.
Warrior Professional Table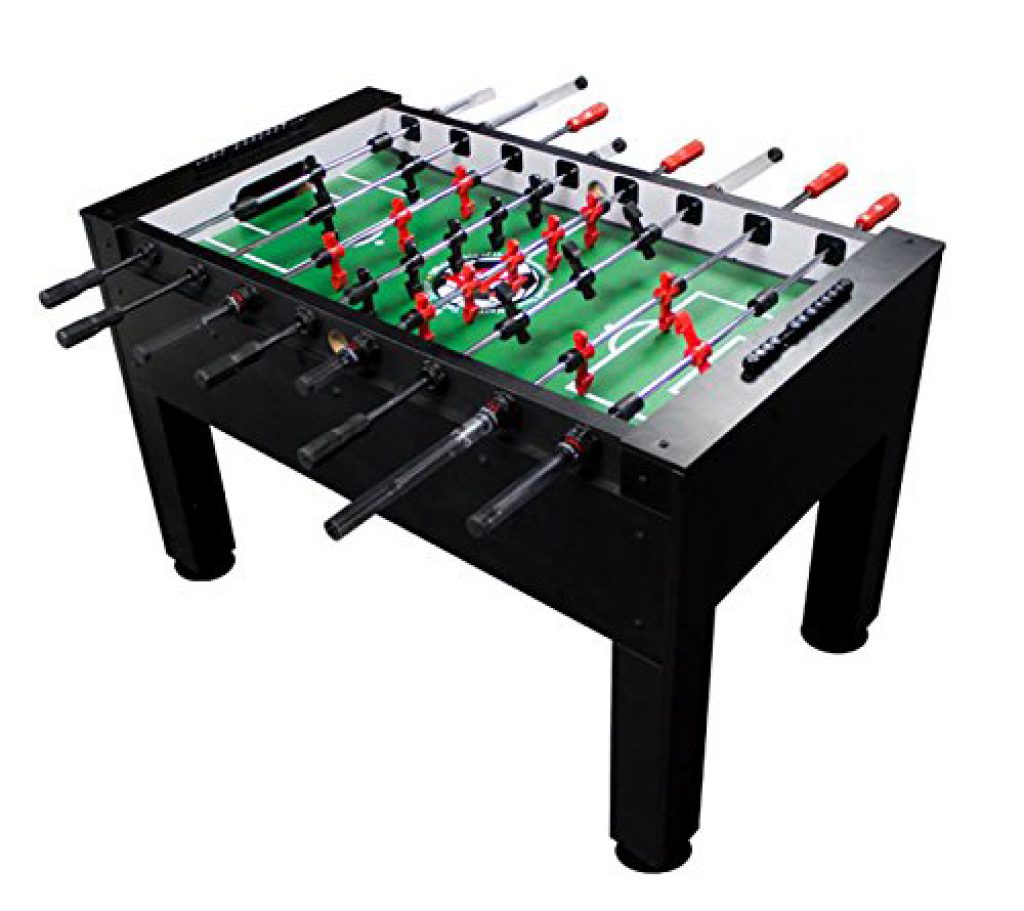 age: 5+ year
size: 56 x 30 x 36 in
weight: 195 pounds
playing surface: 56 in
include: 2 balls
Extremely well-made, the warrior Professional Table for Foosball is an option not to overlook. It is really stable, offers great rod design, provides a comfortable use and is pretty versatile when it comes to height adjustment, with a leveler in each corner to fit any type of floor. Additionally, it is outstandingly easy to assemble.
It is really safe to use, all the rods are made specifically to provide more reliability, and the locking nut it features allows users to lock it up when applying for incredible stability. With its 5-inches rubber base, it will always be balanced, no matter how it is used.
PROS:
Utterly Stable and Resistant Construction
Incredibly Comfortable to Use
Much Safer and Easy
04.
Best Choice Products Competition Sized Soccer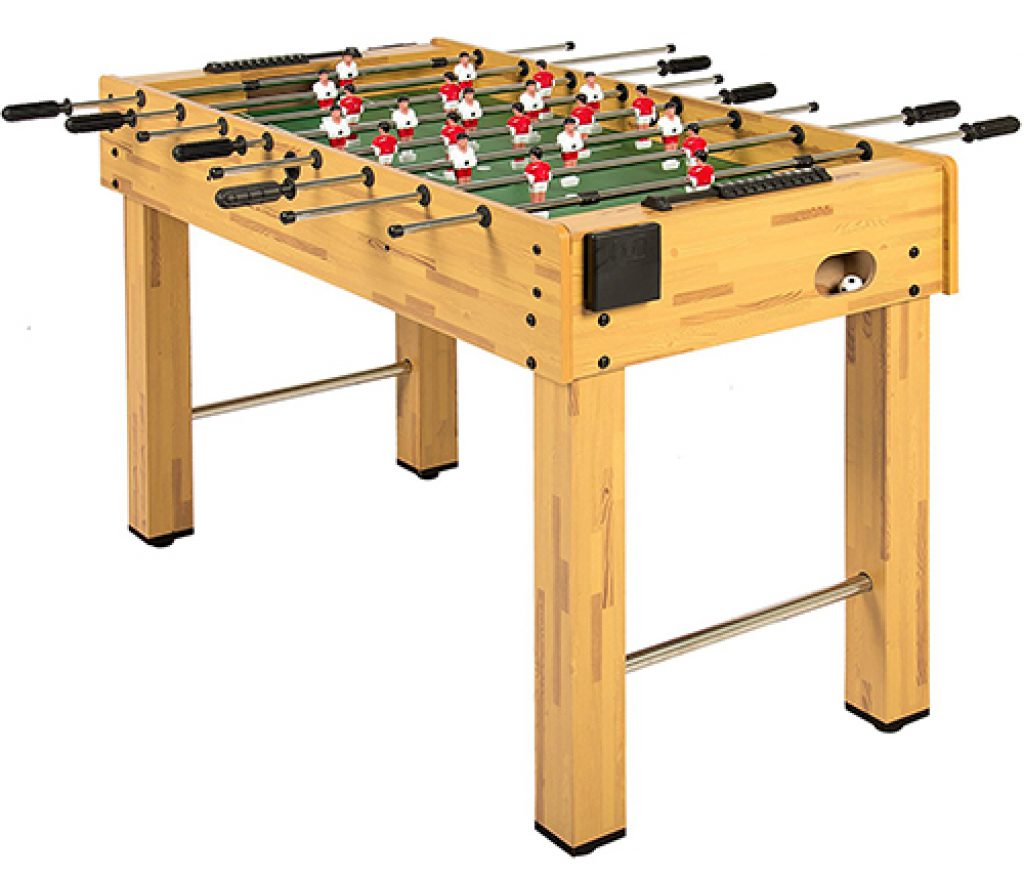 age: 5+ year
size: 47 x 24 x 33 in
weight: 42 pounds
playing surface: 48 in
include: 2 balls
One of the most straightforward designs out there yet it offers excellent playability and comfort, this Best Choice Products Foosball Competition Soccer Field delivers a superb quality for an incredible price. It is made of medium-density fiberboard with steel rods and rubber handles. The entire table is much more stable than most and comes with an ample 48-inches design.
This one also provides superior convenience thanks to the 2 cup holders it comes with on each side, in addition to the reliable entry and reentry ball design. It is 33-inches tall and comes with a complete set of players and two balls, so it delivers superior performance.
PROS:
Classic Style Design
Perfect Size for Children
Really Sturdy
CONS:
A Little Smaller Than Most
05.
Carrom 525.00 Signature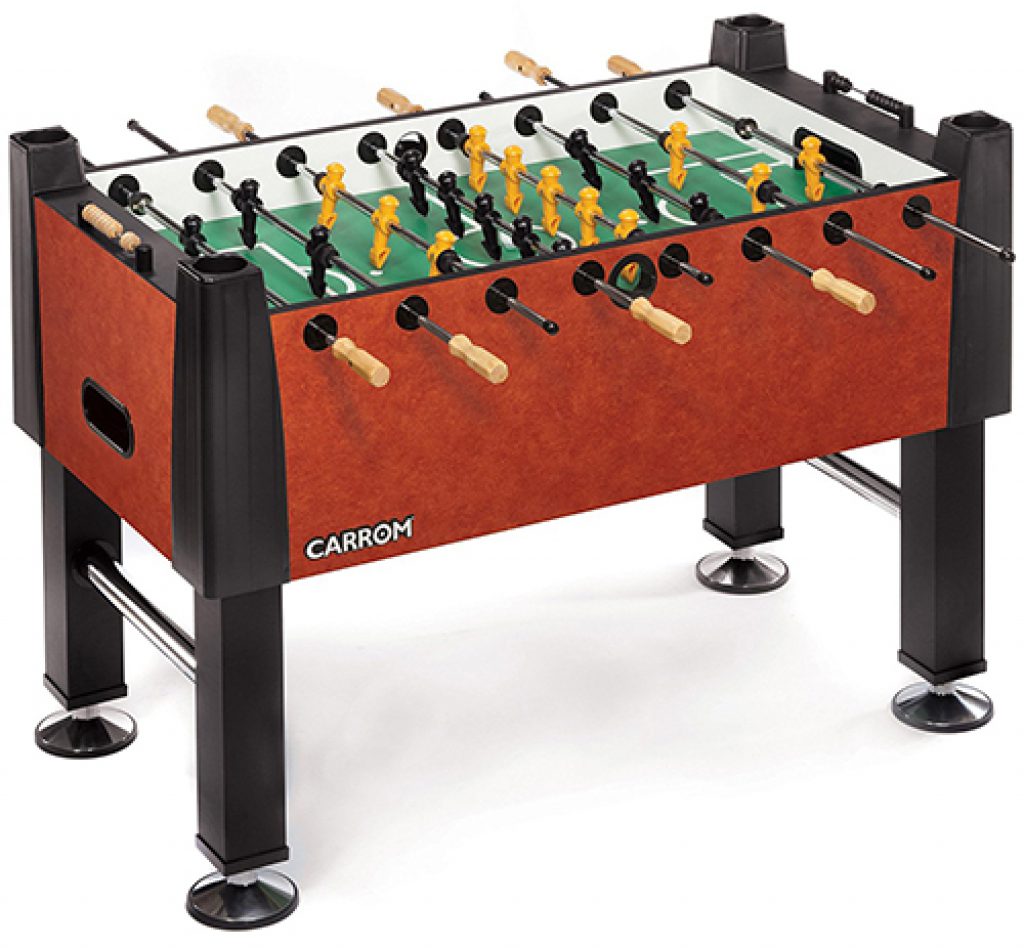 age: 5+ year
size: 50.3 x 36 x 55 in
weight: 162 pounds
playing surface: 55 in
A premium-quality foosball table made of Burr Oak and with an excellent size for big kids, teenagers, and adults – the Carrom 525.00 Signature Table is simply awesome. It provides a 55-inches tall construction, with 50-inches large field, capable of delivering great fun for up to 4 persons at the same time.
The construction is more durable than most, with steel rods and wood handles for a much more comfortable feeling when using. Its Bar Oak build delivers superior stability and an incredible resistance to water. Also, it looks excellent and even offers much more durability than any other.
PROS:
Awesome Quality Entirely
Much More Resistant, Durable and Stable
Impressive Comfort and Looks
06.
Hathaway Playoff Table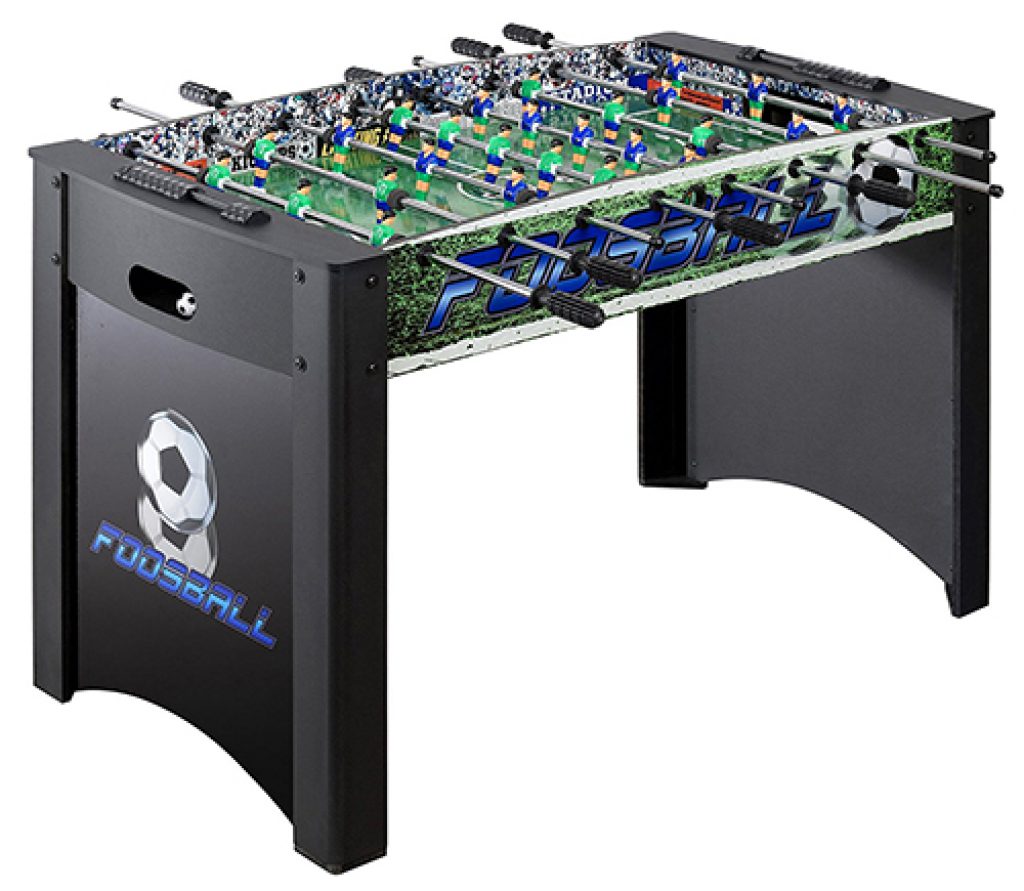 age: 5+ year
size: 48.5 x 24 x 32 in
weight: 51 pounds
playing surface: 40 x 22.75 in
include: 2 balls
Extremely well-made with a more sleek design than others, the Hathaway playoff foosball table is an excellent choice for families or any children. It can be used everywhere without problems, as it is really safe, pretty comfortable, and most importantly, provides a stable and durable construction.
It is made of wood with steel rods and ergonomic rubber handles. The scoring system is an analog Abacus style, and in addition to its build, you can find reinforced legs with panel support for an incredible stability at all times. And for better adjustment, it provides leg levelers so it can be used on uneven surfaces easily.
PROS:
Sleek and Comfortable Design
Well-Made for Superior Reliability
Excellent Size for Kids
CONS:
Not as Stable as Expected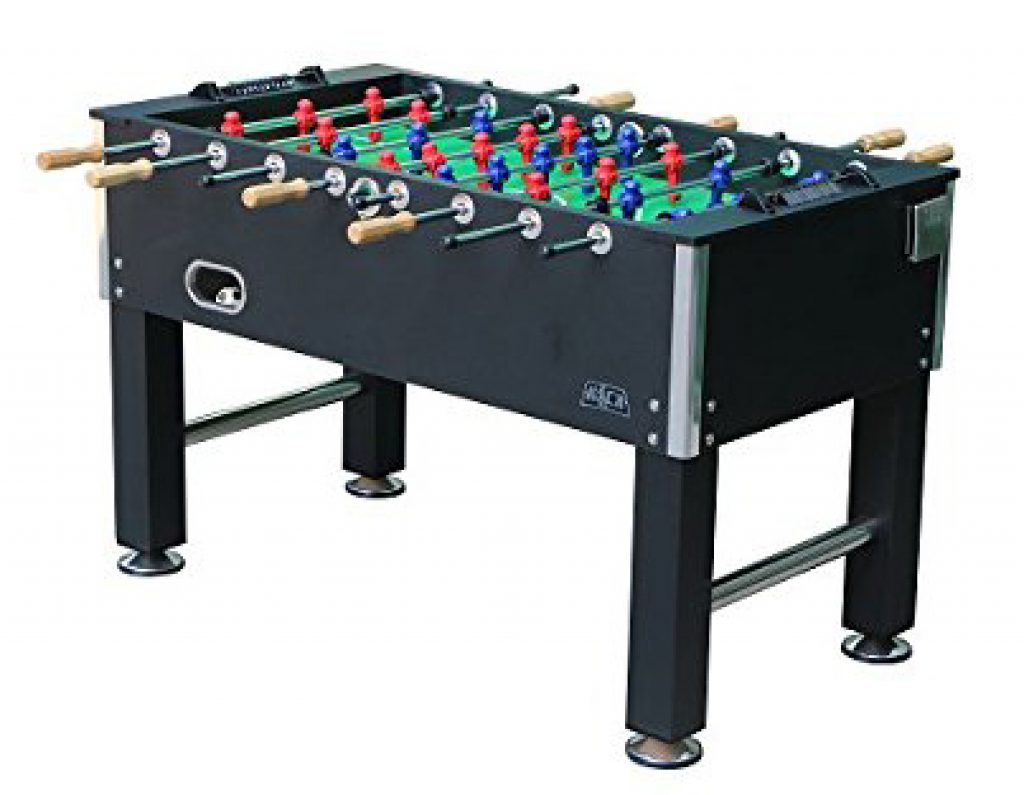 age: 5+ year
size: 55 x 30 x 36 in
weight: 135 pounds
playing surface: 55 in
include: 4 balls
Elegant yet simple, the Kick Triumph Table for foosball is excellently made, with all the desired details to become an incredible choice for anyone. It provides users with a 36-inches tall build, perfect for both tall and small people, while also coming with a 55-inches field construction so it can be used by 4 people comfortably.
The table is made of wood with a great finish, plus some chrome details in the edges for an impressive simple but elegant look. The table is also one of the most stable out there, in addition to its precise rod design made of stainless steel with wooden handles of the highest quality.
PROS:
Elegant but Simple Design
Extremely Stable and Reliable
Easy to Use and Pretty Comfortable
CONS:
A Little Shorter Than Expected
08.
Sports Squad FX40 Foosball Table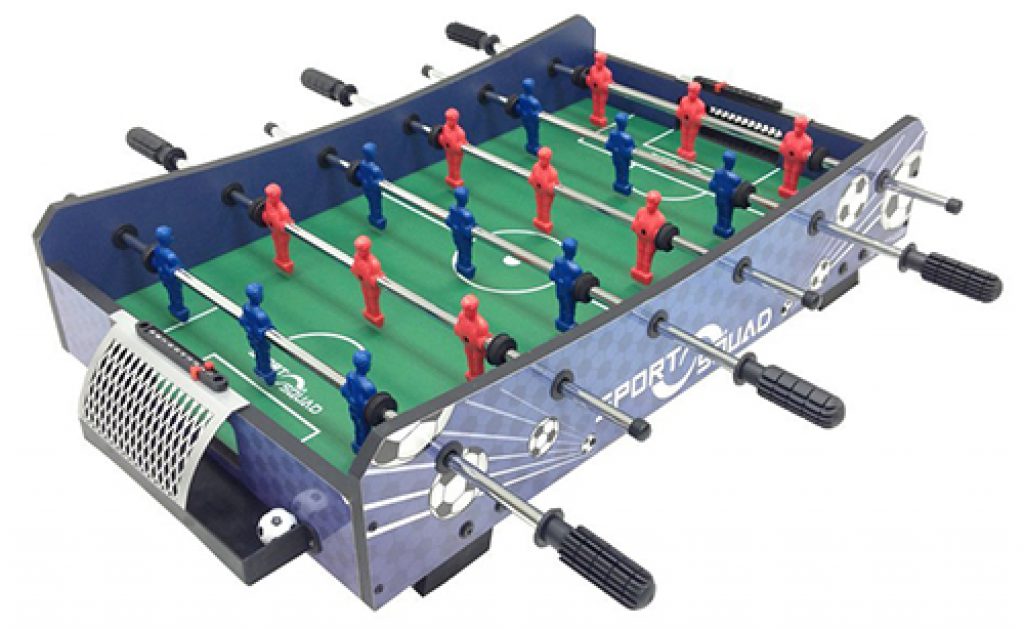 age: 5+ year
size: 40 x 20 x 8 in
weight: 15.4 pounds
playing surface: 40 in
include: 2 balls
Available in Stock
The cheapest table you will find, this Sports Squad FX40 is an excellent addition to any home or kid's toys, as it is perfectly well-made, with an incredible size for comfortable use and a sturdy construction despite its low price. It looks straightforward, yet it is entirely easier to use.
It is 8-inches tall as it doesn't come with legs, yet it is 40-inches large so it can be used by up to 4 kids easily. The rods are made of chrome steel, and the rubber handles are pretty comfortable to use, offering great grip. And the ball return system in the simplest out there, for a superb convenience.
PROS:
Awesomely Cheap
Much More Convenient than Most
Simple and Comfortable Design
CONS:
A Lot Smaller Than Any Other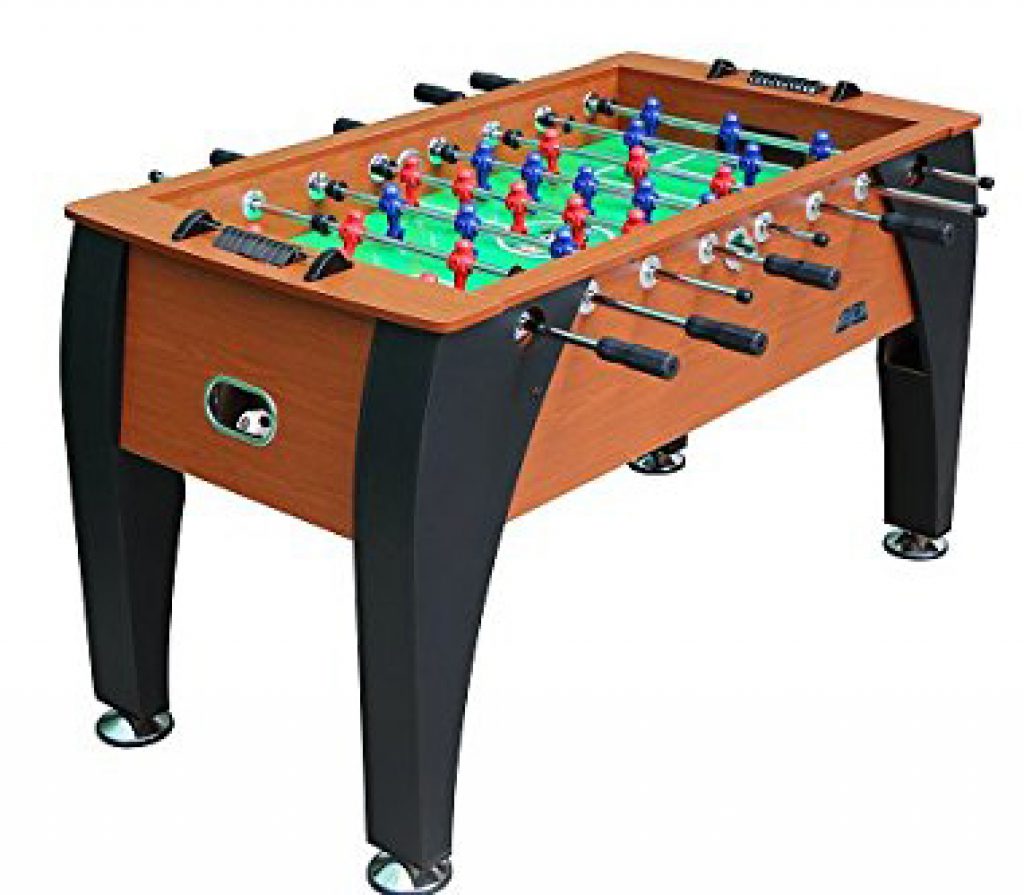 age: 5+ year
size: 55 x 30 x 36 in
weight: 148 pounds
playing surface: 55 in
include: 4 balls
Want to have an incredible time with your kids and still be able to use the table as a decorative option? That's what the KICK Legend Table provides, a classy and good-looking design with a superior construction for excellent performance in almost every way. It is pretty durable as well, with a large build and comfortable enough to fit even 4 different players without problems.
The table is 36-inches tall so any kid and adult can use it without problems. Furthermore, it comes with its own levelers and auto-balancers, plus it provides excellent steel rods and utterly grip-oriented handles for much easier use. And it is made of the highest-quality wood out there, so it looks and feels fantastic.
PROS:
Extremely Well-Made
Looks and Feels Great
Superb Durability and Comfort
10.
Tornado Sports Foosball Table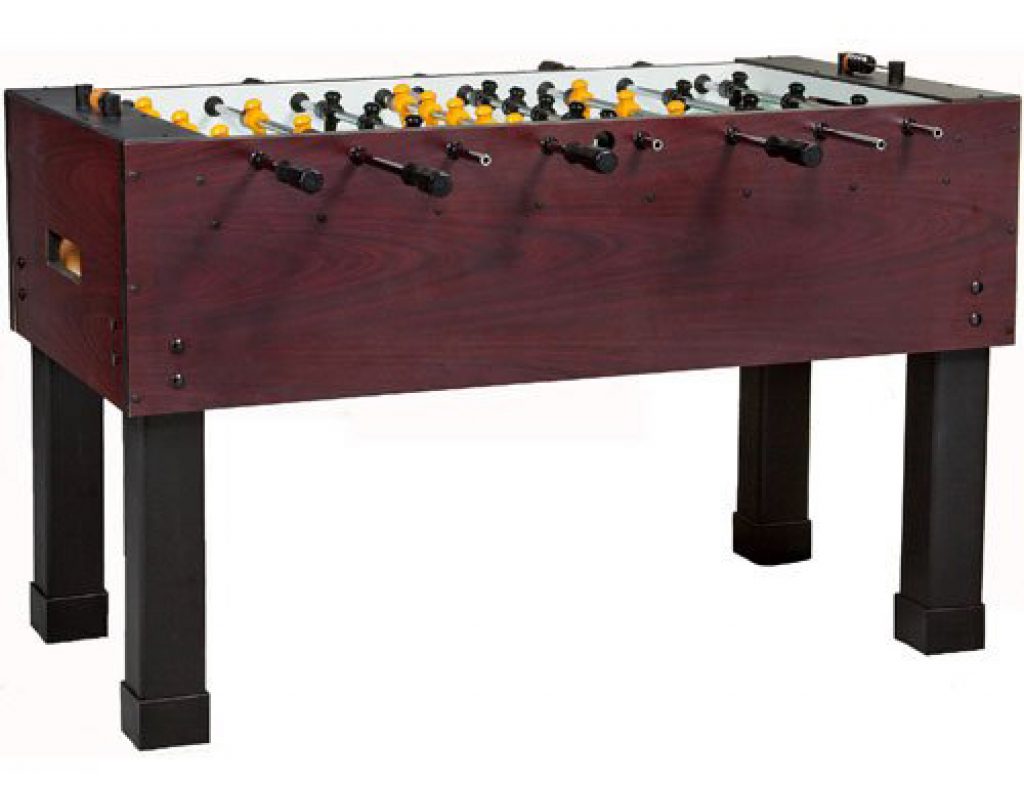 age: 5+ year
size: 56 x 30 x 36 in
weight: 205 pounds
playing surface: 56 in
include: 2 balls
Specially designed for those demanding users who want just the classiest yet highly comfortable and utterly entertaining design, the Tornado Sports Foosball Table is the one you will find almost perfect. It is made with Mahogany Melamine with a thick construction, ideal for hard and constant use.
It is totally adjustable when it comes to height so everyone can use it without problems. And of course, both the steel rods and the handles are extremely well-made, especially with the SureGrip system that offers superior comfort when using.
PROS:
Classy but Incredibly Stylish
Highly Comfortable and Large
Awesome Quality Entirely
You're in the shop looking for a good foosball table, and there you see a really good-looking one, and it looks sturdy and feels great, and what's even better – it is inexpensive. Yet, when you finish assembling it and start using it, you get disappointed. Yes, it is not as sturdy as you thought, not as good-looking or even not as comfortable for your kid as you thought. Want to avoid that from happening to you? The following guide will help you make a better decision for sure…
Size
The largest the table, the more players can use it and the more comfortable it is as well. A good table needs to be at least 36 inches large, so it can be used by 2 persons comfortably. Yet, if you are looking for larger designs, you can select tables that are up to 56-inches so they can be used by up to 4 people or children, easily.
Height
If it is for kids, it needs to be at a perfect height. A standard table is usually 36 inches tall or around that measure. However, some tables are up to 50-inches tall and others that are even shorter, with as little as 10 inches. These designs normally don't come with legs. On the other hand, you may choose adjustable tables, those which offer levelers that help to change the height of the table to fit the needs of the users, perfectly helpful.
Construction
Most tables are made of wood. And that's inarguably the most recommended material, especially in high-quality constructions. But you may find other options too, like plastic and metal ones. Also, there are some like these ones which are made of plastic, for example but come with laminates of any wood so they can look classier. Another critical factor is the quality of the rods and handles, as they should always be made of steel with rubber or wooden handles for easier grip. Any table that is not wooden and with rods that are not made of steel, it is very likely it is a bad one.
Surface
The highest-quality options out there will inevitably come with a flat and pretty smooth field surface, so the ball can go smoothly from one side to the other and at the same time, last longer with that ability. And of course, the surface needs to be pretty stable, so it is essential the table it is as well, so the surface becomes much more convenient to use.
You will find thousands of options out there, so it is not likely you'll find the perfect one for your kid as fast you think. So take your time and take into consideration as many options as you can by making sure you pick by quality of features and so on. The more you do this, the more likely you are to get a great foosball table.
It is now the time to get your children the healthiest and most exciting semi-sport toy you can get, a foosball table even you will be able to use it. Pick carefully and see for yourself!
Don't let your kid grow into an adult without experiencing how awesome one of these foosball tables can be. Get him any of the ones we have here and give him an awesome toy – now!
Excellent Team Playing time !