10 Best RC Truck 2022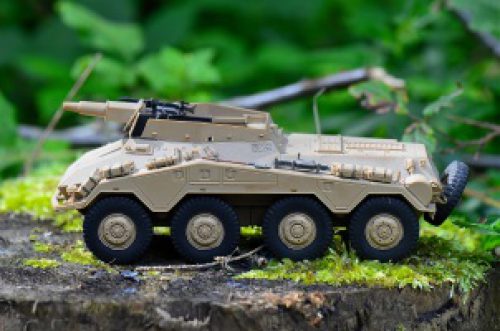 Son's birthday is coming up and you can't find what to give him? Don't let his special day pass without receiving a great toy like an RC truck…
These RC toys are some of the most interesting to have for any kid. They are utterly entertaining and will for certainly make you feel like a really cool parent. These devices are just ridiculously awesome, and even you will be able to play with it and have endless hours of fun. But they can sometimes be problematic or just don't offer the quality you're expecting, so they become less reliable toy your kid can play with.
Hence, that's why we've made sure you can learn more about these devices, helping you get a much better product when you go buying by taking a look at the following list…
10 RC Truck Review 2022
01.
Redcat Racing Volcano EPX Truck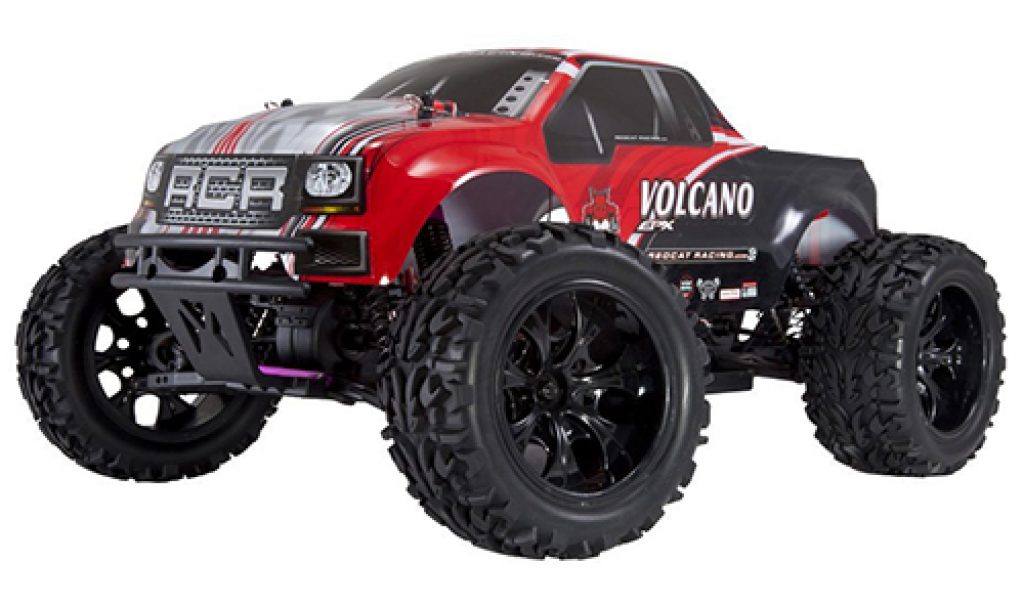 14+ years old
4 wheel drive
control range 100 yard
speed 15-20 mph
play time 20 – 25 mins
Made of polycarbonate and with aluminum, the Redcat Racing Volcano Truck is one of the most entertaining RCs you can get. In addition, with its 27T 540 Motor, yet it is capable of going really fast, as well as it is powerful enough to go through any surface including dirt and rocks. It works with a four wheel drive and features a very high torque servo.
The RC comes with a 2000mAh battery that can last up to 30 minutes of more of straight use. Furthermore, the 2.4 GHz radio signal provides great distance using of over 100 yards, and most of its construction is pretty resistant, even waterproof. The control can play with 10 vehicles at the same time, with a steering trim, a throttle trim and reverse switches plus rate adjustments.
PROS:
Pretty Durable and Resistant
Really Fast and Efficient
Great Range of Use
CONS:
A Little Unreliable Battery
02.
Top Race TR-112 RC Dump Truck
If your boy doesn't like the common trucks available out there, you can rather get him a Dump Truck. It is also utterly interesting and fully functional so it becomes extremely entertaining to use. In addition, it features a 5-channel control so it can be used entirely, from forward and reverse to sides and even the dump can be opened, while emitting sounds and lights.
The design is well-made, detailed and sturdy. Comes with a Lipo Battery and can be as a result used for up to 20 minutes straight on a simple charging. The RTR Transmitter is incredibly easy to use by any kid from 3 years on. Also, its construction is also durable, providing a tough construction for tough use in sand and dirt.
PROS:
Highly Interesting Design
Durable and Resistant
Fully Functional
03.
Rabing Off-Road Hummer Truck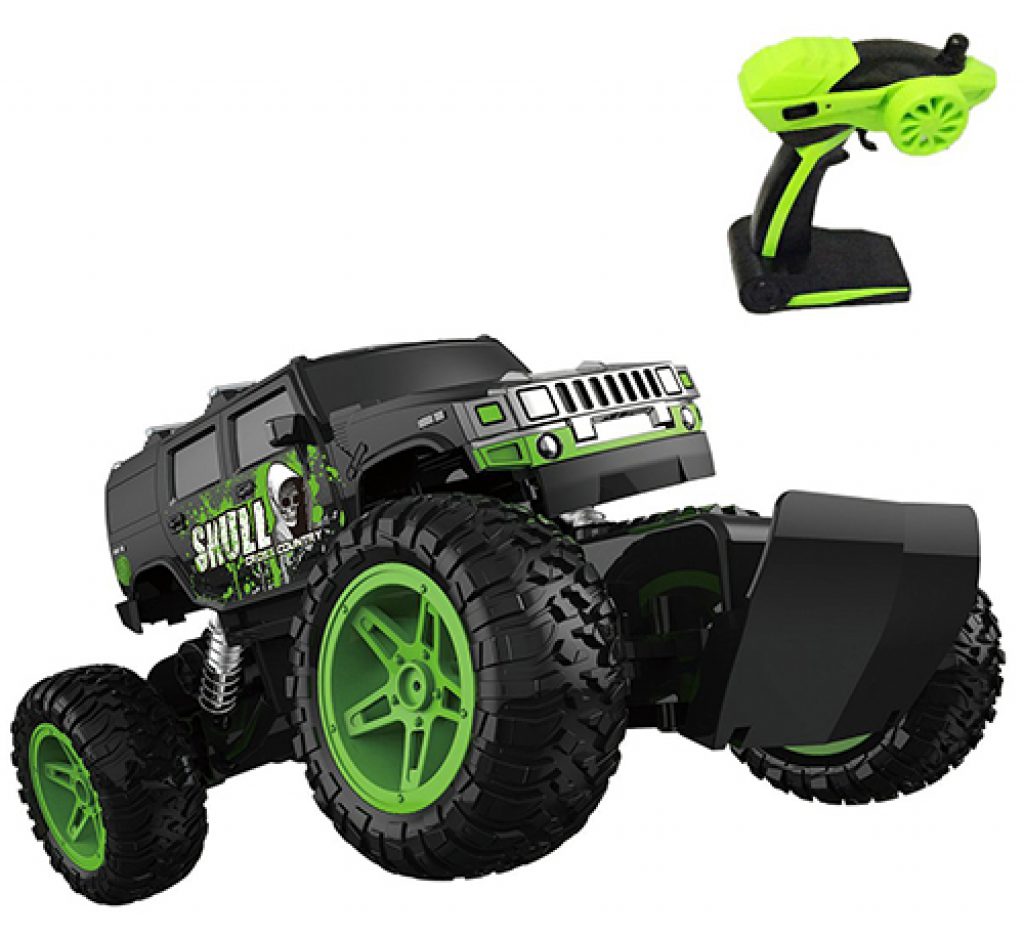 8+ years old
4 wheel drive
control range 50 meters
speed 20-25km/h
play time 20 – 25 mins
With an awesome Hummer design, yet this truck is really good-looking, comes with a very sturdy construction and can be used practically anywhere. This one comes with dual motor so it can climb rocks and even be used on thick sand as well. In addition, with it 2.4 Ghz frequency it offers up to 50 yards of usage distance, while also featuring rubber tires for superior grip and lights so it can be used at night.
Each wheel has its own suspension for more flexibility and versatility when using. The shockproof build allows the device to be a lot more resistant and due to its well-made shell, it is even slightly water resistant.
PROS:
Cool and Well-Made Design
Highly Resistant Design
Superb Versatility
04.
Tobeape RC Off Road Drive Jeep
The Tobeape RC Jeep comes in various different designs and scales, from 1:14 and 1:18 to 1:43 different sizes for various desires. It is fast and can be used practically anywhere. With its two powerful motors it can climb any rock and go through every surface without problems as well.
Its 4 wheels have their own suspension spring for superior versatility and shockproof, making it incredibly resistant. Its direction system is also well-made, delivering a high accuracy in every turn. And thanks to its sturdy design, it will resist even the most hard of uses with its awesome build. It also looks pretty good in all its models.
PROS:
Wide Range of Models to Choose
Durable, Resistant and Powerful
Extremely Easy To Use
05.
Distianert Electric Off-Road Buggy
The smallest truck on the list, the Distianert is a Desert Buggy that works extremely well in every surface you use it at. It offers an incredible speed and also can be used at up to 50m away from the transmitter. It looks realistic as well and yet provides a durable construction with a sturdy design.
Its transmitter or control won't be a problem to use either, with a pistol grip design totally straightforward so even 5-years-old kids can use it. And with its battery efficiency, moreover it can last up to 15 minutes without problem, and comes with its own USB charger as well.
PROS:
Realistic Buggy Design
Incredibly Fast
Much More Versatile
06.
ToyPark Rock Climber Off-Road Truck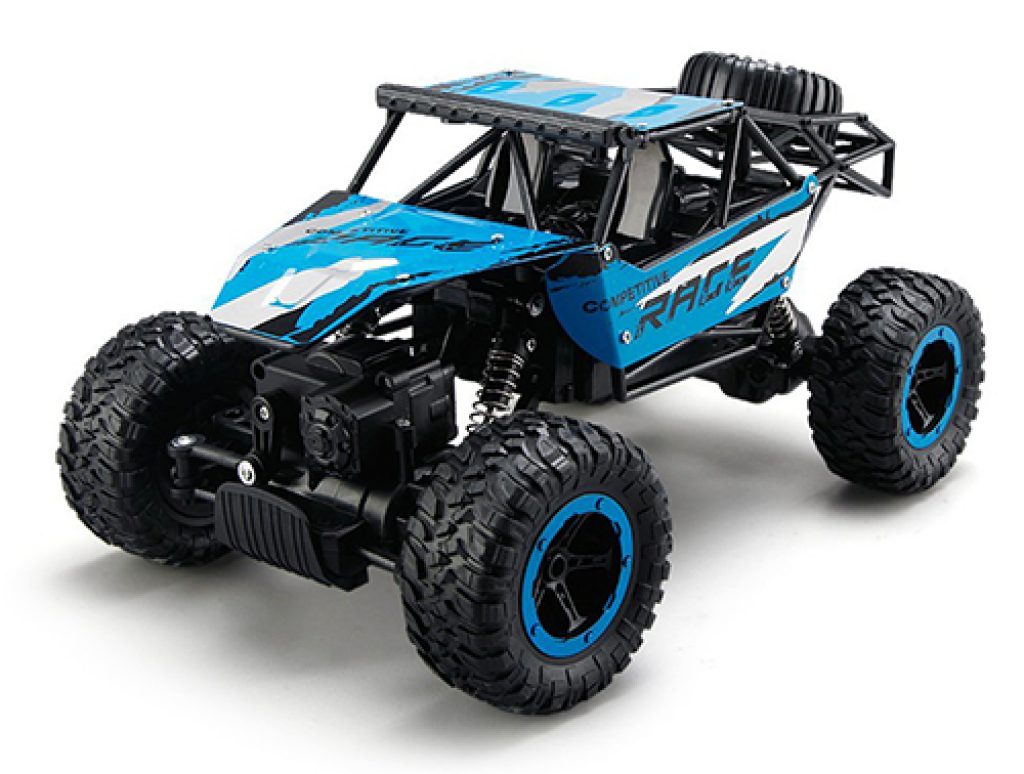 8+ years old
4 wheel drive
control range 60-100 m
speed 25 km/h
play time 15 – 20 mins
One of the fastest on the list, this ToyPark Rock Climber is simply incredible, both for its great 2.4 Ghz transmitter that can be used 100 yards away from the truck, as well as it is for its 25Km/h speed at its max. In addition, it is so powerful that is capable of going through rocks and climb inclined surfaces thanks to its four-wheel pneumatic design and off-road tires.
It is a lot easier to use as well, as its control is fully functional and with zero interference, capable of going everywhere you want it to go with a Pro Steering build. And of course, it is well made entirely, so it can be used anywhere without problems thanks to its PVC soft yet elastic construction.
PROS:
Incredible Speed
Outstanding Durability and Resistance
Superb Transmitter Capacity
07.
FitMaker Off-Road 2WD Truck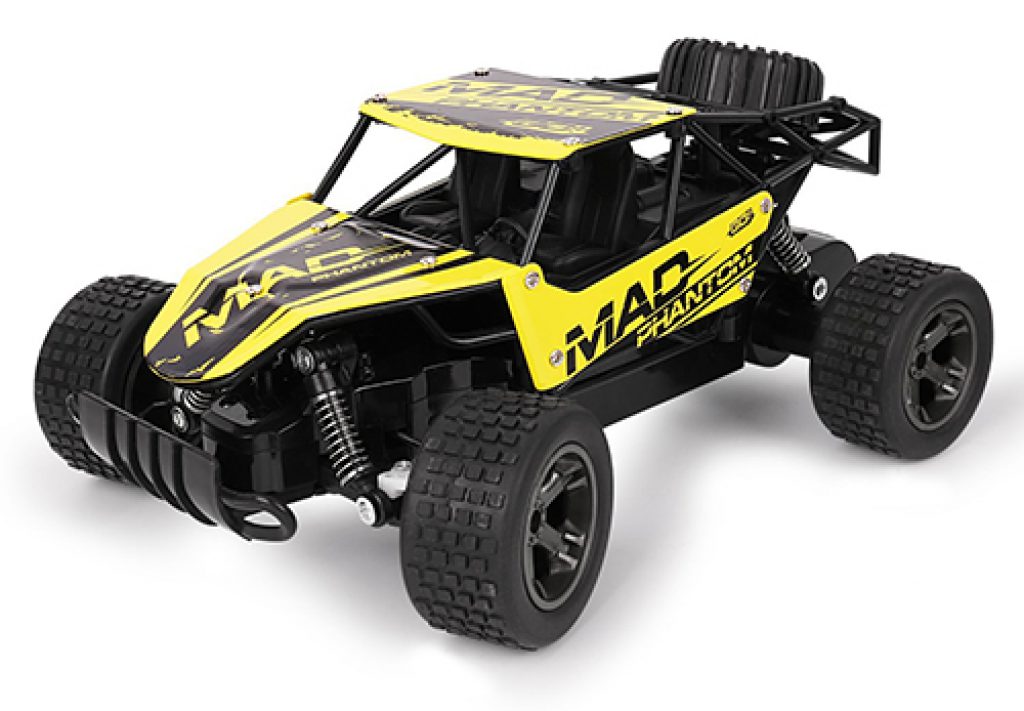 3+ years old
2 wheel drive
control range 50+ m
speed 40 km/h
play time 20 mins
One of the cheapest you will find out there for your kid, the FitMaker OffRoad 2WD truck is almost perfect. It is well-made entirely, provides great speed, comes in a sturdy and durable design, it offers a fully functional transmitter control and can be used up to 50m away without problems.
It is also capable of climbing rocks and the like with its 380 motor with 4.8V power. And with its 850mAH battery capacity, it can last up to 20 minutes straight at max speed. Its steering system is well-made too, with great suspension and a total high-quality performance.
PROS:
Incredibly Cheap
Fast and Reliable
Totally Easy to Use
CONS:
A Little Smaller Than Expected
The DeXoP Electric Rock Crawler is almost a perfect RC toy – with everything needed to be strong, durable, fast, versatile, more flexible than others, incredibly easy to use and totally reliable in every aspect. With its 4 wheel design it can climb and go at high speed as it has an incredible torque, despite its low price.
With its PVC tires it can be used anywhere without problems as well. The shockproof feature makes it much more reliable and resistant. And thanks to its strong body, it can support even the harshest of enviroments easily. And of course, it is entirely easy to use.
PROS:
Really Powerful
Extremely Resistant Build
Much Easier to Use Than Most
CONS:
A Little Battery Deficient
09.
Bfull Monster Rock Crawler Truck
Designed to be the perfect truck for rocky surfaces, the Monster Rock Crawler will become a kid's best friend faster than any other RC. It is highly versatile and features a transformation button so the devices switches its design and works differently, with its standard rock crawler method and its high-speed flat shape.
The device is well-made too, with great wheels that can support any type of use and a strong construction for superior reliability at all times. It can go up to 15 Km/h and will provide a much better control responsiveness than most due to its 2.4 GHz transmitter. It comes with a two-pack of AA rechargeable batteries that last up to 25 minutes on a single charge.
PROS:
Superb Resistant Construction
Much More Versatile Than Most
Really Big and Interesting Design
10.
GordVE GV641 Monster Truck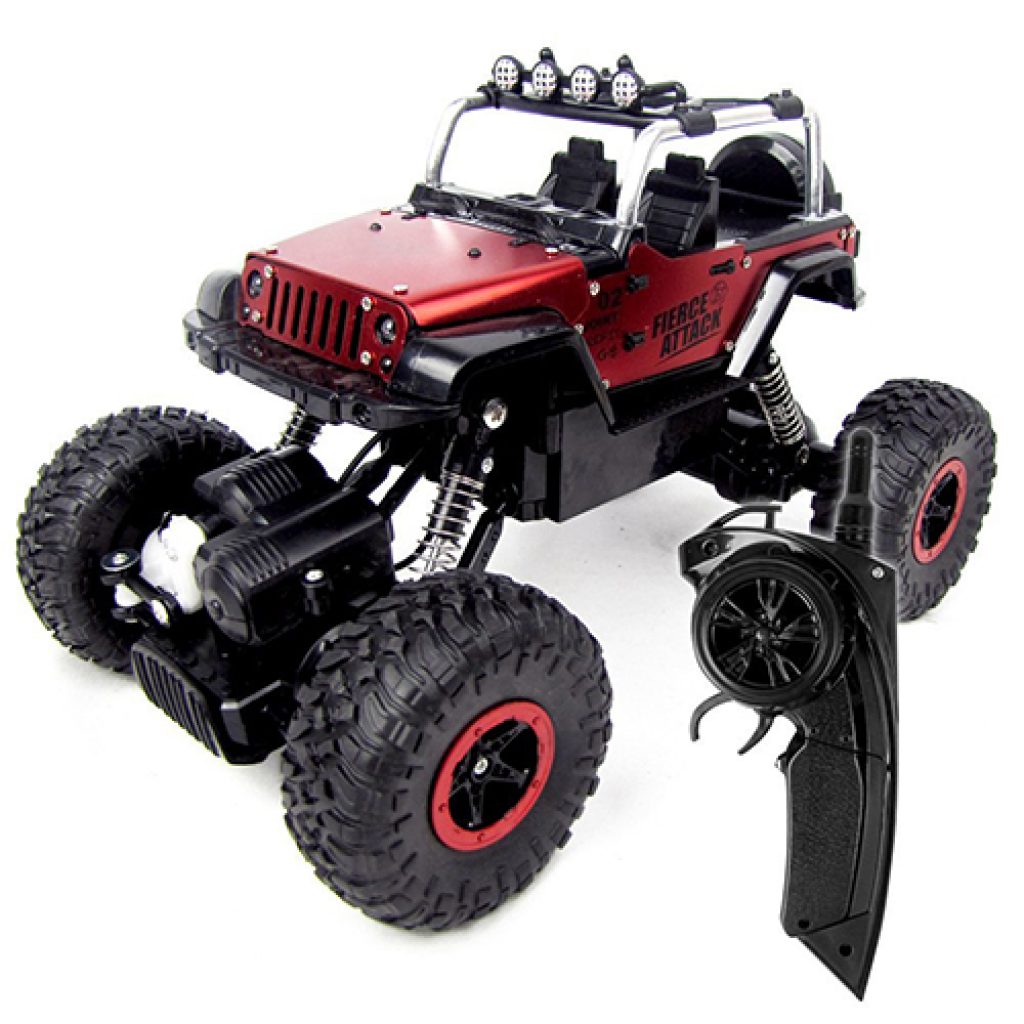 5+ years old
3 wheel drive
control range 50+ m
speed 35 km/h
play time 15 mins
Biggest and largest truck on the list, the GordVE GV641 Monster Truck is one of the most recommended RCs out there, both for the incredibly large design as well as for its outstanding 35 MPH speed. Also, it can support even the hardest of environments, as it can be used anywhere you want without problems.
The truck can climb and be used in rocky surfaces effortlessly. It comes with a 2.4 Ghz transmitter and can be used up to 50m away from the RC. And with its 700mAh battery, it can last 15 minutes straight without problems, with a wonderful speed and incredible reliability in every use.
PROS:
Much Bigger Than Any Other
Extremely Resistant and Durable
Much More Versatile Performance
Boys love RC toys, there's no doubt about that. But even when they may adore one of these, if the device doesn't deliver the desired quality – it won't be too good in the long run. If you choose the wrong one, you may even regret it, as your kid is probably not going to like it. But you don't have to worry as we've made sure we can help you pick the perfect truck for your child with this straightforward guide you can follow. Check it out…
Transmitter – Control
An RC truck needs to feature a good control or transmitter with enough capacity to be used at least 20 meters away from the device. Also, it needs to be efficient and accurate, with the proper design to also be easy to use to even the smallest of children. To do this, make sure it offers at least 2.0 GHz of capacity, that comes with a steering trim or two sticks and that it offers one accelerator and one brake. This is what a decent control should offer, yet you can find controllers with much harder designs which can do a lot more but these are often harder to use and not recommended for smaller boys.
Construction
These toys, as well as any other, will be used a lot – but because these are usually used in different environments and pretty much used without care, they will eventually receive a lot of shocks and hits, so they need to be strong and resistant. It is always recommended to go for RCs with hard constructions, with reliable wheels and shockproof designs. The most recommended are the shells made of glass fiber and the wheels made of PVC. Also, you can go for suspension systems, as these trucks also come with these too, for more shock protection.
Battery
Unless the RC is gas-powered, there's no doubt it will need batteries to be used, as well as the control. So it is important you take this into consideration, especially in means of battery capacity. You need to at least choose an RC with a 700mAh battery, and that it is totally rechargeable – so it can last a minimum of 10 minutes when using on a single charge but with a minimum speed. But you can find even better batteries that can offer up to 2000mAh and up to 30 minutes of straight use – at a much faster speed.
To help you make a much better decision, you can check these additional advice:
When it comes to speed, the least an RC should offer is 5 MPH or 10 km/h. If it goes slower than that, it is very likely your kid won't like it. There are RCs that can go up to 35 MPH (54 Km/h) or even more.
The design also matters a lot when it comes to likability. If your kid is into a specific type of car or truck, you may find the exact model he loves – whether it is a monster truck, a buggy, or even a dump truck.
When it comes to sizes, you will find many out there, but remember that you will need to store the toy when it is not being used, as well as you will have to transport it different places, so if it is too large you may find it uncomfortable and annoying. But if you have the space, go for the biggest one, it is totally worth it.
Now that you know more about RC trucks, it will be a lot easier to make a choice. However, make sure you know what your boy wants, do not take any decision without knowing if he's going to like it first. Yet, that's the only thing that's up to you…
You just need to take into consideration each one of these recommendations plus our advice – there's no chance your boy won't love an RC truck if you follow this guide!
Making your child feel happy with a new toy is wonderful – yet it is even better when you give him something he can loves – like one of these excellent RC trucks!
Excellent choice for Outdoor Activity !