10 Best Folding Bike 2022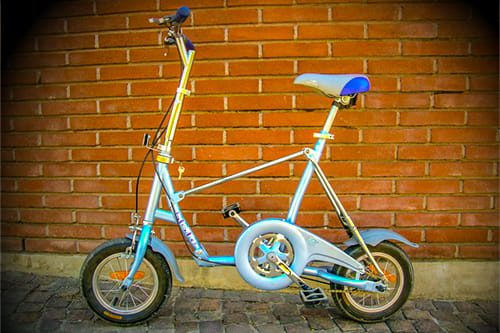 Need a bike that is easy to transport and even easier to pack up when traveling? Then go for a folding bicycle – a bike that will allow you to enjoy good biking wherever you are…
Folding bicycles are like normal bicycles when it comes to functioning. They are as fast, as reliable, as easy to use, and as durable – yet they offer a major advantage normal bicycles do not offer: portability. With one of these bicycles, you can travel or go on a trip without having to use so much space, and save yourself the effort of having to carry the bike one place to another without any discomfort. Yet, you must always choose the right bike if you want to receive these benefits and more – so you must learn what to look for.
As there are thousands of choices in the market – we have created a list of some of the most interesting options you can pick. Come and see what we have for you!
Furthermore, we have a trick and tips on how to take care for the folding bike available. Click here
10 Folding Bike Review 2022
01.
Addmotor Motan M-150 E-bike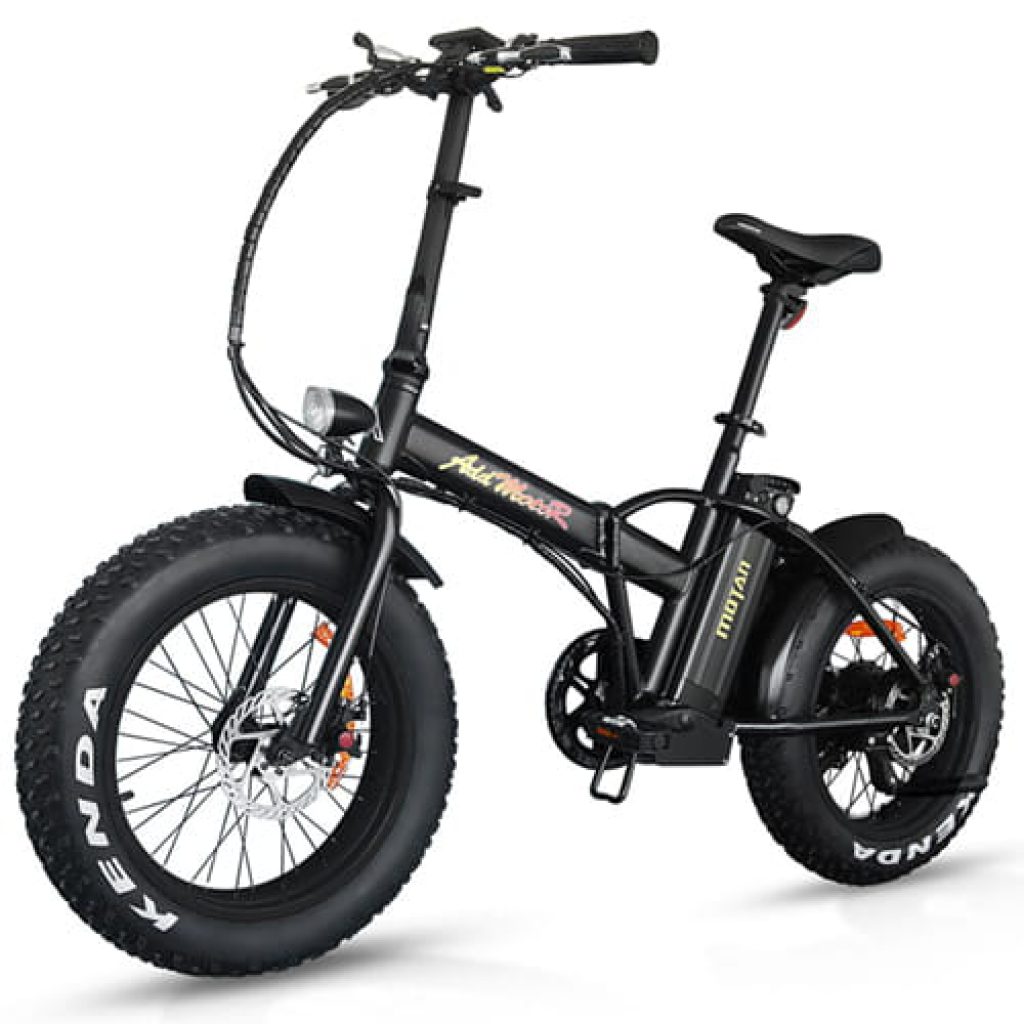 Max weight: 300 lbs, 5'2″-6'6″ tall
Size: 58.3 x 25.6 x 10 in (unfold)
Item weight: 58 pounds
Contain: 20″ wheel, 7-speed Shimano Gears
Li-ion battery
Speed: 23 mph, 40-55 miles
Even though it is rare to use an electric bike, there's nothing as efficient and comfortable, especially when you go to places where potency is essential. With an electric bike, you do less exercise than with a traditional one, yet you can the most out of it without problems. That's what the Addmotor Motan M-15 E-Bike offers – excellent reliability and outstanding performance at all times.
It can go up to 23 MPH without problems and lasts up to 55 miles on a single charge. What's more, if the charge is lost, you can pedal as well as with a normal bike. The 500w brushless motor makes it capable of working even on sandy places like the beach. And of course, it folds effectively, for superb portability and increased convenience.
PROS:
Excellent Electric Performance
Powerful, Comfortable and Reliable
Fast, Durable and Easy to Fold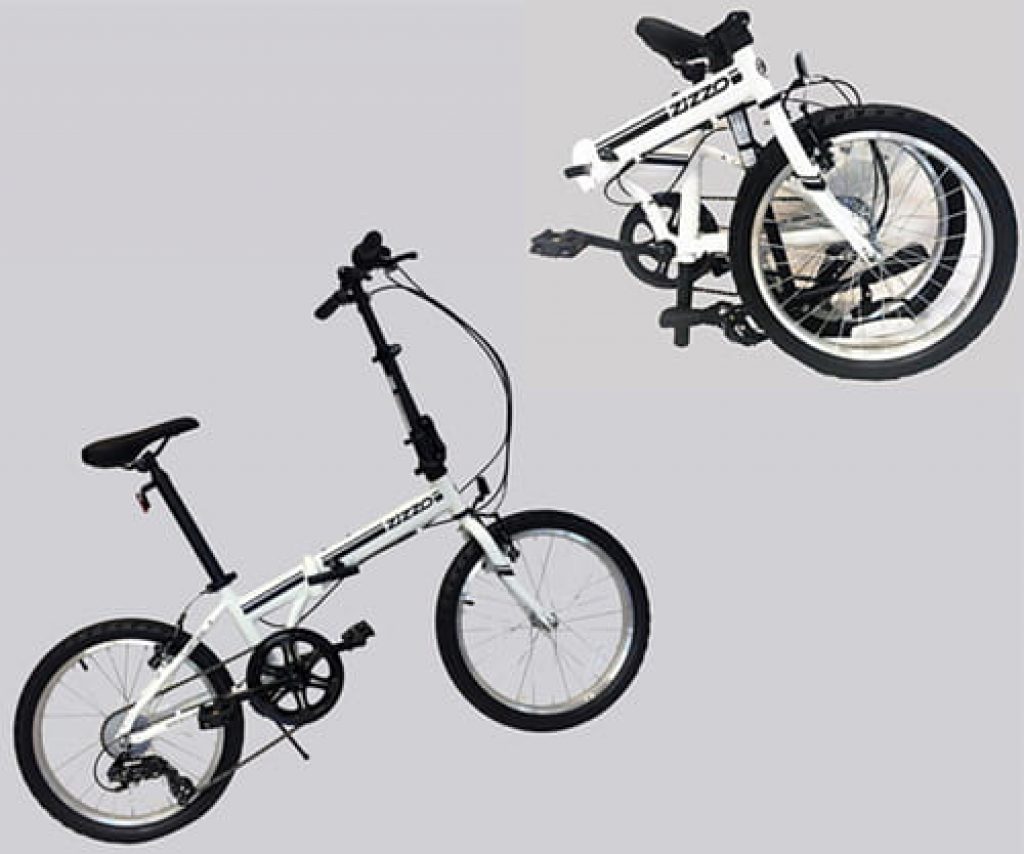 Max weight: 200 lbs, 5'3″-6″ tall
Size: H-27″ L-31″ W-12.5″ in (fold)
Item weight: 28.5 pounds
Contain: 20″ wheel, 7-speed Shimano Gears
For those who don't need an electric bike, there are hundreds of traditional options such as the EuroMini Campo, a lightweight Shimano bike with 7-speed and a 20-inches folding capacity. It will easily fit any bag without problems, and can be carried anywhere you want thanks to its lightweight aluminum frame.
The bike folds in just a few seconds weighs 28.5 lbs and comes with everything needed for a completely reliable experience. It comes with an ergonomic saddle, the handlebars are comfortable, and the rest of the accessories are extremely easy to use and mount.
PROS:
Pretty Convenient Design
Excellent Reliability
Outstanding Aluminum Construction
CONS:
Not as Comfortable as Expected
03.
Xspec Diamond 21-Speed Folding Bike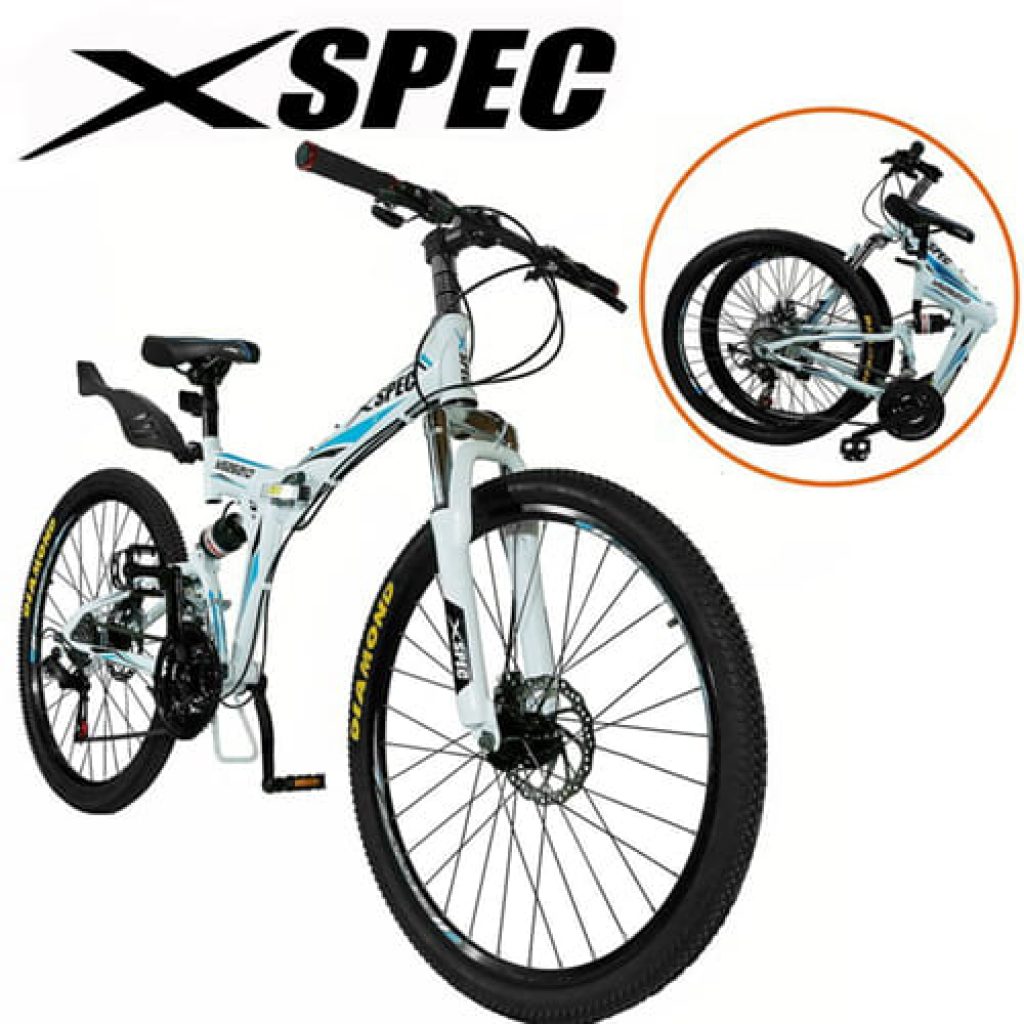 Max weight: 220 lbs, 5'3″- 6″ tall
Size: 32 x 41 x 14 in (fold)
Item weight: 42 lbs
Contain: 26″ wheel, 21-speed Shimano Gears
The 21-speed bike from Xspec Diamond, offers the chance to use it even in the hardest of situations and trickiest of trails. It is mainly designed to be used in mountains and rocky landscapes, as it is supportive, comes with an excellent construction, and offers a wide array of speeds according to the needs of the user.
The entire bike is made of steel, for superb performance and an incredibly lightweight construction for better carrying. The brake system is highly efficient as well as the foldable system. The suspension system is also highly effective and absorbs practically everything. And of course, the bike is durable and can support up to 220lbs without problems.
PROS:
Resistant and Supportive
Excellent for Tricky Trails
Amazing 21-Speed and Brake Systems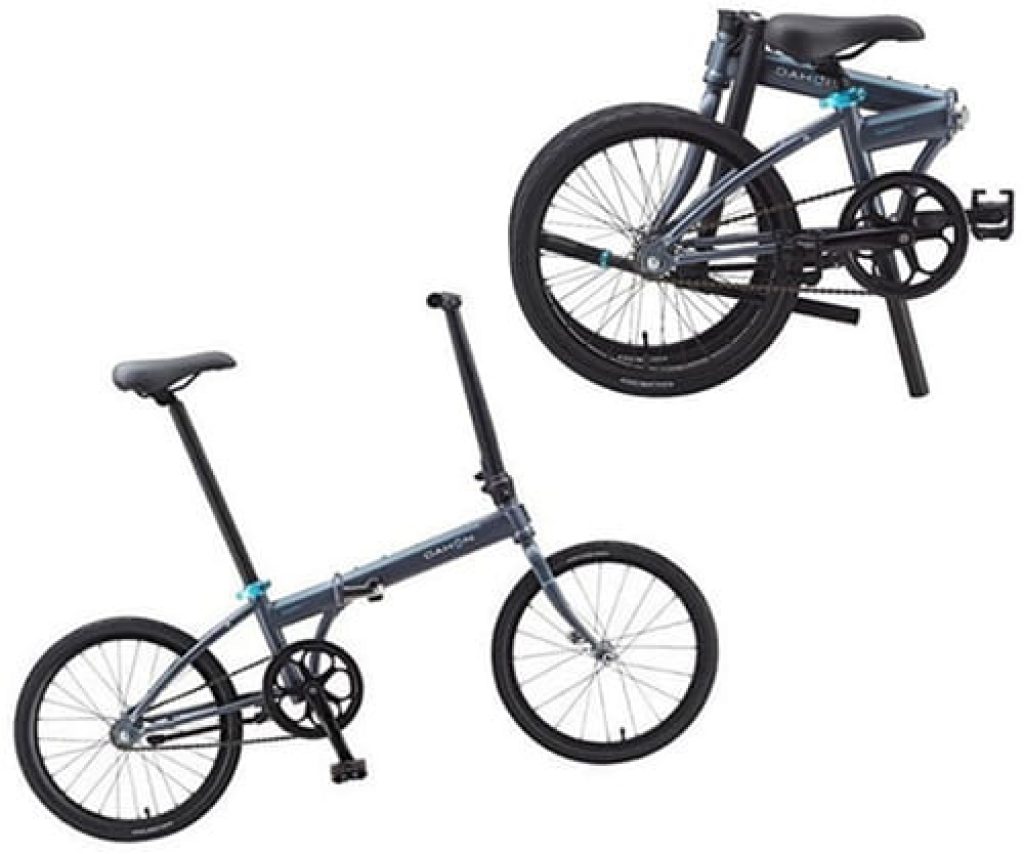 Max weight: 230 lbs
Size: 11.7 x 30 x 25 in (fold)
Item weight: 24.2 pounds
Contain: 20″ wheel, single speed
Anyone who desires undisputable reliability should go for Dahon products, especially if it comes to folding bikes such as the Speed Uno. This excellent option provides not only a superior construction made of stainless steel and aluminum; it also looks amazing and offers one of the lightest builds as well.
The bike is mostly designed to be used in urban scenarios more than trials and tricky places. Still, it is highly efficient and pretty reliable, as it comes with a magnetic latching system that improves its construction making it outstandingly stronger while being one of the lightest at just 24 lbs.
PROS:
Looks Excellent
Light but Extremely Strong
Incredibly Reliable
05.
SWAGTRON SwagCycleHeading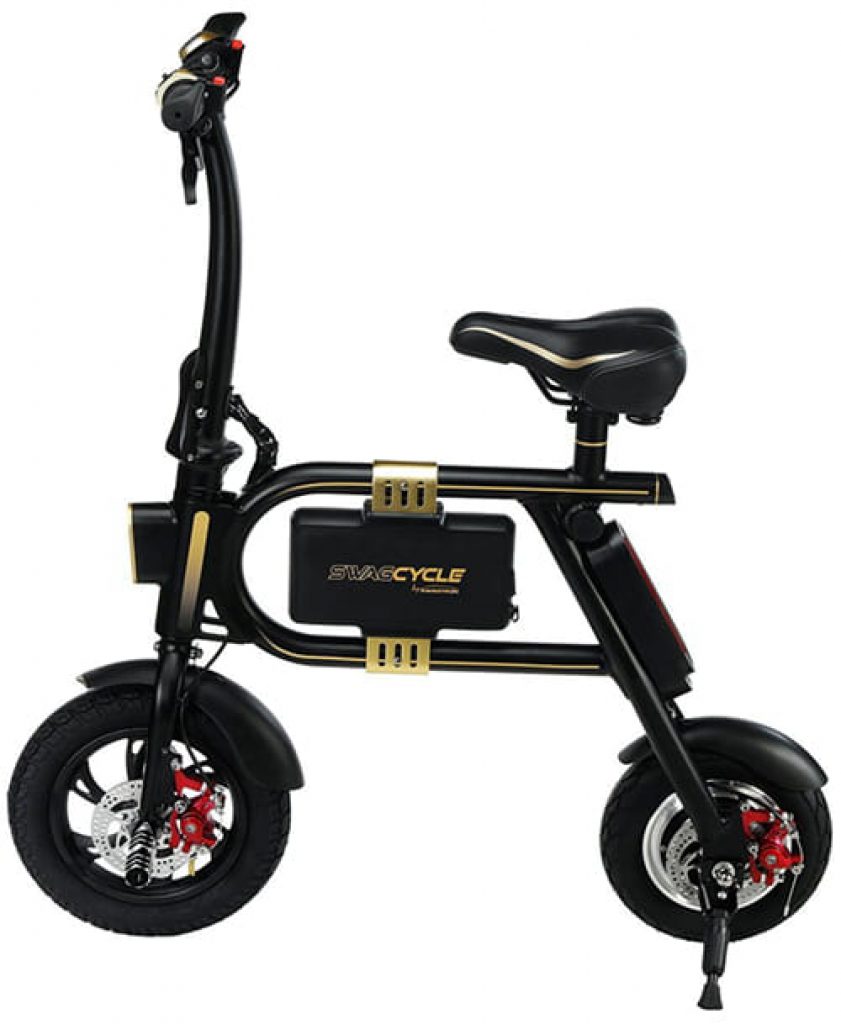 Max weight: 264 lbs
Item weight: 24 lbs
36v Li-ion battery, USB port charger
Speed: 10 mph
Electric bikes are always interesting to consider. First, because they save you a lot of effort in pedaling, and second because they offer better speed than normal bikes, but the Swagtron SwagCycle is something totally different. This one, for example, offers up to 10 MPH of speed with a 36v battery and a 250w motor. Not the strongest or more reliable, but easily one of the modest and most interesting choices.
The bike is collapsible despite its electric design, and even comes with a handlebar display where you can check the battery life, turn the headlight and even honk the horn or accelerate when needed. What's more, you can charge your devices while biking and make sure it is entirely safe for you and the environment.
PROS:
Outstanding Compact Design
Extremely Easy to Use
Much More Reliable than Most
06.
Cyclamatic CX2 Foldaway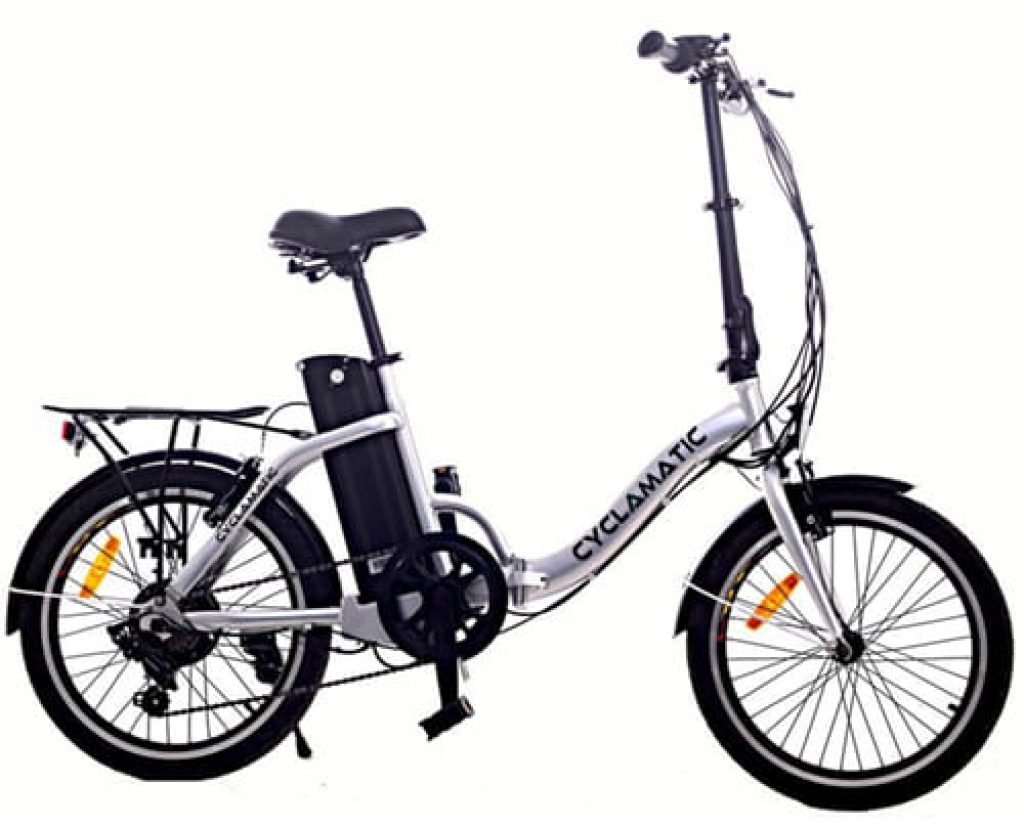 Max weight: 220 lbs, 5'2″+ tall, 14 year old+
Size: 33″ (L) x 18″ (W) x 25″ (H) (fold)
Item weight: 57 lbs
Contain: 20″ wheel, 6-speed Shimano gear
Li-ion battery
Speed: full charge 4 – 6 hours, 25 – 31 miles
Interested in electric bikes? Then the Cyclamatic CX2 may be the perfect choice when it comes to foldable options. It is extremely easy to use and fold when needed, provides an excellently comfortable design and can be used by practically anyone.
The bike can go up to 15 MPH without problems thanks to its 250w motor. It comes with different operational options and can be used without electricity when the charge drains out. And of course, it lasts longer thanks to its 31 miles capacity. It weighs only 57lbs and is made of stainless steel entirely.
PROS:
Very Convenient and Versatile
Completely Easy to Fold
Offers Outstanding Comfort
07.
Vilano Urbana Single-Speed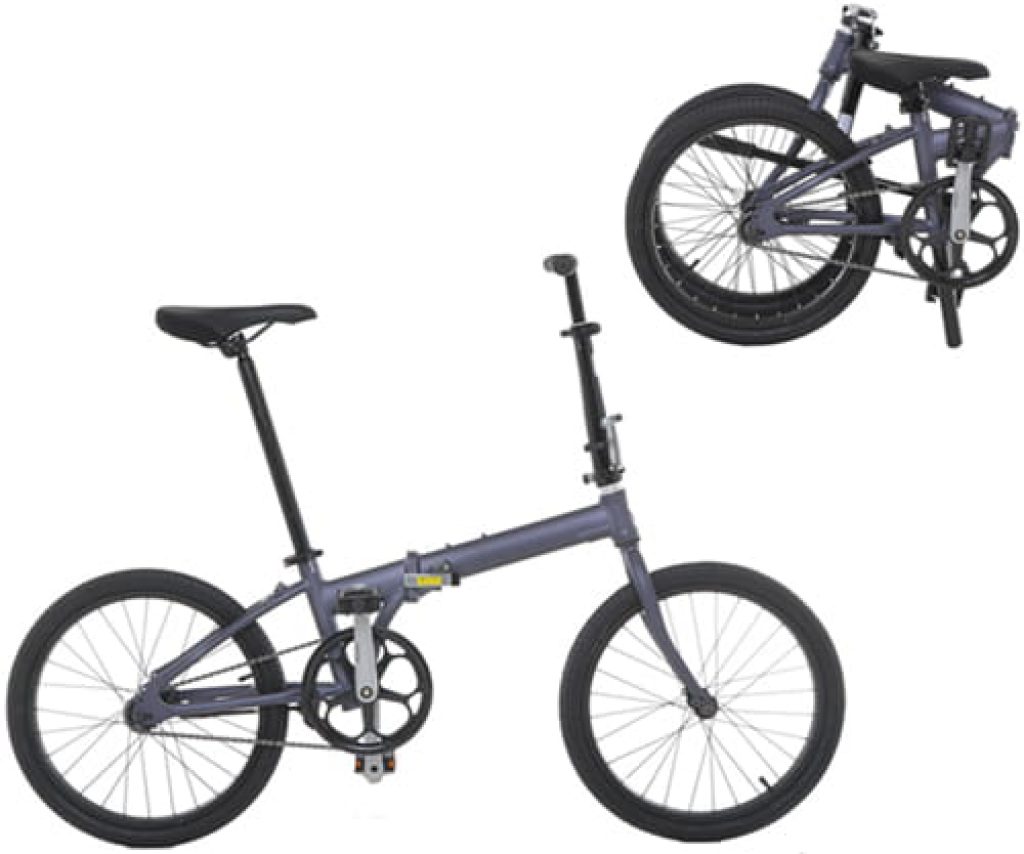 Height: 5'3″-6'1″ tall
Size: 12 x 32 x 25 in (fold)
Item weight: 21.5 lbs
Contain: 20″ wheel, single speed
The Vilano Urbana is easily the lightest bike you will find at an affordable price and an incredible strength. It is amazingly comfortable and reliable as well, despite being a lot easier to fold and to carry, this bike provides one of the most effective performances when it comes to folding bikes.
Thanks to its aluminum construction, you can be assured it will help you have an amazing experience riding it, and when it comes to folding it – there's no option easier than this. It weighs only 21.5 lbs, making it the lightest and most convenient of the list. And of course, it is entirely comfortable, especially in flat urban areas.
PROS:
Excellent Performance
Amazing Light Construction
Easy to Fold and Reliable
CONS:
Not Recommended for Tricky Trails
08.
Columba 2kSilver Blue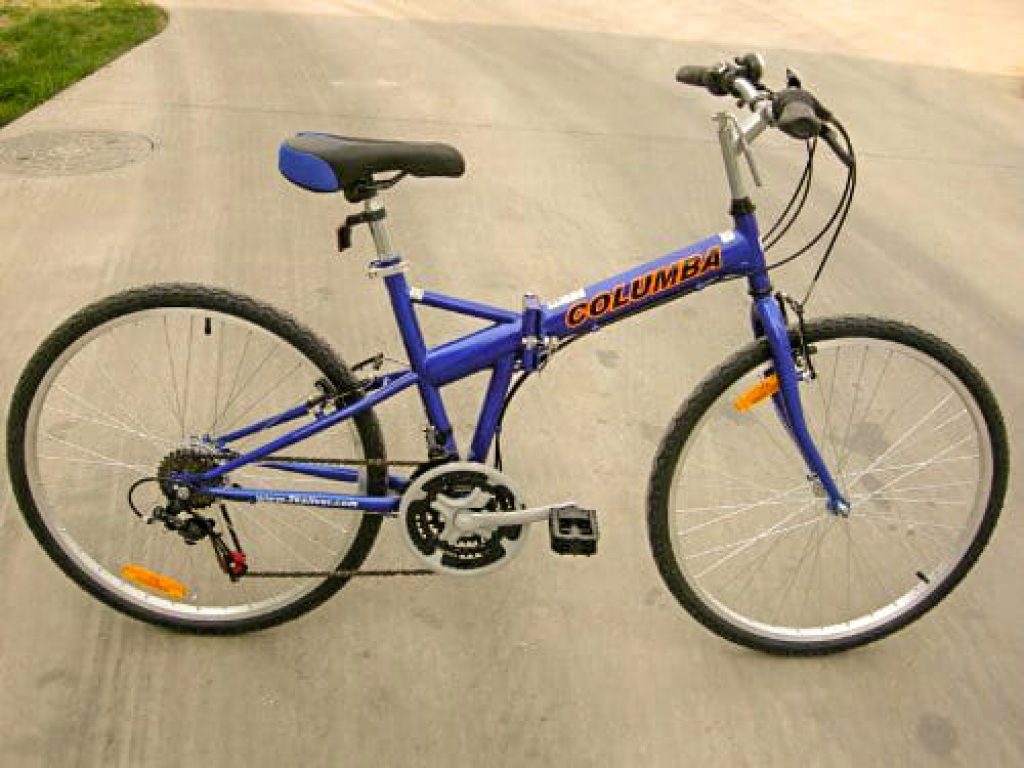 Max weight: 200 lbs, 5'3″- 6'0″ tall
Size: 38 x 14 x 29 in (fold)
Item weight: 34 lbs
Contain: 26″ wheel, 18-speed Shimano Gears
With 26-inch wheels, an 18-speed dial, and Kenda tires for superb strength, the Columba 2kSilver is the nearer you will get to a traditional bike with a foldable option. This impressive design will let you enjoy excellent biking without having to worry about anything, as it is excellently strong and provides an outstanding performance thanks to its 18-speed option.
It weighs only 33 lbs but is one of the largest and biggest on the list. This makes it outstandingly well-made and effective for its purpose. And of course, it can be used by anyone from 5 to 6.5 feet without problems. The bike is also incredibly comfortable.
PROS:
Much More Reliable than Most
Extremely Well-Made
Large and Comfortable
09.
BuySevenSide Urban X-Type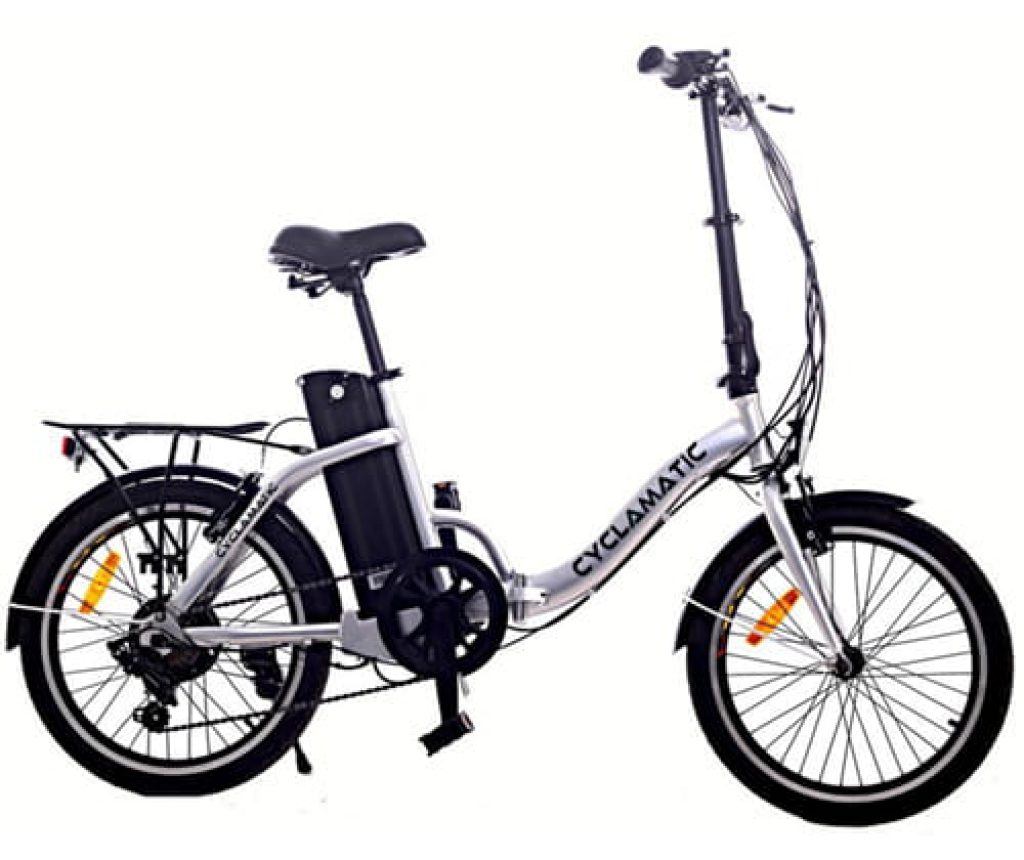 Max weight: 220 lbs, 5'2″+ tall, 14+ year old
Size: 33″ (L) x 18″ (W) x 25″ (H) (fold)
Item weight: 57 lbs
Contain: 20″ wheel, 6-speed Shimano Gears
Li-ion battery
Speed: 15 mph, 25 – 31 miles
Even though it looks more like a scooter than a bike, the Columba X-Type electric bike offers an amazing performance that will take your everywhere you want, while being totally reliable, strong, and comfortable all at the same time. It can go up to 18 MPH without problems and can work for as long as 6 hours without stopping.
The Panasonic battery at 5.8Ah and the 36v capacity with the 240w motor makes it incredibly reliable as well, as it is supposed to work even in the hardest of situations. The bike, for being electric, is also pretty light with only 33lbs. And of course, it is outstandingly comfortable despite its singular design.
PROS:
Easy to Use
Reliable Electric Performance
Comfortable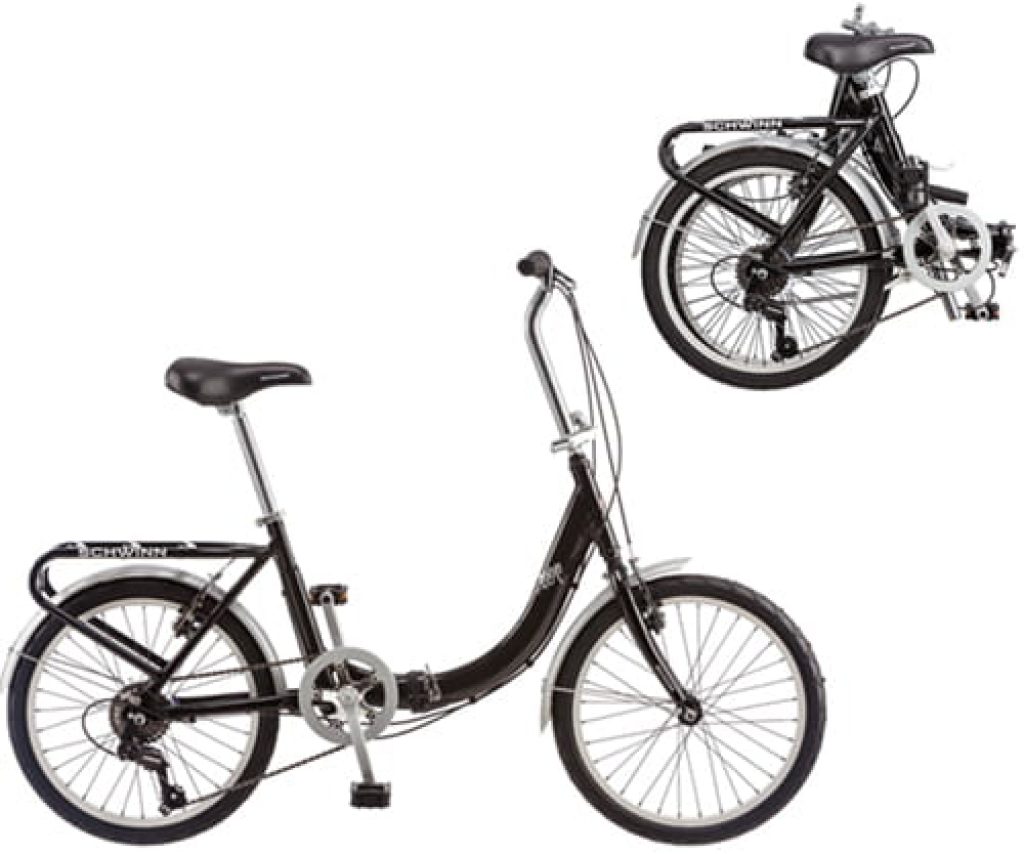 Size: 30 x 32 x 11 in (fold)
Contain: 20″ wheel, 7-speeds with shiftier
Available in Stock
Not only does the Schwinn Loop looks amazing, but it also provides a performance no other folding bike can offer. It is totally reliable and strong, comes with a 7-speed drivetrain to get over hills and elevated trails more easily and even comes with its own carry bag for superior convenience.
The bike is easy to fold in and out without problems and weighs just 30 lbs for a lightweight construction made of aluminum mainly. What's more, its 20-inches size makes it excellent for almost everyone from 5 to 6 feet to ride. And of course, it is outstandingly comfortable as well.
PROS:
Looks Amazing
Much More Reliable than Most
Comfortable and Easy to Use
Taking a look at the many options you have is not enough to find out which choice is the right one for you. That's why you should learn everything related to folding bikes so you can take your pick more according to your needs and desires. Here are a few additional features you should consider:
Size
The size of the bike matters heavily in how comfortable and reliable you want the bike to be for you. When you choose a large and big foldable bike, it is very likely the bike will be a lot more comfortable to use, entirely reliable and strong, but also likely to be pretty heavy. When the bike is small, it may be the other way around; slightly uncomfortable less strong, but a lot lighter. However, it all comes down to what fits with your size, weight, and intended use. Stronger bikes work better in demanding scenarios, while the lightest ones work better in urban and flat streets.
Performance
The performance of a bike comes directly to how smooth and easy to pedal it is. The bikes with easier performance are those who offer at least 20-inches in the wheels. These wheels, for being larger, tend to travel more space with each pedal cycle. This means that the larger the wheels, the more performance-oriented it will be. However, it also comes down to the number of speeds the bike has. Some Shimano speed-dials offer up to 20 speeds and even more, these bikes are often much more performance-efficient and provide excellent uses for different types of terrain. Go for something that fits your needs, but remember that 20-inches are often the most effective wheel-size for performance.
Type
For folding bikes, you will find two types: traditional bikes and electric bikes. Traditional bikes are the ones that need pedaling to function and go forward, while the electric ones use a motor or engine. For traditional bikes, there's nothing more important than making sure the pedals are not stiff and that you can pedal comfortably. The electric ones, in contrast, you need to make sure how many watts it offers, how many hours it can go, and if it provides the chance of using it with pedals in case the charge drains out. With this, make sure the bike comes with at least 240w and offers up to 4 hours of constant use. And of course, making sure it has pedals to use when needed is also essential.
Weight
There's nothing more important for a foldable bike than how much it weighs when folded. If a bike weighs more than 35 lbs, it is bulky for traveling. However, most foldable bikes don't go over this weight and usually are pretty easy to carry and comfortable. Those bikes that are 25lbs or less tend to be less reliable and robust as the heavier ones – yet they work better for large trips and small people. Choose accordingly.
Don't hesitate in making your choice following your needs. This will help you not only to find a more suitable option according to your intended use but also find the one that fits you comfortably and efficiently.
Use our advice to pick the perfect foldable bike for your kids of for wherever you are going on a trip. It will help you experience places in a healthy and pretty beautiful way.
Allow yourself to enjoy each place you visit while biking. Use a foldable bike, and you won't have to feel uncomfortable when traveling. The following options are excellent!